I thought today we would take a quick detour from the typical quilting and how-to posts. Today, I am inviting you into my space and giving you the grand tour of my sewing room!
This is where all the fun fabric magic happens!
I am so blessed with the space I have. We have a very open floor plan in our home (which is great when you have little kids running around, but not so great if you want to maintain any facade of a clutter-free home! The mess just grows and is visible from everywhere in the house…)
My sewing space is actually just after you walk in the front door, where a "normal" family would have a formal dining space. From the moment we moved in, I knew we weren't formal dining people… because when you have little kids, carpeted dining areas aren't the wisest choice.
The formal dining room space became my office/craft space and eventually I gave up the Pinterest worthy interior designer decor and it became my full on quilting space. i.e. I brought in all my crafty junk and just made myself comfortable in here instead of trying to make it look like a magazine spread!
Yes, I've considered putting up french doors to hide a little more of the mess in the space but that would block a lot of the natural light in the other rooms which is one of my favorite aspects about our home…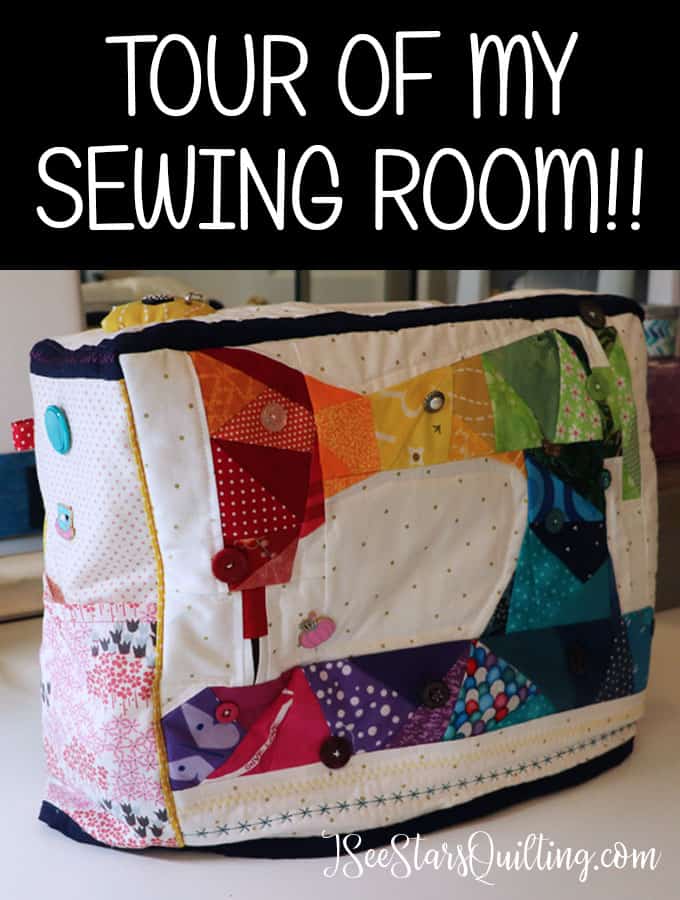 If you are asking yourself… "I wonder if she really cleaned up for these pictures or if it always looks like this?"
Hahahahahaha, the answer is yes… I absolutely cleaned up and usually, my space has 10+ different projects strewn about in varying degrees of completion plus children reading books on the floor… oh and a dog too. She is normally right under my feet while I work.
But I also always promised to keep it real with you, my sweet sewing friends… so while I straightened the clutter, I didn't take the time to fold all my fabric and make it soooo perfect. I'm honest with myself too and that just not how I function when I create.
Creativity is messy and a little messy is ok!
So without further delay… here it is… my *starry eyed* sewing space 🙂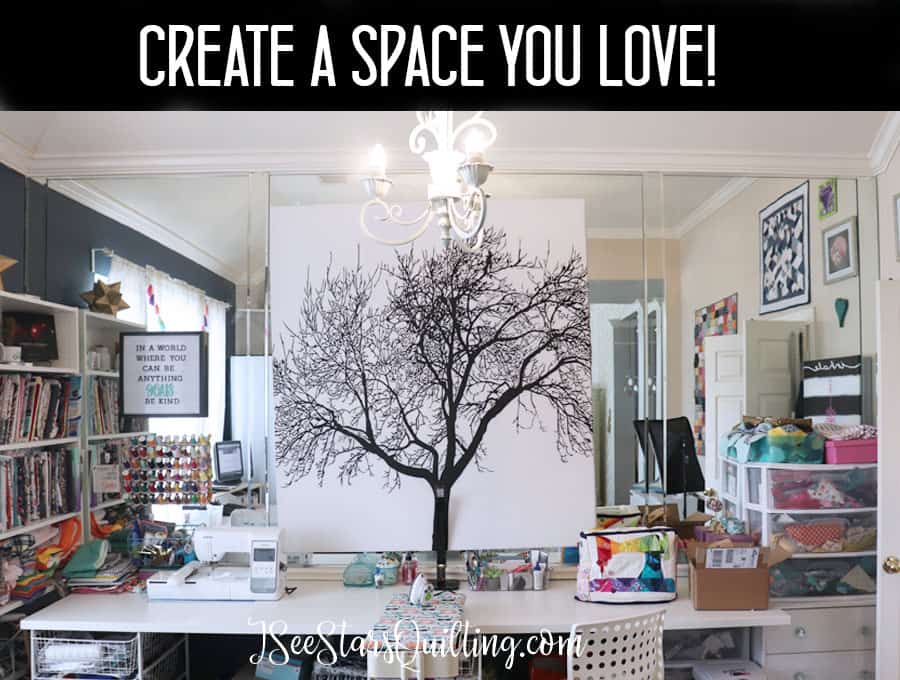 Let's start with the wider view of where I work 70% of the time. from left to right, you have my favorite fabrics (oh yes, there is more than just this shelf…), the project time out corner, my embroidery machine (Brother NS1150E), favorite tools, my Janome sewing machine (Janome 3160QDC) and scrap fabric bins. Yes, the back wall is a mirror
The large white table tops are from IKEA (you'll see a lot of ikea in this room)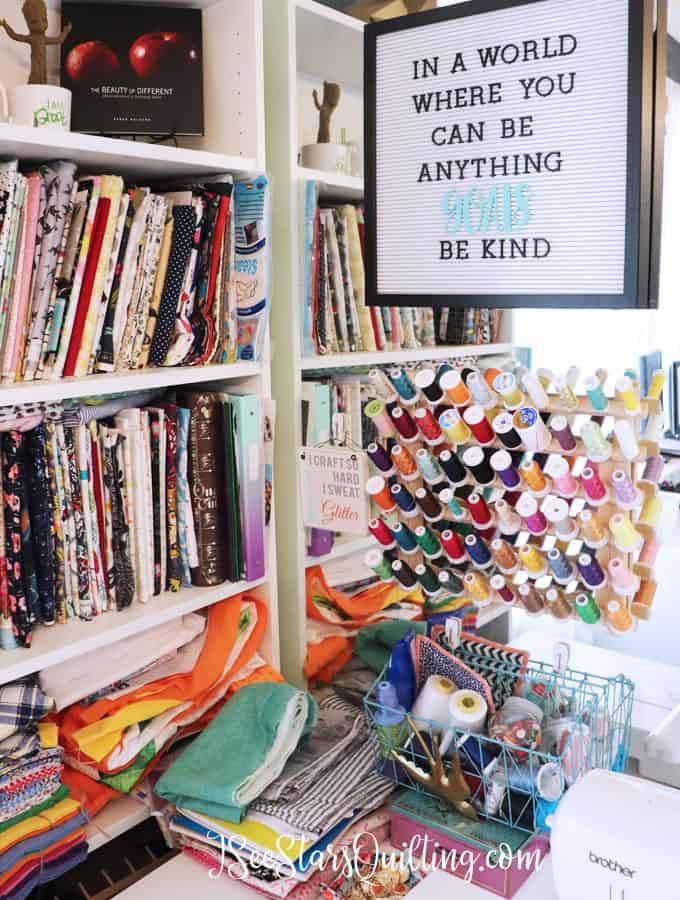 I love this corner. The bookshelf holds my favorite fabrics. I have access to all of my thread colors as well as hand quilting supplies.
The timeout corner is that shelf with the orange fabric on it… They need a little time to reflect on how nice it is to work with others and stop making me pull out the seam ripper so much! I'll pull them out when they have learned their lesson….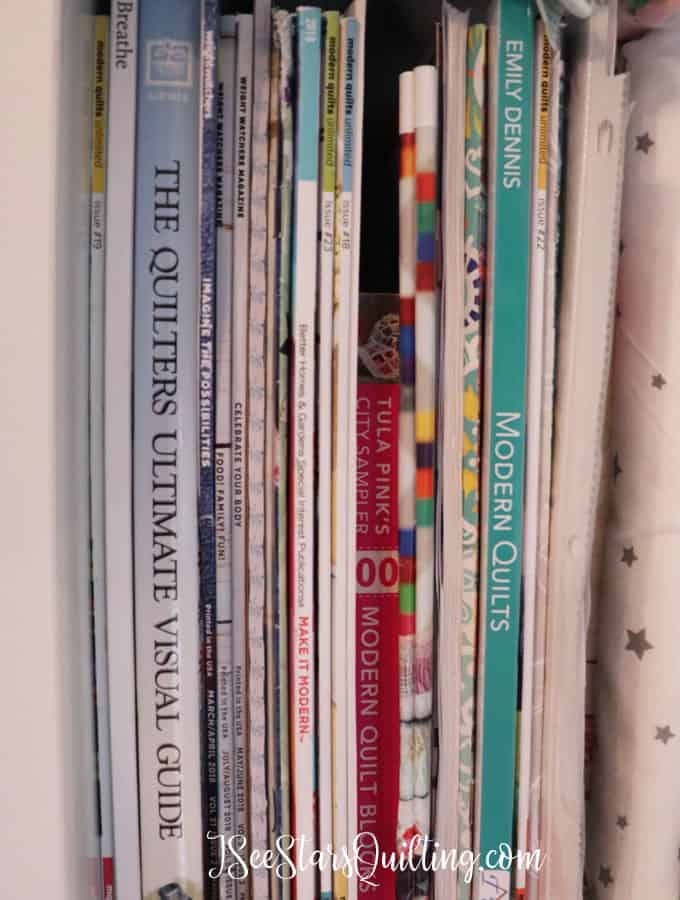 I also like to keep my favorite quilting patterns and books/magazines within easy reach on my bookshelf. Though it is slowly growing tighter and tighter on this shelf. 🙂 I also keep loose patterns in a 3 ring binder with clear dividers so I don't lose pieces or parts.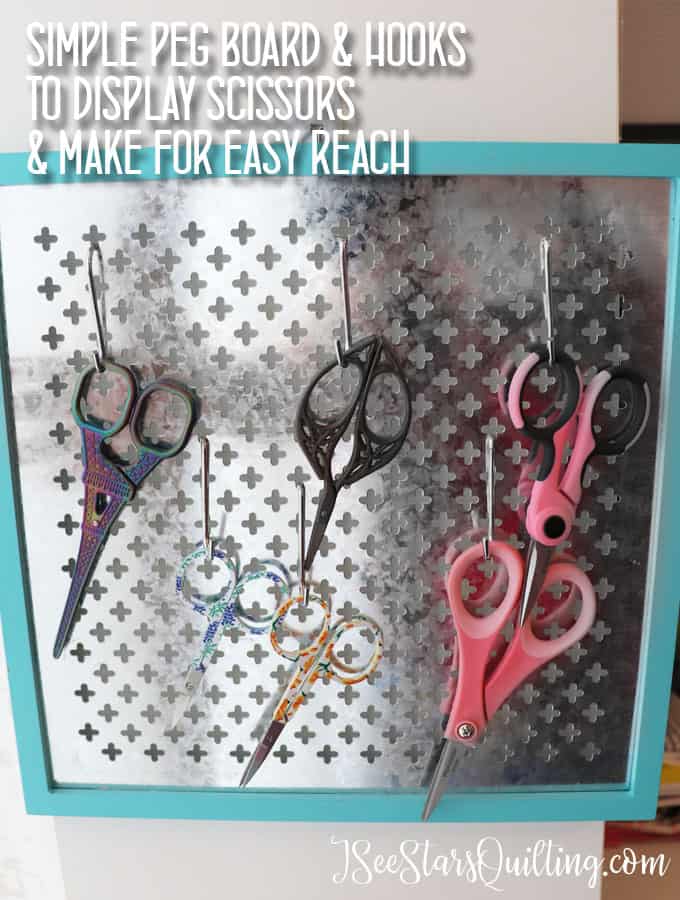 Hanging on the side of my bookshelf is my embroidery scissors organizer. (this isn't all of them as some are with on-the-go projects right now) but it is a fun way to be able to see these pretty scissors and use them quickly too!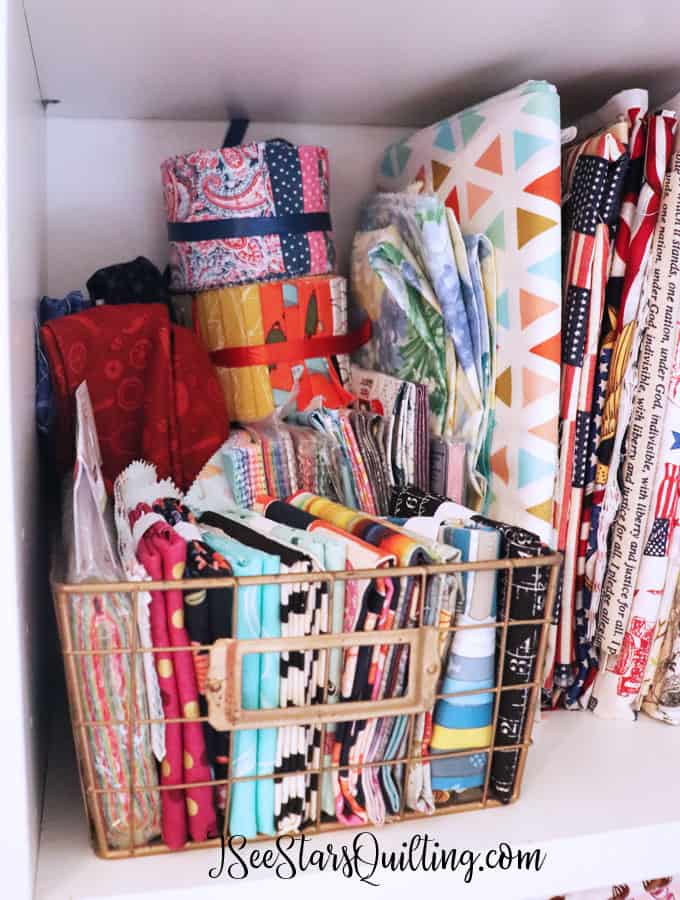 Another fun area of the bookshelf is my collection of fat quarter fabrics and jelly rolls… please tell me you have an addiction to these little fabric bundles too?
Keeping them all together ensures that if I need only a little bit of fabric or have a small project, I check here for fabric first before cutting into a larger piece of fabric. Also, these are all REALLY cute fabrics that I just couldn't live without! It makes sense to use them!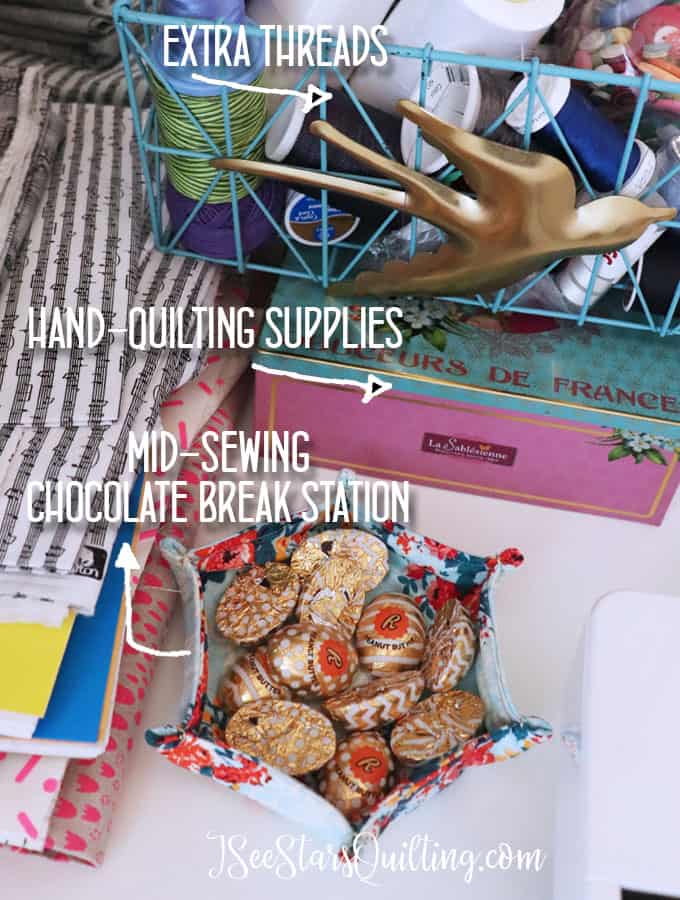 Also in this zone of my sewing room is my chocolate stash. It is essential for motivation in the sewing room or when things aren't going well and I need a little pick me up. If you don't have a chocolate station, you need one!
PS: There are other treats for when days are REALLY rough… the children do not even know these exist in my house. They are a secret! I absolutely implore you to go and buy these treats because I swear they will make even the worst days just a little bit better 😉 They are soooo gooooood!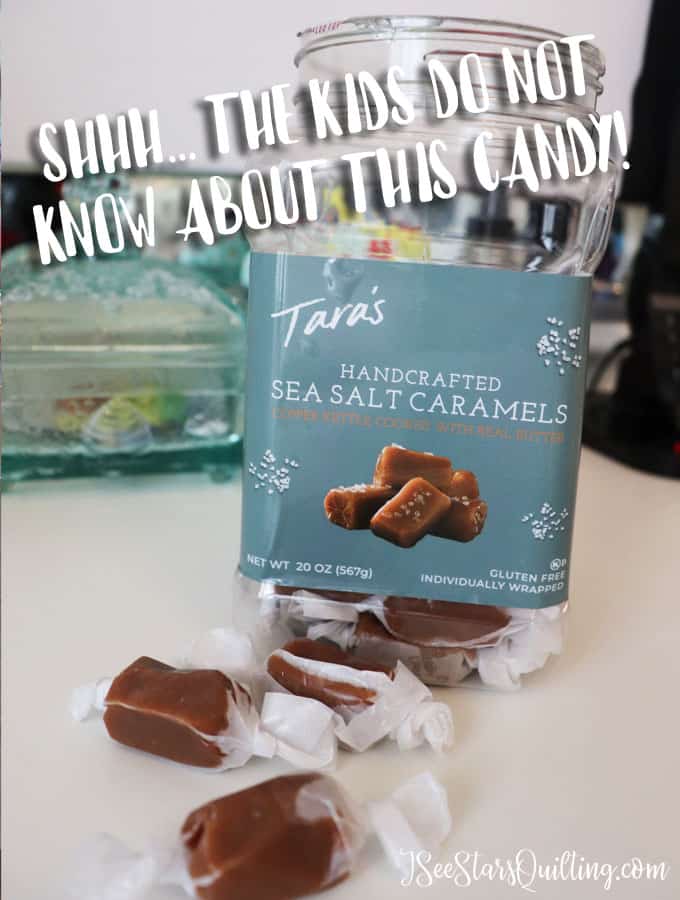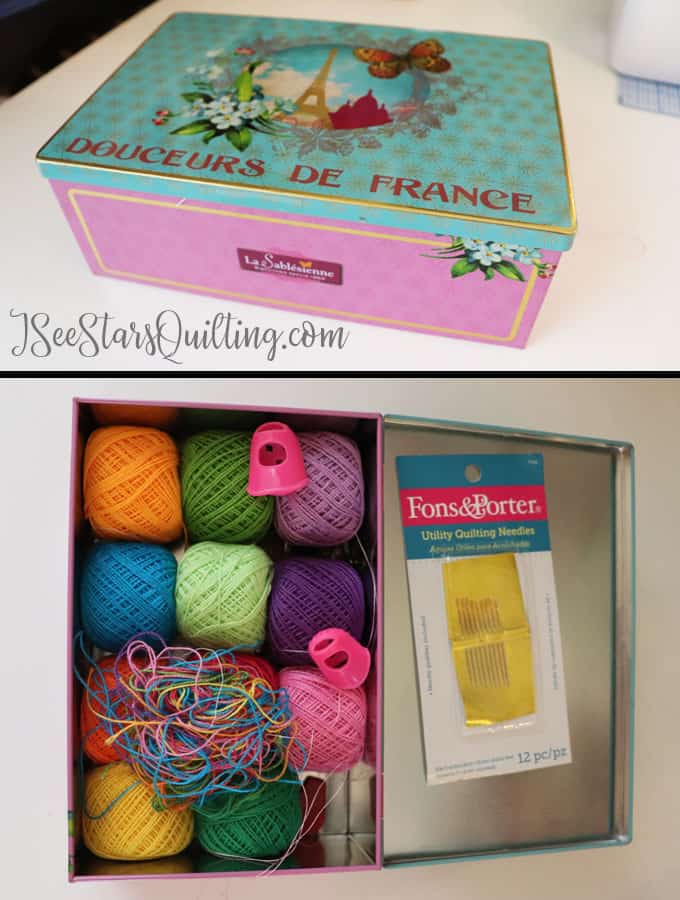 This pretty little box actually used to hold some french cookies that I purchased from Homegoods or TJMaxx (I can't remember which). While the cookies didn't last long, I found the perfect use for the tin in my sewing room. I love to re-purpose old containers… and as an added bonus, now my hand sewing supplies are easily portable for when I want to take it on the go!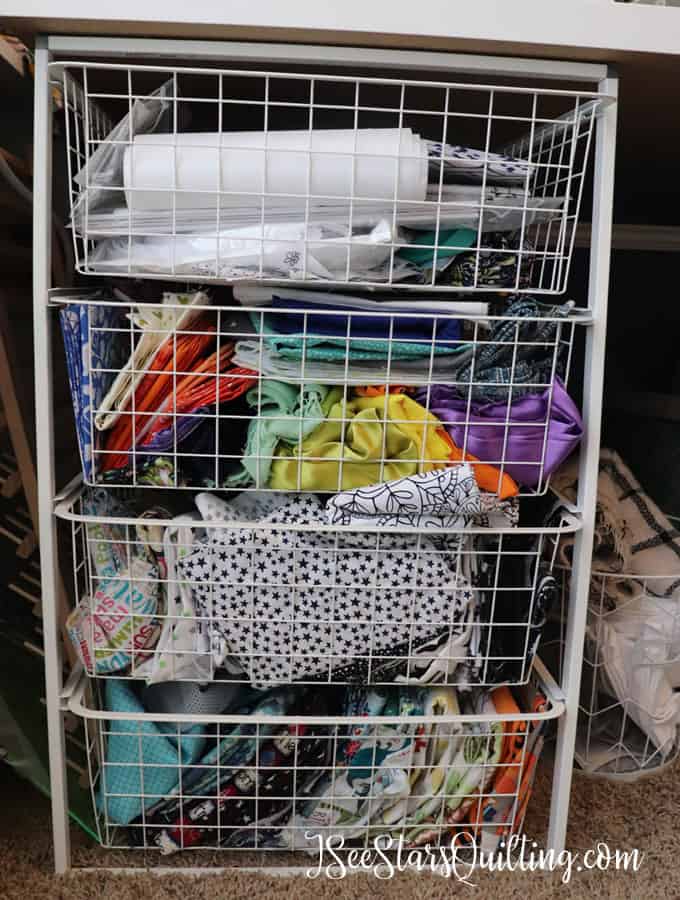 Ugh… I know, this is not your "Pinterest worthy" Photography shot to be bragging about but you know what? I live here… and I rummage through these drawers quite a bit.
That being said. They are really amazing for storage. I have 2 drawer sets from IKEA and use them to prop up the table tops I purchased as my sewing workspace.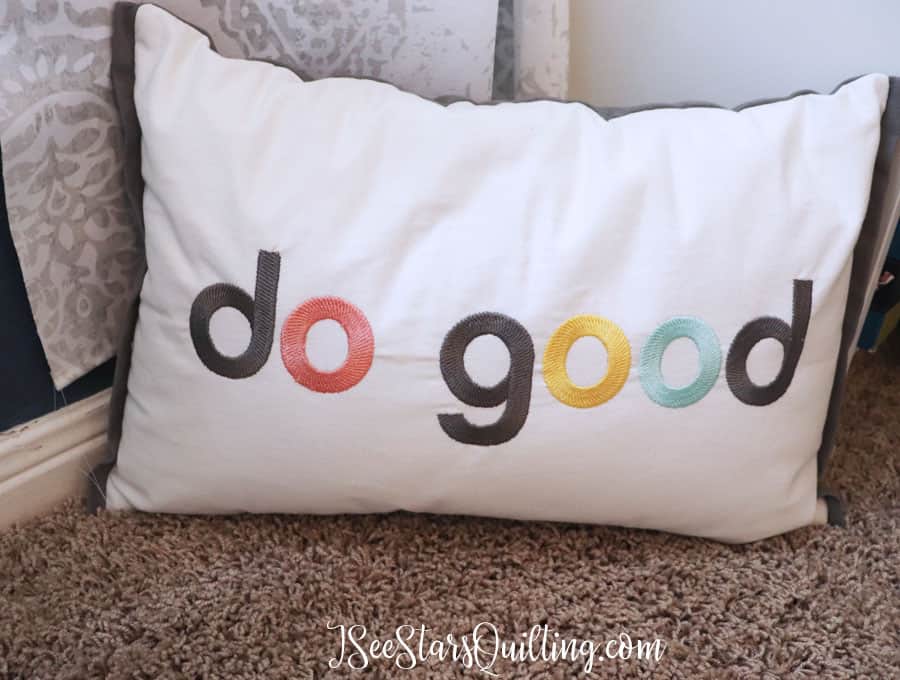 A big part of creating your sewing space is filling with with things that bring you joy and creating a room that you never want to leave 🙂
But don't become over run with dust catchers! Only pick the very best of the best… the very pick of the crop items that you love and proudly display them!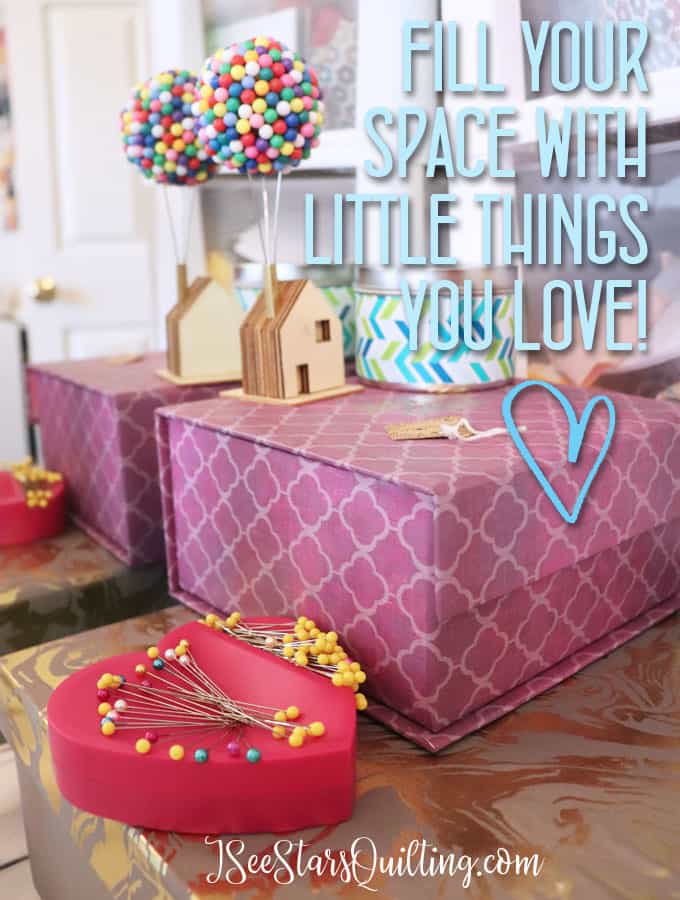 Let's look a little more into the hidden parts of my sewing room…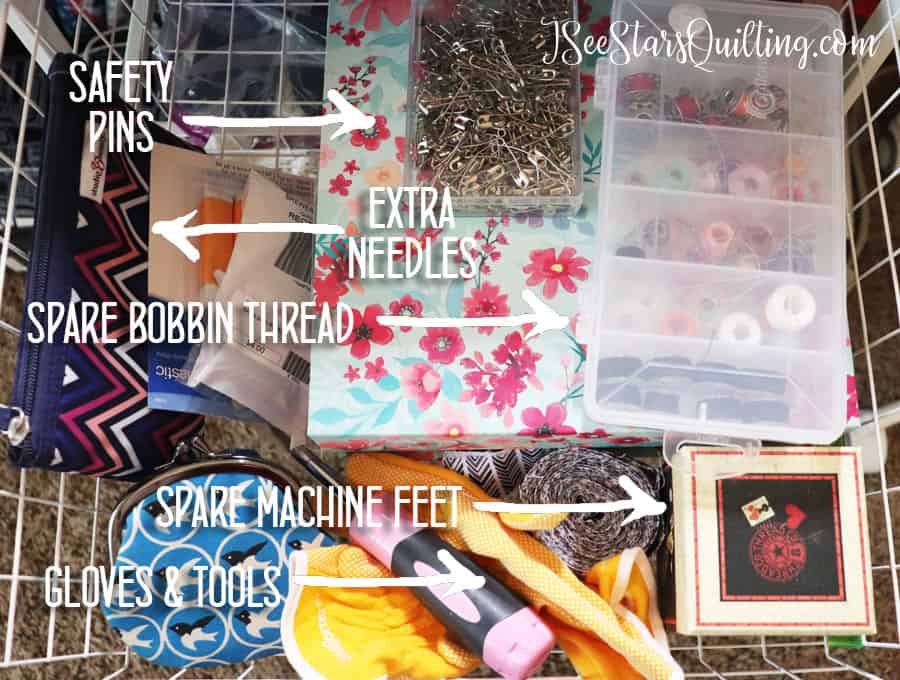 This is a peek into the drawer that is closest to me when I am at my sewing machine. As you can see, I have everything that I need close by and it has a home so I know exactly where it is.
Down below my tool drawer is my collection of rulers and acrylic templates for patterns and cutting.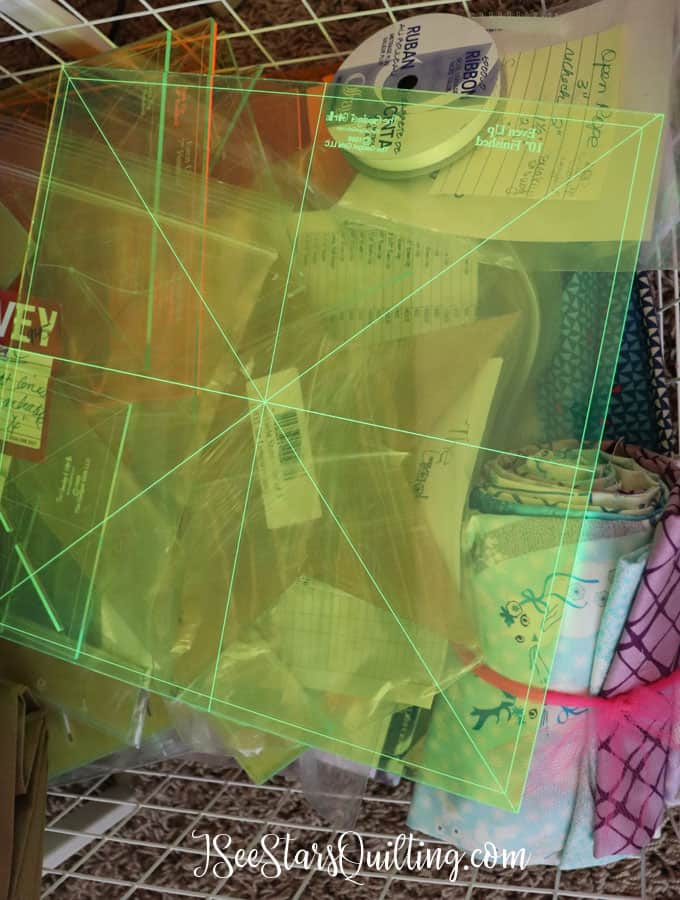 If I buy a fabric bundle or purchase fabrics that coordinate together while I am shopping, I keep the fabrics together in a drawer.
This makes for a quick grab when you need to make a quilt for a gift or need a quick sew. Half the battle of creating a quilt is deciding what fabric to use and what pattern you're going to sew… this knocks out the majority of that struggle!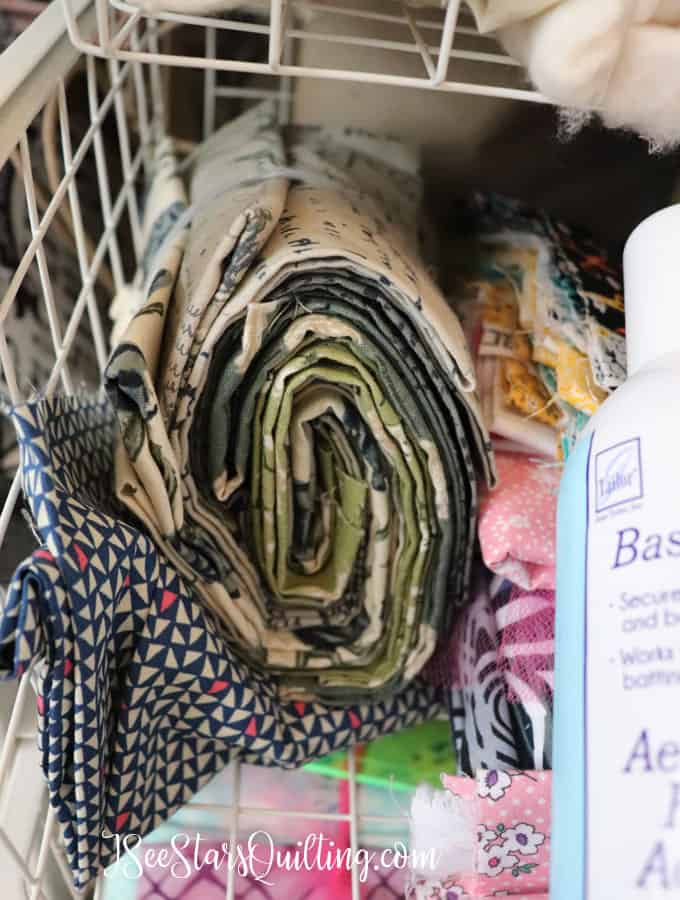 I also keep my basting sprays (purchased in bulk with a coupon! woo!) and other prays handy.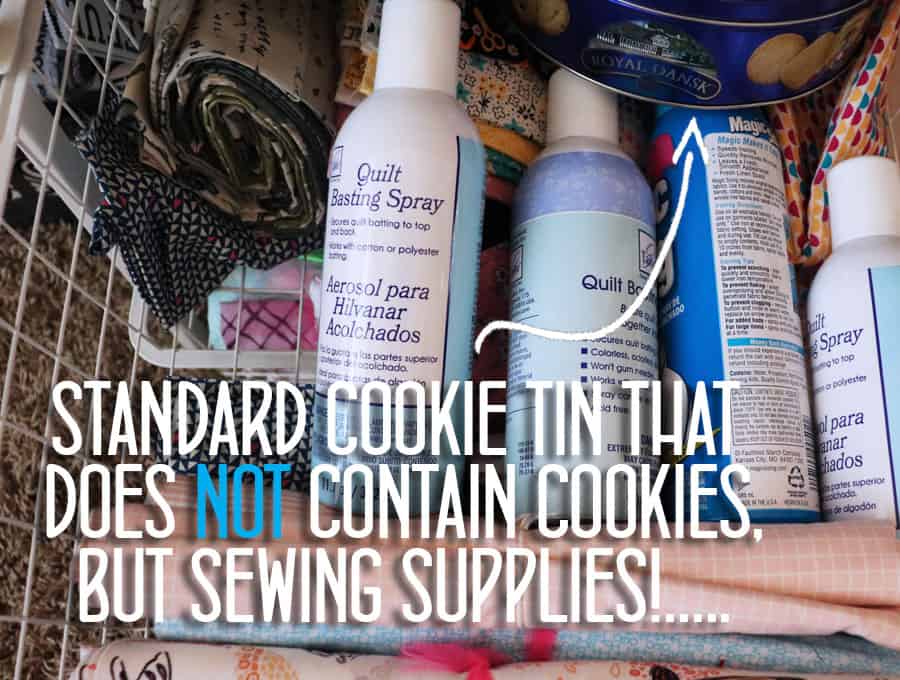 Moving over to where more prep work for quilting takes place is my cutting table.
This is actually a drafting table that I got from my dad back in high school. It is adjustable in height and has been a staple in my craft room from day one! Yes, its kind of been around a little while… but we're not going to discuss technical terms and numbers here!
I have a few different cutting mats on the cutting table to protect the table top and my rotary blade as well.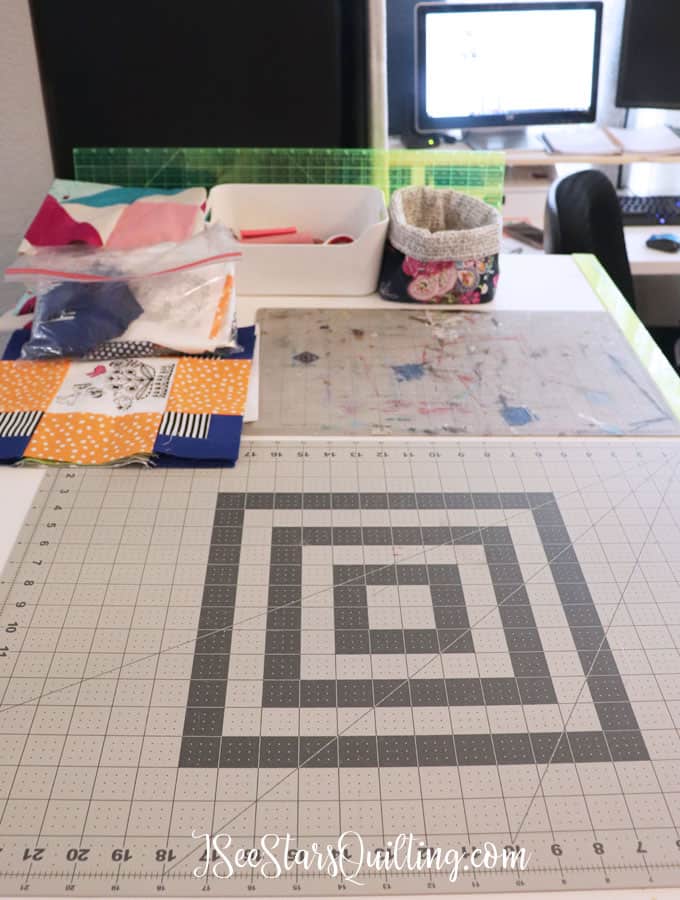 I like to use containers to coral and organize my tools on top of my cutting table. This also makes it a little safer for wandering little hands that just want to run away with anything they can reach!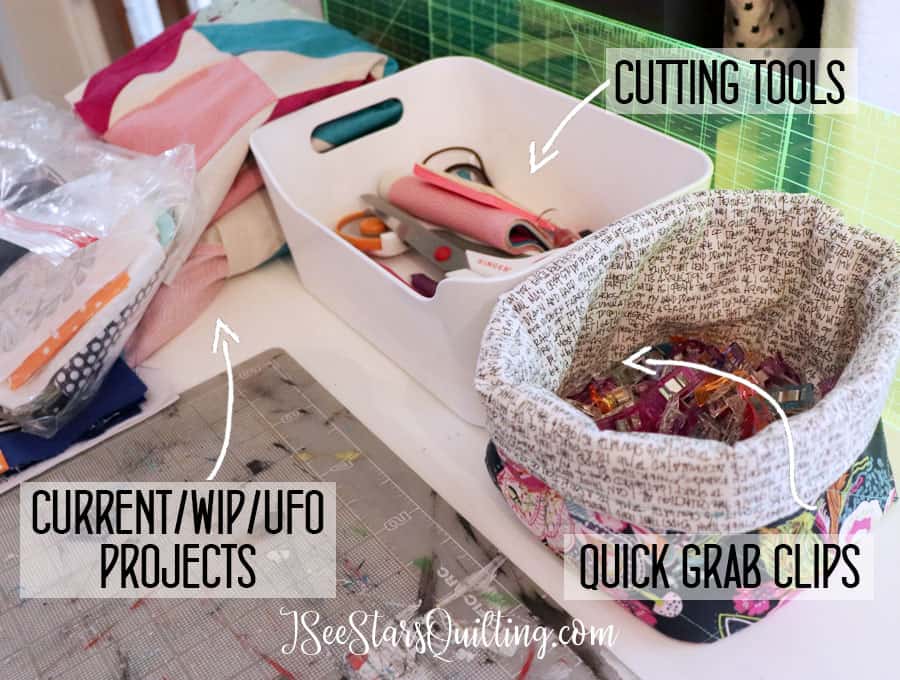 Another fun area to dig through is my scrap fabric storage! It is just simple plastic drawers from Target, but it holds oh so much fabric! (I have 2 of these because… you know… I had to organize my fabric in rainbow order. 3 drawers does not fit the whole rainbow. Slightly obsessive and compulsive? yes, I realize that but I have no plans to change :)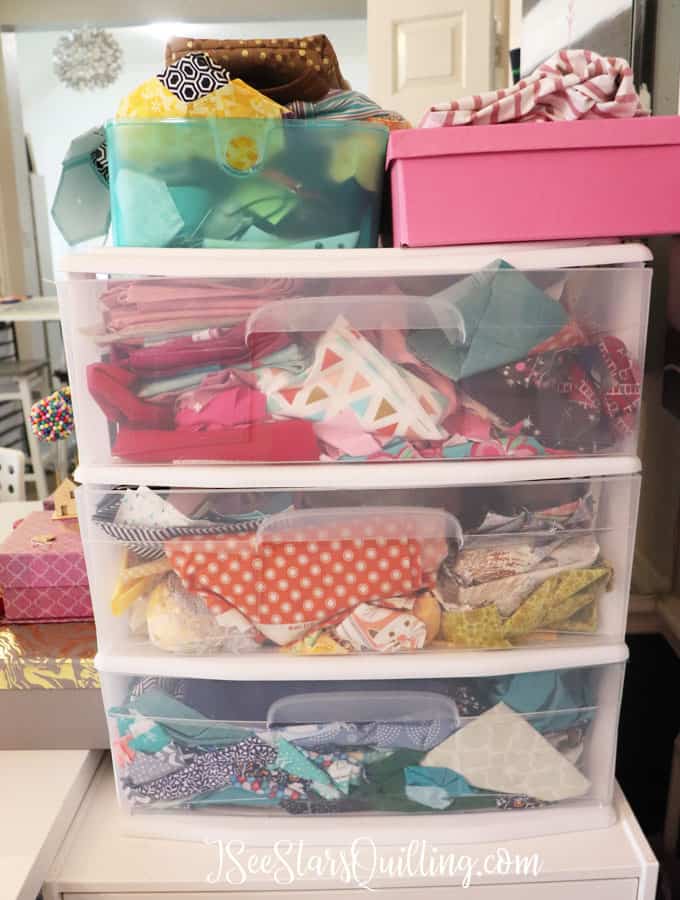 If you want more ideas for scrap fabric storage check out this post: Scrap Fabric Storage
Just to the left of my sewing machine, I have all my quick grab tools. I purchased the clear organizer tray on Amazon. It has been 110% worth it to have everything in one place. I think these are mostly used to organize makeup brushes… but they work well for crafts too!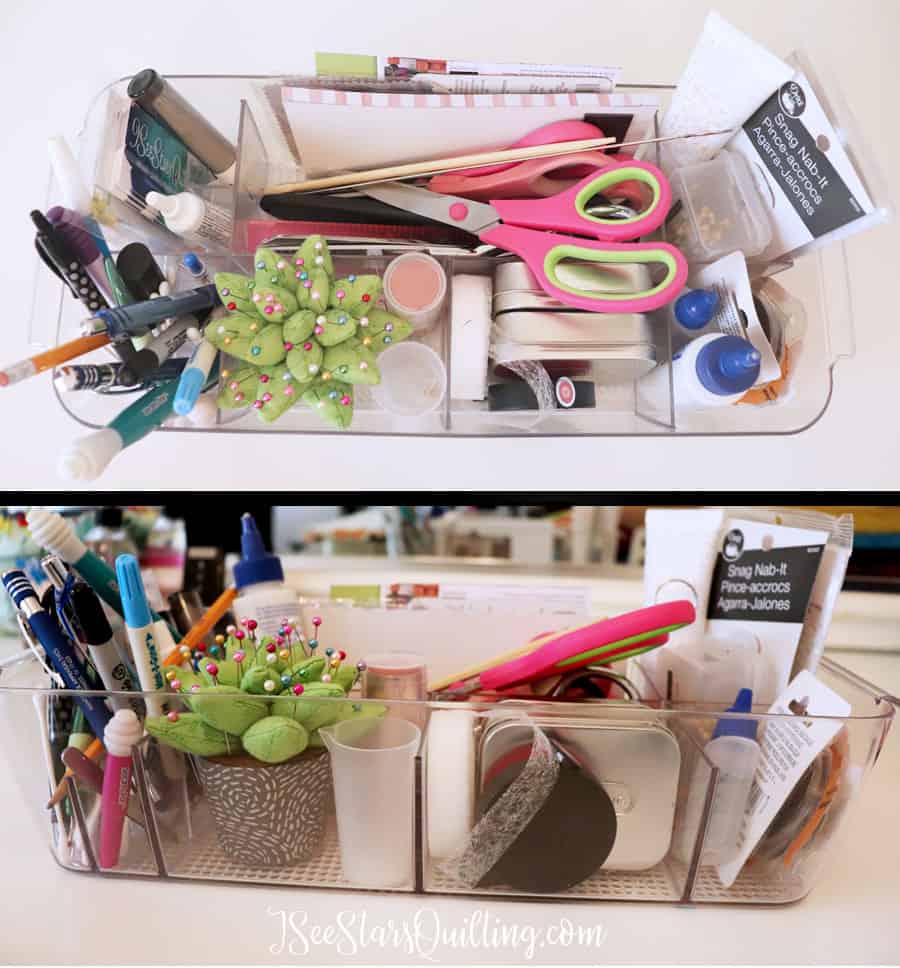 I also have an extra light source for when I'm working in the evenings and the daylight is fading. This is handy for when I'm working on tedious projects.
This is the lamp that I have, if you're interested. It has different light settings so you don't have to work by the light of 1,000 suns and you prefer a little soft reading light 🙂 Also, really happy with this investment I made!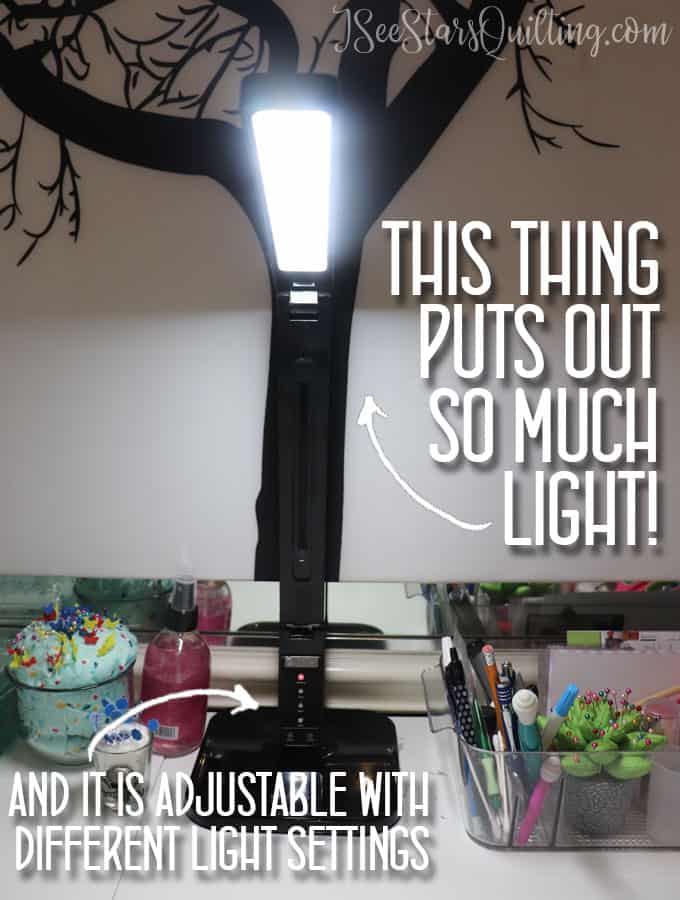 The last little area on my table I have that is close to an arms reach away is my big pin cushion and my flatter ironing spray.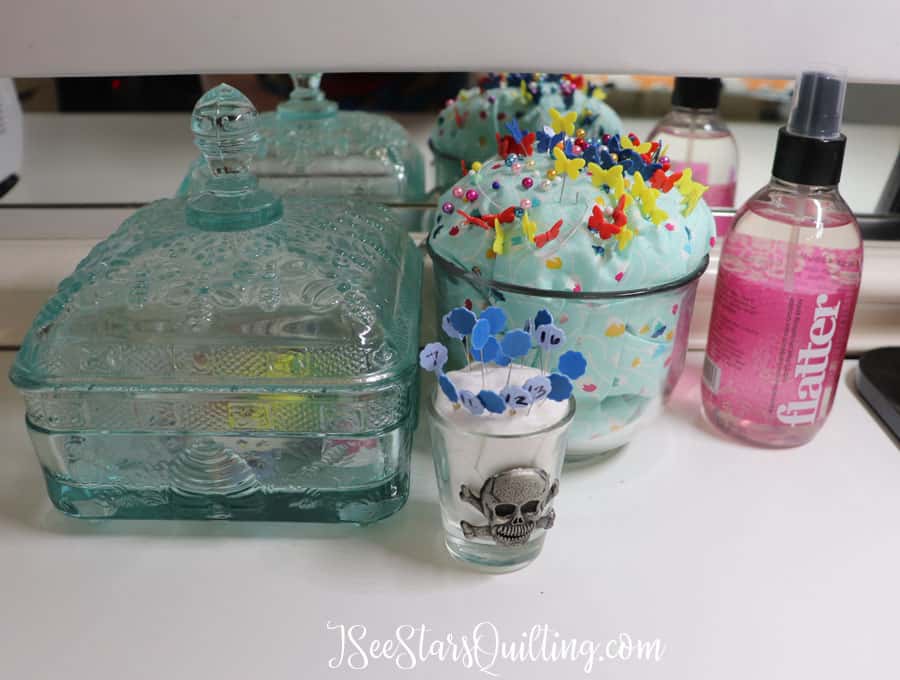 This stuff… THIS STUFF!…. it is a recent find of mine, but I can't imagine why I never heard of it before. If I could stand on the street corner and shout its praises without looking silly, I totally would. It's that good.
Just a little spritz when you iron and ahhhhh…. perfection beyond what you thought was possible. AND IT SMELLS LOVELY too. Win-win.
My favorite thing about my sewing room is how accessible it is and allows me to work however I please.
I used to have a big ironing board that was from before my husband and I was married and I hated that thing. It was always in the way and it was rather precarious if you ask me. We still have it for when I actually have to iron clothes, but in my sewing room, I use this super simple solution.
Most of what I iron is just 1-2 seams at a time… no need for the BIG OLD ironing board.
I have a cart that I have on wheels right next to my machine. I DIY'd myself an ironing board and now I don't even have to get up from my chair to iron a quick seam.
Lazy? Perhaps haha… but I prefer to call it efficiency, my friend!
Work smarter, not harder!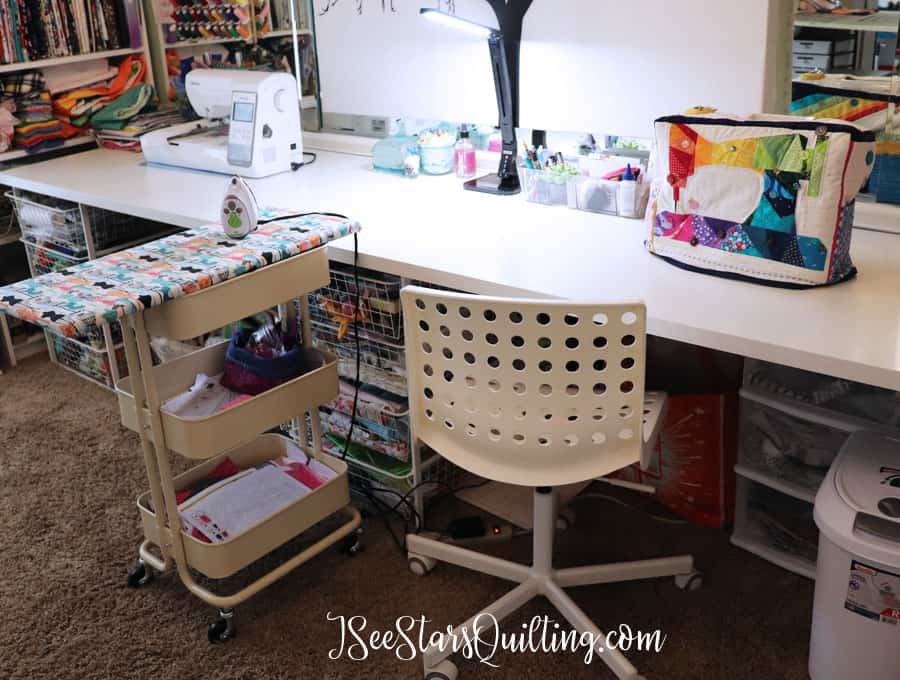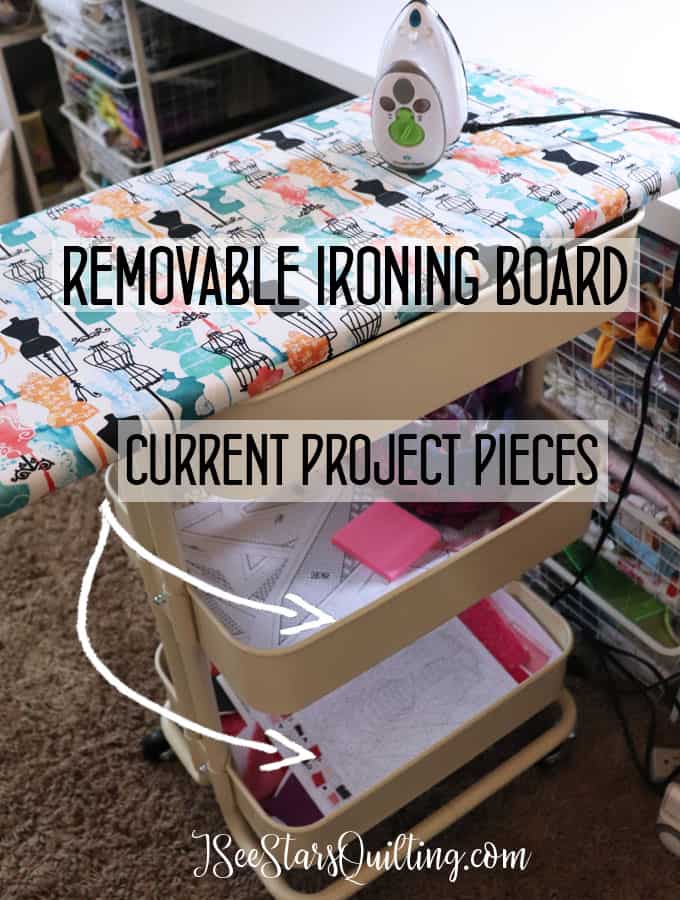 The cart is from… *Ding ding ding* You guessed it! IKEA! 🙂 But I've also seen a really similar version for a few dollars cheaper at Walmart. We use the Walmart one in the kid's playroom and I see no difference in quality.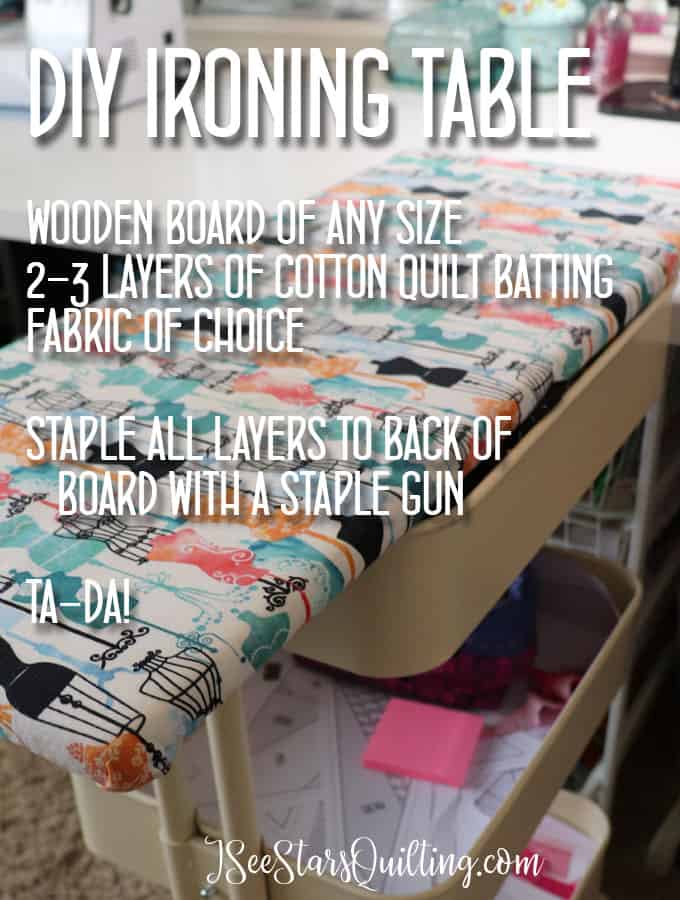 The last section of my sewing room is where I am right now as I am writing this to you today. It is the "office" part and where all of the behind the scenes technical stuff happens…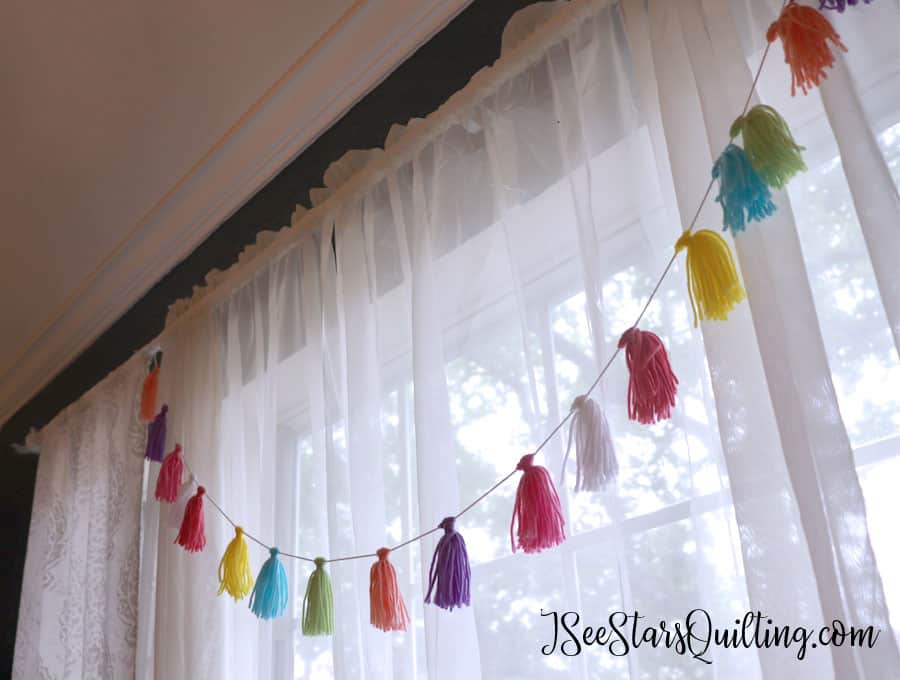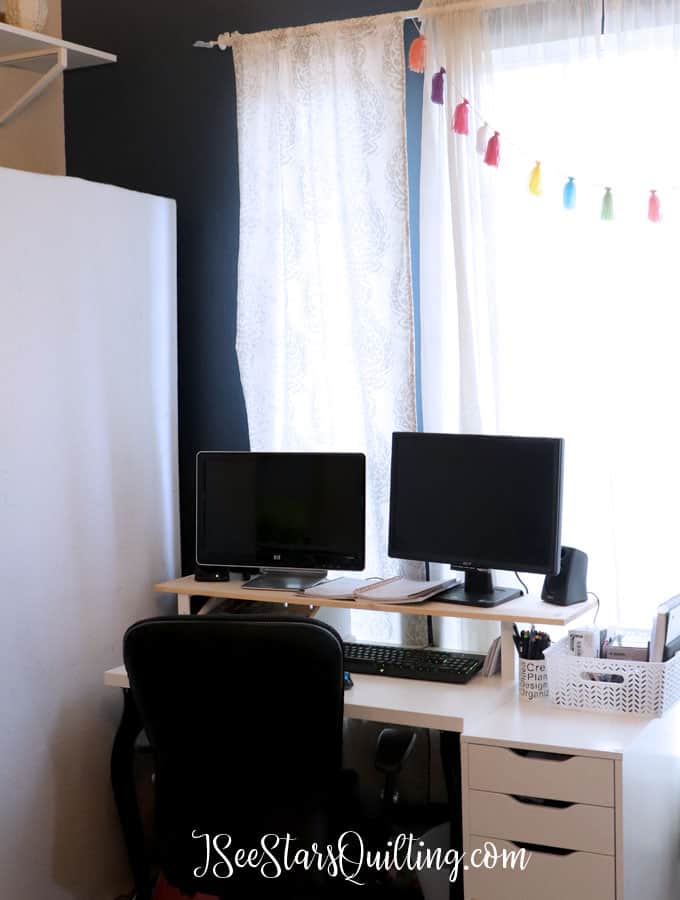 Did you see that basket on the desk there? I love baskets to group like things together! This one holds my photography equipment. But you can round up anything and give it a home in a nice basket!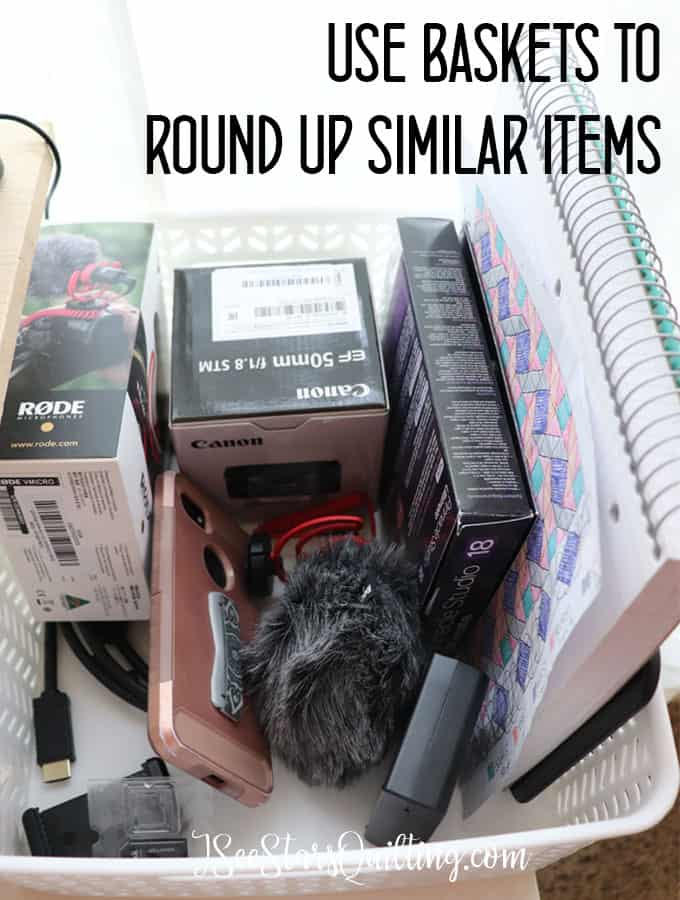 Everything HAS a place, everything IN it's place!
Does that saying drive you crazy? It does my kids haha 🙂 but our home runs so much more smoothly if everything gets put back in the place it belongs… especially our shoes which tend to get separated (I mean seriously, how?)
And I work so much more efficiently in my sewing room if I know where things go and can grab them in a flash.
This computer work area also has one of my favorite and most used pieces of my sewing room… MY DESIGN WALL!
Someday I will do a full tutorial on this baby, but it is really simple to make on a budget that it almost doesn't need a tutorial. It is so easy!
I used insulation board that you can find at a hardware store (the stuff they put behind drywall I think) and I made a sleeve out of quilt batting to go around it by sewing down each of the long sides. Boom. Done & Voila. Nothing to it, right?
It's sturdy, light weight and move-able… AND by creating a large sleeve of quilt batting, it is double sided! Can I get a woohoo?!
Your fabric clings to the batting (or you can pin it for a more secure hold) and makes for a really great area to play with placement and fabric arrangements… where the dog (or the kids) won't come and try to "help" you… not that I don't adore the help of little hands. I'm just less keen on accepting their advice after I've already got it all laid out perfectly...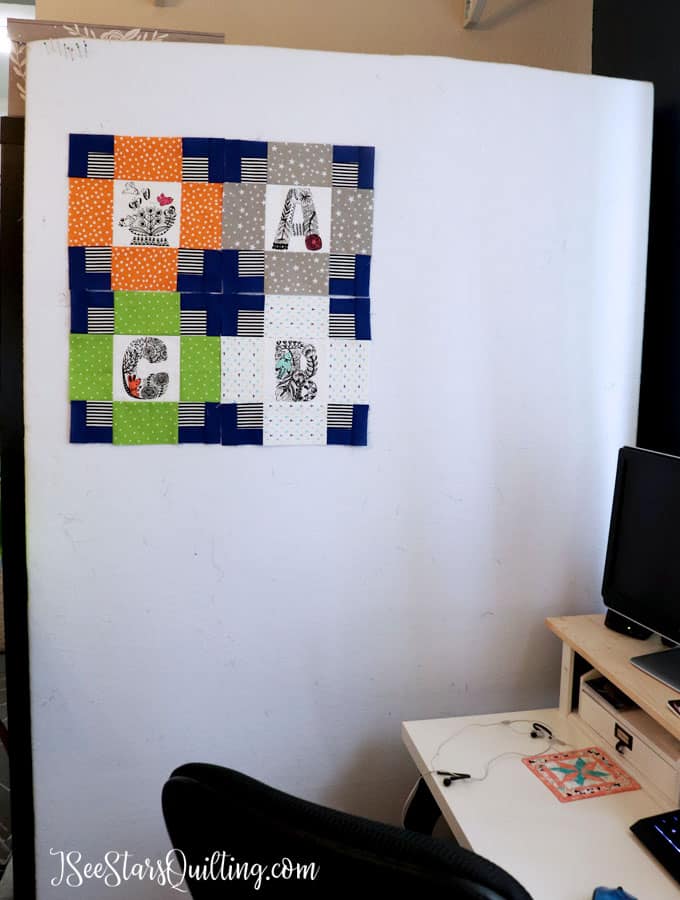 Do you want to know a secret?
Do you?
Do you?
Do you? 🙂
My design board is about the same width as three KALLAX
single bookshelves (its another IKEA product again!)
Remember how I told you in the beginning how open my house is and if one room is messy they all look messy…. I can "hide" some of our general family office mess and other storage areas behind my design board!
But shhh… Let's not share that with everyone, ok? 🙂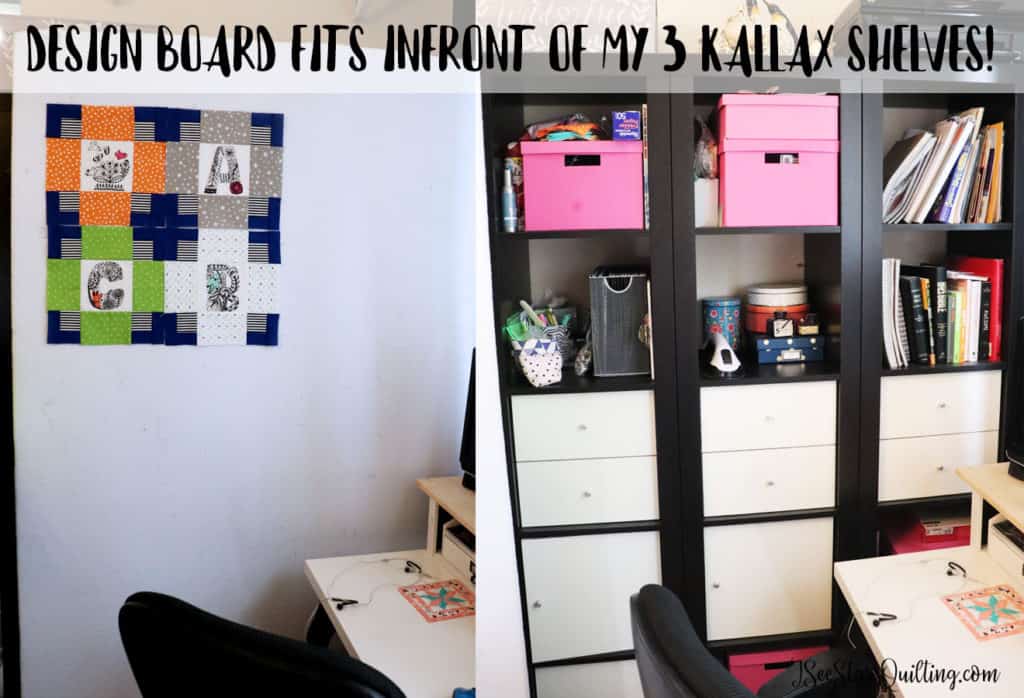 Whew, I feel like we need a tall glass of sweet tea after all that!
Thank you for stopping by and taking the full tour of my sewing room! I'm, so happy that we got to share this together today and I hope you can take away some fun ideas to implement into your own sewing rooms!
I'm always on the lookout for new and fun ideas…What is your favorite things about your own sewing space?