When I first started quilting, I remember feeling overwhelmed by all the different tools and gadgets available. It was hard to know which ones I actually needed, and which ones would stand the test of time.
Now, as an experienced quilter, I want to share my top 10 quilting tools I use all the time, and wish I had known about when I first started quilting.
Scroll down to see this post in video format!
:: SEWING TOOLS THAT I USE & LOVE :: https://www.amazon.com/shop/iseestarsquilting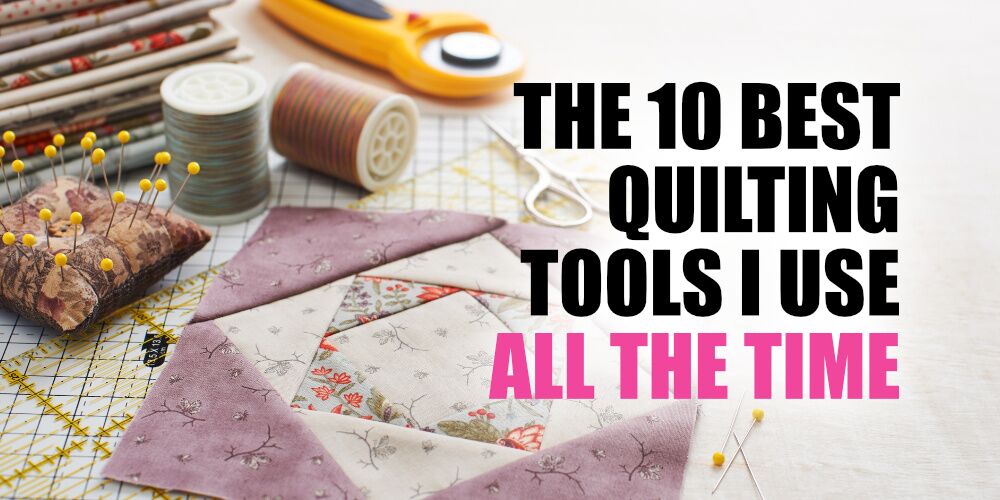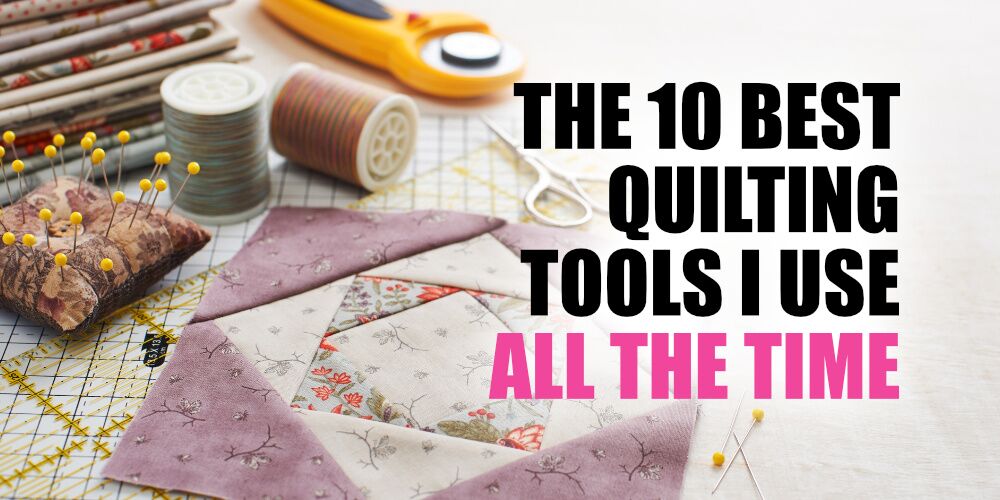 1. Magic Clips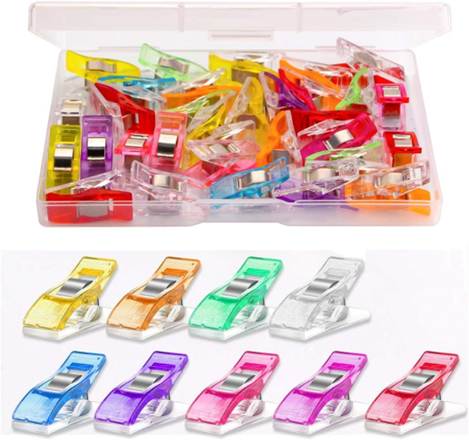 The first item I cannot live without as a quilter are these magic clips. They are absolutely irreplaceable. I use pins nearly all the time, but some days I want a change. On those days, when I need something else to hold and keep my pieces together, these clips do the job.
I now own several sets of them, but even starting out with one set should help you stay organized and keep your quilting pieces together.
2. The Right Seam Ripper

The second thing I can't live without is a seam ripper, and your ordinary starter model will never compete with this guy.
At first, I thought this one was a joke because it's on the ugly side. But it turns out, I can't live without this odd-looking seam ripper.
The secret to this tool is the rubbery, almost eraser-like end to it.
When you're ripping out seams, this end grips onto threads and pulls them out. Now you don't have to pinch with your fingers to try and pull out all the tiny threads. It's fantastic.
3. Ergonomic Rotary Cutter
Another tool you'll want to invest in is an ergonomic rotary cutter.
Although they all promise to be ergonomic, you want to select the one that suits your hands and fingers. You'll discover some cutters are easier on the wrists, while others may have extra padding.
As with most things, it's better not to base your choice on the price. Safety is essential, as is how comfortable the cutter feels when you're working with it.
4. Lasers for Sewing Machines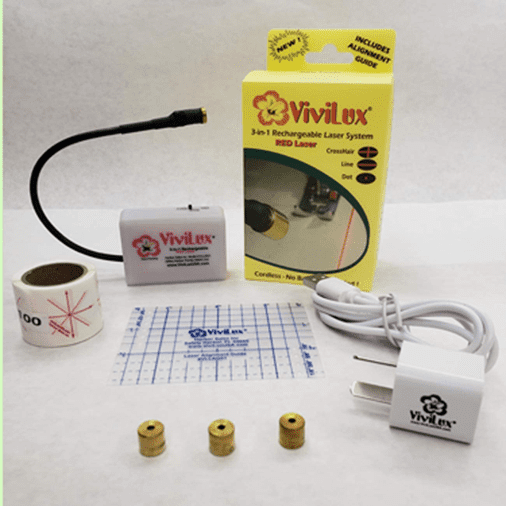 This one was a game changer for me.
These lasers are amazing. I have a full tutorial video on this product here:

I explain everything they do, why they're so awesome, and why it took me so long to try them out.
But honestly, I use them every single time I sew and I love them. They have been absolutely phenomenal in helping me get accurate points and create precise seam lines.
5. Square Up Block Rulers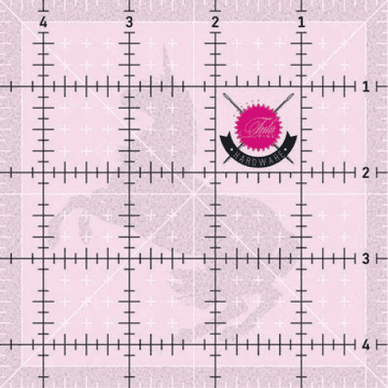 The fifth tool I highly recommend investing in is a set of block rulers, also known as ruler blocks. These rulers are set at exact sizes so you can square up your blocks.
It's easy to use the lines on your cutting board or an all-purpose ruler, but having specific sizes can be very helpful. One of the first things I invested in was a 6×12 ruler block, and I still use it all the time.
There's a great set on Amazon, it's pink, super cute and is well-priced. Although it doesn't cover every size, it has the most common ones and it's a really good starter set.
6. That Purple Thang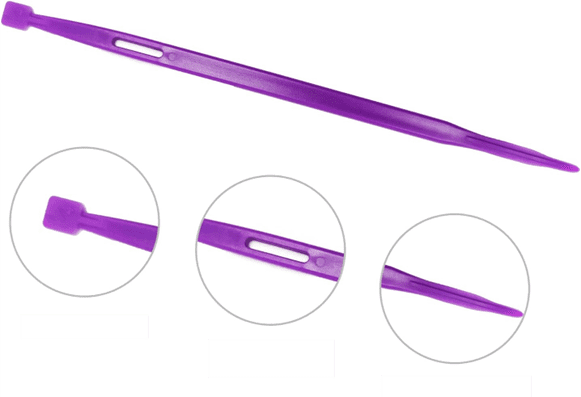 The next handy tool I always keep in the drawer next to my sewing machine is That Purple Thang. It's a really helpful gadget with a point on one end that can be used for reaching tight spaces or when you don't want to put your finger close to the needle.
The other end is a bit sturdier and I use it to poke out corners of my bags and other projects.
And if you look closely, you'll see the square end has a quarter-inch measurement on the side, which makes it useful for measuring, fixing bindings or other detailed work.
It's a really handy tool to keep nearby when you're working on your quilting projects.
7. Project Boxes, Baskets & Bins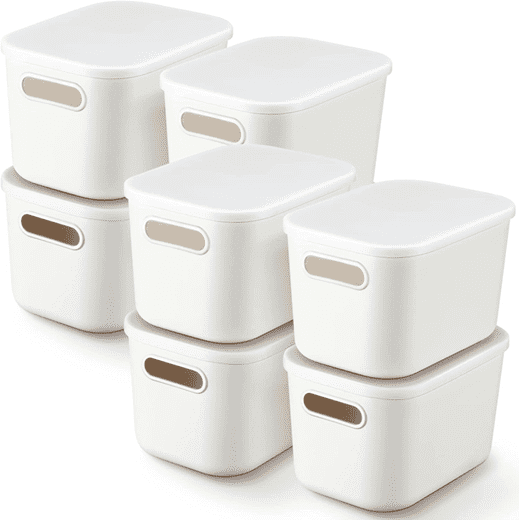 Individual project boxes are one of my favorite ways to organize. Over the years, I've switched from using baskets to boxes, but the container itself doesn't matter as much as the method.
I put everything I need for a particular project in its own box — pattern, fabric, cut fabric, instructions, choices I've made etc. When it's time to clean up, I put all the components in the box, put on the lid and store it on a shelf.
The key is that everything for that project is in one place and can be easily accessed when needed.
This way, I don't have multiple projects out at once, and it helps keep my sewing room tidy. Once the project is complete, I have an empty box for another project, and I can reuse them over and over.
8. Thread Stand

My thread stand is irreplaceable in my sewing room.
I love this device because, while most sewing machines come with a built-in thread holder, they can only hold small spools of thread. This extra stand lets me use larger spools of thread which is more economical as I can buy in bulk.
It also provides me with better control over my threading process, making it easier to change thread colors and types.
I love this thread stand because it allows me to use my next tool — a larger spool of thread.
9. Larger Spool of Thread
Buying a larger spool of thread is not only more cost-effective because you get more thread for your money, but it also makes sense for quilters who use a lot of thread.
The spools I usually buy are around 6,000 yards although you can get spools way bigger than that. I like to have a variety of different color threads, so the 6,000-yard size is perfect while I build my collection.
You should try to buy higher quality thread, as it goes hand in hand with the quality of fabric you're investing in.
I always stock up on white thread in large quantities because it's essential for piecing, which needs long-lasting and reliable thread.
10. Pre-cuts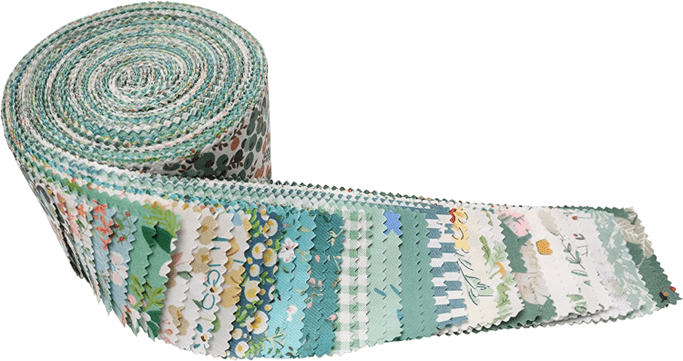 I absolutely love pre-cuts. The reason I didn't use them as much when I first started quilting was that I thought I knew better. I assumed they were for people who didn't know what they were doing. But I was wrong, and I regret not jumping on this train earlier.
Now I love pre-cuts and I collect them. Even though I don't have all the time in the world to use them, I still love having them as an option.
I hope these top 10 quilting tools will be a great addition to your quilting toolbox.
Remember, quilting is about having fun, so don't stress about not having every tool under the sun. Start with the basics and as you become more comfortable with quilting and know what you need, you can add to your collection. Happy quilting!
Next steps
If you're looking for more quilting tips, tricks and tutorials to improve your work and increase your confidence, be sure to check out my Quilty Tutorials playlist on YouTube.
And if you really want to get better in the quickest time possible, have a look at my foundation skills quilting course Modern Quilting Made Easy designed especially for people just starting out.