Whew! Did you happen to get the opportunity to go to the International Quilt Festival in Houston? Or were you stalking everyone on Instagram and facebook wishing you were there? (no shame!)
I'm lucky. I'm so lucky… this big glorious crazy quilting event is right here in my hometown. Spoiled, I know. I've been several years in a row now, and I truly enjoy this day so much! The energy in the room just buzzes because when all of us quilters and sewists get together in one room, we know we have found our people and its a really happy place to be 🙂
I shared several pictures on Instagram, but I was so distracted with all the lovely quilts and the general excitement that I decided to just do a quick recap here on the blog, so I can share a little more. *Warning: Prepare for LOTS of Photos!*
Quick recap for those that might be new or just learning about the International Quilt Festival Houston. It is held at the George R. Brown Convention center in downtown Houston.
On the first level, the convention center is 639,000 square feet… and its all full of quilts and booths about quilts, yarn, sewing, and fabric. Makes you just a little excited, doesn't it?!
Allow me to give you a little better perspective… This photo is taken from the second story windows.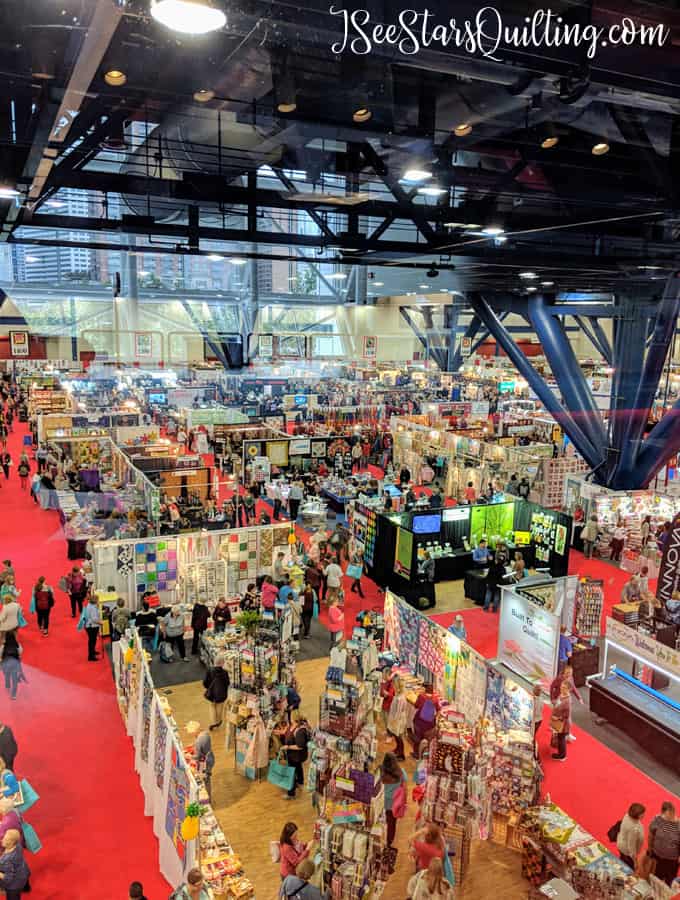 And to think that is only a small section of the many booths!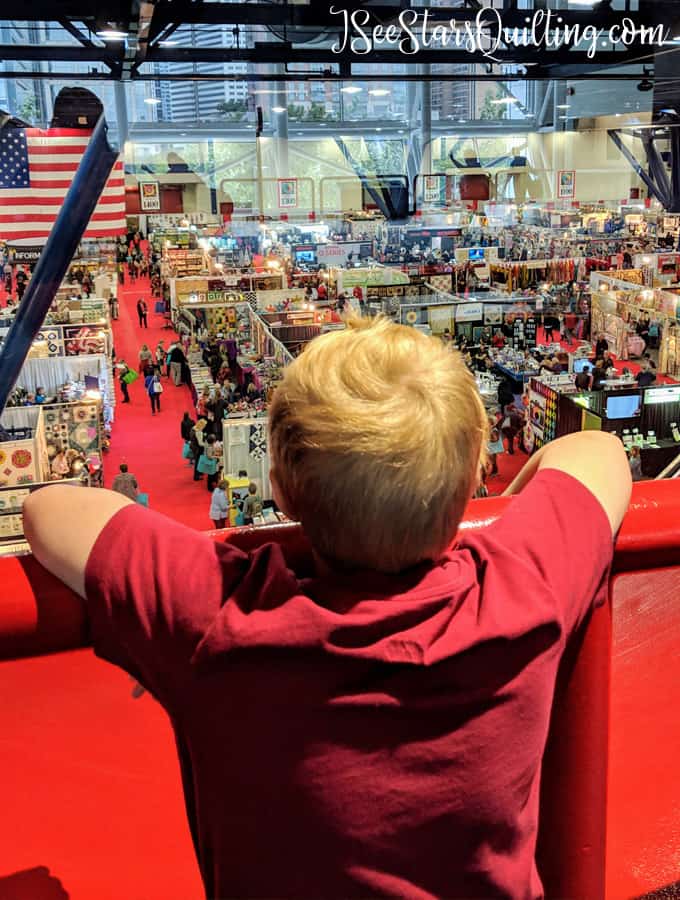 Ok before I go any further – If you were at the quilt show and you had the opportunity to get sucked into a conversation with this guy, I want to thank you. We met so many nice women and men who were such kind souls to really make his day special. He also legit thinks that he is my top PR rep for ISeeStarsQuilting …and he is 100% right 😉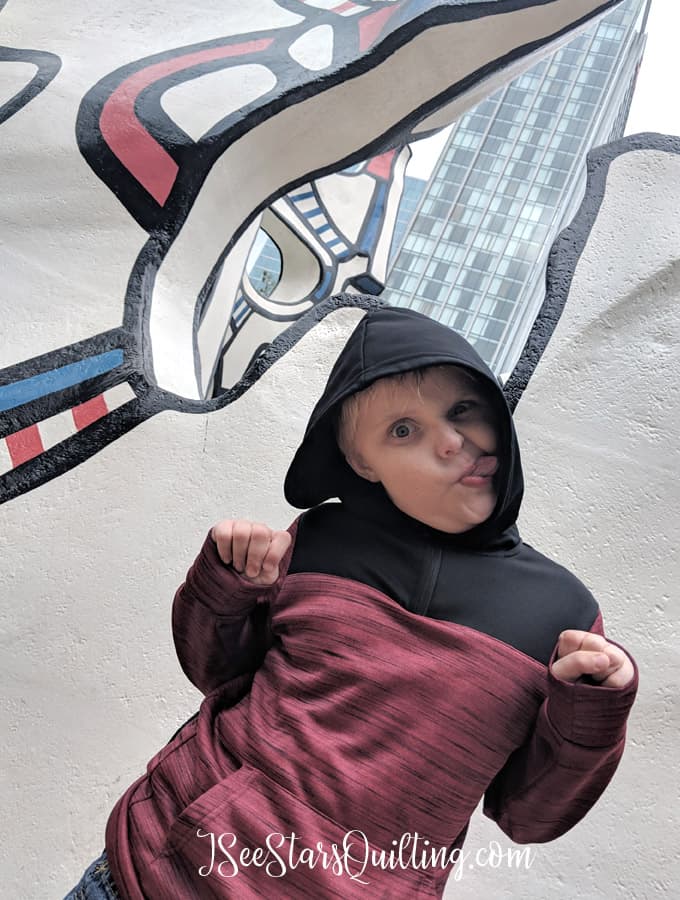 Wonderful Shout Out to the sweet woman who talked with my son and even let him choose his own favorite quilt pattern to take home FOR FREE! He thought that was so special! THANK YOU! You are truly amazing 🙂
These beautiful mini quilts were contest submission pieces… I love all the purple. Beautiful when all put together!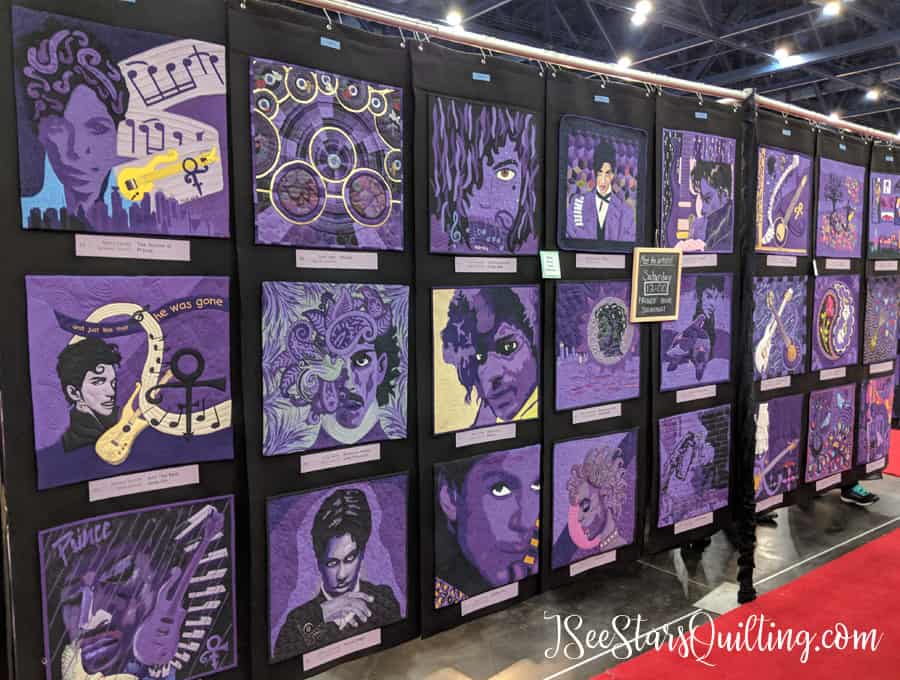 There are two different sections to the Quilt Festival – The shopping side and the show side. I will post more detailed pictures of my favorite quilts from the show side in another blog post… but just to give you a quick peek… this show side is a lot less crazy crowded and much nicer to wander through.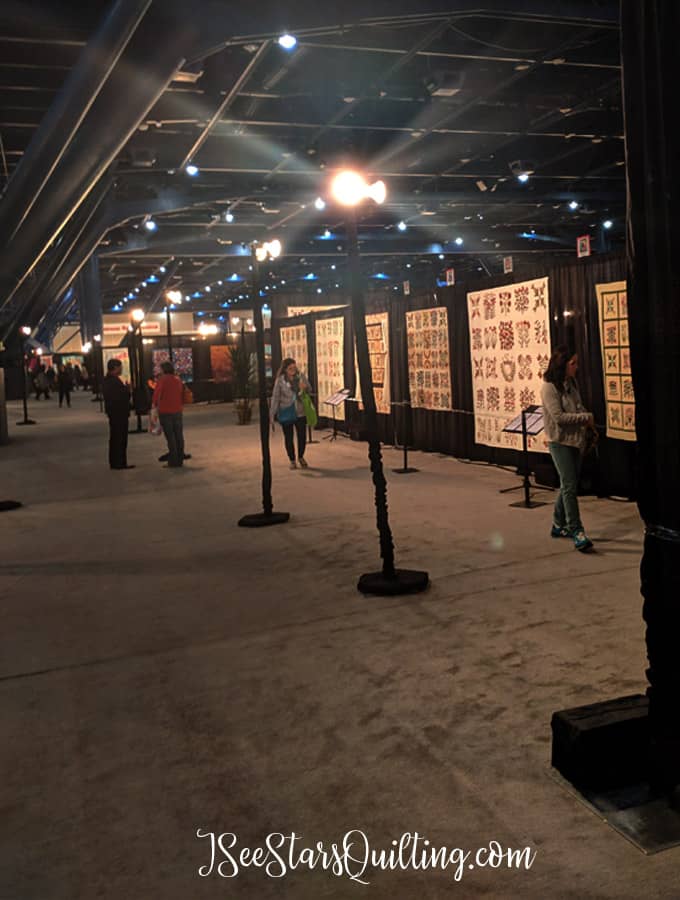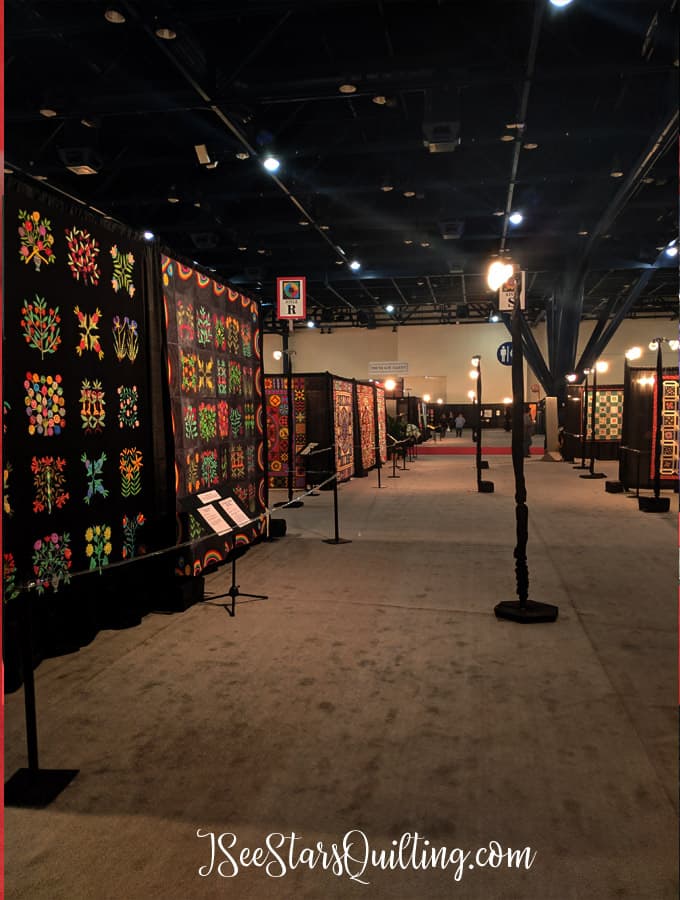 TIPS FOR ATTENDING THE QUILT SHOW
I suggest starting with the shopping side and then taking a quick break to grab some food before moving on to the beautiful quilts on display. – that is not a must, but that is what has worked for me over the years.
Be Prepared – You are not alone in the shopping trip. There are lots of crowds and lots of people who are just as excited as you (its truly a wonderful thing!) However, if you are an introvert at heart (like me), this is a lot different than your normal hangout spots.
Wear Comfortable Footwear! – so.much.walking! When was the last time you went to a theme park? What shoes did you plan to wear? — wear those. This isn't your casual trip to the mall… This is full-on serious shopping!
Buy your Tickets online ahead of time. You can view the quilt show website for the ticket company. Then you can use either text the barcode to scan on your phone or print out your tickets at home. You can also purchase tickets on site, but you'll waste shopping time!When you enter, you will get a stamp of some sort, so they know that your ticket has been scanned but you are free to come and go as you please for the day.

Parking – There are garages all over Downtown Houston and plenty of parking lots in the area that are willing to let you park in their lot… for a fee, of course. Do a little digging online and research this PDF Parking Map provided by the quilting show website. A lot of the machines take credit card now, but it never hurts to grab a little cash before you go.
Get there early! – Doors open at 10, but there is a line that starts to build up around 9:15 or so as people park and come in.
Shopping – Cash or Credit? – Most booth/shop owners I talked to prefer credit cards because getting change takes longer and makes other customers wait a little longer… but the stores also told me if cash is your only option, they're happy to accept it!
Look for show specials – A lot of shops have specials because they don't want to bring anything home from the shows. They are there to make money and sell all their beautiful products! Look fro deals if you bundle multiple products or buy a certain amount of yardage.At the show, I got…
*10 fat quarters for $20. Not a huge bargain, but the fat quarters were of great quality and beautiful patterns.
*A FREE book of several amazing quilt patterns (that I can't wait to dive into!) for purchasing 8 yards of fabric (mix & match!)
*A panel at a 30% OFF discount because I talked to the lady about how much I loved it and when she went to grab one for me, they were sold out. I talked her into selling me the display one, and she gave me a little bonus discount too 🙂
What to bring to hold your purchases? – A few years ago, rolling carts were allowed and… you can imagine what 10,000 of those do for traffic flow. Screeching dead halt and plenty to trip over. Rolling carts/backpacks with wheels are not allowed in the Quilt festival.I like to bring my backpack to stow all of my purchased goodies. It does get a little heavy, but I was totally a nerd back in college, so it feels good to me :)Several of the sewing machine booths give away reusable bags to stash your finds in. I love to collect these for my grocery runs!

The third option is to use the bag check station at the front of the quilt show. These wonderful ladies actually hold your goodies and give you a claim ticket to come back and pick them up whenever you're ready. It is so simple, and it's FREE! Look for the information desk.

One more option that I saw a lot of women utilize is a husband. His job is to walk around and hold the bags. True love, folks. True love.

Snacks/FOOD – Eat a good breakfast but stash a few snacks in your purse as well. As a mom, I always have a few emergency fun sized skittle bags in my purse because… you never know, right? These are perfect when the blood sugar starts dropping, but the will to shop has not diminished yet.There are several options for lunch and snacks around the convention center if you want to get out and get a little air.Upstairs in the convention center, there is an area with a few food booths for a quick bite to eat. In the past, I've tried a BBQ bakes potato, pizza, and Chick-fil-a. All easy, quick meals to get you nourished and back to shopping in no time!
Most importantly, have fun! Keep your eyes open for new and unexpected things that you can take home to embellish your creativity!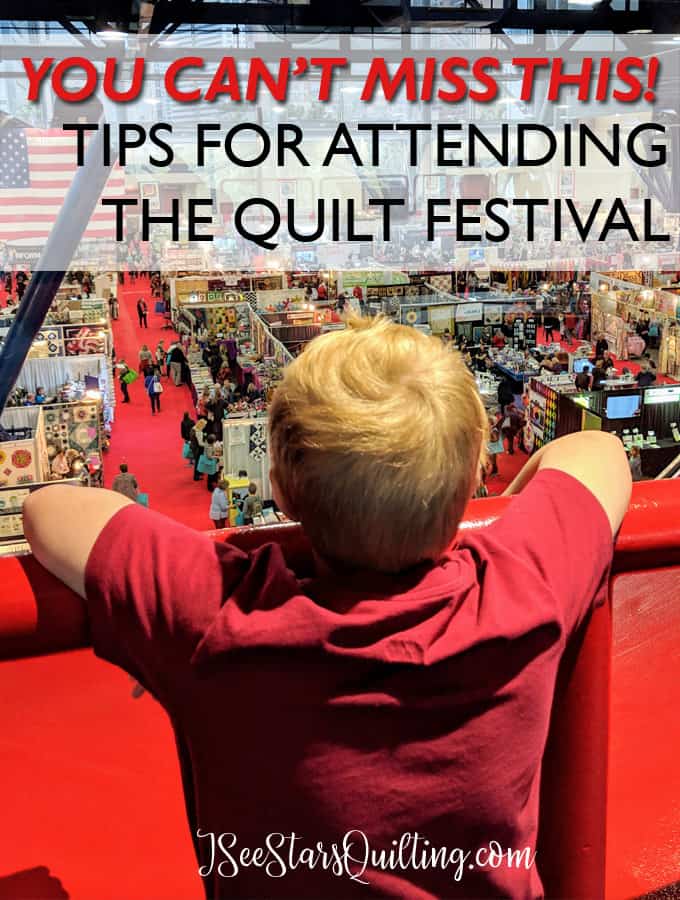 Next blog post I'll share my favorite quilts on display from the show and post a link for you stay tuned!