Every single year when I visit the International Quilt Festival, I love to visit the Cherrywood Fabric's Quilt contest display!
This is an image from last year. The theme was Prince… obviously.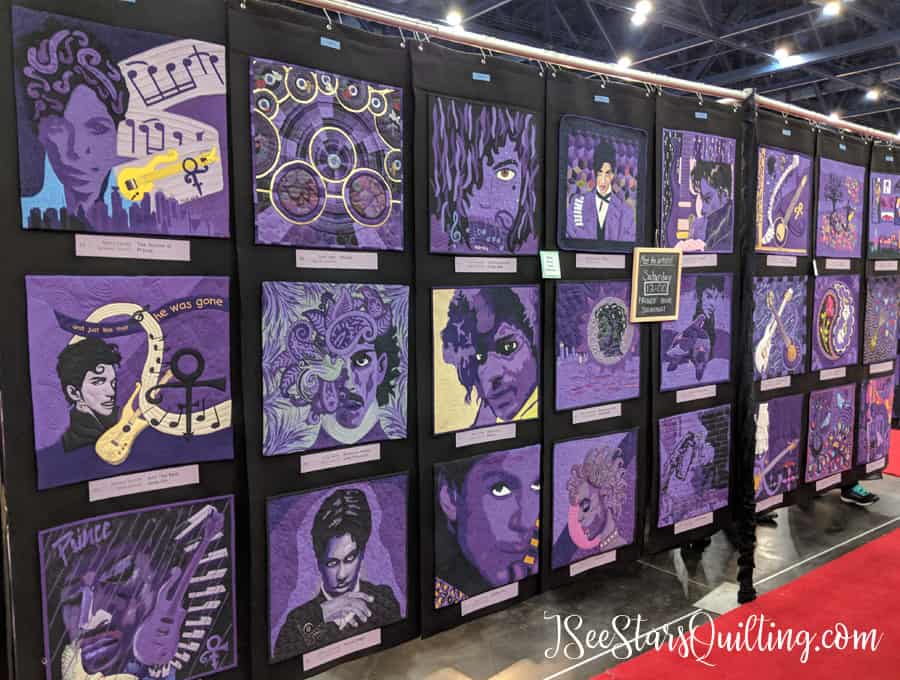 It is absolutely amazing to see the sheer talent that other quilter's posses, isn't it?
If you aren't familiar with Cherrywood's fabric… Each color in hand-dyed in batches. It is so sooooo beautiful.
The fabric has a suede look to it that is hard to describe, but the texture when you touch it is… ooooh it is soft and luscious!
If you ever get the opportunity to get your hands on this fabric, I highly suggest you go for it! It's beautiful to work with.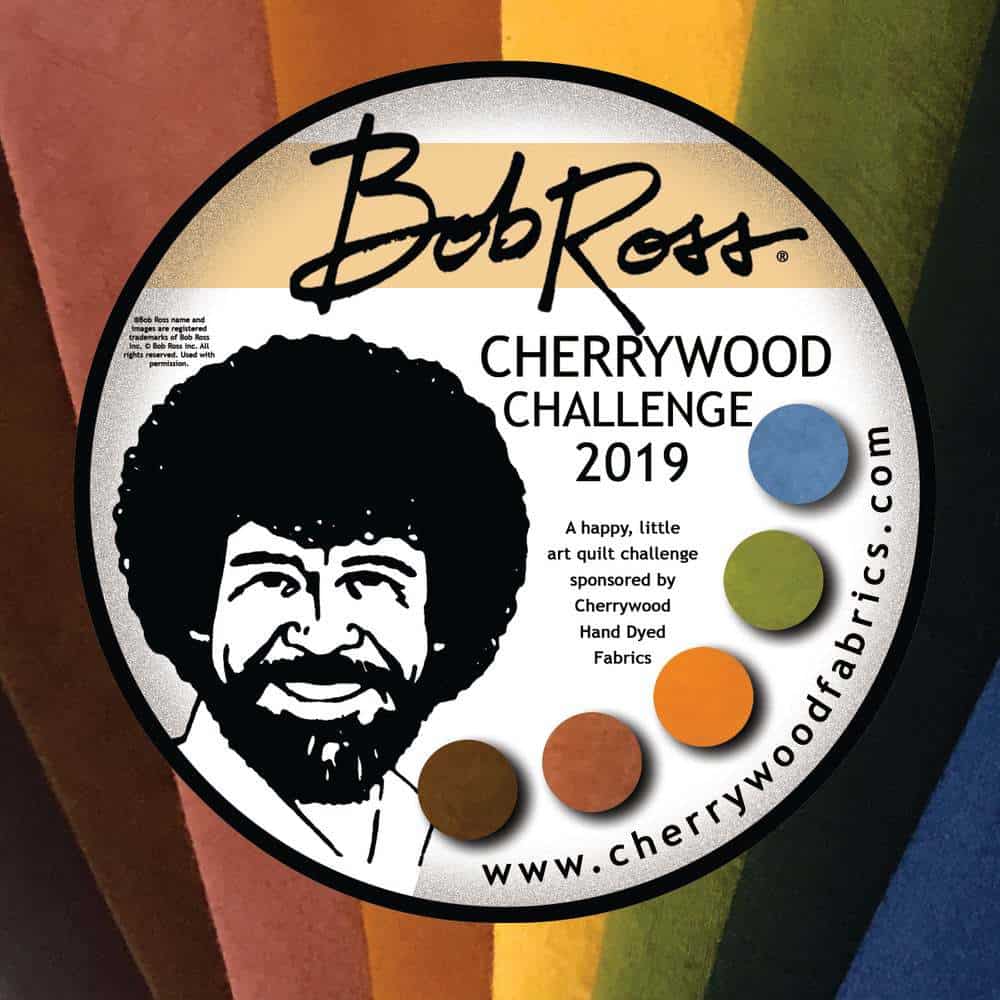 OK… on to the contest details… and then on to more pictures and detail images of my contest entry!
If you follow me on Instagram, I already shared some pictures over there 🙂
Bob Ross was a wonderful painter and an even more wonderful person. I could honestly write a whole blog post just on him! I won't because I know that is not what you're here for… but I could!
We love Bob Ross in our house 🙂
So when I saw that the theme for this year's Cherrywood challenge was Bob Ross… well, it was a given that I would be working on something to enter.
This is the selection of fabrics that were provided for the contest. The mission: Create a 20″x 20″ quilt piece that incorporates these colors with the inspiration of Bob Ross.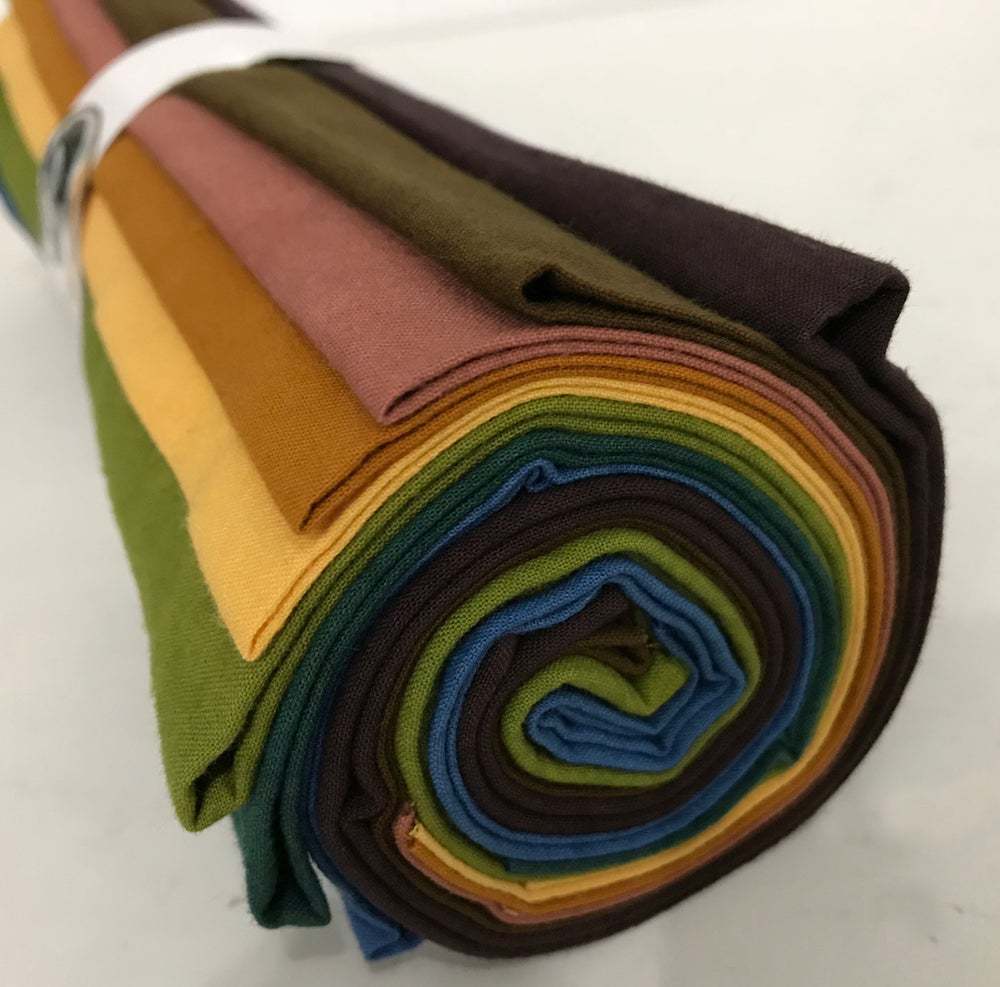 Bob Ross painted all of his paintings using only 8 colors of paint (plus white and black). So it was only fitting that our quilted masterpieces be limited to only 8 colors of fabric, right?
We were allowed to incorporate other colors in the piece via another form of medium – paint, beading etc….. i.e. as long as it isn't any other fabric.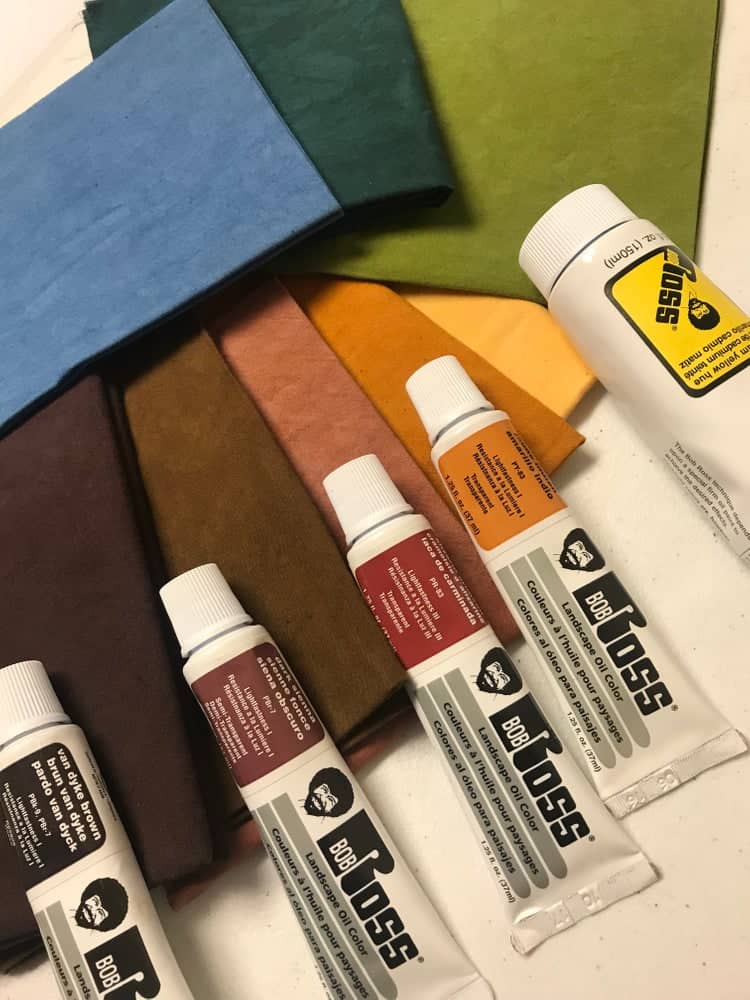 The last day to enter for the 2019 show was today (July 1, 2019) so I really hope I will get to see the other entrant's quilt pieces soon.
Here is my Cherrywood Quilt Contest piece!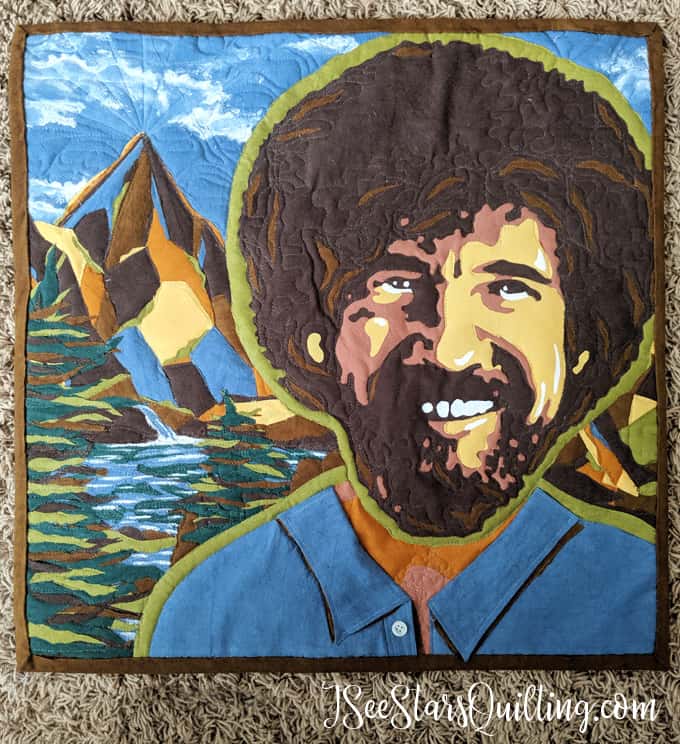 There is so much detail on this quilt and so many little areas that I really want to highlight… so I'm sharing lots more photos so you can see it all 🙂
First, the details of Bob, himself… and that HAIR!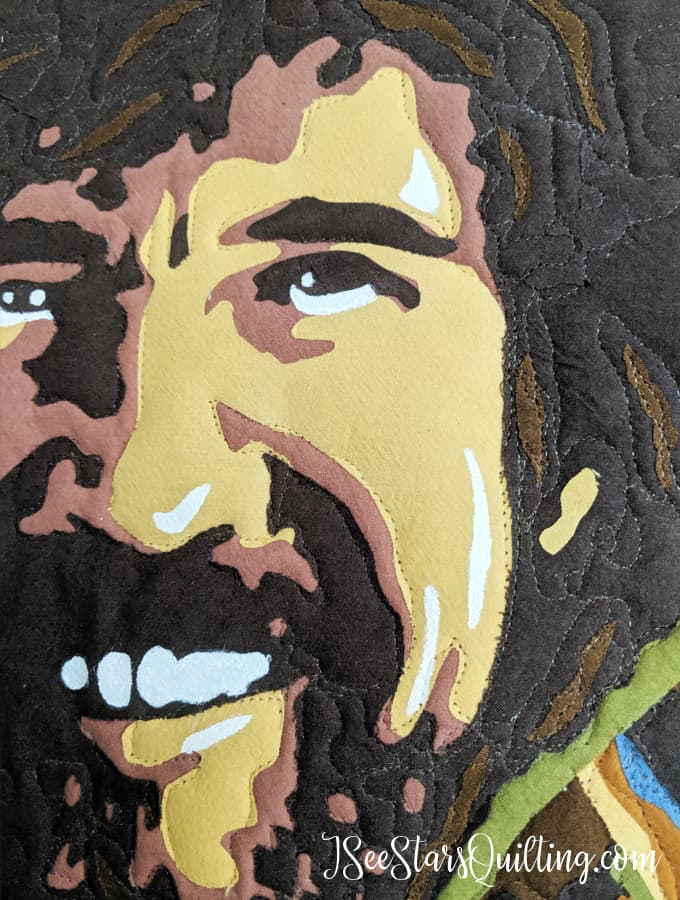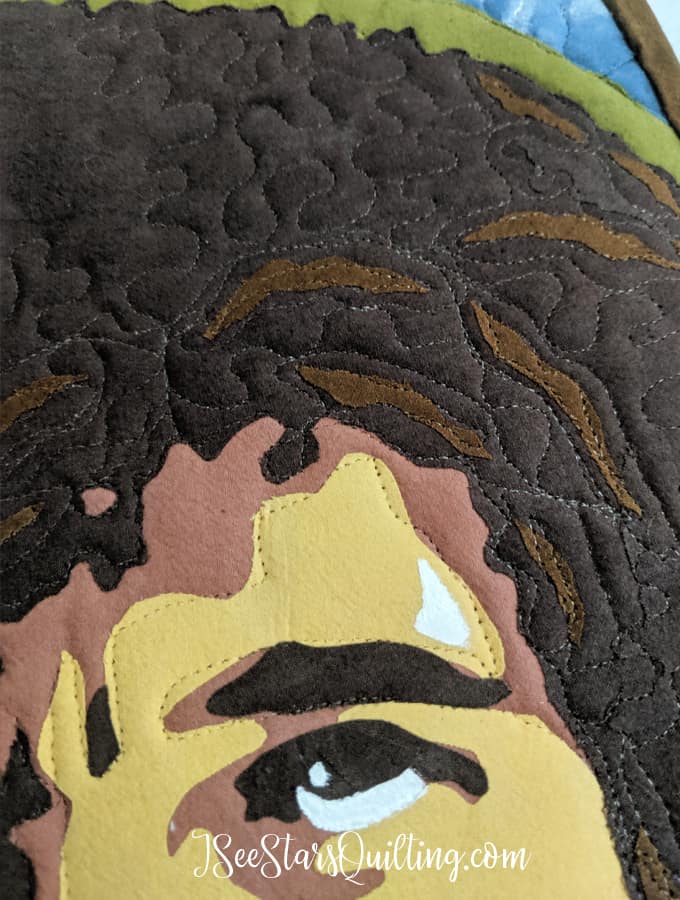 I couldn't neglect the chest hair and signature denim colored button down shirt…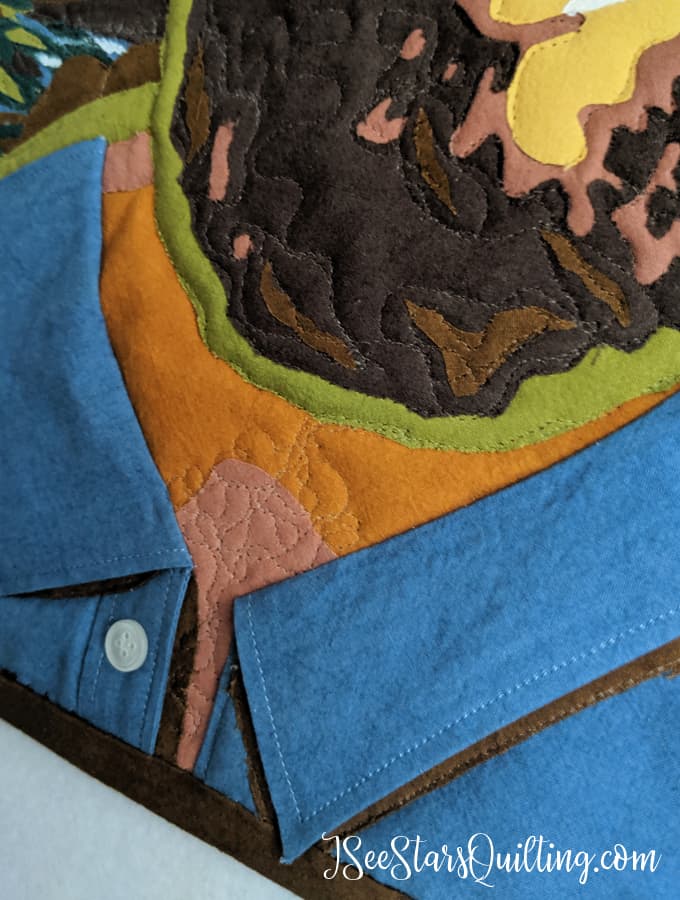 Bob Ross' love of nature and the planet earth is something we should all aspire to have. He saw beauty in everything. "Happy trees", "Happy little cottage". He saw the planet for what it could be if everyone loved it.
Here is some more details of the piece and the quilting.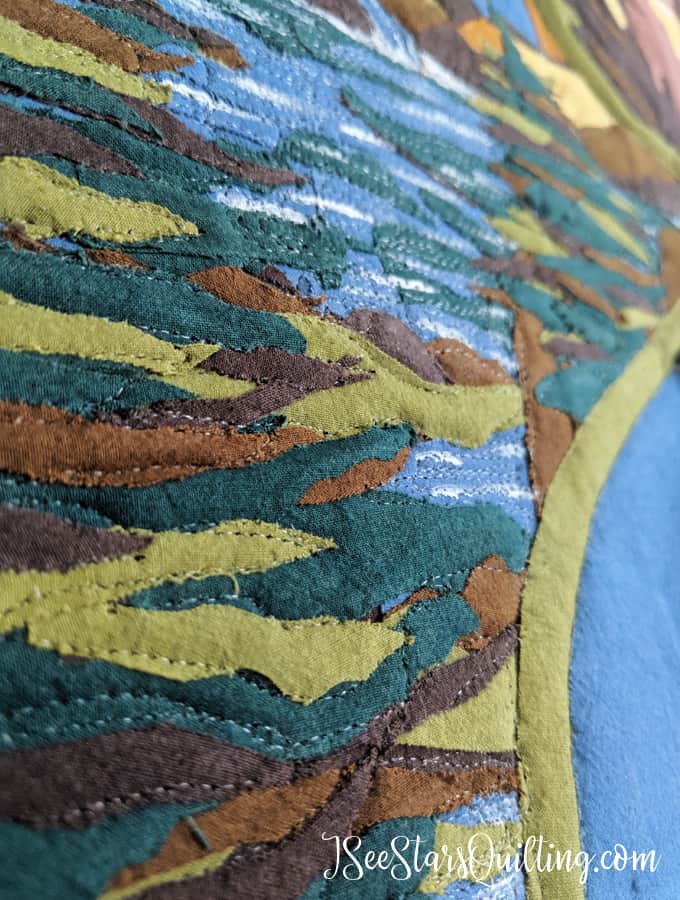 There was a lot of experimenting with this quilt – Not something I totally recommend doing when you're entering a contest piece… but these are when the experimental ideas come, ok?
I added an extra layer of batting to the quilt in hopes that it would puff up and show more dimension in the quilting… and it did! Just look at the mountain!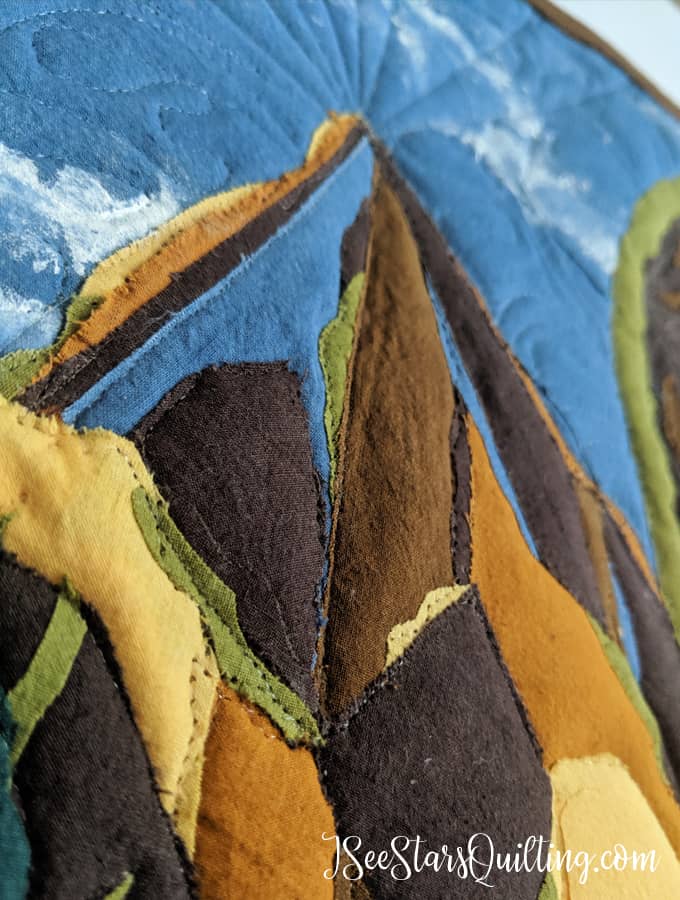 As fro the sky… I have to tell you that yes, yes I did totally watch Several episodes of Bob Ross' show while I was making this quilt. I also watched a YouTube compilation of all the times Bob Ross instructed people on how to paint clouds while I was painting these sky decorations 🙂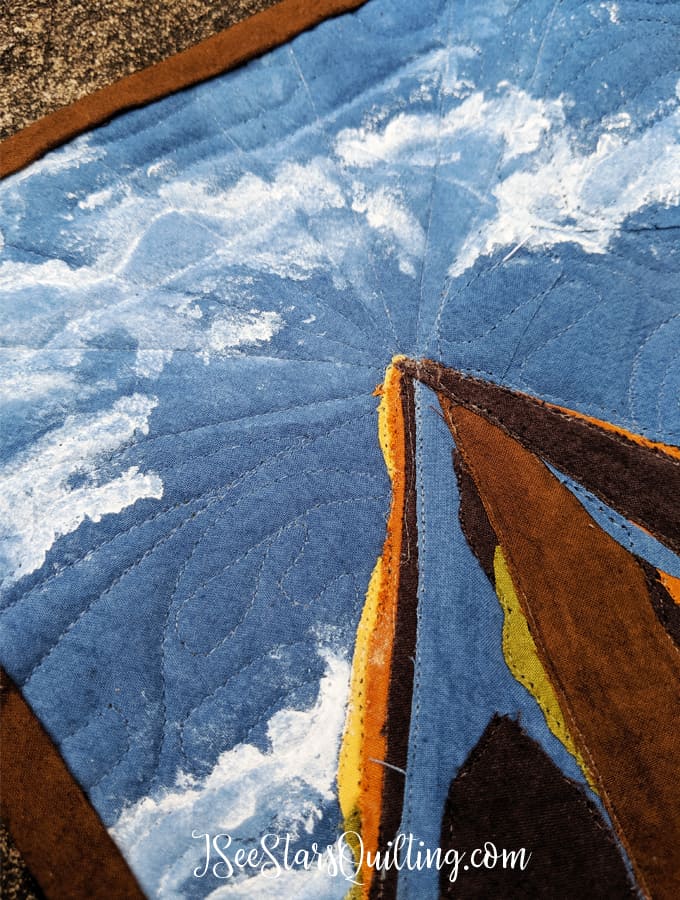 I didn't realize just how much fun this project was going to be until I began… I think I will forever be entering in the Cherrywood Quilt Contest each year!
For more information or to see other upcoming contests, you can visit their website: http://cherrywoodfabrics.bigcartel.com/category/challenges
UPDATE ON CONTEST RESULTS:
My quilt was accepted into the show and will remain on tour with the cherrywood exhibition until 2022! If you happen to see a bunch of Bob Ross inspired quilts, keep an eye out for me 🙂 My quilt did not win a ribbon or a placement award this year. While I would have loved to have won, it is truly an honor to be chosen for the show. There were so many beautiful quilts that were created!