If you're looking for a fun activity, you can never go wrong with a trip to a local quilt show!
I absolutely LOVE quilt shows! You can't beat a day of quilting fun!
Are you a quilter? – Go to be inspired and admire the works of other quilters!
Are you a wannabe quilter or art lover? – Go and let your eyes linger over fancy stitchery and beautiful woven fabrics! Or look through the vendors to pick up some really unique treasures along the way. You won't want to miss all that these shows have to offer!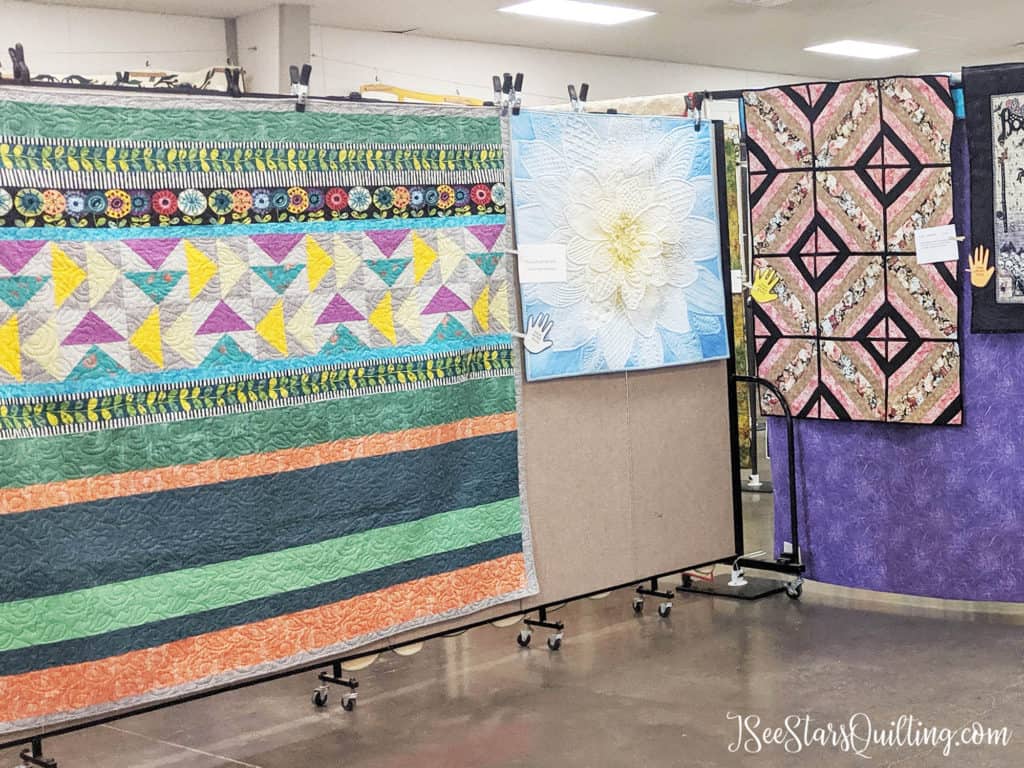 My Trip to the Local Knights Of Columbus Charity Quilt Show
I recently had the pleasure of being invited to a wonderful local quilt show, just outside of my hometown of Houston, Texas!
This show was hosted by The Knights Of Columbus organization in Hempstead, Texas. It was such a fun event to attend and be a part of!
The show advertised "a family-friendly event", SOOOO… We brought the whole family! Yep!… me, my 2 kids and my husband! Everyone had a lovely afternoon.
As we walked into the show, we were given a small strip of paper to vote for our favorite quilt in the show. (My kids loved this activity.)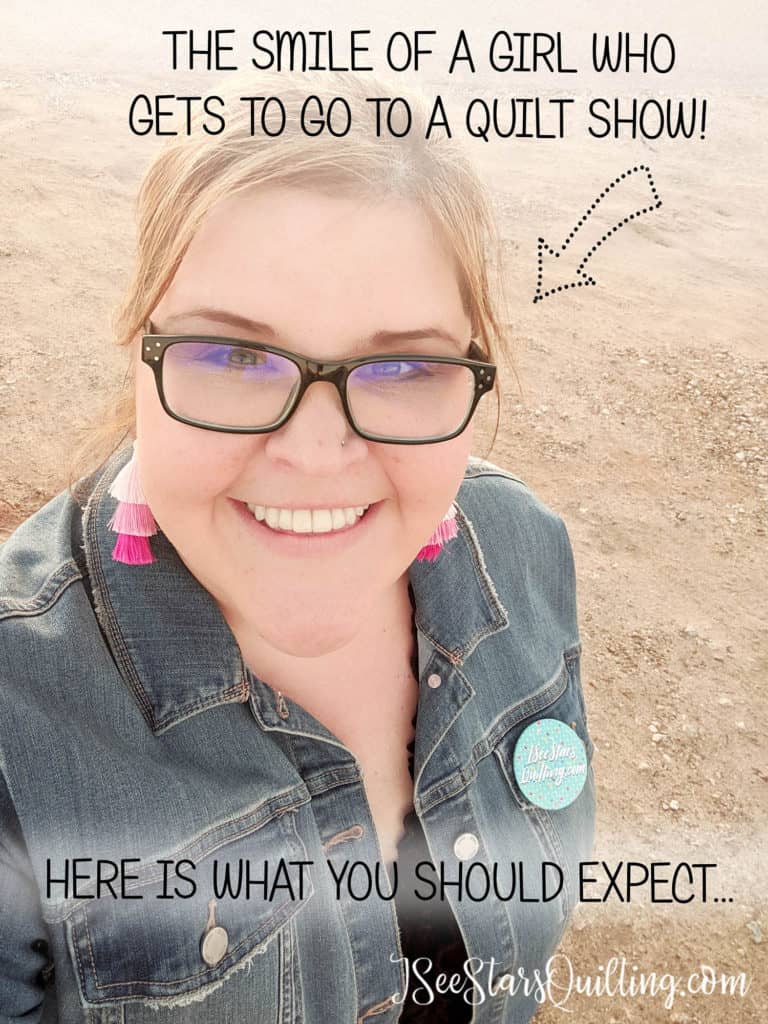 Words with Mr. Jack Gibbs
During my visit to the quilt show, I had the lovely pleasure of visiting with Mr. Jack Gibbs, a prominent member of the Knights of Columbus Charity Group.
The 2019 Quilt show was held in memory of Tom Brown and featured local celebrity quilter Ms. Jackie Hillman! – She is amazing and if quilt magician were a real title… well, she would OWN it!
Mr Gibbs and I talked about how proud they were at the turnout of the show. The final numbers show that there were over 300 people in attendance this year, which is super exciting!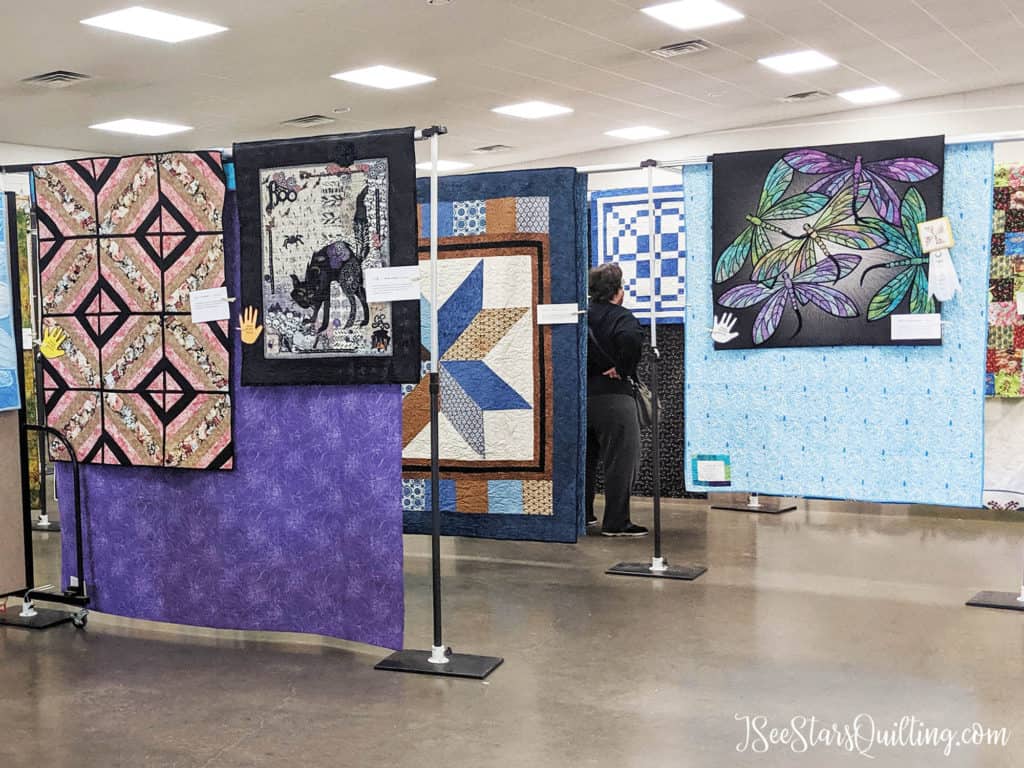 We also talked about what the Knights of Columbus does with the money raised every year. Did you know that every single penny is used locally?
Mr. Gibbs told me stories of the charity helping people at the local high school just down the street and helping families and children around the neighborhood. The money isn't used to help people far away, it helps those in need right in their backyard, so to speak.
Their main focus is on the youths who struggle with major medical conditions. In 9 years, the quilt show has distributed over $100,000 to local cases. Isn't that amazing?
One thing that Mr. Gibbs told me was that "no need is too small." When people need help, the Knights of Columbus is happy to lend a hand.
This year was a really big year for the quilt show with the live auction bringing in $11,100 – a new record!
The total profit for the whole show was over $25,000, another record!
But the giving back didn't stop there!… oh no!
There was also a truck parked out front to donate blood.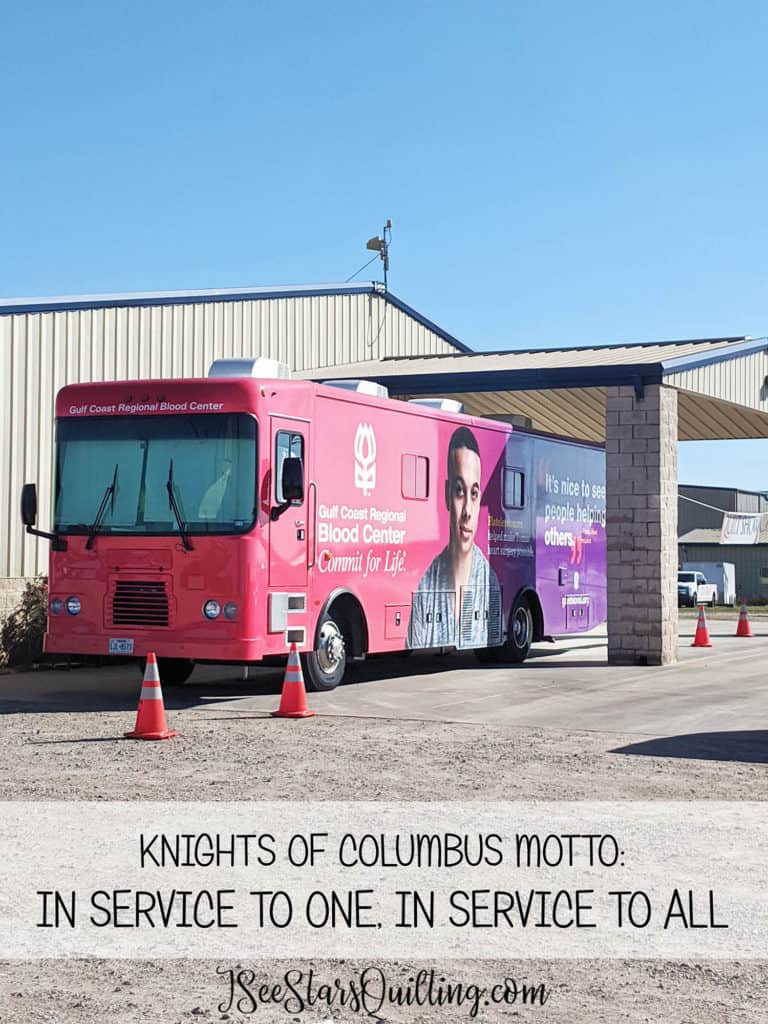 There was a yummy dessert table inside with homemade desserts from a local church. (We may or may not have tried at least 5 of them… all delicious)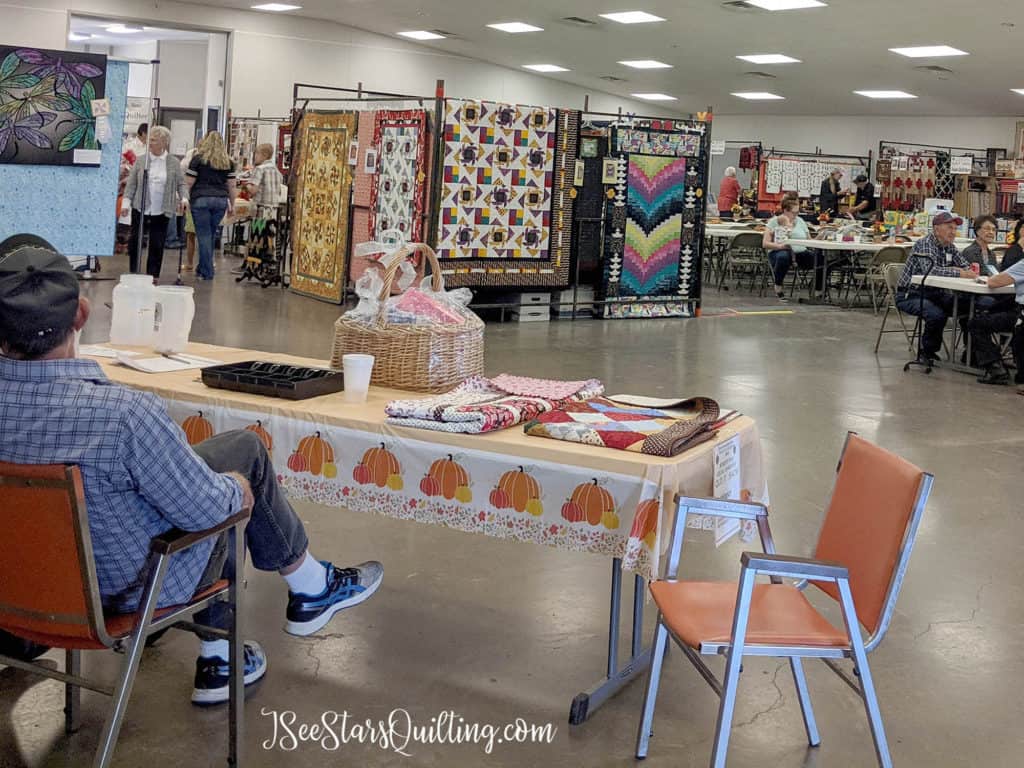 Seriously, so many opportunities to help other people!
So, um… we totally ate dessert first, because my husband and I were suckers that day.
However, dessert wasn't all they had to offer. A delicious chicken fried steak dinner with all the southern yummy sides was served as well! There was a long line of hungry people and At $12 a plate, it was a fantastic way to end the day!
Just look at these smiles! 🙂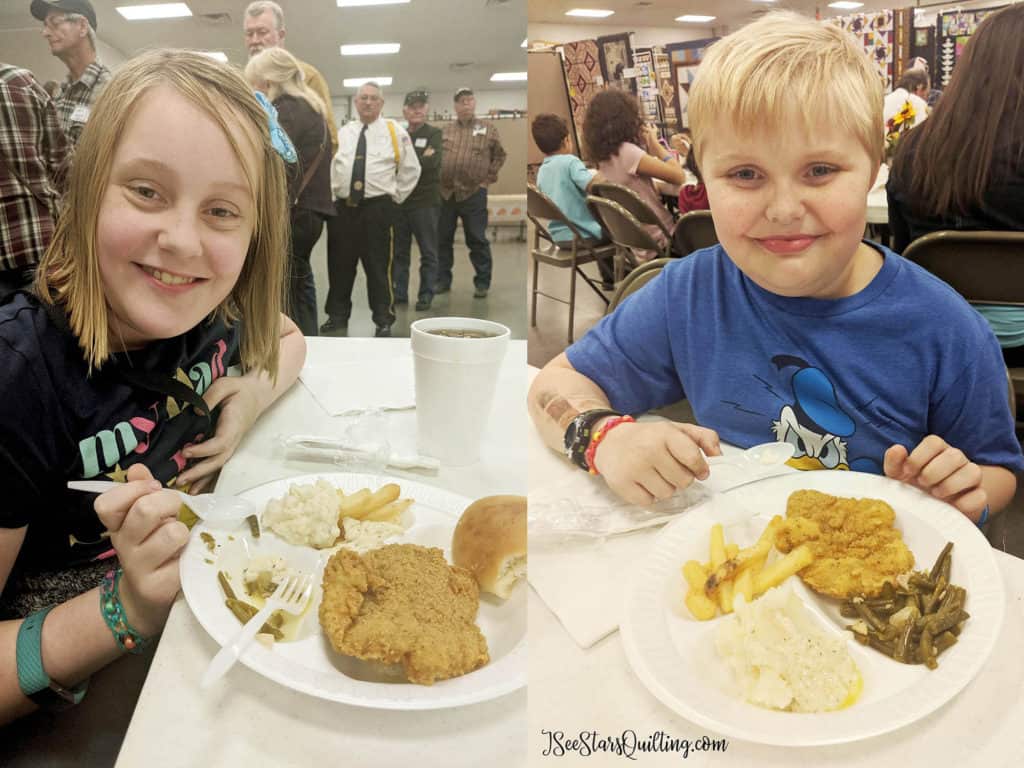 For more information about the Knights of Columbus Charity Quilt show in Hempstead, you can visit their facebook page!
PS – Keep reading to see more pictures down below!
A Few More Words On Local Quilt Shows
Let's talk a little bit more about local quilt shows, shall we? Because I love them and I want you to know exactly what to expect when you visit!
First of all, if you can, I think its important to bring the whole family! I know as a mom and a quilter, it is SO tempting to get 3 hours to yourself and wander through a quilt show with a cup of coffee all by yourself and have a little "me time" – Believe me. I KNOW!
However, I think that quilting spans multiple generations and if it is something you that really enjoy, you should involve your family in it sometimes – not all the time, of course… but give your kids or grandkids exposure to the parts of your world that bring you joy!
At the very least, grab some girlfriends and make a fun adventure out of it! 🙂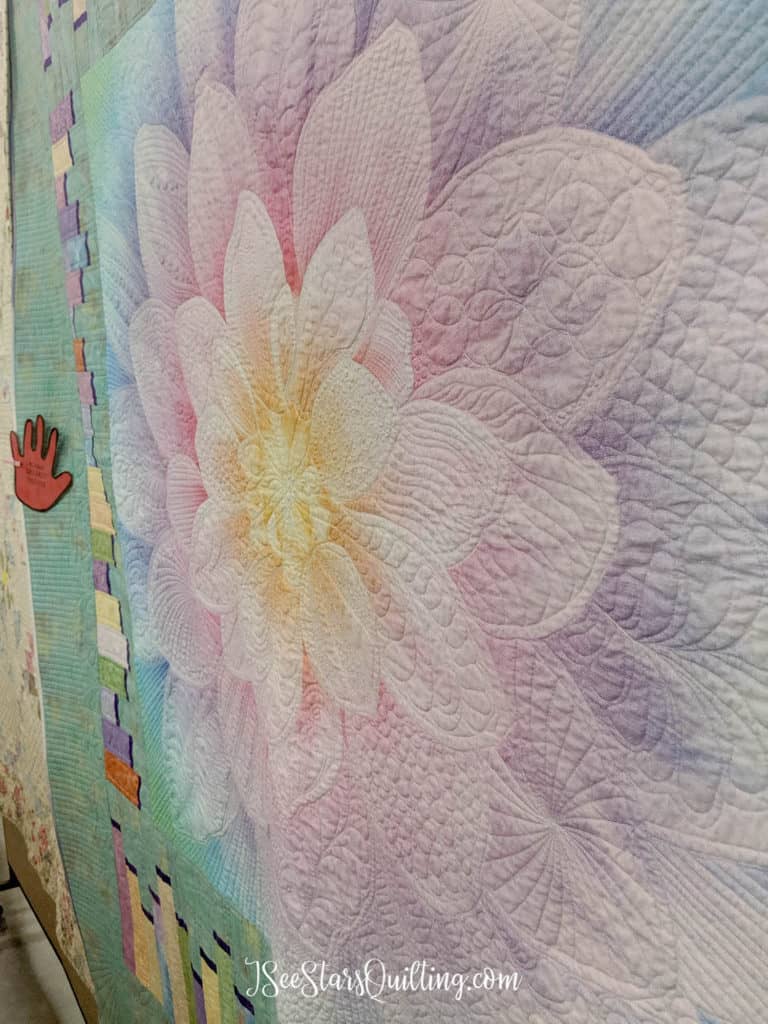 Things you can find at every local quilt show…
1. Inspiration
I am always so inspired by all of the quilts that are shown! Quilt shows are a great place to see a wide variety of quilts in one place. There are different styles, colors, patterns and sizes to spice up your creative rut.
Get up close and personal with quilts made by so many talented quilters. look at their techniques and feel free to ooh and ahh over their talent!
But mind the rules: NO TOUCHING.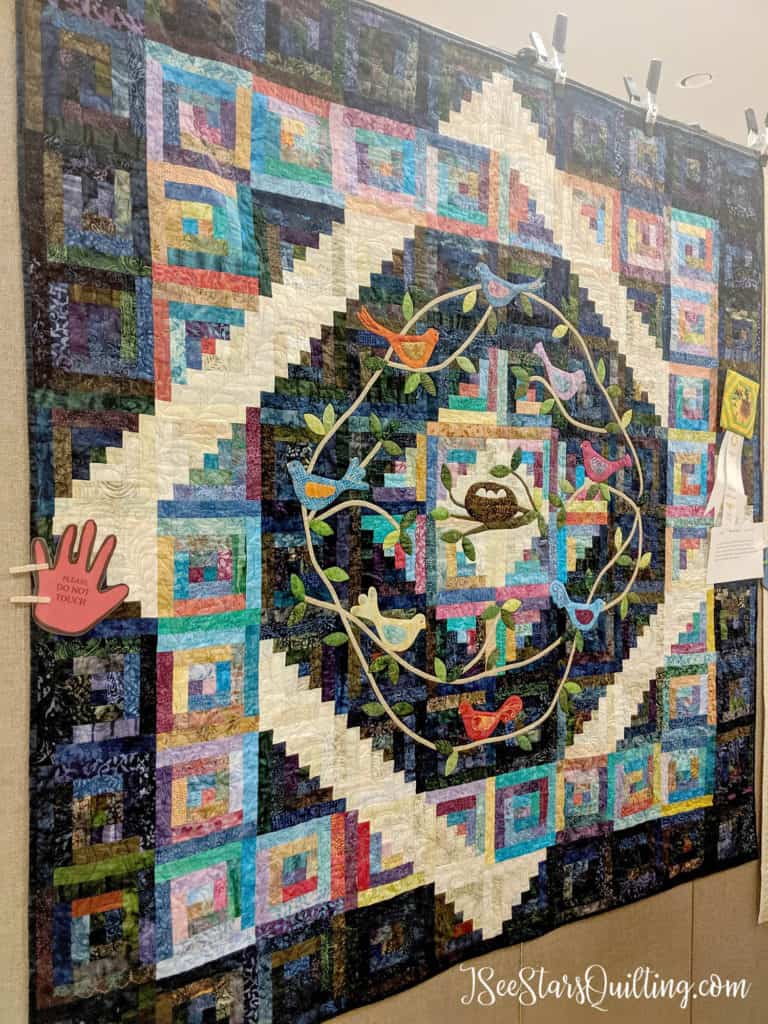 2. Shopping the Vendors
I love to shop the vendor markets at quilt shows as well. You'll find everything from fun fabrics from local quilt shops to crafty handmade creations and small businesses.
You'll also find some fun sewing and quilting gadgets and perhaps exactly what you've been looking for to get started on your next project!
From the Knight's of Columbus quilt show, I acquired some cute cute Christmas fabric… even though I already have a ton of projects right now for Christmas! Maybe next year?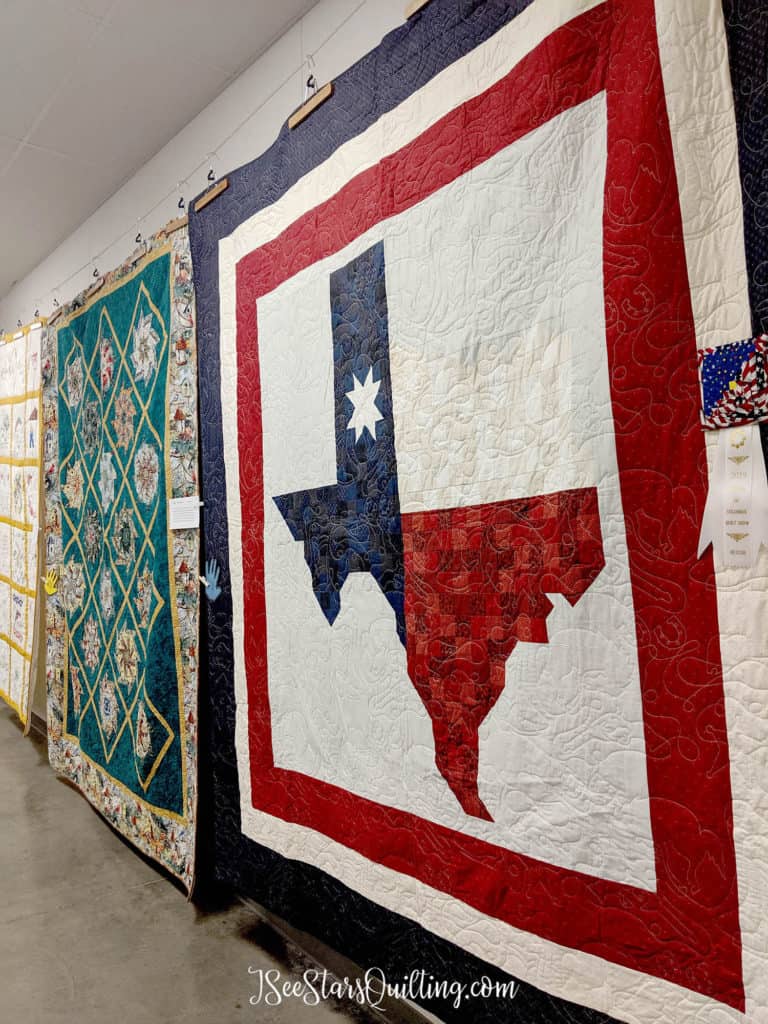 4. Play Games and Win Fun Prizes!
At the Knights of Columbus Quilt Show, the volunteers at the front gave out tickets as we walked in the doors. There were drawings for prizes every 30 minutes. We didn't win anything, but it kept the kids busy and excited at the opportunity of winning something!
The silent auction is another favorite of mine. Perhaps I'm a sucker for wanting to win and maaaaybe I'm a tad competitive?
I did win the bid for this super cute hot chocolate gift basket! My family and I are looking forward to enjoying it on a cold evening very soon!
Live auctions are another common event at Quilt shows that must not be missed!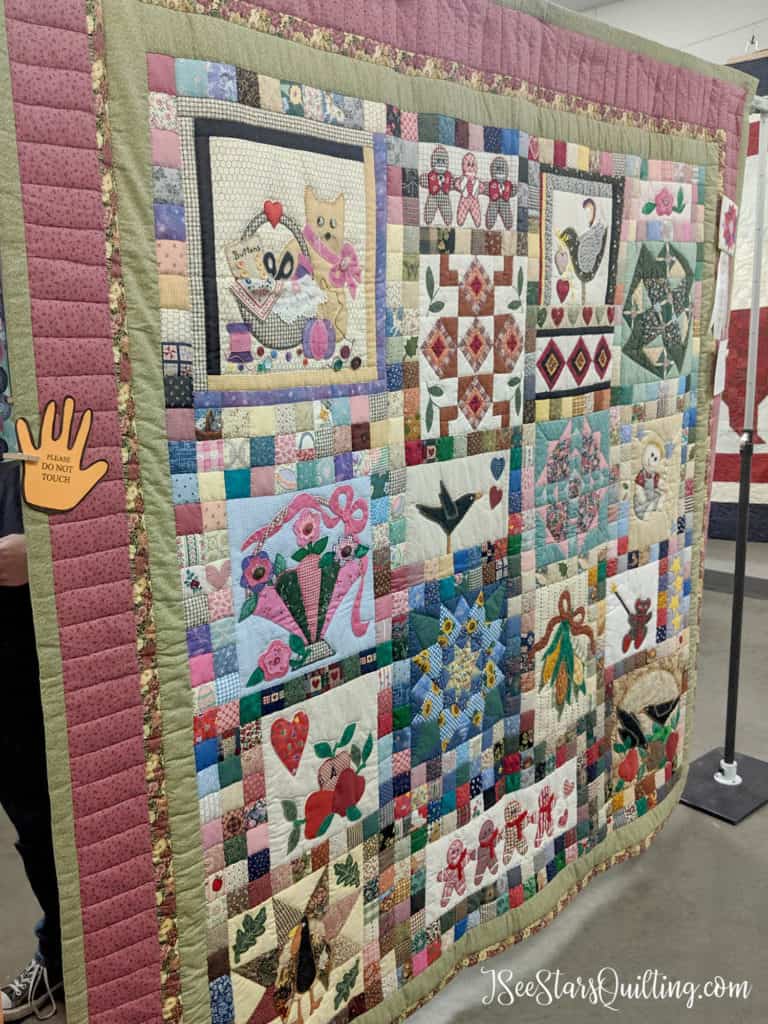 5. Support Local + Charity
All local quilt shows have one thing in common – a love of local communities and local people.
By shopping the local vendors, you support local businesses.
By contributing to local charities, helping the people right in your own backyard.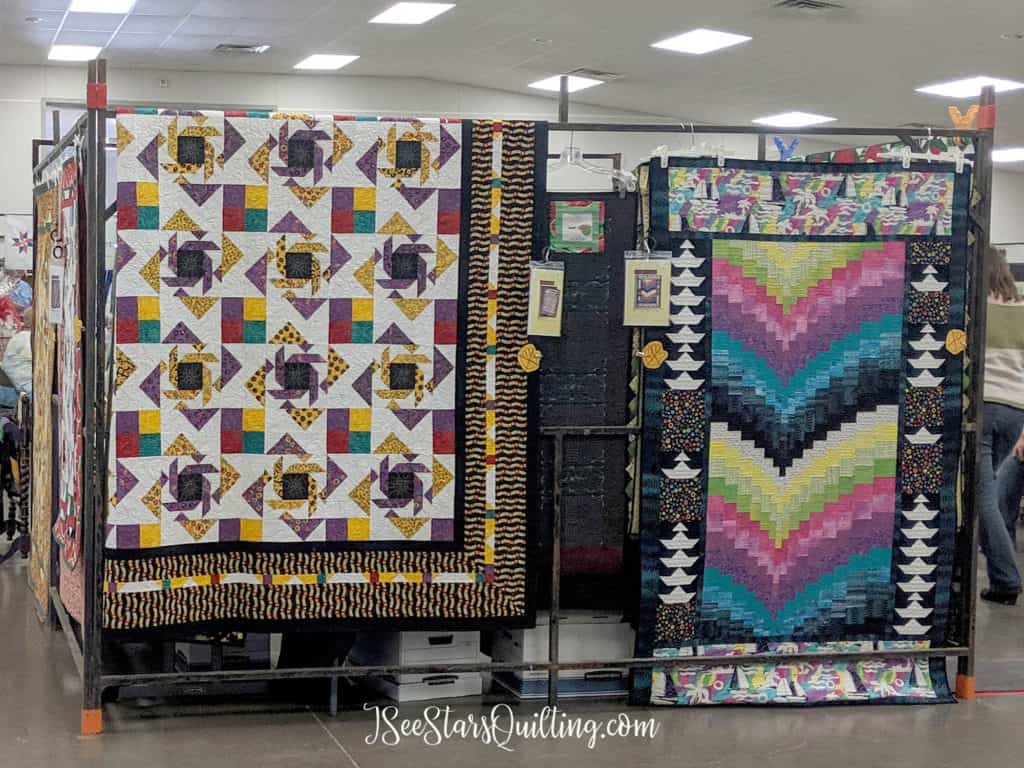 The Knights of Columbus organize this wonderful quilt show every year to share their passions for charity with the quilting community.
An event like this is no easy task to take on and there is a lot of organization and planning that goes into something that is so well run and exciting to attend.
If you have the opportunity, visit your local quilt shows! Take a day to play with the quilting community and support your local community!
It is something that you will not regret! 🙂