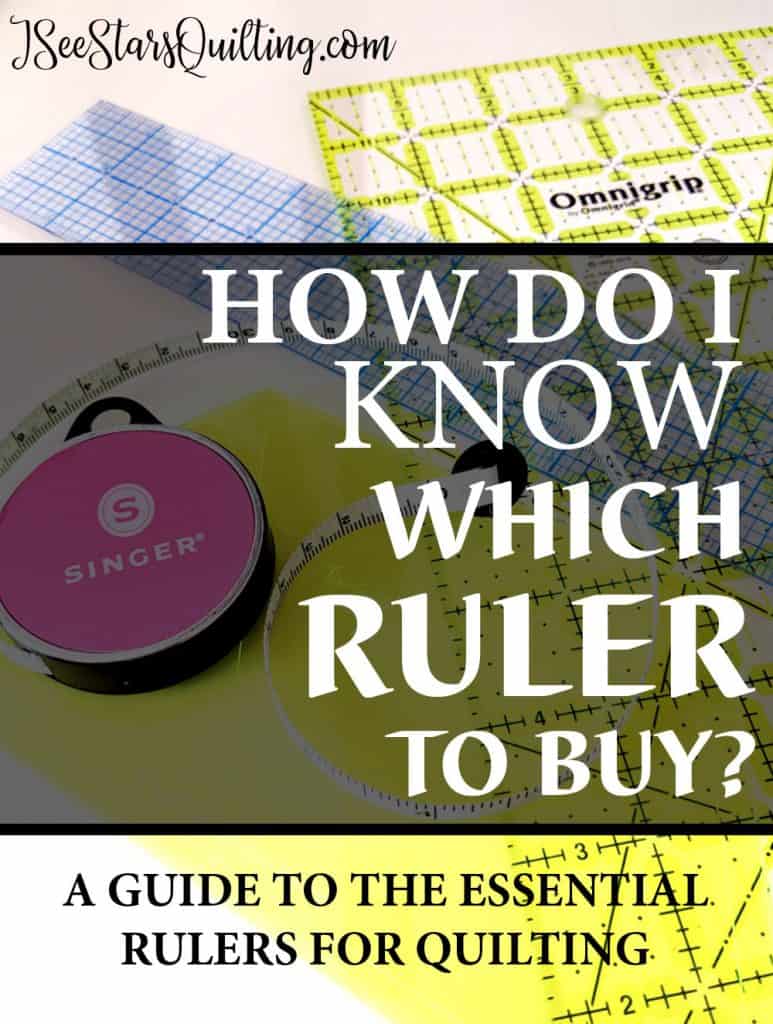 Why do you need quilting rulers? Which ones should you buy?
Did you know that quilters of past generations used to use cardboard templates and scissors to cut their precise pieces of fabric? I'm amazed at the accuracy they achieved with that! I don't know about you, but I feel like its ok to admire their abilities and realize that I ain't got time for that all in the same breath.
Modern quilting techniques, mean more modern tools. (yay!) I love my quilt rulers and acrylic template pieces. And me and my rotary cutter? We are total BFFs. (fun fact: the rotary cutter was invented in 1979!Thank you, Yoshio Okada!)
When I first started out quilting and rotary cutting, I was intimidated by all the ruler options out there – little ones, triangle shaped ones, rulers so big I have no idea where to store it, rulers for curves etc etc. And guess what? Those rulers are EXPENSIVE. Even with all your fancy  40% off coupons, a large ruler can cost you close to $20. You'll be lucky to find any of them less than $10. Costs can quickly add up.
So, what do you actually NEED?
[This post contains affiliate links. I receive a small commission for each sale at no extra cost to you. I own all of these rulers and purchased them myself, so I would not recommend them if I did not believe they were of good quality!]
The wondering and confusion ends now.
We're going to go over The Essential quilting rulers!
First of all, you do not need 47 of them right now!  – Your essential rulers will serve two basic purposes and they will get you through many many quilts without having to keep buying more (unless you want to).
Rulers will help with cutting quilt pieces to the correct size
And trim blocks to the correct size before final assembly into a completed quilt top
There is no need to go clean out the entire ruler isle. You can totally start with just 1 or 2 rulers and work your way up as you begin to desire more advanced quilting techniques.
Decide which one is going to be the most versatile for your quilting level and then add the others to your Christmas wish list down the road.
Rulers with the best bang for your buck: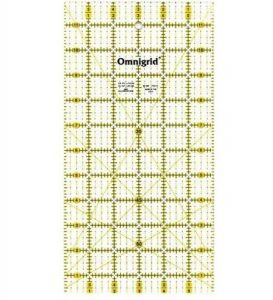 A Small Rectangle Ruler
I use this 6″ x 12″ ruler daily for all kinds of projects. I love this one for cutting smaller shapes and strips. The brightly colored lines are easily visible on every single fabric that I've tested it with. It's super lightweight and small enough that I can keep it next to my machine for quick trims or over on my cutting table.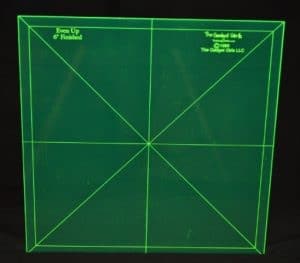 Even Up Blocks
Though not technically a "ruler", I use this 6″ x 6″ even up for measuring a lot of my quilts. When I'm making quilt blocks and I want to make sure my corners are square, I pull out this baby.  It helps me make sure that my blocks are all exactly the same size before piecing them all together. (something I've learned NOT to just assume because if you're wrong, you will spend time with your seam ripper later when things don't line up) It comes in several other sizes too! (Side note: I love everything that The Gadget Girls carry. The quality of their quilting gadgets and their customer service is out of this world. I highly recommend taking a look at their website.)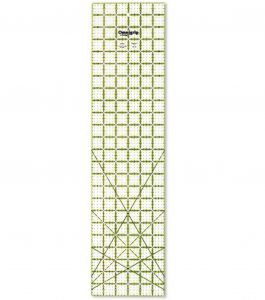 The "Big One" Ruler
This ruler is a biggie!  Most of your fabric bolts are 44″wide (then they fold them in half ).  This 6″ x 24″ ruler is handy for cutting strips along the whooole width. You can certainly take careful measurements and move your smaller ruler up and down the fabric but this just makes life easier and leaves less room for error. Once you get used to using this ruler, you'll wonder how you went without it before.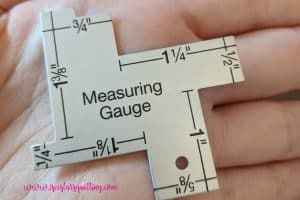 The "Itty Bitty one" Ruler
I have like 5 of these things floating around because I could never find the one when I needed it, but I misplace the 5 of them just as often haha. I love this little guy to double check my seams and smaller measurements. It is a cheap one that is easily affordable and indispensable in your sewing arsenal.
The ruler that is designed for your project
Sometimes, there is just no way around it. When you want specific results in a particular project, you need to have the right tools. I've botched my way through several projects, making due with what I had on hand and fudging my way around here and there. You know what? I should have just bought the darned $15 ruler. I would have saved myself a lot of headaches and frustration. If you can't afford it right now, borrow from a friend or look up quilt patterns that use the rulers you have on hand.
What about you? Do you have a favorite ruler that you just can't live without? Tell me about it in the comments so we can all share the essential quilting rulers!