Have you ever considered shopping back to school sales to organize your sewing/craft room? Today, I'm going to share my favorite finds from the Dollar Store back to school sales and I promise you won't ever look at the chalkboard and locker shelf displays the same way again!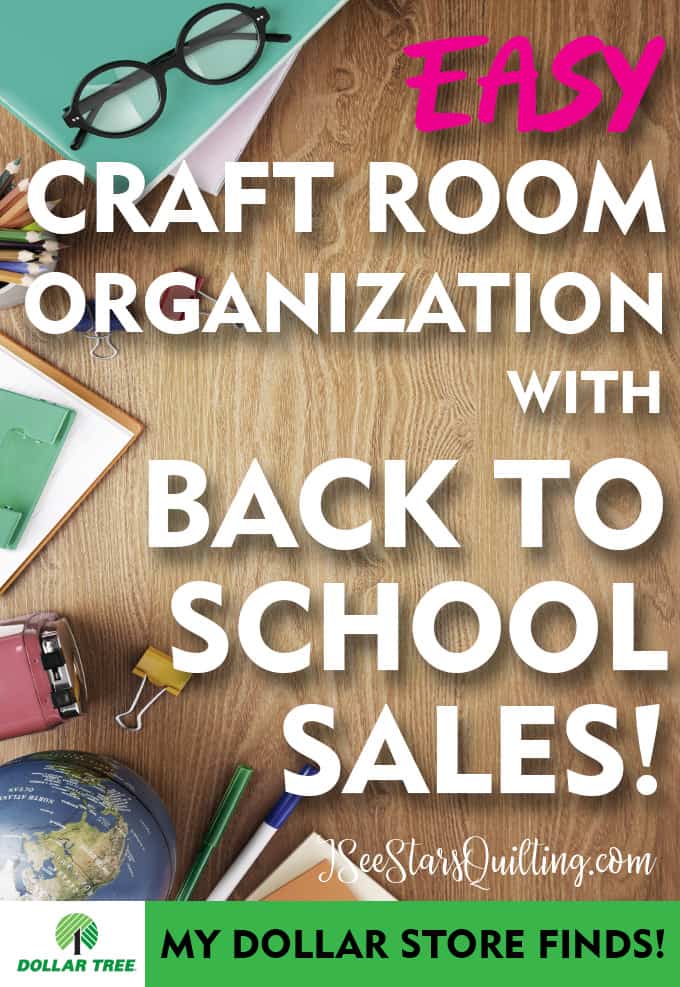 First of all, I'm a nerd, ok? When I was growing up I didn't look forward to summer ending and going back to school so much as I looked forward to shiny new pencil cases and getting to pick out a brand new binder and oooooh… new markers! Yes, girl, yes!
Catch other kids over on the video game aisle or maybe on the candy aisle… I'm the geek completely freaking out over the Ultimate Crayola Crayon Collection.
Personally, I want my sewing room to be a space that I create to be tailored to my specific needs. I love walking in and not seeing some generic "craft or sewing space" but seeing everything hand-picked and selected by me because I love it!
If you're working on creating the space of your dreams, you NEED to check out my newest ebook! Just 25 Days is a step by step blueprint framework to creating the sewing/crafting space of your dreams! I've loaded it full to the brim of printouts, organizing workbook pages, links to all my favorite products. I even added a budget guide with tons of ideas for what to do if you're short on cash but really want to overhaul your space! It is a framework for creating your dream space!
"This guide has everything! I didn't have a clue where to start. I was overwhelmed and uninspired by the mess in my sewing room. I followed the plan and now I can't wait to come home from work and CREATE every day!"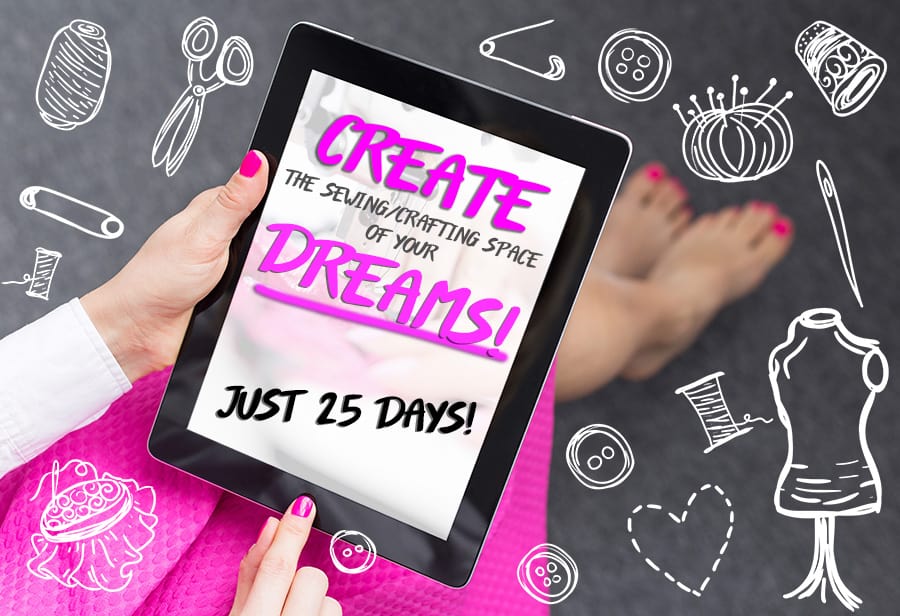 Back to School Sale Finds for your Sewing/crafting Room
Back to school sales are all about getting your mind in the right place and setting yourself up for success for the next school year! With this kitty cat pencil case to inspire me, I will totally make an A in science this year!
But you don't have to be counting down your remaining days of summer to get your life in order with back to school sales!
Let's get into the deals that you can use in your sewing/crafting room, shall we?
Containers in every single shape and size!
Everything has a place when you have these cute containers! You can use them to store safety pins, buttons, or make a travel sewing kit!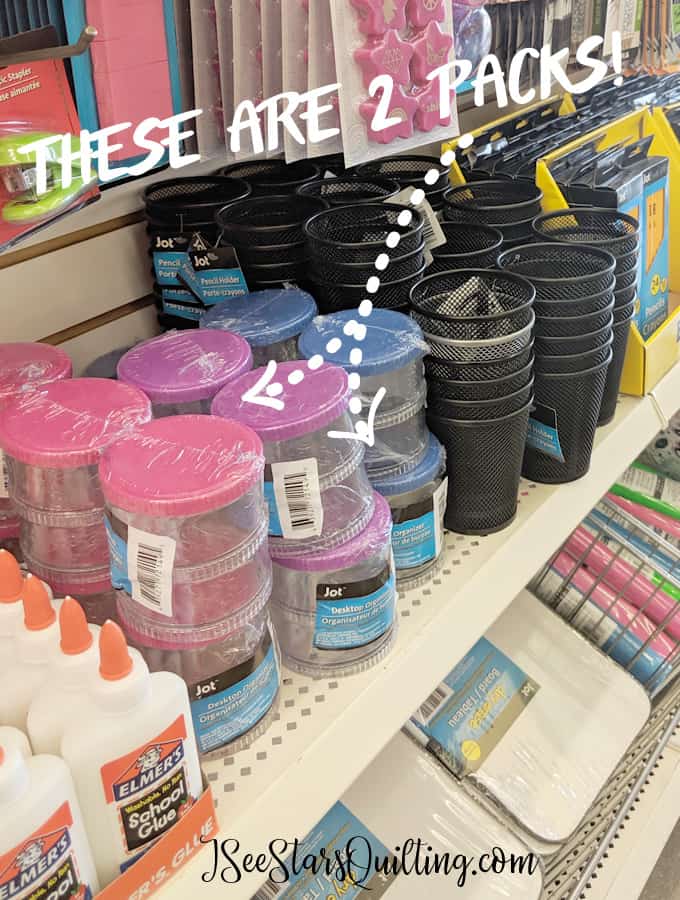 These beautiful large containers were actually in the garden section but could easily suffice for a desktop container in your craft space!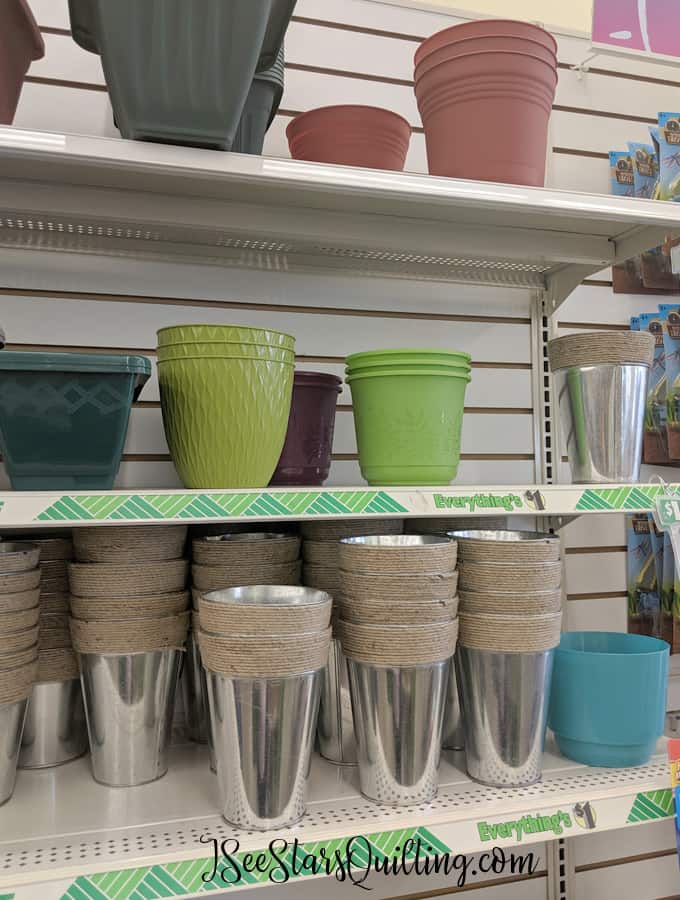 Never overlook the office supply display!
I found these multi-packs of skinny wash tape! Isn't it adorable? You could use these as little labels and fun trim all over your space to dress it up and add a little "party" vibes.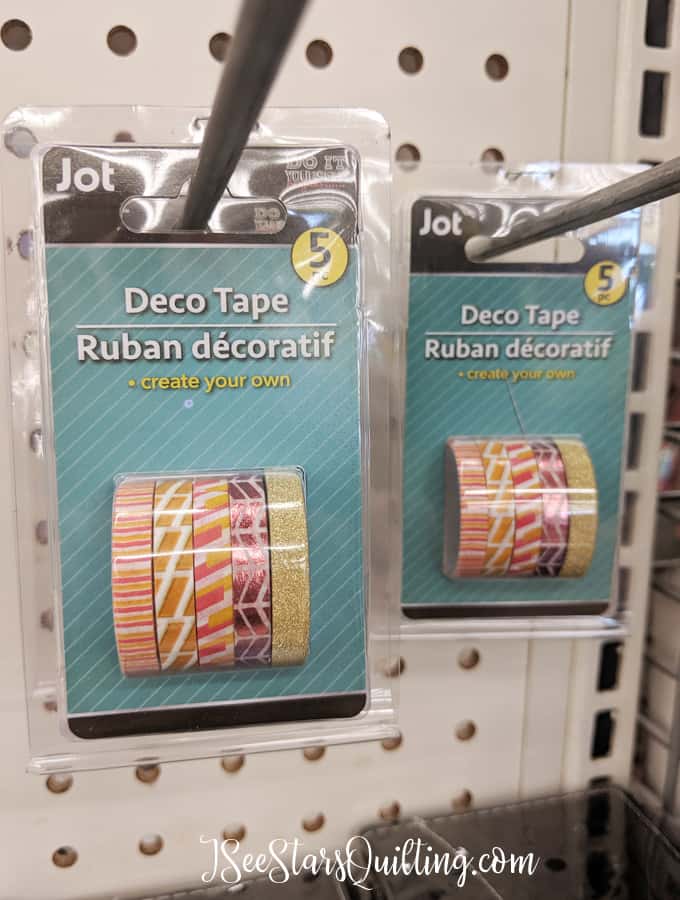 I know a lot of the fun things are geared towards children or college kids trying to grow into young adults… but who wants to leave the fun of childhood behind? You are absolutely correct when you guess that I totally DID buy this flamingo tape dispenser. His name is Frank.
Binders!
These are my favorite way to store my sewing and quilting patterns! keep everything organized and within easy reach on a shelf. no more papers stuffed in a box where they can fall out, get all wrinkled or even worse… get lost.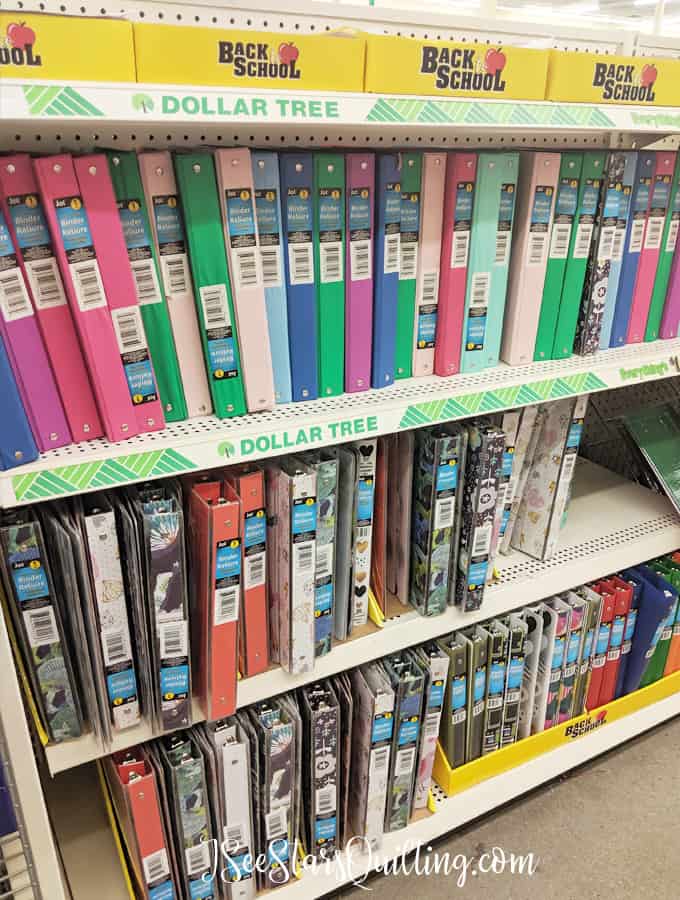 Do you know what also goes with binders? Clear pocket dividers… or "sheet protectors" as they called them! This pack had 16 in it! You'll want to grab a few packs of these to organize your binder. I make one pocket for each pattern and put everything for that pattern, templates and everything, inside of it. It keeps my patterns protected and keeps the edges from getting wrinkled.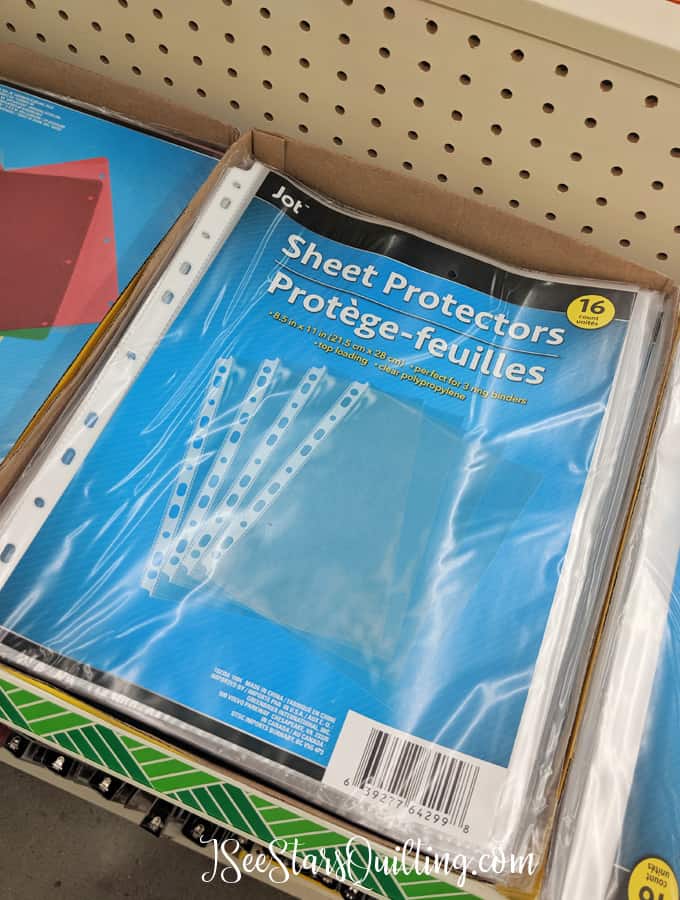 There are also dividers if you want to be ultra-organized by quilt size or pattern type.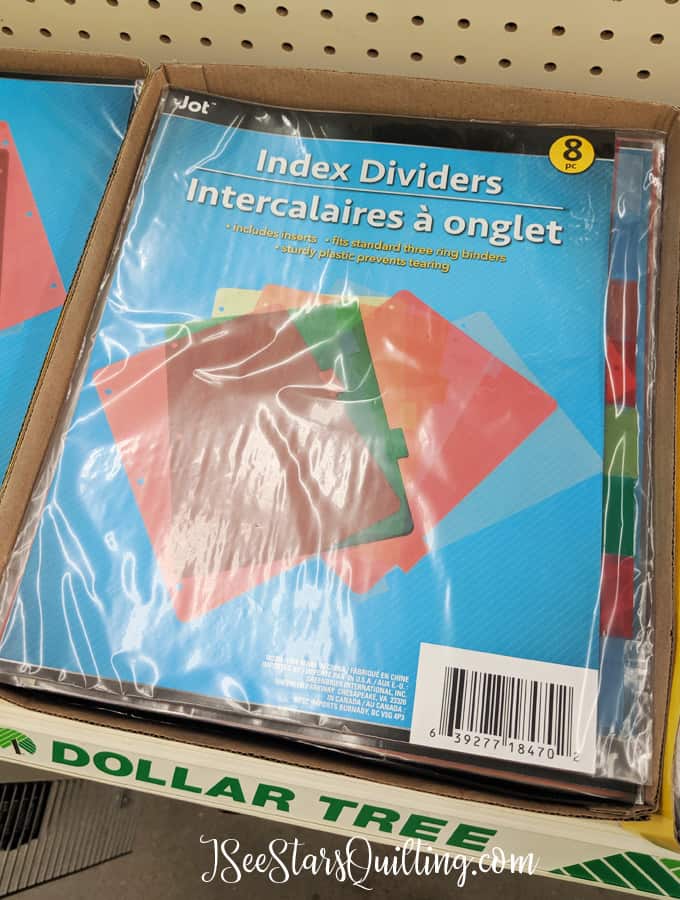 Pencil Pouch Organizers
These pencil pouches that have a clear window make awesome traveling sewing kit for on the go crafts or quick grab sewing like English Paper Piecing.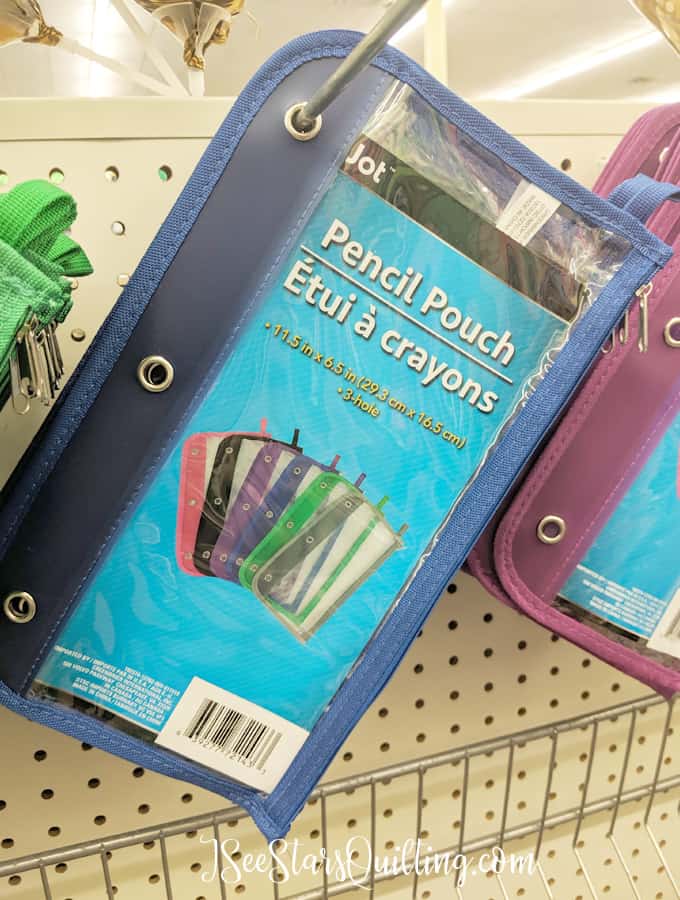 These pouches are such a good deal, but if you want to make your own zipper pouches, I have a pattern available in my shop with 6 different sizes to fit your crafty needs! Zippy Project Bags.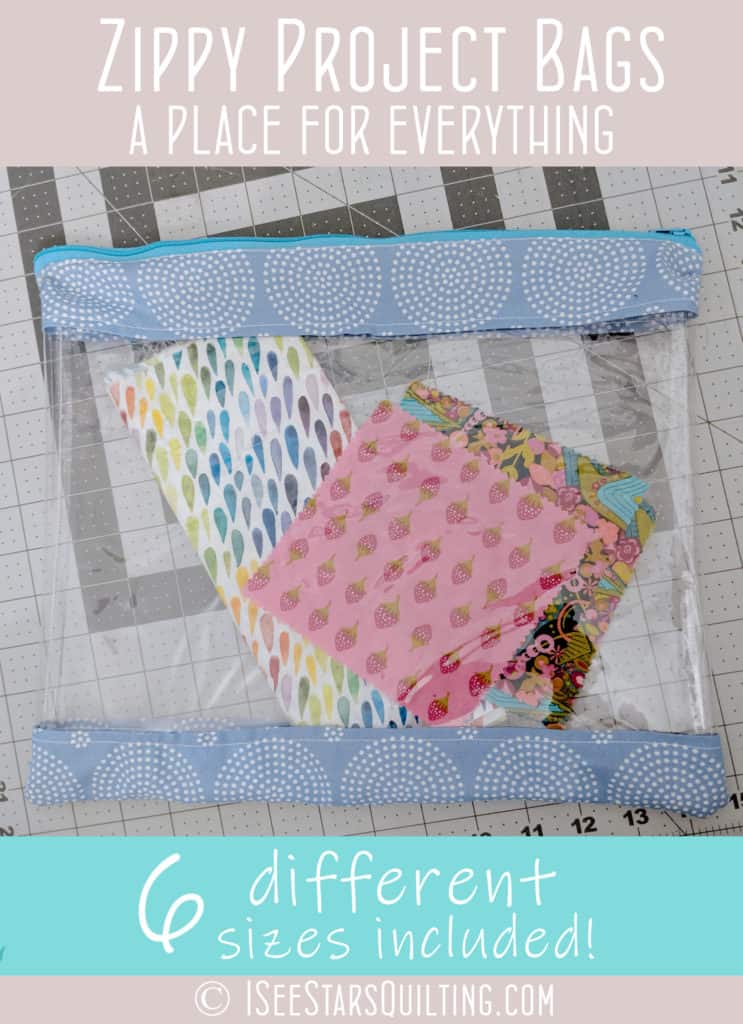 Notebooks and Spirals
There are the standard notebooks that are on sale for HUGE discounts too! I use these for everything… from making my weekly meal plans and grocery lists (game changer! because you can look back at past weeks when you draw a blank on what to cook for your family) I also use them to keep up with supplies I might need, shopping lists, to-do lists… everything. My life is literally held together with google calendar and spiral notebooks.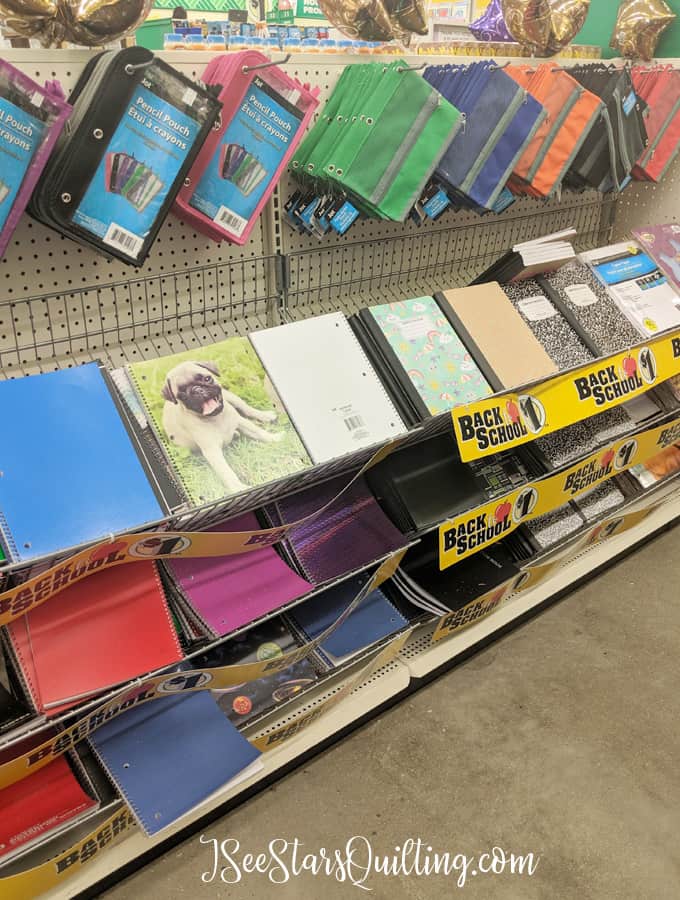 Bins and Baskets
For shelf organization and storage, you can't beat the price for these baskets and bins. They come in all different colors so you can pick your favorites or mix and match! Add a label and you're an organizing QUEEN!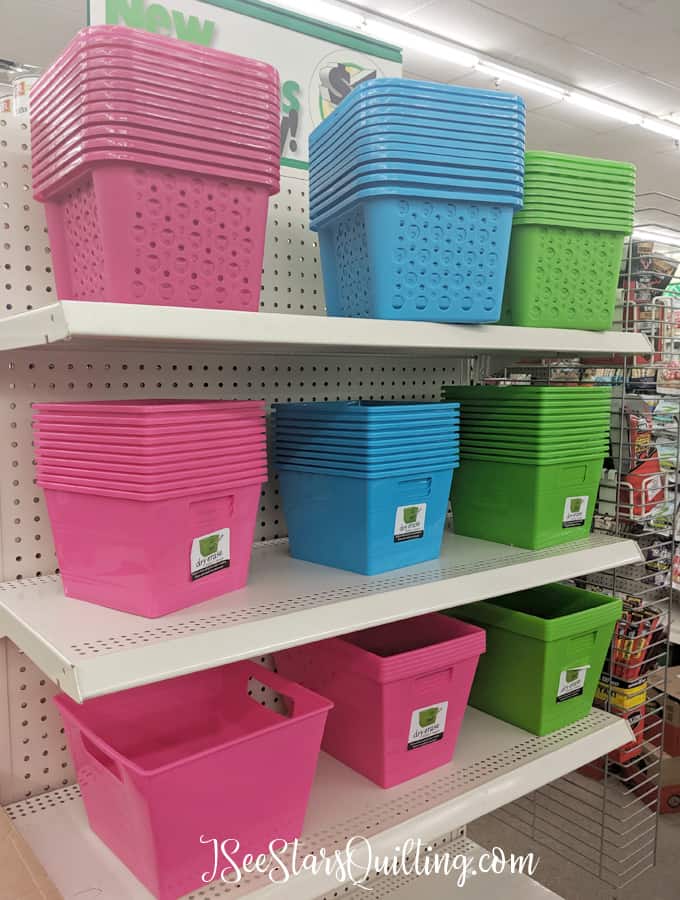 Crafty supplies!
Be cautious with this aisle. You could find yourself just accumulating a bunch of junk that will eventually collect dust in your space! However, if you look carefully and thoughtfully, you can find some really fun craft items at a super deal.
I found these super cute mini clothespins on the craft aisle… along with beads and buttons galore.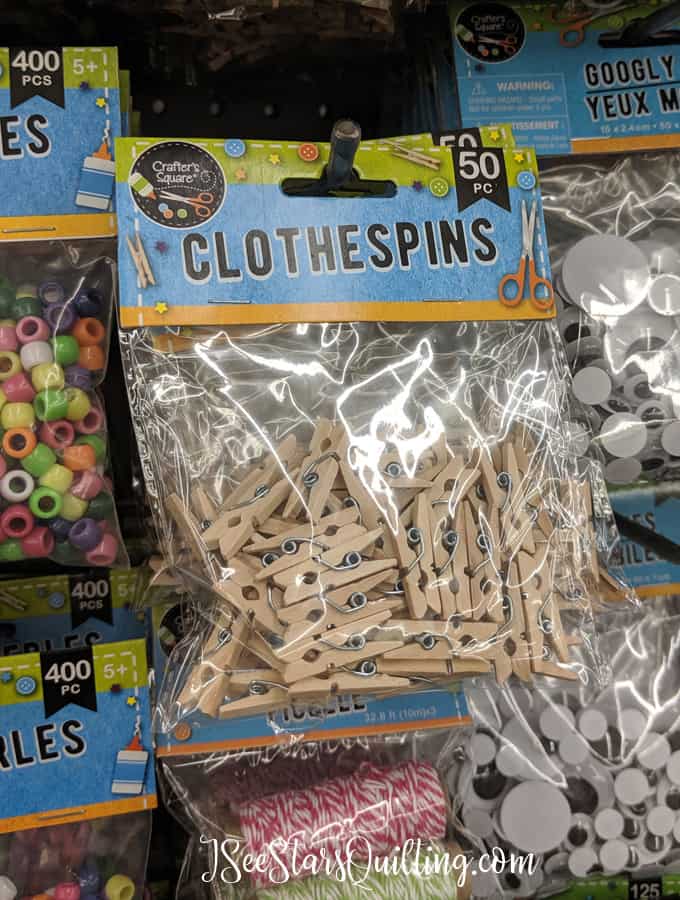 Perhaps a bit out of the box thinking but also, pure genius. I saw a friend once store her beads for a current project inside ice cube trays. They're stackable. They're durable and the rounded bottoms of the trays make digging out your beads or jewelry pieces super easy! You can also organize all your different beads in each tray.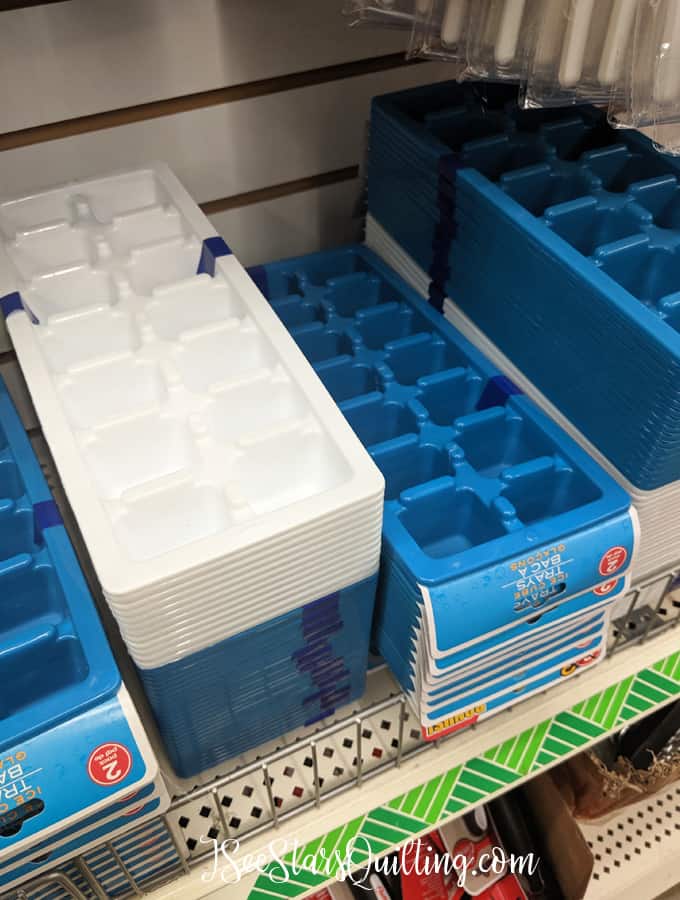 Next time you go into the dollar store, do an experiment. Leave your brain at the door and walk in pretending like you don't know the intended purpose for most items.
Is this a box that is meant for pencils? Or is this a box that can hold my embroidery scissors collection? Is this a bag of pom-poms or my future window valance garland?
You'll be surprised by just HOW MUCH you can find on such a small budget at the Dollar store and completely organize and get your sewing/crafting space in tip-top shape!
What are your favorite finds from back to school sales?