If you haven't joined in on the fun of finishing up your WIP and UFO pile… you HAVE to check out this post. I made a vow to work on my unfinished quilts and document it so you can see that it IS possible.
We all have piles of unfinished craft projects or quilts that we were once passionate about… don't even bother telling me you haven't any while you try to hide them in a closet. There are no secrets here between you and I.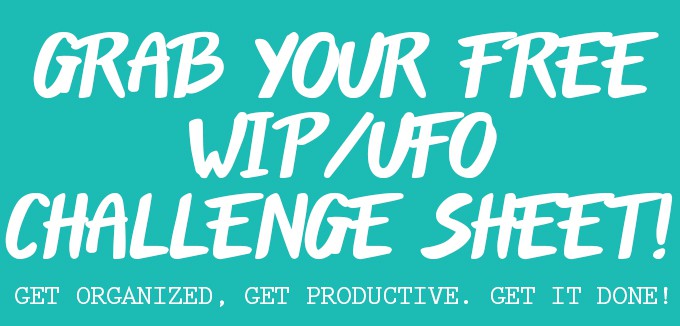 Confession: I actually worked on two (yes! 2) different quilts this month that had been lingering in my "WIP/UFO corner" – Also, yes, in my sewing room I have a WIP/UFO corner. You can take a tour of my space in this post.
I'm quite proud but I can only show you one of the projects because the other is still not yet been given as a gift! So look for another post in the coming weeks because it is THE SWEETEST blanket! I love the way it turned out.
Ok, so a slight bit of backstory on the quilt that I am going to share with you today.
As a family, we sponsor two children through World Vision. Recently, I made a small purse for our sweet little girl that lives in Burundi, Africa.
When the little boy we sponsor in Mali, Africa told me he loves rainbows… I knew just what to create for him! I'm learning that this child and I have a lot in common already! 🙂
I found a rainbow-striped fabric at Hobby Lobby a while back. It has been waiting for this very quilt 🙂 Do you ever get that feeling when you have the PERFECT fabric for a project?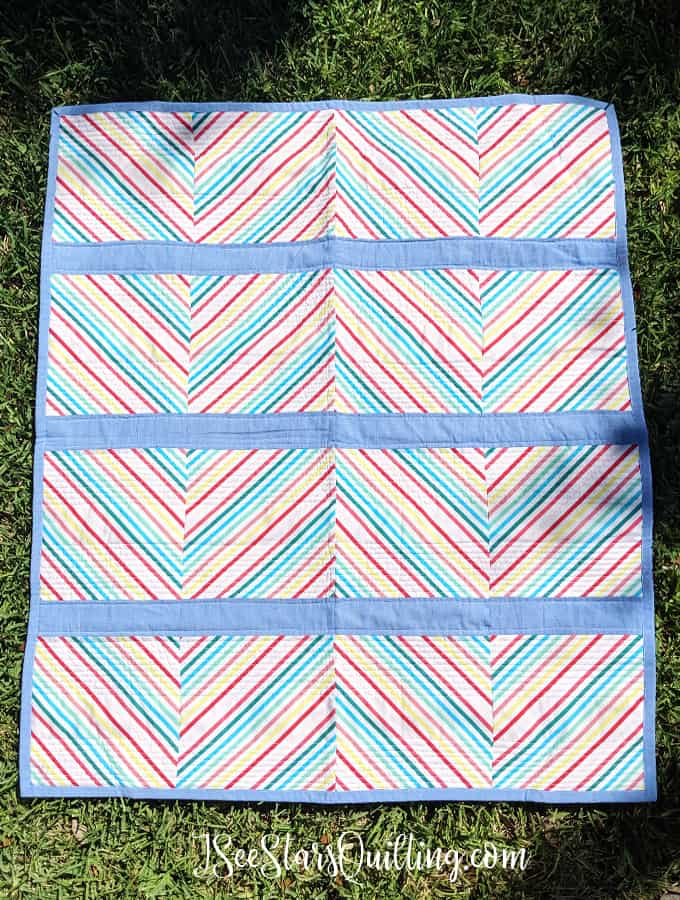 I decided not to use a pattern and just play with the fabric making it up as I go. (Sometimes these are the most fun quilts to create). Simple. Beautiful & makes the fabric shine.
I simply cut the striped fabric into squares and turned them to create the chevron pattern. Each square is 10.5″. Finished size is 10 inches once sewn together.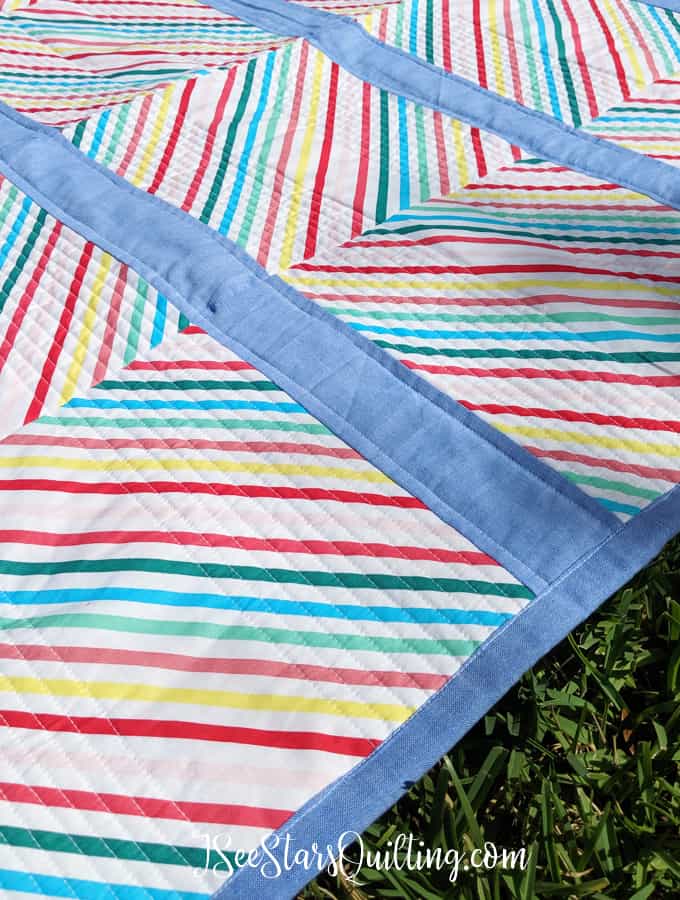 The blue fabric I used to frame the quilt rows and the binding is reminiscent of a beautiful clear sky!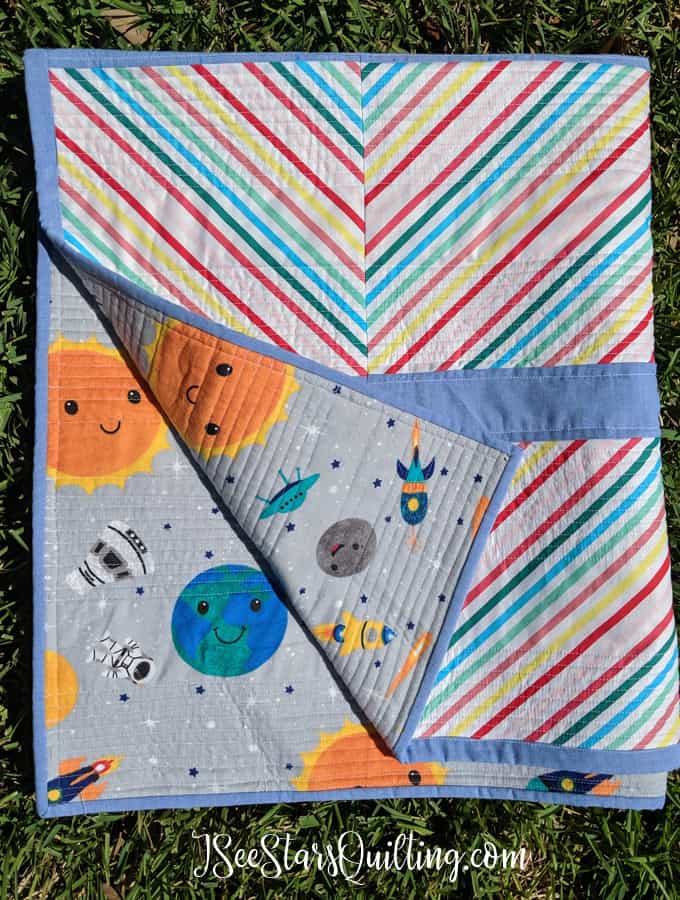 Check out the fabric on the backing of this quilt! Oh my goodness, right?!
It is adorable and inspired me to find a picture book all about space and the planets to send him with the quilt!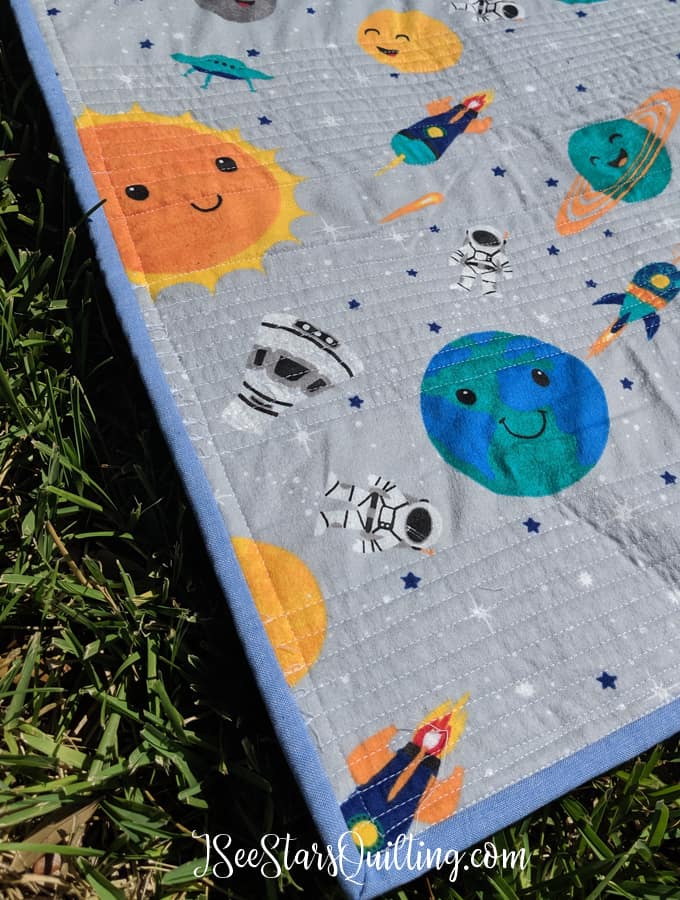 When you find fabric for a really good deal, this is why I say to STOCK UP!
I love this space fabric. I think I purchased 15 yards of it at $2/yard! I have had it in my stock for a while but I just knew that I would come in handy for an easy quilt backing.
For more tips on getting fabric for really cheap, check out these tips.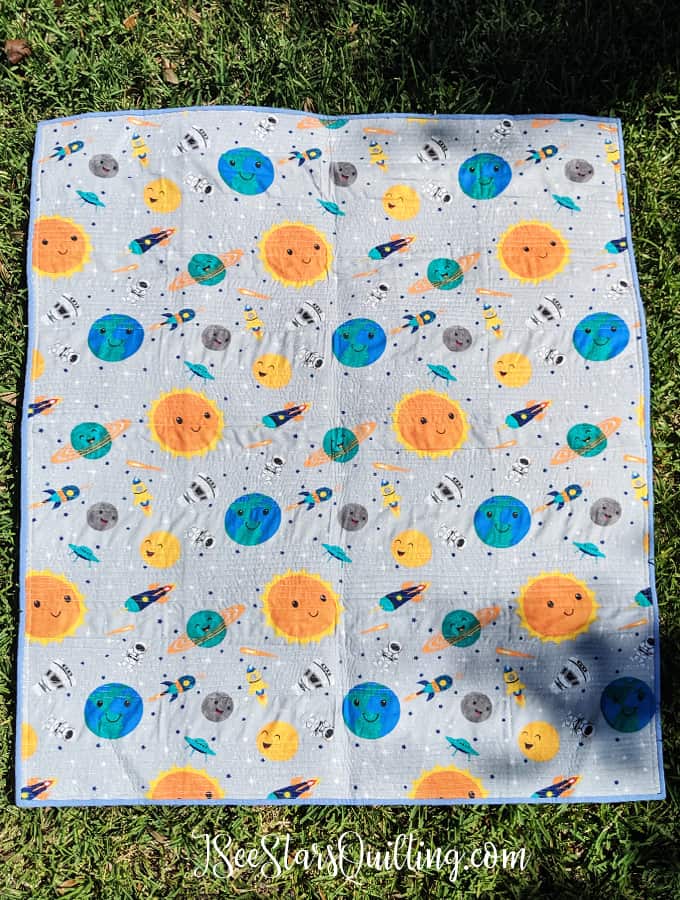 As for the quilting, I also stayed with simple. Straight line quilting. I've been infatuated with every single "matchstick" quilt I have ever come across.
The quilt just folds so lovely and bends with every curve when you're snuggling under it! A lot of this has to do with the quilting lines…. so while it takes FOREVER a really long time if you haven't tried it, I highly suggest you give it a try sometime.
It also has a sort of mindless satisfaction feel to it while you're working. Easy and a steady motion that calms the mind and gives the brain rest.
I'll share more quilts as I finish them 🙂
How are you doing in your own personal WIP/UFO challenge??