So the other day… it happened. I heard my first Christmas song on the overhead speakers of the grocery store we were shopping in for 2019. I'm not even going to lie… I got giddy! I love this time of year! Ok yes… November 7th is a little too early to be starting the Christmas tunes (even for me) but I left that store with a crafty passion and a need for quilty things to make for the holidays!
Maybe there are a few more of you out there who are like me and are just itching to get into the holiday spirit?
I've scoured the internet and collected several projects that are super fun and pair perfectly with a cup of hot cocoa.
If you're just getting ideas, make sure you pin the image below so you can come back and reference it later. 🙂
If you need some quilty Christmas gift ideas, make sure to check out this post too! – 25 Quilty Christmas Ideas!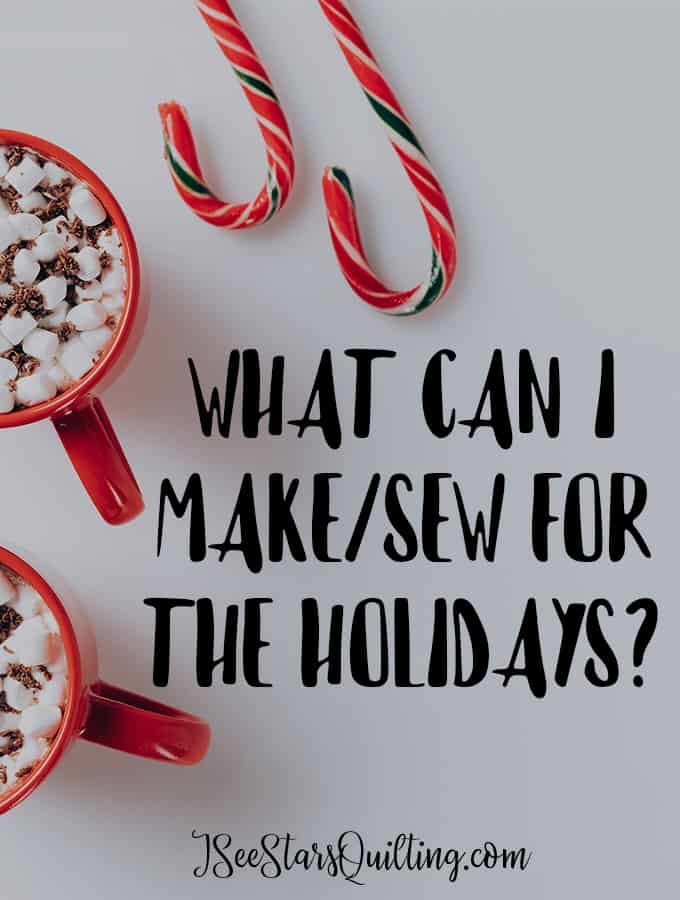 If you're in the mood for baking, these are my most favorite holiday cookies ever. Make them and your family will be forever begging you to make them again…and again… and some more 🙂 – You won't regret it.
Quilty Things You Can Make For The Holidays!
A Table Runner for your holiday feast
These are so easy to make a table festive in a hurry. I love table runners because they sew up quick and make a fun gift as well. I have at least a few of these on my to-do list this year! (you don't have to make them all Christmas Themed! Make some spring ones so you can bring them out all year long…. or make up your own pattern and make it reversible! *woah*
FREE Table Runner Patterns
This one from Folk Modern is classic and a good beginner pattern. Use the same pattern and mix the fabrics for a festive pattern all year long!
If you're looking to play with applique or you're itching to use all your itty bitty scraps, check out this Bursting Buds Pattern is fantastic!
A Scrapy Table Runner – I love The Polkadot Chair Blog. (seriously, go follow her, she is so sweet!) It is always full of great crafty ideas. – Check out the blog on the Christmas Table Runner she made!
Christmas Stockings!
Every single year I drool over all of the lovely and cute handmade stockings that I see online and I want to make them!… but then I go back to using the same ones my family used growing up, again and again. Perhaps it is time that I mixed up the traditions (scandalous!) and we can have 2 sets of stockings! 🙂
I love these stockings – and it is another FREE pattern!
This Crazy Quilted stocking is so easy, you can sew them up for the whole family… including all the cousins!
You can also lookup patterns (or create your own) patchwork stockings like these and really crate something so tailored to your Christmas decor!
Let's talk Ornaments!
Speaking of scrappy Christmas gifts… You'll want to bring that fabric to your Christmas tree as well!
Scrappy Ornament collection – This is a tutorial I did last year on my fireplace mantle decor. It was so easy and SO budget-friendly, I wouldn't mind having a few more around my house this year!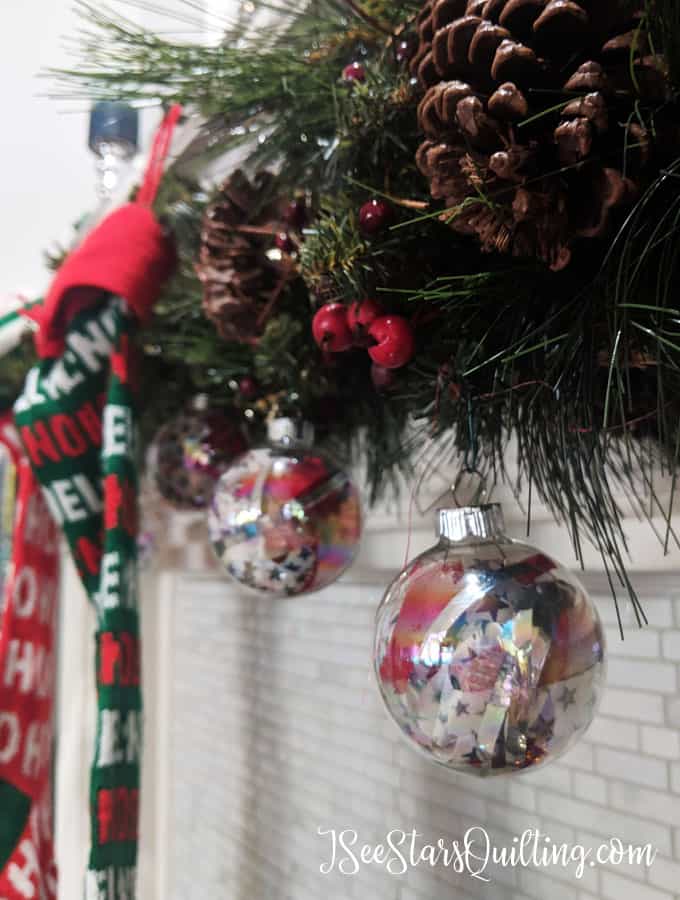 A few more Fabric ornament tutorials/patterns that I love:
Mister Domestic (another quilter you should follow because he is super fun) makes these intricately woven ornaments that are to die for. I love them so much!
A project for those pinking sheers to get in on the fun times! Take a look at these pretty star ornaments!
This article from Good Housekeeping has 62 more homemade ornament ideas… just in case you're really itching to remake your whole tree over. 😉
Easy DIY Gifts
Fabric bookmarks sew up quick and easy! Grab a kid who likes to sew and spend an afternoon making a ton of these for the whole family! I wrote a very in-depth tutorial on what worked for me (and what didn't… in case you were curious!)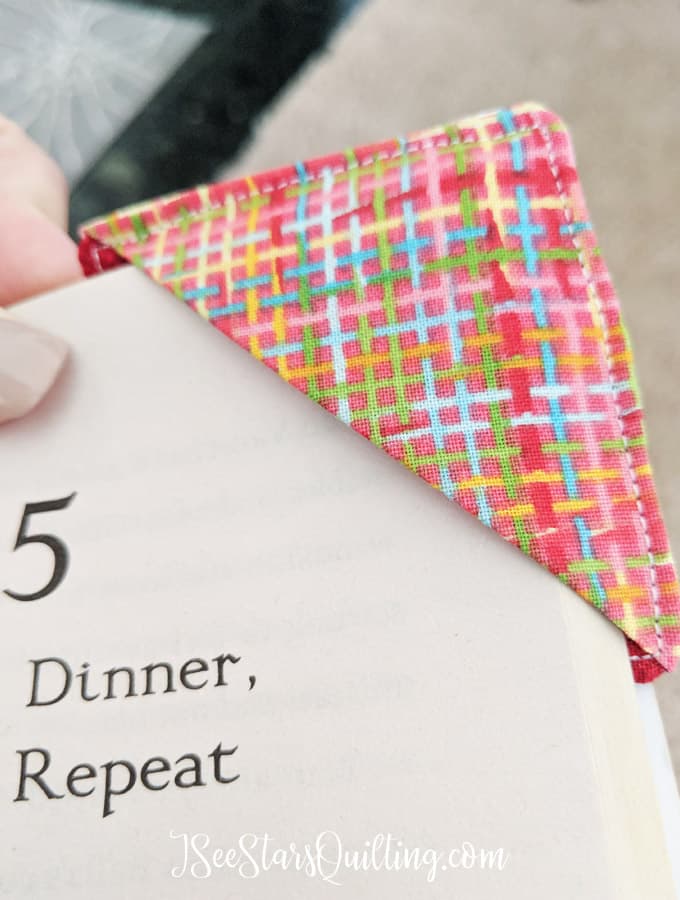 These easy DIY needle minders are so cute! You'll need like 500 of these if you have a lot of hand stitching projects laying around!
You could also whip up several of these fabric trinket baskets to help control the chaotic little "collections" that any child I have ever met acquires. For my son, it was rocks (he still picks them up all the time because I find them in the washing machine) and my daughter loved to collect acorns. What can I say… we are who we are, right?
DIY Christmas Tree Skirts
I made this one several years back and I still can't decide if I ever want to replace it with another skirt or keep it forever and ever. Mine was white and I put little pearl buttons on the center of each flower. It is beautiful!
These tiny stitched stockings are the cutest wrapping for small gifts! It's like two presents in one! Also… you could embroider on them as well… I'm getting so many ideas flowing right now!
But with patterns like this quilted star skirt… it might just make me branch out a little bit this upcoming year and make something new.
This one is another quilted star tree skirt.
If you're looking for easy and yet still absolutely DIY stunning, this tree skirt pattern is super fun and customizable for every decor style be it super fancy, country farmhouse or modern!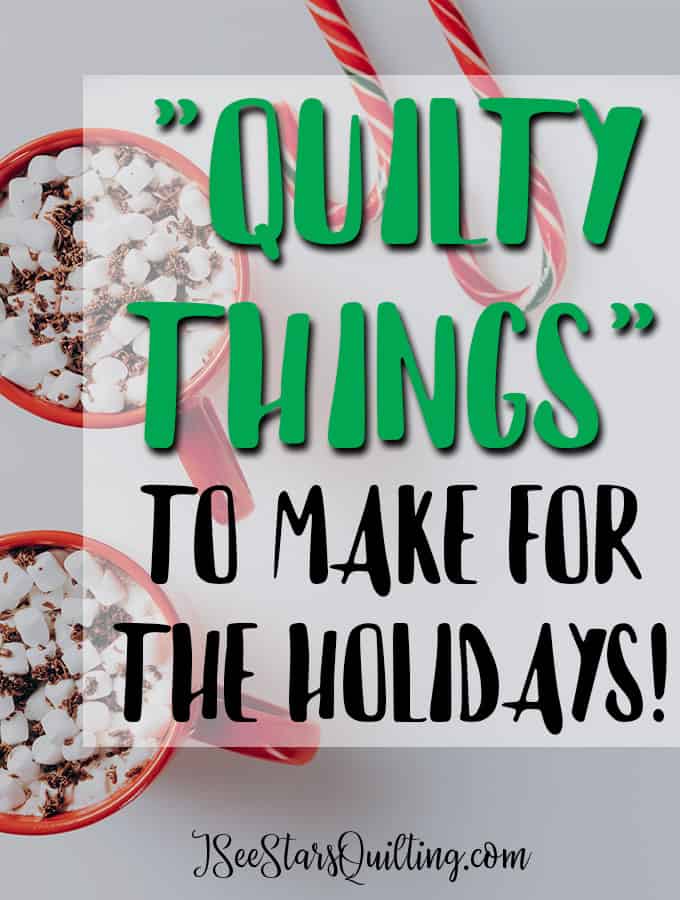 I don't know about you but my to-do list now has so many quilty things to make for the holidays on it! I have so many fun ideas and things I want to make – I know I won't get to it all, but I really would like to spice up our Christmas decor a little more in our new house.
I'll keep you posted on any projects I work on!
Happy Sewing!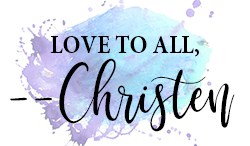 If you find yourself flustered and unable to remember what all you've got planned or you simply want a place to write it all down and keep track of your progress… check out my FREE Downloadable Christmas Planner! You won't regret being on top of things instead of drowning in the chaos 🙂 Enjoy the holiday season and create!