You know the nights when you get the itch to sew but you don't know what project to start next? Which quilt pattern should I use? Should I go with an old favorite or try something new? Do I even dare browse Etsy or Pinterest for something new to work on? What if I end up not liking it or worse, can't do it? These 10 FREE Beginner Quilt Patterns that Every Quilter Needs is going to save your tail, my sweet sewing friends!
These patterns are all either 1) I have tried it myself and loved it or 2) I have sewn something else of the designers and I loved his/her style.
I know these designers. I know their style and the methods and the level of quilting knowledge you need to attempt these yourself. And complete full confidence can recommend them to you!
Also, If you are in the market for Free Quilt patterns, I'll send you my own favorite design if you sign up for my e-mail list! No spam or millions of e-mails, pinky promise!
---
10 FREE Beginner Quilt Patterns That Every Quilter Needs
Log Cabin Quilt Pattern
There are a million different variations out there! I particularly like this version from Red Pepper Quilts because it is a great reminder that not everything has to be meticulously planned and strategically thought out. This one is a good mix of fun scrap fabrics.
A Log Cabin pattern is made up of small squares and rectangles that get progressively longer as they spiral out to the finished size. It is said that this pattern first originated in the United States after the Civil War began.
Image from RedPepperQuilts.com
Here is another version of the Log Cabin Quilts. My Busy Momma, Busy Baby Playmat pattern! Designed using Jelly Rolls, this pattern comes together super fast and easy!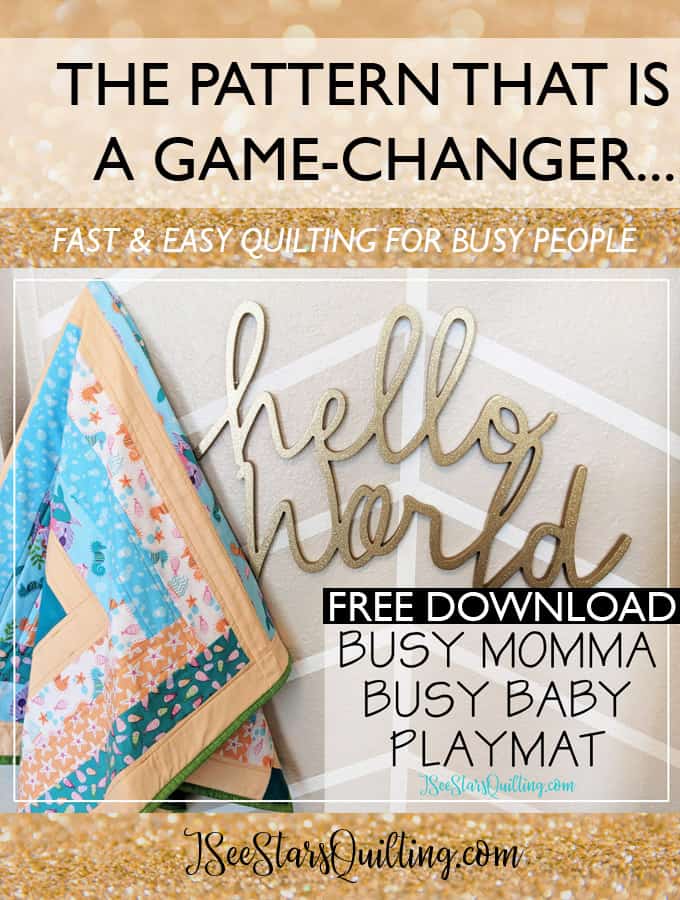 You can download the Busy Momma, Busy Baby Quilt Pattern for FREE here.
---
Garland Quilt Pattern by ALEXIA ABEGG with Cotton + Steel
This one is easy! I love it so much! It is a really quick one when you want to show off your patterned fabrics too 🙂 You can see the Garland Quilt Pattern Here.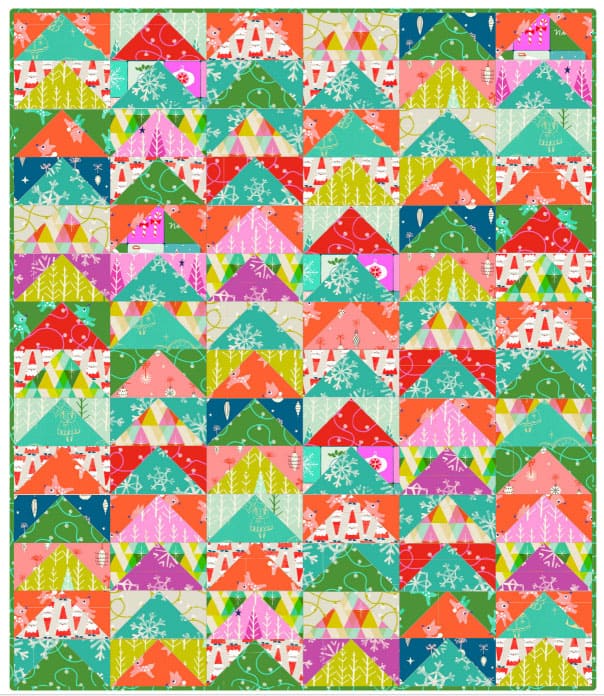 Image from Garland Quilt Pattern
---
Apricot Compote by Carina Gardner
Do you love half square triangles? Oh, you do?! well well well! how about this beauty! If you are looking for a pattern that is easy and stress-free but you would like to perfect your corner matching. ta-da! I seriously did choose this pattern then I finally realized I could no longer be afraid of triangles and needing my points to match up! It sure is a pretty one that looks less traditional than a lot of HST quilts.
Download the Apricot Compote here.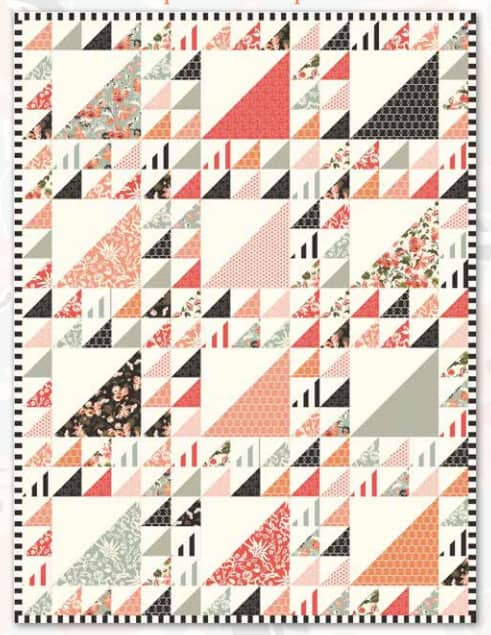 Image from Apricot Compote Pattern
---
Hello Love by Heather Bailey
Note this is not for the novice beginner quilter. The pattern suggests an advanced beginner quilting level.
How beautiful and full of love is this quilt?! oh, I could see so many possibilities with fabric choices and holiday prints!
You can get this Free Hello Love Pattern Here.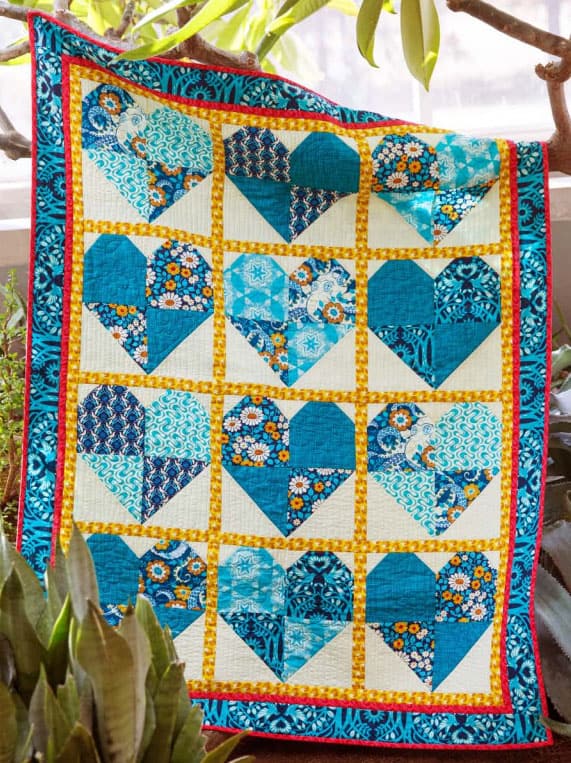 Image from Hello Love Pattern
---
Picnic Quilt by Melody Miller
I adore this quilt pattern. It is not near as complicated as it looks with all of those triangle points, I promise. You will be so pleased with yourself at the end of this one!
You can find the Picnic Quilt Pattern Here.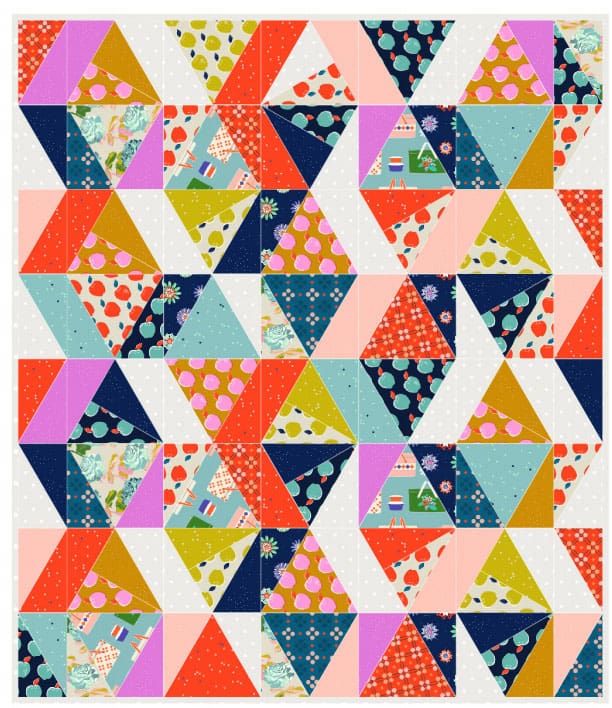 Image from Picnic Pattern
---
Blooming Fields by Dana Willard
Simple. Modern. classy and a beautiful way to show off your favorite fabrics!
You can find Blooming Fields Pattern Here.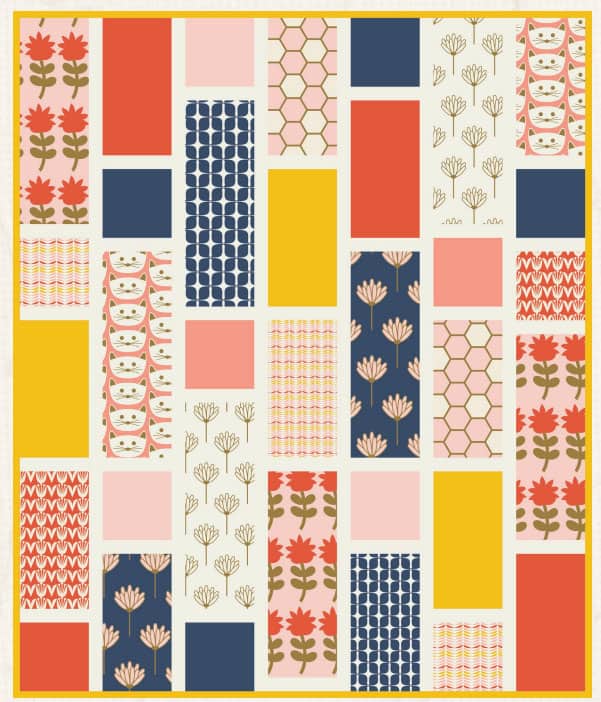 Image from Blooming Fields Pattern
---
Rainbow Tiles By Riley Blake
Half Square Triangles (aka HST) are your friend. Learn to love them because you can create some beautiful patterns with them!
This Rainbow Tiles Pattern is all sorts of predictable unpredictability. It is fun and fresh and so so simple if you keep your pieces right. I have seen this quilt in a simple monochrome version as well that was absolutely breathtaking!
Image from Rainbow Tiles Pattern
---
Sugartown by Art Gallery Fabric Studios
This quilt may look a little more complicated than you are used to but I assure you it is beginner friendly and so much fun to play with fabrics!
You can find this Sugartown Pattern here.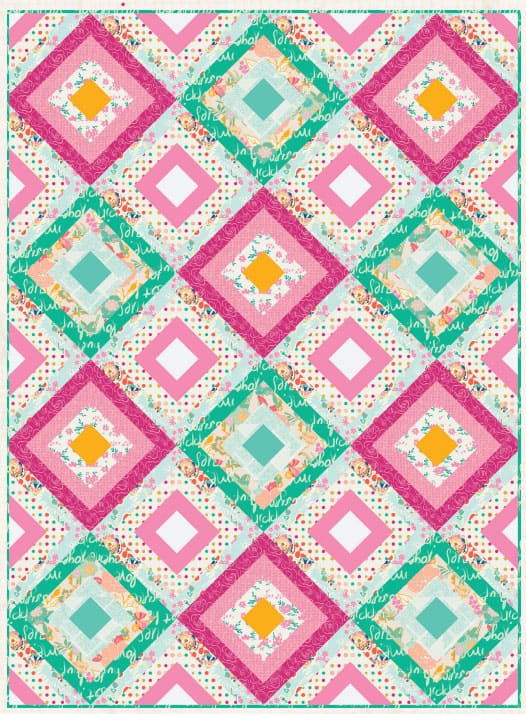 Image from Sugartown Pattern
---
Star Gazing by Soft Day Quilt Patterns
This is a link to a Pattern from Craftsy. FYI, you can find tons of other patterns on their site. You can even join a membership program and have full access to learn just about any class you could dream of! I wrote a review on craftsy a little while back. You can click here to read my Craftsy review.
As for this pattern. It is super simple! and it comes together super fast! Just 3 main fabrics to deal with and a stunning star design as the result? Yes, please!
Click here to see this Star Gazing Pattern from Soft Day Quilt Patterns
Image from Craftsy.com
---
Fiesta Garden by Dana Willard
(Another pattern from Dana Willard. I really love her patterns for their clean and crisp designs)
If Sugartown is still too much out of your comfort zone, you can't go wrong with Fiesta Garden! Its very simple but still makes for a stunning quilt!
You can download the free Fiesta Garden Quilt Pattern here.
Image from Fiesta Garden Pattern4
---
This should get you well through most of your quilting projects 🙂 I hope you found this list useful and found some new quilt patterns to add to the workload pile!
Let me know in the comments if you decide to make any of these or if I missed any of your favorite Freebie quilt patterns!
Happy Sewing!