Hello, my sewing people! We're going to get to some really great discussion on one of my favorite secrets today! Craftsy… have you heard of it? I have some really great deals to offer you today too! (yay deals!)
This weekend was a bit of a whirlwind around here! We had a garage sale because in the midst of all the normal momma to-do's I also decided it was time to declutter everything we own last week and make an effort to downsize. Do you ever have those thoughts in the middle of the night? This was totally spontaneous. It was also not really well thought out, I'll admit, and my husband went along with it with much less vigor than I did… but it was time. With 2 kids who manage to develop a sentimental feeling for every shred of paper, we're lucky we have made it this far in life.
Are the kids to blame entirely for our current house state?… Maybe not. I cleaned out a whopping zilch from my sewing room for the garage sale, haha but I did make a tough effort to at least go through everything and organize though. I ended up running across several sketched out ideas for patterns and project ideas that I wanted to complete but they got pushed to the backburner and eventually forgotten. (shame shame on me for crushing those ideas!)
I'm newly inspired by these treasures and have an action plan to bring them to reality again!
I even semi-organized my fabric…
I'm still searching for the perfect system as this is nowhere near all of my fabric. I have drawers and bins stashed everywhere in my sewing room… This shelf just holds most of my favorite fabrics and what I'm totally crushing on for the moment, just waiting for the opportunity to put it to a beautiful use (creativity, in 'yo face)!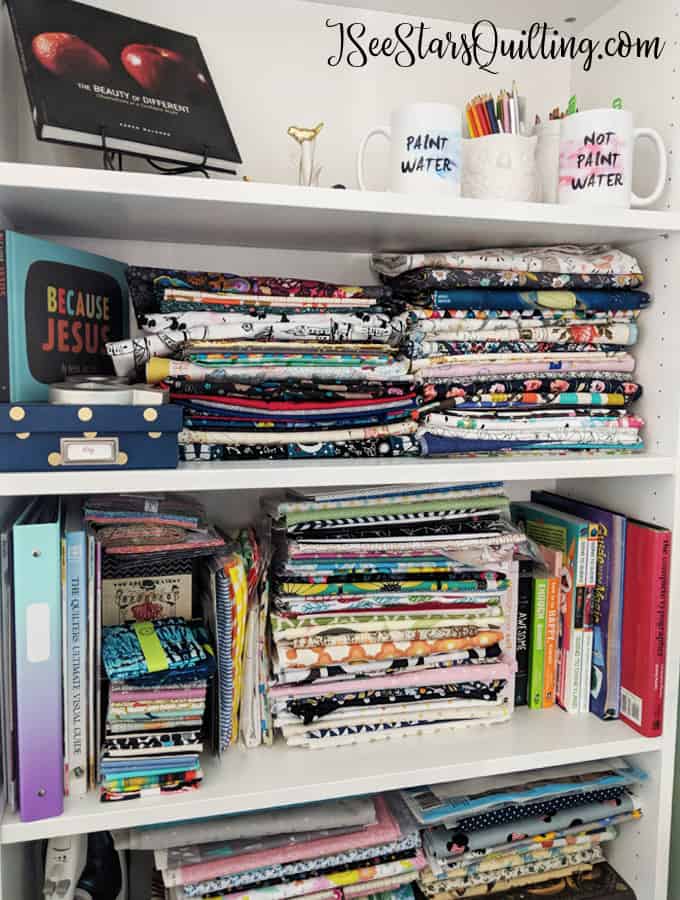 One of my favorite sources of inspiration is Instagram. I absolutely love talking to and hearing from people on Instagram! Seeing your projects and meeting new people brings me lots of joy and keeps me inspired to try new techniques. I LOVE these people and their creativity!
You can view my Instagram if you aren't following me there yet. Please do! There are lots of pretty things!
I've received some questions on Instagram lately from people wanting to know more about sewing and quilting – Looking for answers but unsure where to get the best advice from… Don't we all wish we had an all-knowing magic, reliable source of information?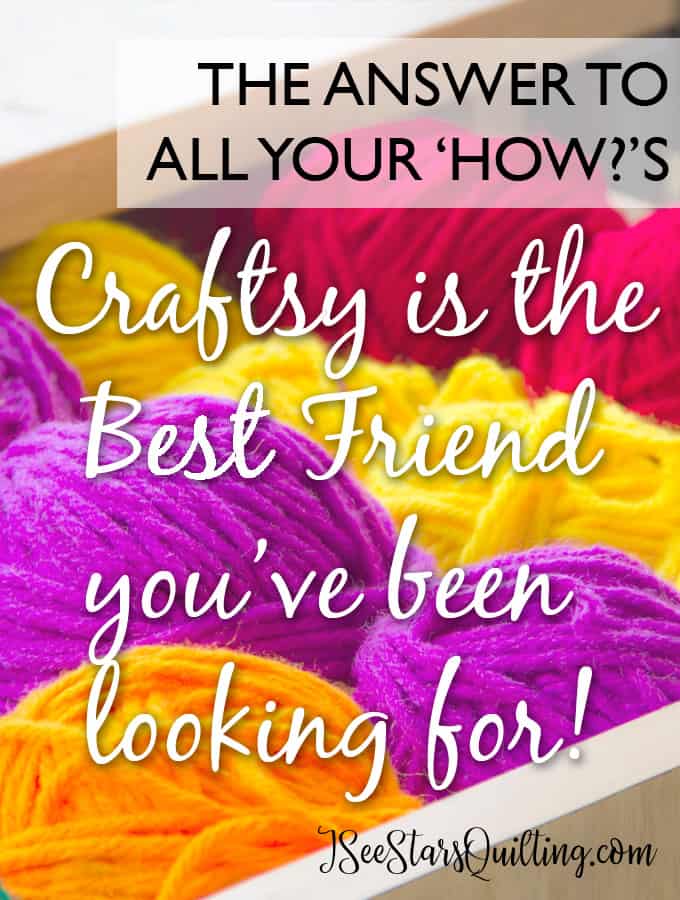 Ok, so don't tell anyone, but I'm going to share with you one of my favorite secrets to really owning a new technique. Like really understanding it without huge in-depth research and hours upon hours of sifting through low-quality youtube videos from less than knowledgeable people you know nothing about.
My favorite Secret is…
(So maybe it's not a secret… But it is totally my secret weapon.)

Have you heard of it? Maybe even seen an ad or two about it floating on Pinterest? Everything from crafty DIY projects to baking/cooking, jewelry, gardening… you name it! – Someone has a tutorial out there for you on Craftsy!
Y'all, I get so excited every time I get on this website.
You can learn absolutely anything!
Craftsy is full of high-quality teaching that will give you exactly what you need to start owning and rocking your newfound skill! (even if it is a super complicated one and you need to practice a little bit to get there)
It is like having a best friend that knows everything you want to know and you can call her up any time of the day or night!
I'm currently working on this class below and I've seen a lot of improvement in my own sewing skills!
Craftsy has 2 options. You can pay for each class a la carte or you can try their new membership option. The membership program is new for 2018. It gets you unlimited access to 3,000+ hours of expert video tutorials as well as special deals and membership prices on kits etc!
Personally, I always choose the a la carte option when I buy classes. I buy exactly what I want to learn, and what I have interest in. Then, I own the course so that I can go back to and watch whenever I please and brush up on my skills.
On our limited budget (hello, responsible adult life?), the membership feels like too much pressure to me. My kids like to keep me on my toes by being completely unpredictable and I never know what my 'free' time is going to look like. I like to get my money's worth with what I buy and pace myself through the course before moving on.
Courses range anywhere from FREE to $69.99ish with some others being on the more expensive side. However, you know that what you're getting is in-depth and super high-quality content from super knowledgeable artists and experts.
Honestly, none of the classes are a huge investment that breaks the bank… and every class I've purchased has been completely worth it! …Yes, back up for a second… You did read that right! There are free tutorials on Craftsy!
Thanks to craftsy… I have a few coupon codes and special links just for YOU!
Check out all the FREE classes that Craftsy offers. (yay free!)
You can also get a FREE 7 Day trial on their unlimited program (even if you don't want to subscribe in the future, It would be silly not to take them up on this offer and play around on some classes you've been interested in but didn't want to buy all at once.) Go on… take the 7 day free trial for a test drive! Open your mind, grab some coffee and a pen to take notes… have a good time 🙂
AND This link will take you to all their Quilting supplies that are on sale. You have to love a good deal, right?
So have you tried Craftsy? What are your thoughts on the website? Is there something that you have wanted to learn but have struggled with finding a good source or tutorial? Let me know about it in the comments! I would love to hear your thoughts!
Disclosure: I have used craftsy multiple times for many different lessons, so I have no problem recommending it to you (and using my affiliate link). If you have any questions, you can contact me or read my disclosure statement.