Let's talk Fabric, shall we?
More specifially, Choosing your quilting Fabrics!
This step, for me, usually begins before the picking of the quilt pattern, sometimes before I even have a quilt recipient in mind. You know when you see that one fabric that gives you those heart eyes and… *boom* its love inspiration. (ok ok it's totally love too) Before you know it, you're running around the fabric store with your arms full of fabric bolts, trying to find coordinating fabrics and holding things up wondering if you've got the right shade of blue? Is it too Caribbean and not enough Midnight? Should you use stripes? or is a polka dot a better fit? Honestly how many fabrics do you need? Is 5 enough or should it be 12? Wait, maybe you should have looked at the patterns BEFORE the fabrics… la la la
Enough is enough. It is exhausting.
Some moms are master mixers at Starbucks with syrups and coffee. They can come up with the most amazing 19 syllable concoctions that are the drinks of my dreams.
I do not possess the Starbucks ordering talent, but I like to think that where I do shine is the fabric store. That crazy stressful scenario above? I thrive on it. I love it. But you know what? Motherhood does not allow for my wonderland fabric trips. The ones where I fall down a rabbit hole and emerge 3 hours later victorious from my quest. Meanwhile, the rest of the world seems to fall apart. Have you been there before too?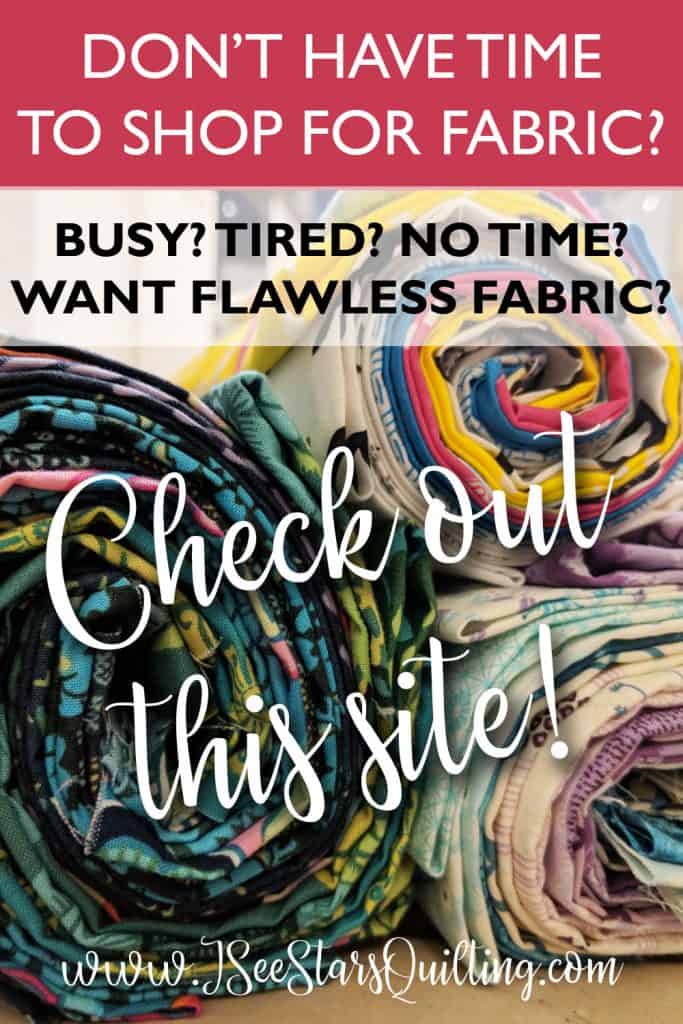 I'm going to let you in a little secret of mine.  You're totally welcome to steal it because I would be a terrible quilter friend if I kept this secret all to myself… ok, the fabric from many of the quilts I have made has been purchased from these girls right here:
The girls at these shops… They have a true gift. That is the only way I can explain it.
They have fabric and patterns on their website but their shining glory is the fabric bundles! Oh.my.goodness… the fabric bundles. Amazingly modern and colorful, not-your-grandmas-fabric comes in pre-cut fat quarters, ready to be cut and pieced for your quilts. It doesn't get any easier than that! Just take a look at this fabric eye candy!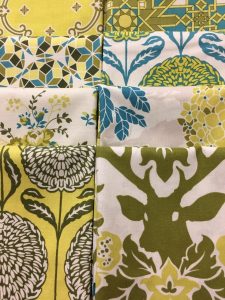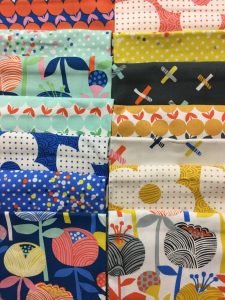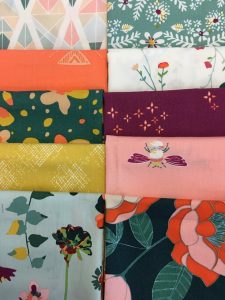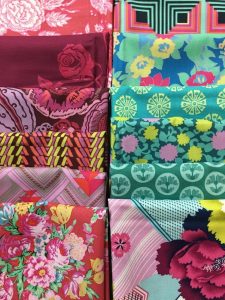 How easy is it to get a vision for your quilt just by looking at these fabric groupings? I could copy their whole website in my post to show you all of my favorite fabrics, but I will let you do the shopping.
It is modern quilting made easy.
All the fabrics in each bundle are coordinated and perfectly suitable for quilting together. You don't have to spend hours in the fabric store or evenings looking online for matching prints. No extra trips to the store. You can purchase all the fabric that you will need for your quilt in one easy transaction. Everything is there and ready. The sweet girls at Villa Rosa And Darling Rose have done all of the hard work for you. Fabric magicians, they are indeed!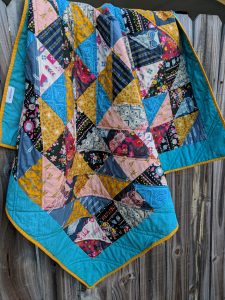 My Charity Quilt was made with a fabric bundle… As much as I would like to take credit for the fabric eye candy myself, It was totally A Darling Rose score.
I had the opportunity to meet Jessica at the 2017 Houston Quilt Festival after being a customer of her shop for quite a while. I felt like we were instant sisters. She exudes joy and a love of her work. You will not find better customer service than that!
While I love the art of piecing my own fabrics for quilts, I will never tire of the creations that Villa Rosa and Darling Rose bring to life!
Do yourself a favor and visit their websites. Look around, shop and fall in love with their fabric bundles! It's ever-changing with brand new collaborations.
Happy shopping 🙂