Hey howdy hey quilting friends! 😘
I've got tips to share with you today (plus a video!) on the best way to fold and store your fabrics!
Fabrics are precious little treasures… and it seems to be quite the hot opinionated topic to discuss how to store them. Everyone has an opinion or a way that they have that works for them…. or so it would seem. And then there are the rest of us who are just trying to figure out a sufficient way that makes sense (and you don't lose anything while you're at it).
When I make a quilt, I always try to shop my own stash first.
I love my fabrics so much.
Sometimes shopping is unavoidable if you're looking for specific amounts or you just can't find that spark of inspiration you're looking for… because then you get to go to the fabric store and gaze at all the new beautiful fabric lines! 🤩 … and possibly come home with a little more than was on your shopping list.
So how do you store your fabric stash?
First, Let's look at yardage fabric. (see below for fat quarters and scrap fabric.)
My yardage has always been on a bookshelf of some sort… I really love to arrange my fabric on "mini-bolts" so it looks like I'm at the fabric store. 🤩 FYI, I use these boards here, from amazon.
I also like that when they're stored neatly on the shelf, you can easily inventory your stash and get a good look at what you have on hand.
Note: Right now, I'm in the middle of completely redoing my sewing room and storage is my main focus… because *um yikes, I can't believe I'm going to share this with you, but here goes* this is what my fabric shelf used to look like…
It is kind of a hot mess…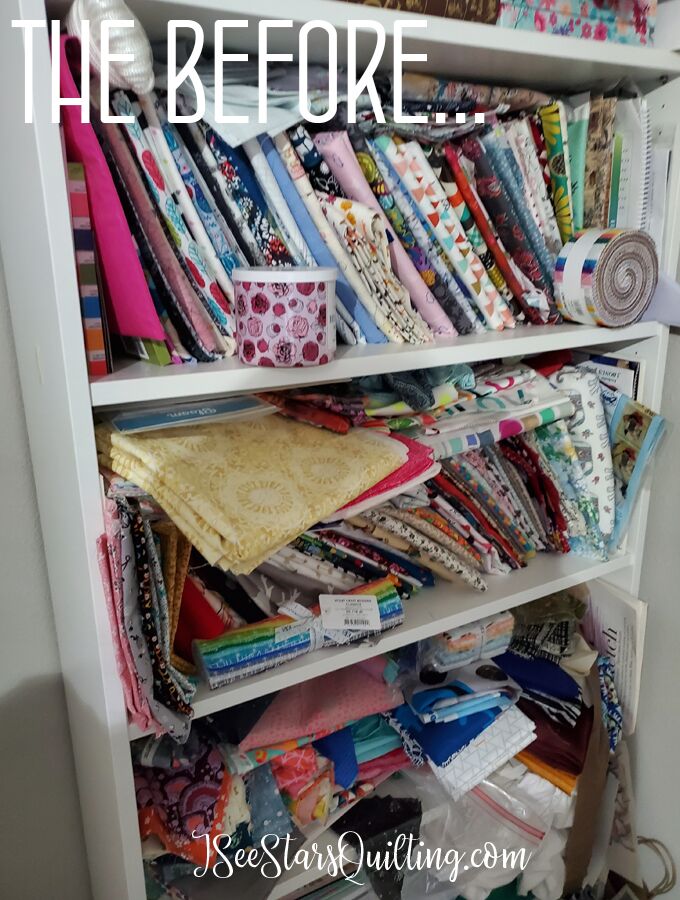 Please don't judge me lol…. all I can tell you is at some point I gave up, I think? I don't really know… it was a million tiny decisions that were nonchalantly made to "deal with it later" and then all of a sudden I had this massive tidal wave of fabric to deal with. (Truth be told, I never wanted to deal with it. It was extremely uninspiring and I avoided the stack at all costs so as not to make it come tumbling down.)
How is that #reallifemoment for you?
Moving on to better storage arrangement…
I used the same method of storing my fabrics on mini "bolts" when I began to reorganize, but I really tried to focus on the "pretty" factor this time around.
This is how things look when you're shopping in a quilt shop. Things are nicely and evenly arranged. all the fabrics have their place to shine… (no tumbling tower of disaster)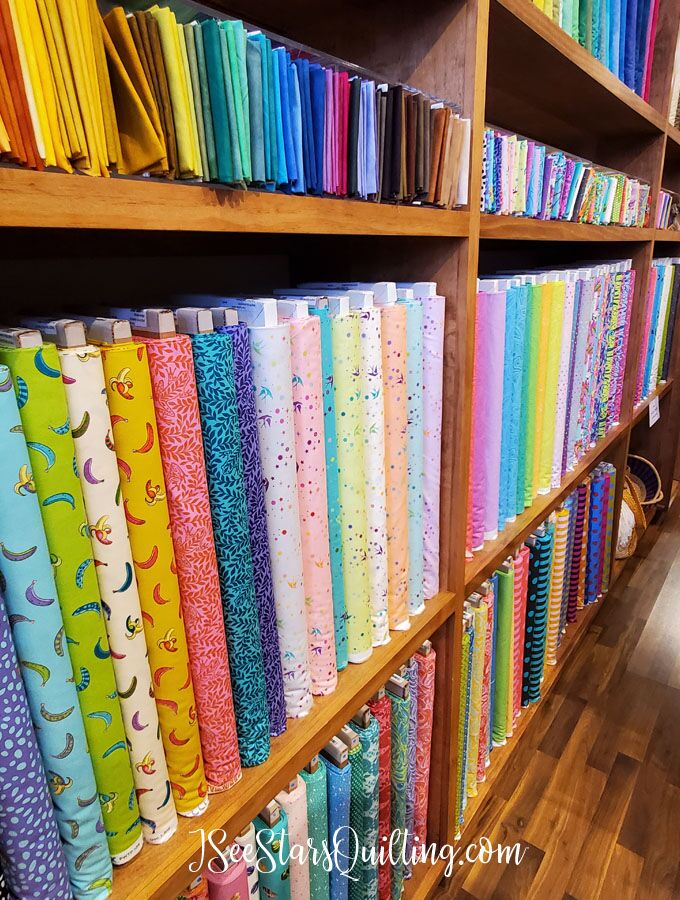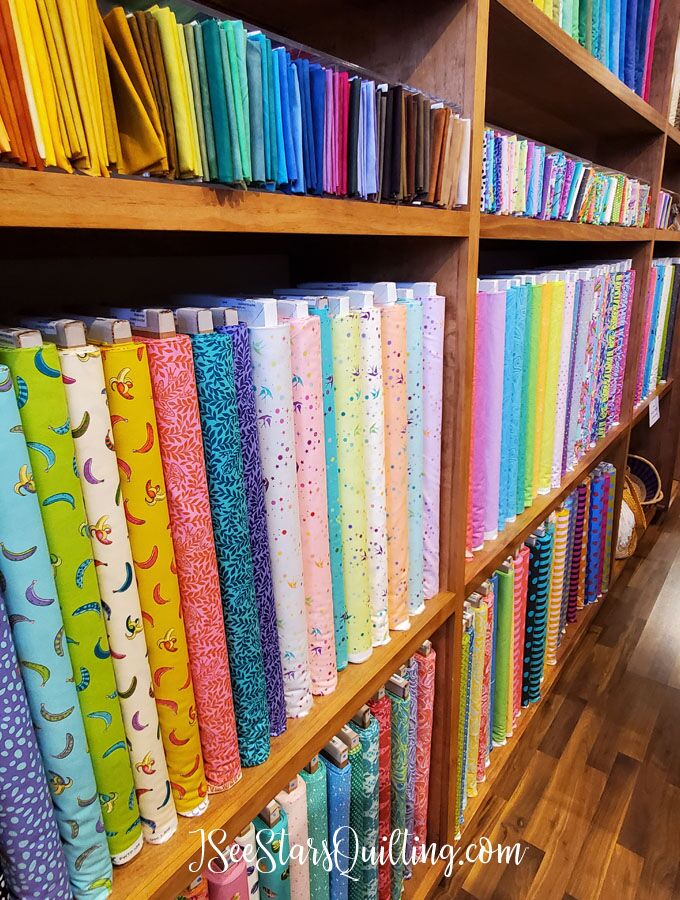 I really want my sewing space to feel luxurious when I look at my fabrics… like choosing to put your cherished diamond jewelry in a fancy display box or satin lined case instead of in a ziplock baggie. The intention behind it means so much more when you take the time and effort to show more care towards it.
Maybe I'm being a bit extra here, but this is my space, ok?
I wanted my fabric to be an art exhibit in my sewing space. 🥳
The boards that I use to wrap my fabric on are actually these comic book boards.
They have held up really well for me over the years. You can buy them in different quantities and use them over and over again as you move through your fabric or acquire more fabrics.
They're also non-acidic so you don't have to worry about anything happening to your fabric if it is going to be a while before you get back to it.
So yeah, I had A LOT of fabric to fold and reorganize… this is bretty much what the inbetween looked like for about 2 afternoons of getting caught up on TV episode binges and folding fabric…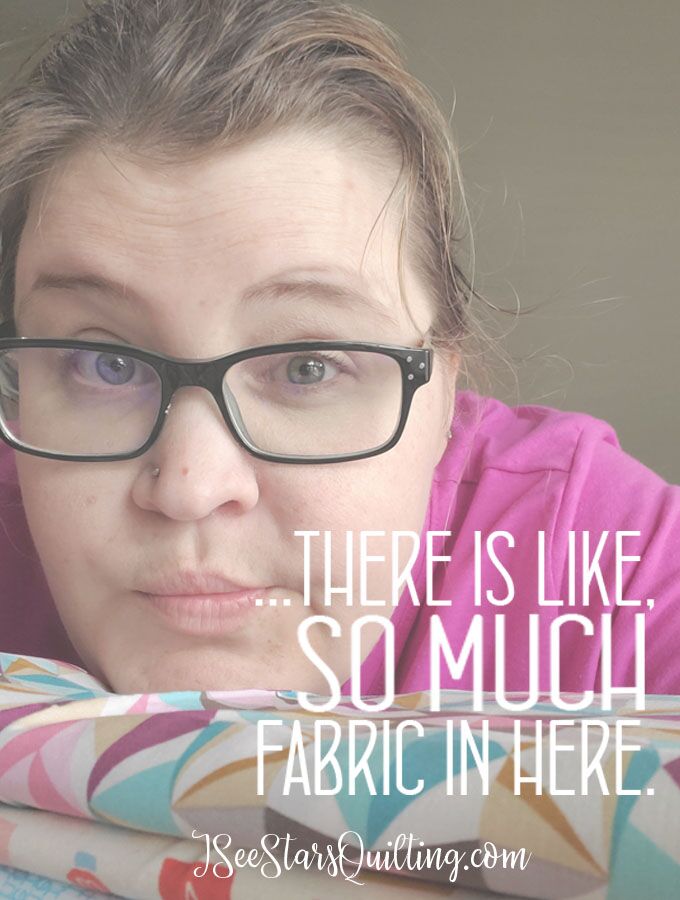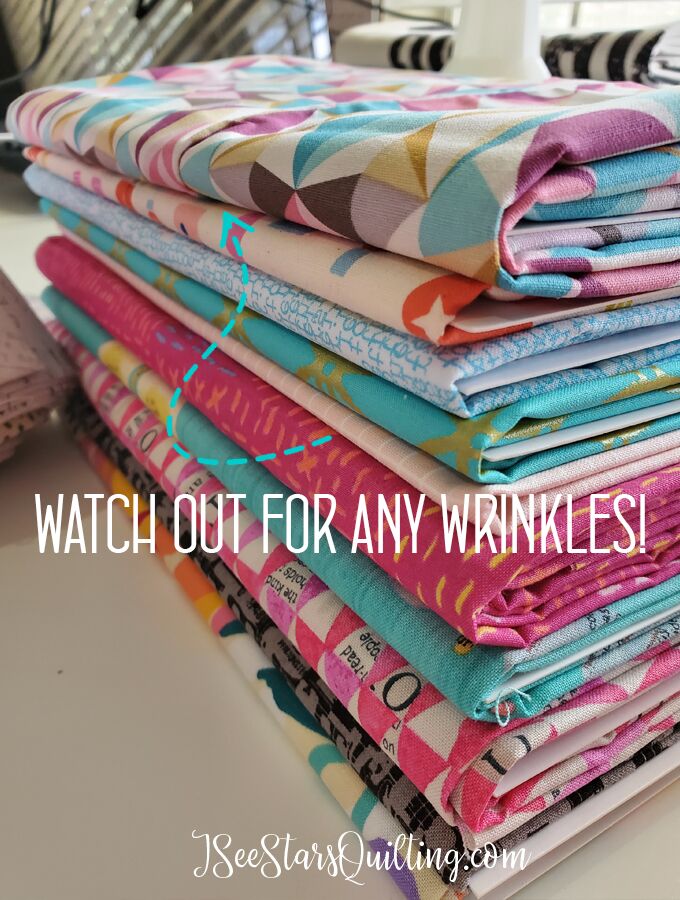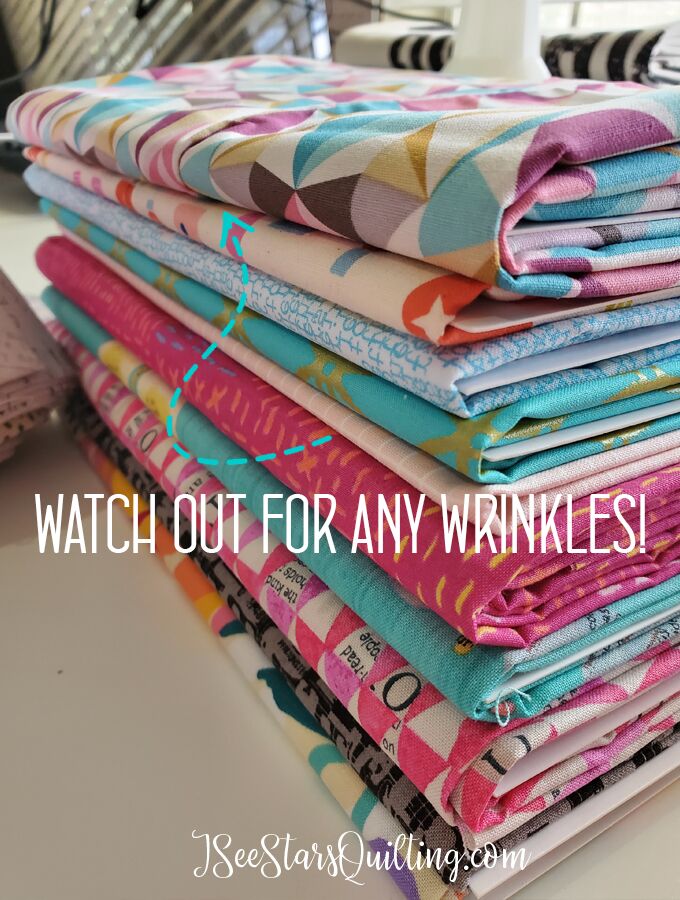 But it was so worth it, because this is what the fabric shelf looks like now that I have it arranged much nicer.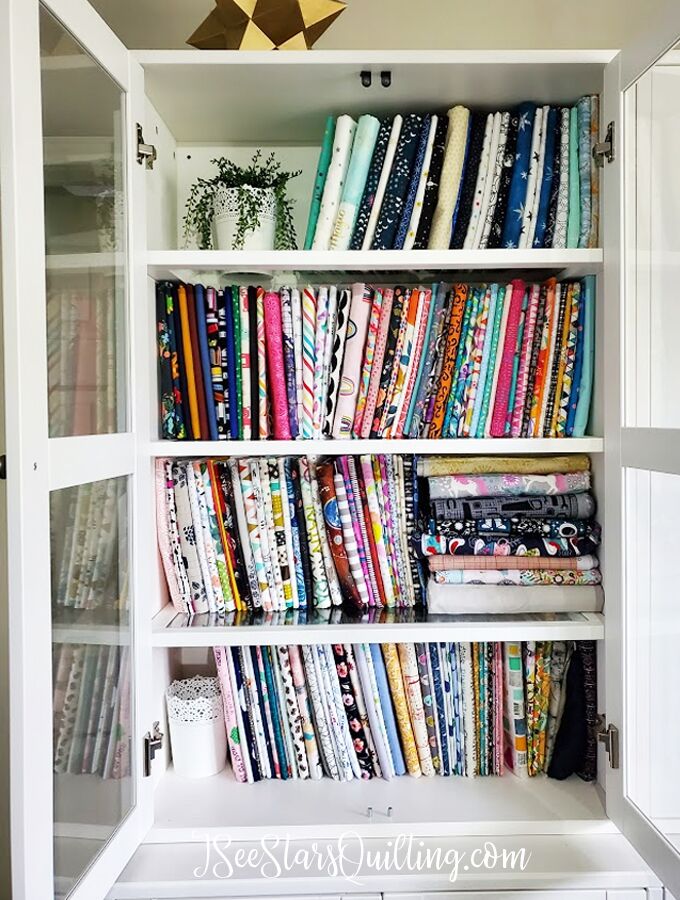 Also, I haven't decided how I want to categorize my fabrics just yet… so they're not in any particular order at the moment. (just in case you're looking for some sort of order or decoding system)
THAT will be a project for another day…
FYI, I know that I have a huge stash of fabric. I've been blessed to have acquired a lot of it at good deals and through sweet friends… There is no possible way that I could ever use it all so I chose to de-stash a lot of my fabric and pass it on to other people that will put it to good use. So in reorganizing my fabric, I downsized my stash and also increased my amount of storage overall so things are nicely spaced out now.
The video: How to fold your fabrics
I put together a short video that explains the best way to fold your fabrics so you can display them nicely! I've given step by step instructions on how I wrap my yardage fabric as well as my fat quarters.
Um but what about scrap fabric?
I don't actually fold my scrap fabrics, but I do have suggestions for how you can store it and organize it! (That is a whole different level of OCD sorting, my friend!)
I have several posts about scrap fabric storage ideas that you can check out here:
This video has some more tips and ideas for fabric storage for you!
I hope that was a big help and maybe a little inspiration if you're looking for fabric storage ideas!
I'm always on the search for more tips and tricks to share with you. I share anything I can share to make your time spent in your creative zone even better!
Comment down below if you have any thoughts or if you have any tips to share with me 🙂 Talk to you soon!
Do me a favor and pin this image or share it with your other quilting friends? I would greatly appreciate sharing to help reach more quilters!