Something that has been on my mind a lot recently has been trying to use what I have on hand to create quilts instead of feeling like I HAVE to go out and buy a lot of fabric for each and every project. AKA Scrap Quilting!
It is so tempting to walk through the aisles like I have all the money, time and storage space in the world… when in fact, I'm running short on all three of those things! haha
Scrap quilts are so easy and fun. A lot of times you take away the stress of selecting the perfect fabrics and colors and choose to focus on fabrics that contrast with each other.
In other words, throw caution to the wind and make something wild! The final outcome will be a wonderfully creative expression of using what you have on hand!
Quilters have been using this method for generations, using torn dresses and saving shirts that were beyond repair, fashioning bits of fabric into beautiful works of art made into a quilt!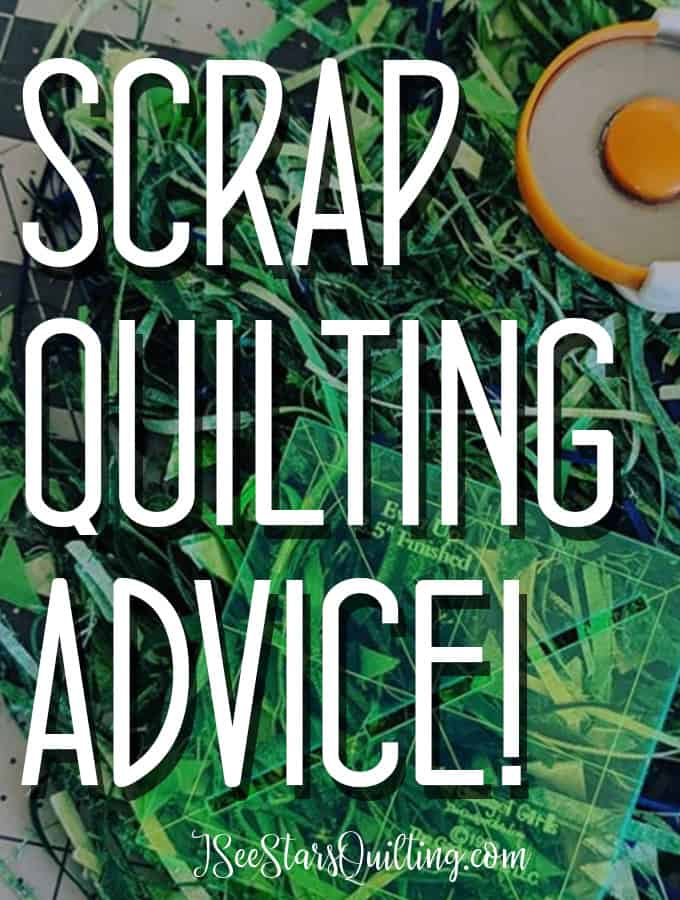 What is a scrap quilt?
Scrap quilts use a random assortment of fabrics. You can use the little bits of leftovers from previous projects. You can also swap with friends to get some fresh fabrics to play with!
Whatever you have on hand is fair game in a scrap quilt.
(At least for every single quilter I know) It really isn't unusual to have tons of scrap fabric lying around … why not use it and make it into something wonderful?
How to Choose Fabrics for Scrap Quilting
Variety is the key to curating a collection of scrap quilting fabrics. Choose all sorts of fabrics, even fabrics you don't really LOVE. – (Someone has to be a secondary fabric!)
Choose a mixture of print types: florals, geometrics, calico fabrics, novelty prints, stripes, plaids, batik fabrics—the more variety, the better.
Fabrics in a wide range of colors make a lovely mix!
Choose fabrics with prints of all sizes.
Tone on tone fabrics are a great 'background' fabric to add
Neutrals give your eyes a soft place to rest and break up areas of the quilt that could otherwise be too busy.
Scrap Quilting is also a really great way to try out new patterns and blocks that you're not entirely sure of just yet!
My Favorite Scrap Quilting Books
If you're wanting some more information on scrap quilting ideas, these are some of my favorite books out there on scrap quilting! *Just a warning… it can be completely addicting… and oh, so much fun!*
I'm adding in Amazon links, but you might also be able to find them at your local library or quilt shop too! Ask around and see if you can swap a good brook with a friend too!
More blogs with more scrap quilting ideas:
SCRAP FABRIC PROJECTS: EASY DIY KEY FOBS
SCRAP FABRIC STORAGE! & WHAT TO DO WITH THEM! (CHEAP FABRIC STORAGE)
DIY FABRIC BOOKMARKS – WHAT TO DO AND WHAT NOT TO DO