Ready for some really fun and easy FREE patterns that use pre-cut Jelly roll fabric? That is exactly what I have for you today! I'm rounding up my favorite free Jelly roll projects to share with you from around the internet!
In quilting terms… just what is a Jelly Roll?
A Jelly Roll is a collection of forty fabric strips that are pre-cut at 2 ½" height x 44″ long. The strips usually consist of a variety of fabrics that are already coordinated and matchy matchy to make your project look amazing!
The strips are layered, rolled up tight, and tied with a bow. – They are nearly irresistible in the stores!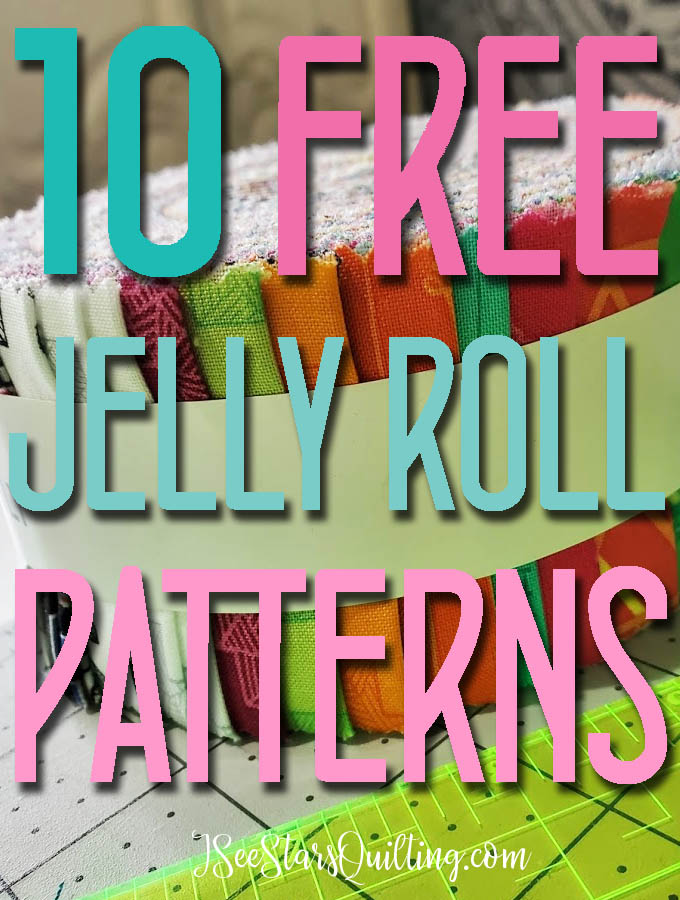 Jelly Rolls are wonderful and save so much time on cutting and coordinating fabrics! You can pretty much guarantee your quilt or project will be amazing when using them!
This is a fun project that doesn't really need a pattern even!
I wrote a guide to making traditional randomized Jelly Roll quilts a while back and it has been a super popular resourse for quilters in calculating the fabric requirements for their Jelly roll quilts.
Make sure you take a moment to check it out here!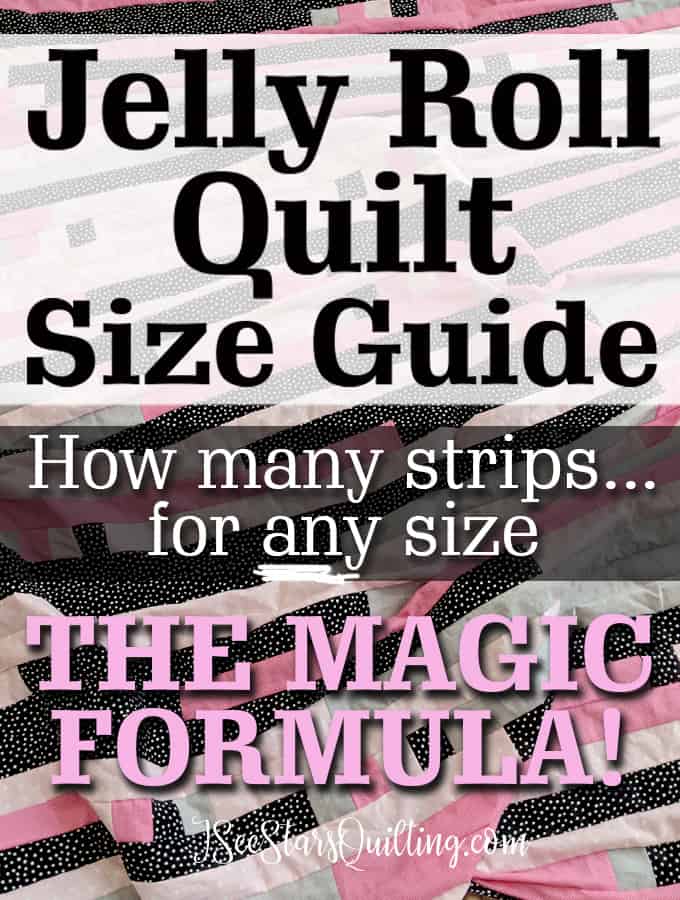 The following is by no means the only patterns/tutorials out there… but I tried to round up my favorite projects that give you the most amazing results!
10 Free Jelly Roll Patterns & projects
1. This Cute Zig-zag Quilt Pattern!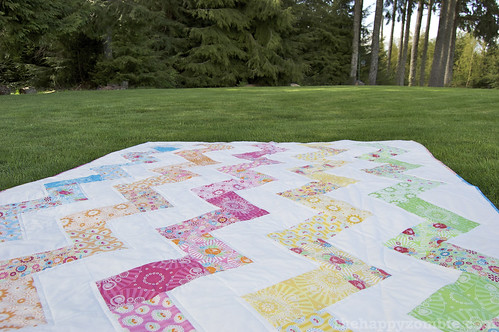 This "Super Zig" Quilt pattern is a free download over on The Happy Zombie. You can get it here.
I love how versatile the pattern is for every occasion and combination of fabrics!
2. Scrappy Granny Square Quilt Pattern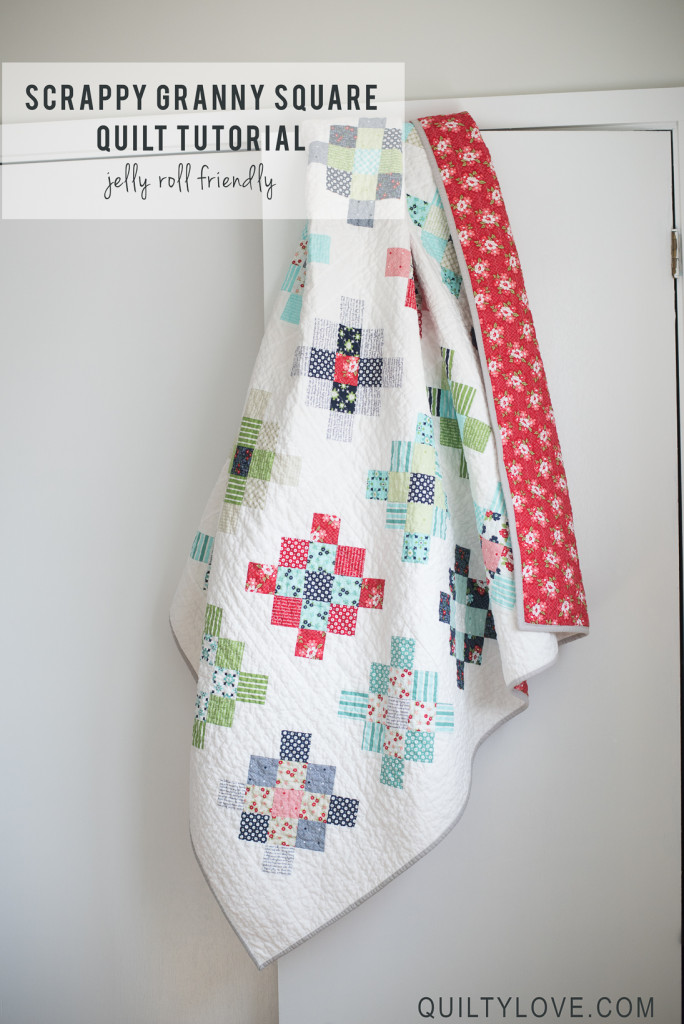 This might look complicated and tedious, but really… it is a breeze! 🙂
The tutorial is also super easy to follow. Emily over at Quilty Love is one of my favorite quilters . I've yet to meet a pattern of hers that I didn't just completely fall madly in love with. <3
You can get the granny quilt square pattern that uses jelly roll fabrics for free here.
3. One Jelly Roll, Two Quilts!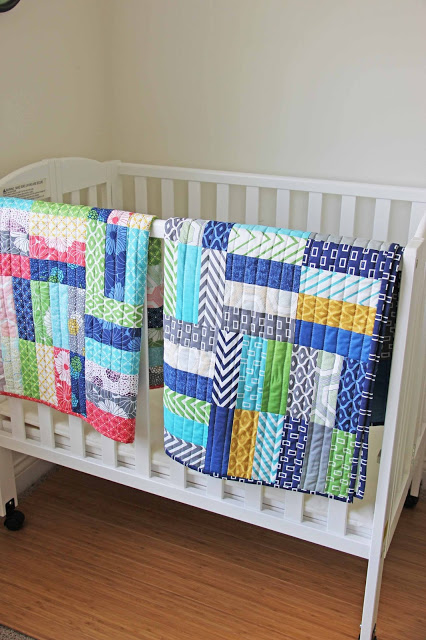 One Jelly Roll, two quilts?… Yep! Baby quilts, but still! These are precious and fast sews to please all the little ones in your life.
You can download the pattern and check out the tutorial from V and Co here.
4. Sunny Skies Quilt Pattern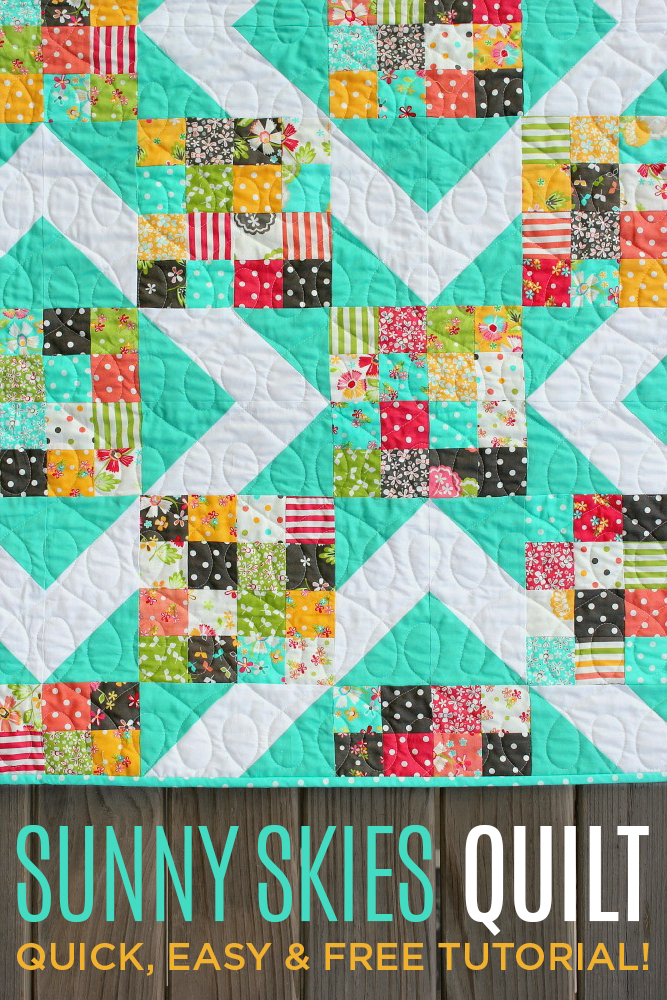 This quilt pattern is so fun and so easy. OK so you might need a little more fabric than just 1 jelly roll, but it's absolutely worth it to get this beautiful boxed block look!
You can download the Free Jelly Roll Quilt Pattern from Missouri Quilt Co. here.
5. DIY Jelly Roll Floor Pillow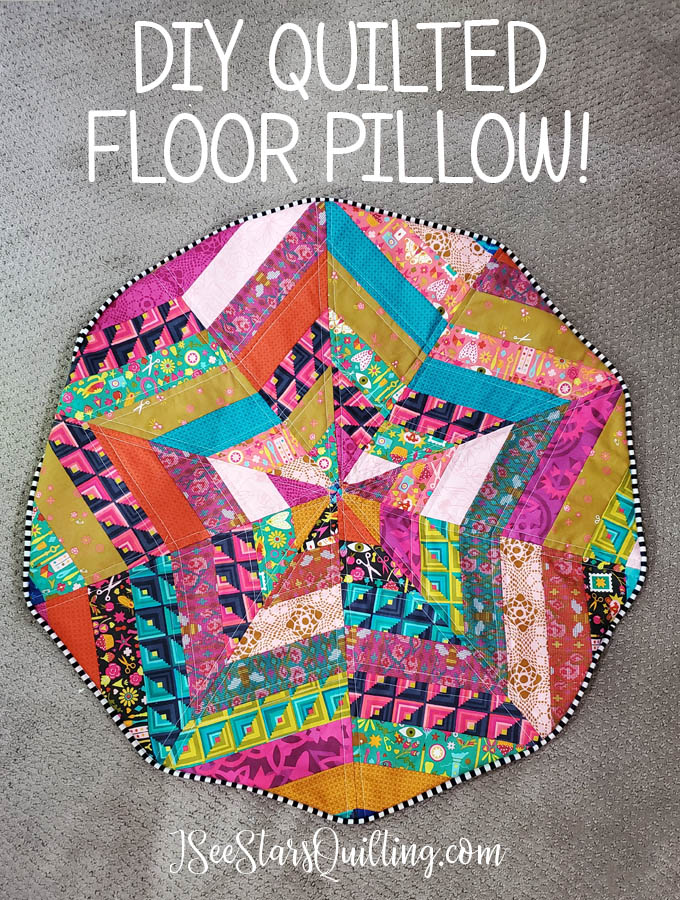 *ahem* Shameless self promotion here… but I've had amazing feedback on this pillow that I created… Due to the number of requests that I recieved after I posted it, I created and easy to follow FREE pattern for your to make your own pillow!
You can check out the post here with more pictures and download the pattern here.
If you're looking for more free downloads, make sure you visit my Freebie Library! I have several other FREE quilt patterns, worksheets, and useful downloads!
6. Playing the Scales Quilt Pattern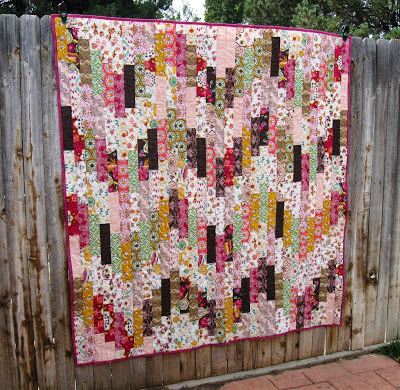 A slightly different version of the zig-zag pattern, but still stunning with such pretty fabrics! I love the play on the dark and light fabrics with this one!
You can download the pattern and measurements from Happy Quilting Melissa here.
7. Fabric Strip Rag Quilt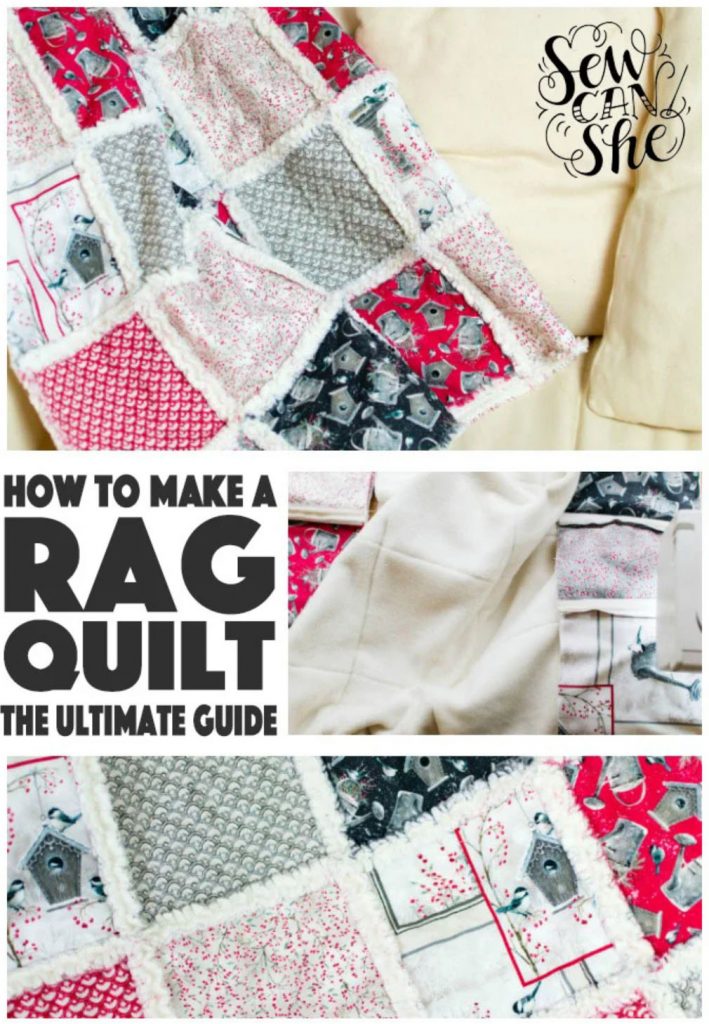 Doesn't this quilt look so cuddly and snuggly? SoCanShe has a really wonderful technique to get the soft ruffles on the edges of the jelly roll strips!
Check out the Free pattern here.
8. Diagonal Strip Quilt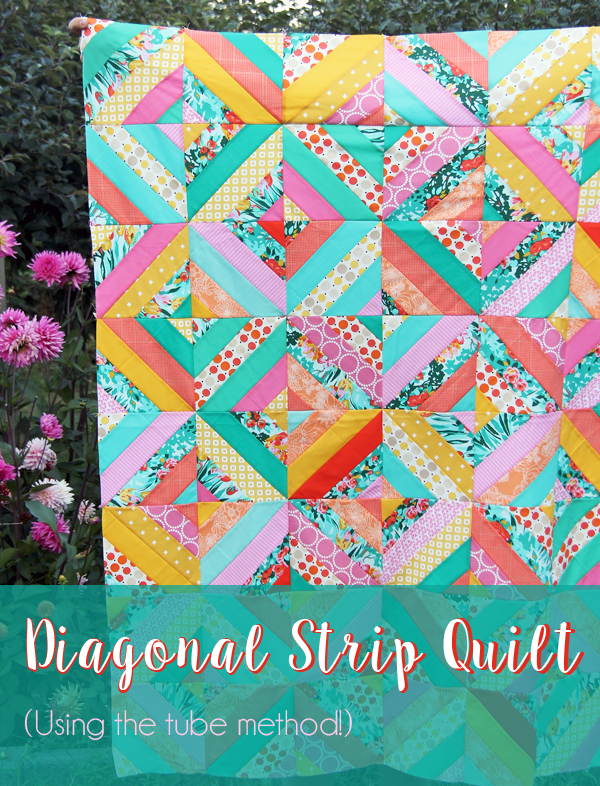 This is one you really need to check out because I promise you… however you think this quilt is made… it isn't correct. This borders along with one of the smartest tricks I've seen in a long time.
Check out CluckCluckSew's pattern and genius ideas here.
9. Jelly Roll Coasters and Mug Rugs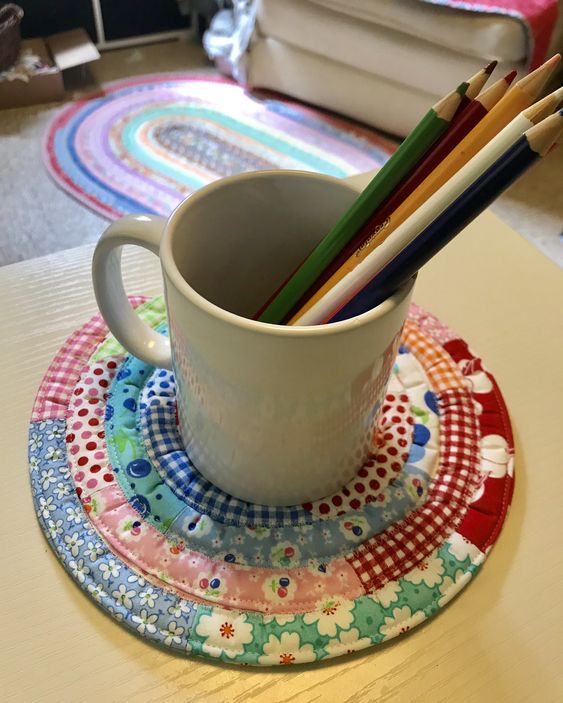 Hello handmade Holiday gifts! I could make these for all over my house right now. Aren't they precious?… and do you see the matching jelly roll rug in the background of the photo above?
Check out more info from Quilting Digest.
I recently made a jelly roll rug for the first time and I fell in love with the process… well… if I'm being honest, I liked some of the process, some… not so much… but what I did LOVE was the end results!
You can check out more photos of my rug as well as the mistakes I made along the way. (I share so that you can learn from my experience and fast forward through the learning curve moments!)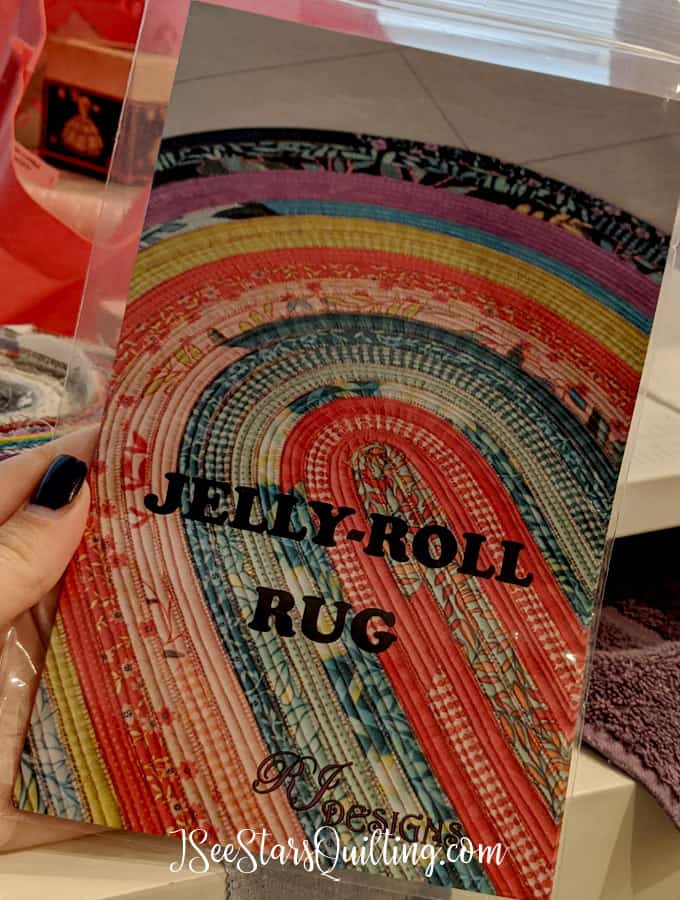 10. Strip & Flip Quilt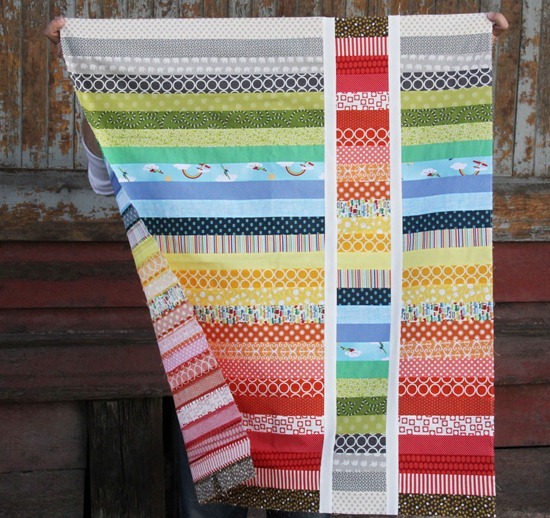 Level = Easy, but I will never tire of how beautiful this quilt top (or back!) looks! Sometimes, I feel myself drawn to the really complicated patterns that make me want to pull my hair out and sometimes I find myself swooning over the patterns that really let the fabric shine in a simple yet stunning pattern.
This quilt by CluckCluckSew is one of those patterns. You can find it here.
Do you have a favorite FREE Jelly Roll Quilt Pattern?
I would love to hear your thoughts on what your favorite patterns are and what you plan to sew next time you're working with Jelly Roll fabrics!
Be sure to check out Fabric.com for a huge selection of Jelly roll starters and start getting inspired!