It feels like it's been so long since I've been really able to commit to a big quilt project. I've done a few small projects here and there but it sure doesn't scratch that quilting itch to play with some fabric and make something wonderful! – The Jelly Roll Rug Pattern!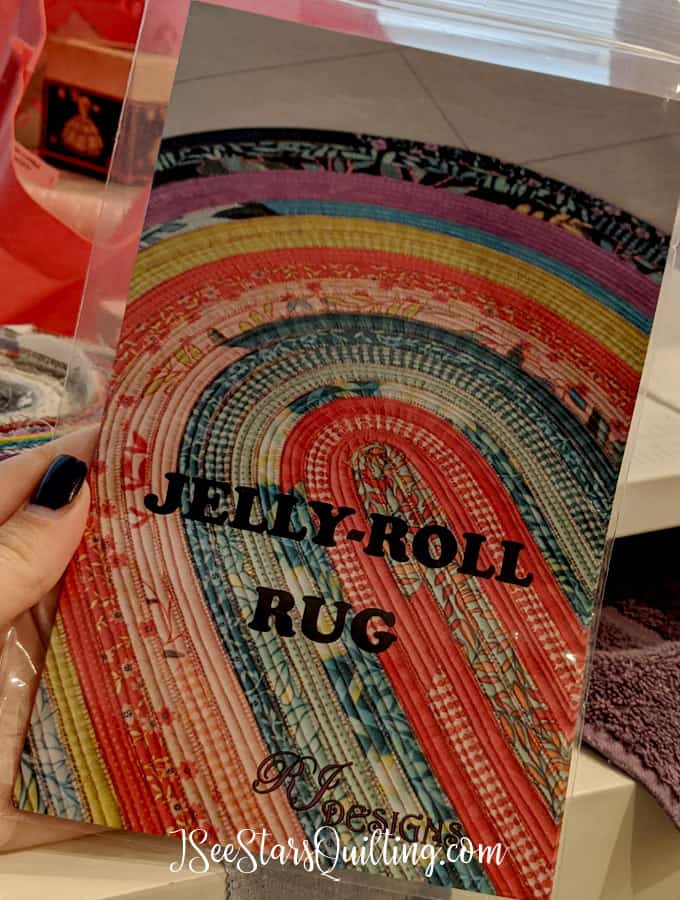 I've had this small (or not so small?) Jelly Roll Rug project on the back burner for a while because I was busy with quilts and too many other things going on. About a week ago, I finally decided it was time to pull it out and let me tell you… it has been a breath of fresh air.
A little something different can do wonders for your inspiration and creativity!
First of all, I had mixed feelings about this project because it was kind of slow going in the beginning… but the longer it goes on, the more I find myself planning another one… isn't that too funny?
Here is the jelly roll before I cut into it.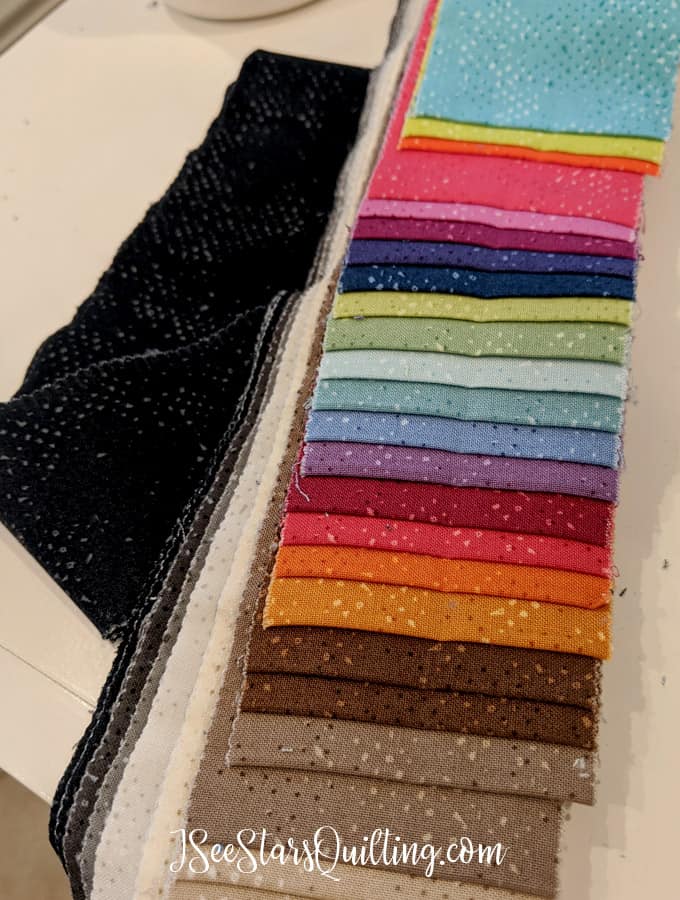 I picked up this fabric from the 2019 International Quilt Festival. Click to read more about what other treasures I found that day!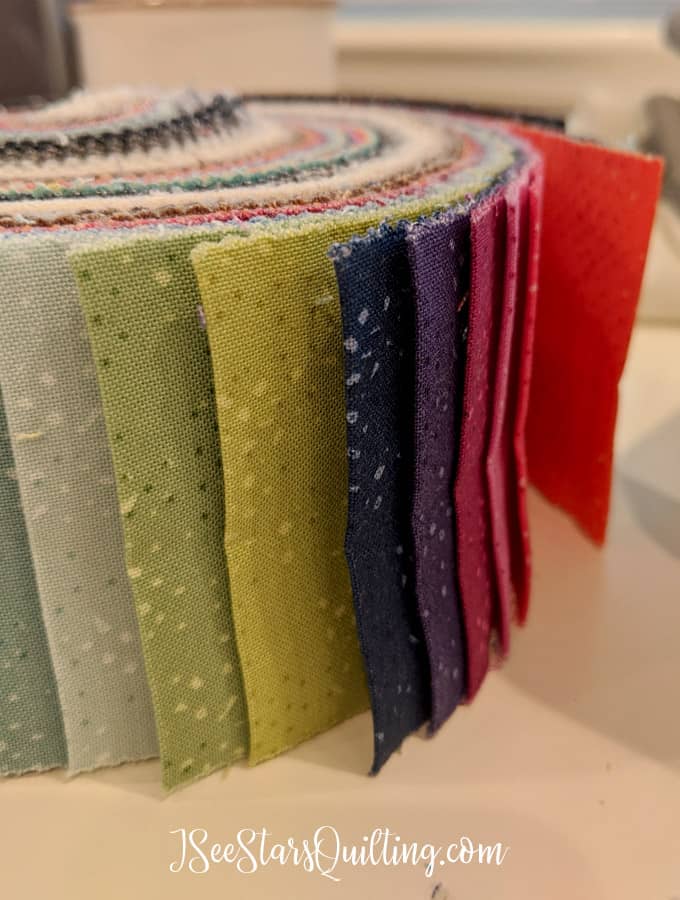 What do you think about the subtle pattern/texture? I wasn't sure what to expect so I chickened out decided to go with simple fabric patterns to see what happens.
In hindsight… you could absolutely pick something wild and crazy or stripes and polka dots… anything with these rug patterns! Even scrap fabrics would make a really fun and useful rug.
(This is where I get myself into trouble, planning my "next" rug project before this one is even finished… what can I say?)
The only thing you really need is A LOT of Jelly Roll Strips. Like so so many.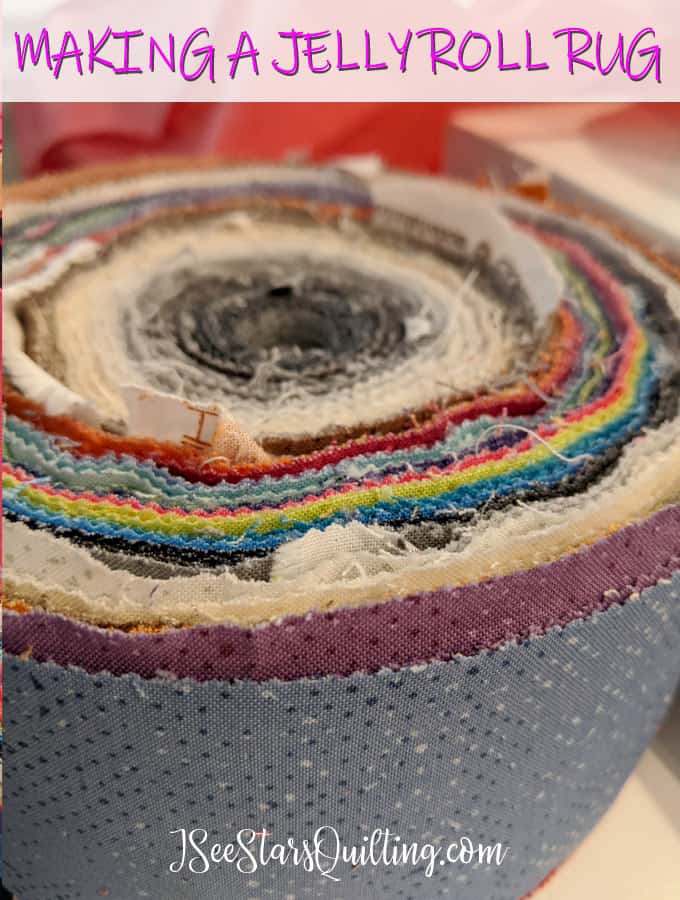 You'll feel like the line of fabric is never ever going to end…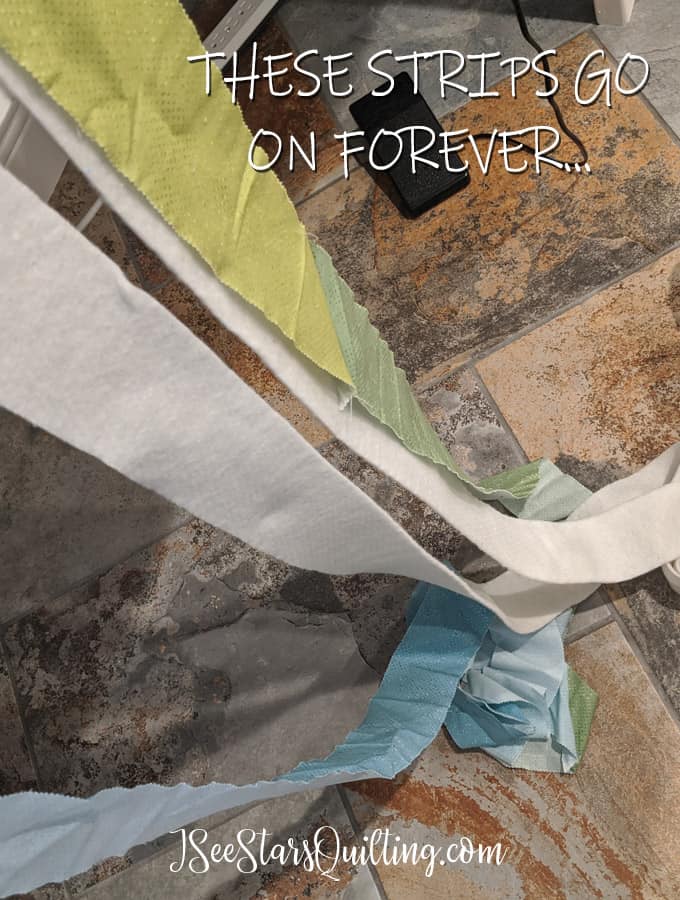 A Note about working with Jelly Roll fabric…
Jelly Roll fabrics really stick with you… quite literally.
If you have worked with Jelly Roll fabric bundles before… you know this drill… but I didn't heed my own warning and well… Ladies and gents, do NOT wear black. Just do, not wear anything that you would mind looking like you've been kissed by fabric confetti, because there is no avoiding this disaster. None.
I'm calling in a new fashion trend for us quilters. – In-the-middle-of-my project-chic AKA lint-brush-way-over-where? ooh or what about #creativitykisses 😉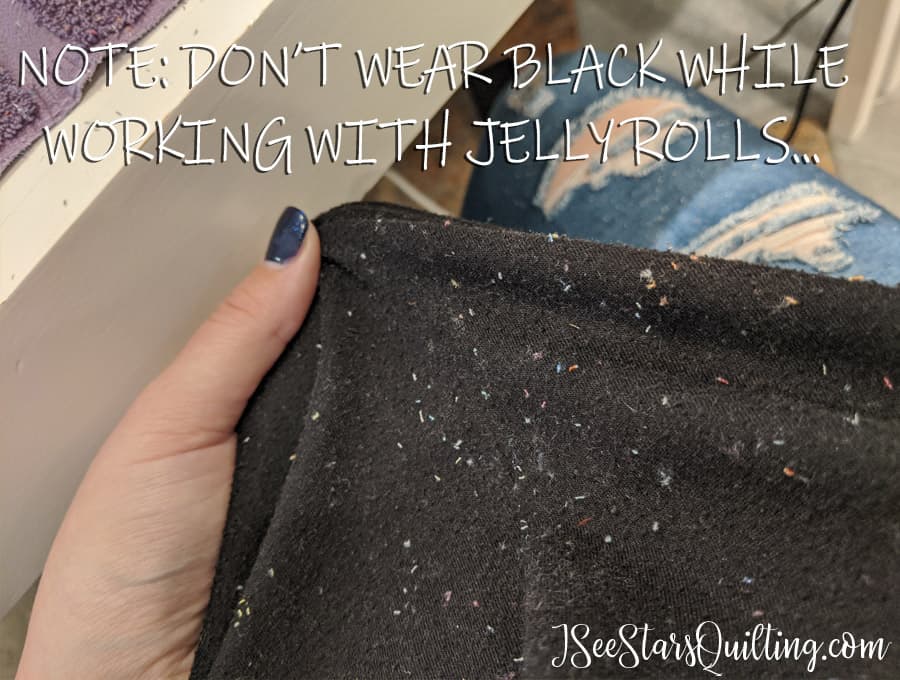 After you sew all the strips together, you line it up with the batting and follow the instructions to create the "rope"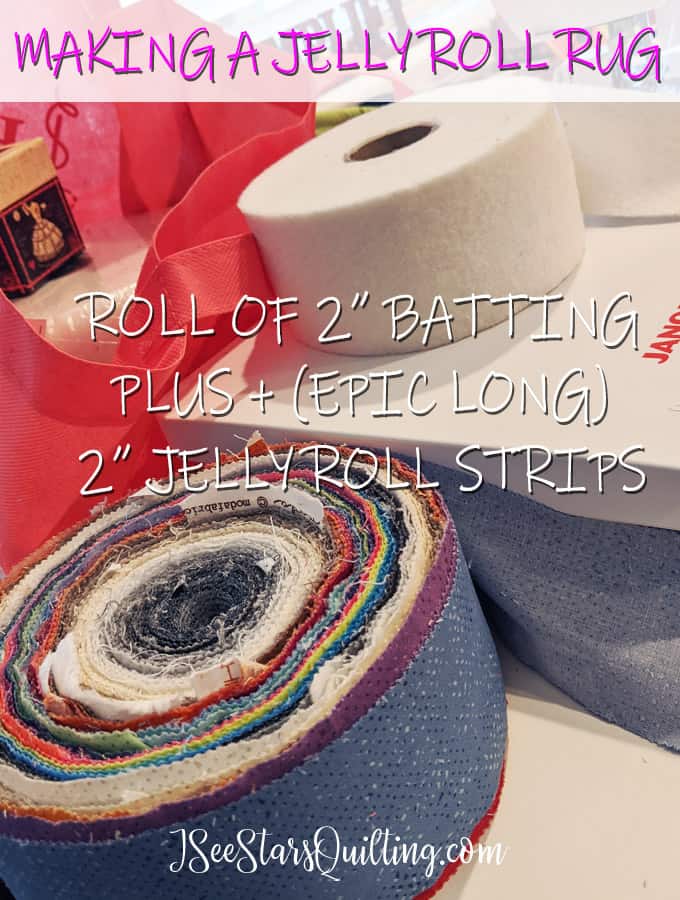 Current Progress of the Jelly Roll Rug
This is where I currently am. I'm working on my "rope" after sewing all the strips together and working it in with the batting.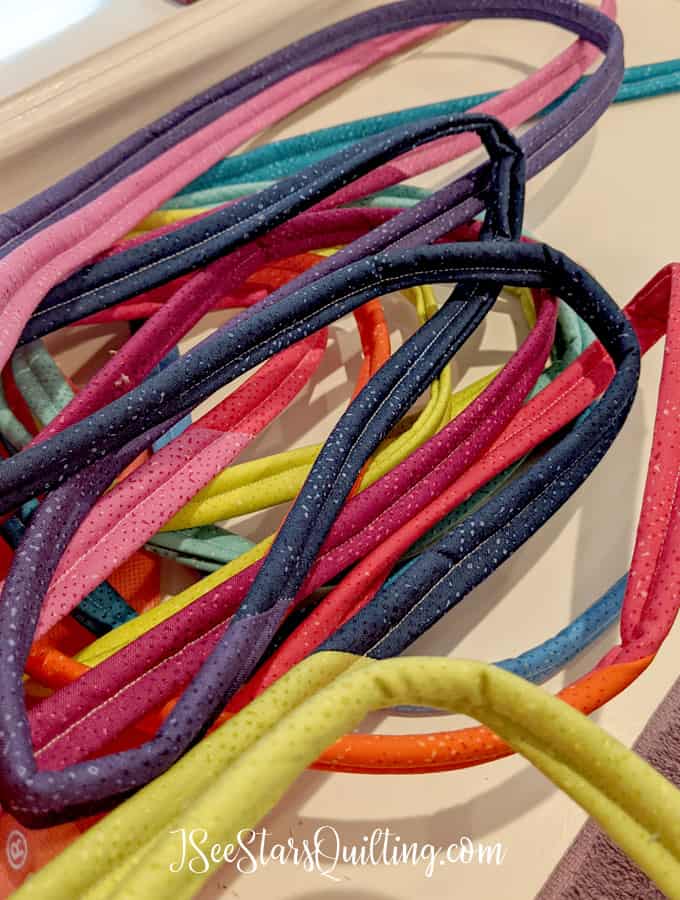 Note on a tool that I thought wasn't necessary to buy, but a friend talked me into it because… peer pressure, right?
[Turns out she was right] If you plan on making even one of these Jelly roll rug patterns, you NEED to invest in this.
It was a little awkward working with it at first, but I'm fairly sure there is a youtube tutorial (perhaps I will film next time I'm working??) or something similar out there, but I took it out of the package and immediately started playing with it until I could make it work on my own.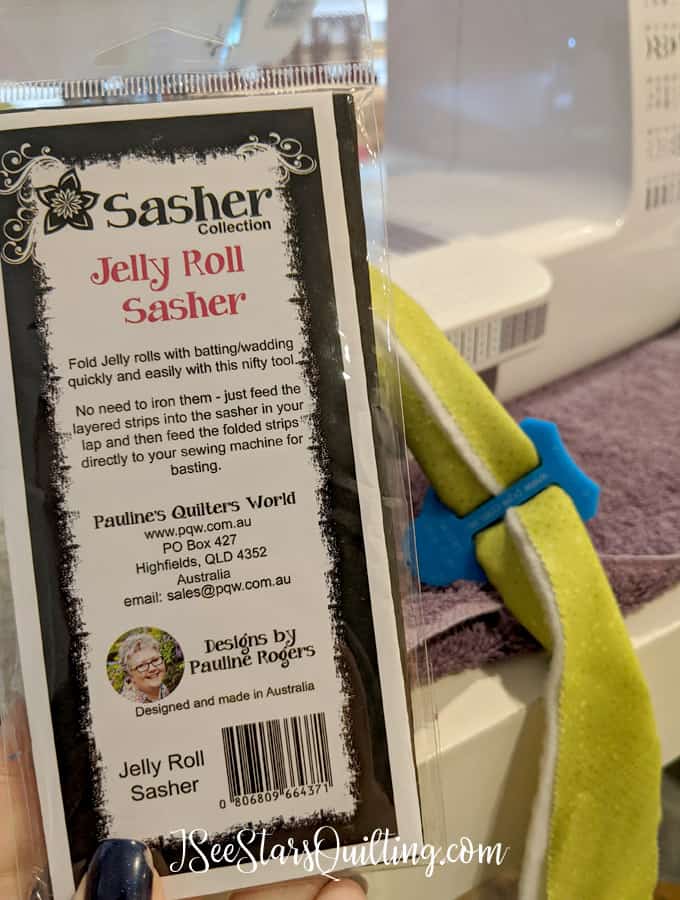 It helps you fold and crease the fabric as you're pulling together up this big chunky roll of fabric… by about 5 minutes in, I realized there was no way I could do without it. (also, the only way to get it off is… to bring it all the way through to the other side of you looooooong jelly roll strip!)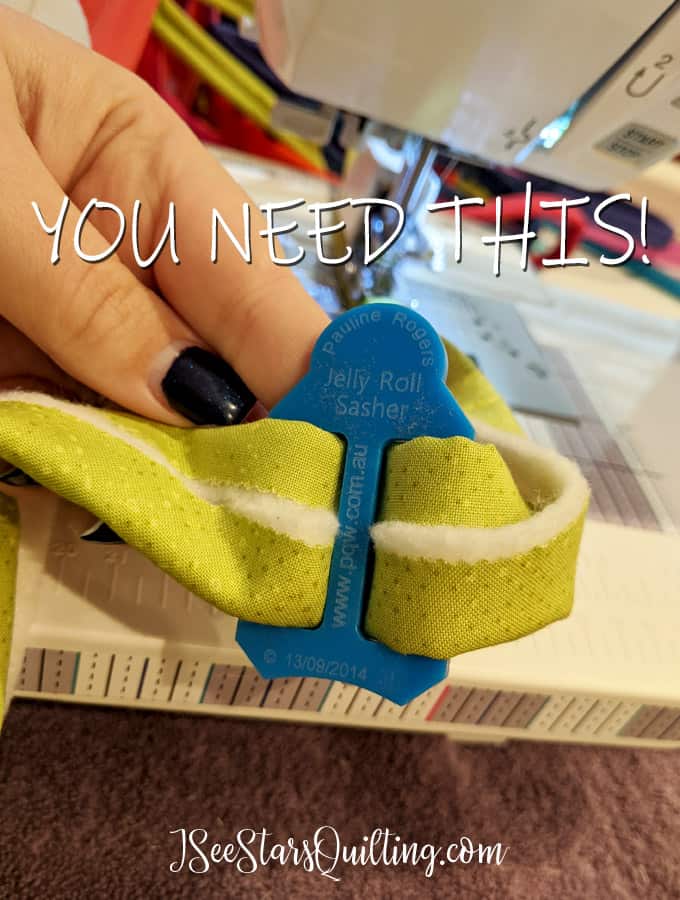 I know its a work in progress and I'm making a little progress at a time in between other events that we have going on right now but its really creatively satisfying and I'm excited to finally be starting on this project!
The Jelly Roll Rug is going to turn out amazing and I'm really looking forward to putting it in the little half bath that I have attached to my sewing room so that it is just a quilty as the rest of the space!
I promise I'll update more as I work on it!
More to come…