I don't know what it is about my office/sewing room… it is always freeeeezing in here compared to the rest of the house. I've been meaning to make myself a pretty lap quilt for a while now… if only I had the extra time, right?
Oh… be careful what you wish for, right?
When Hurricane Harvey hit my Hometown in 2017, we were stranded for days and expecting the worst… because, what else can you do? To busy myself and wait for the storm to hit, I made a quilt. (perfect productive activity, right?!)
The pattern was super simple so that if needed I would be able to finish it by hand should we lose power or have to evacuate.
When it was all over, I had a pretty new quilt for our home and a reminder that everything will always be ok in the end. Thankfully we were among the fortunate ones and didn't experience any loss or flooding.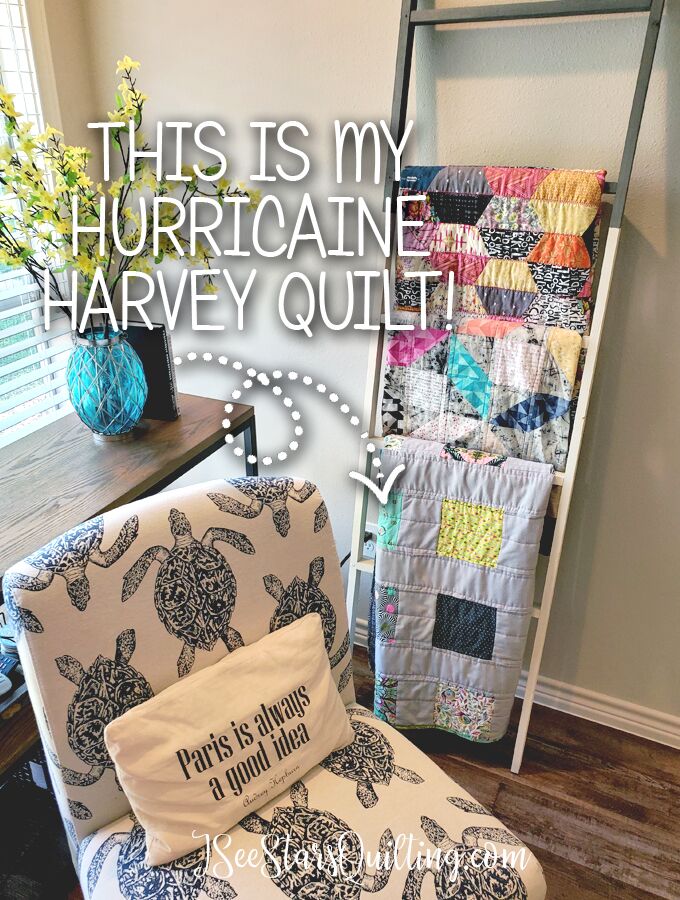 Faced with another period of time sitting at home and waiting to see what the future holds… I decided to make a "Social Distancing" quilt project!
Have you started a new project lately?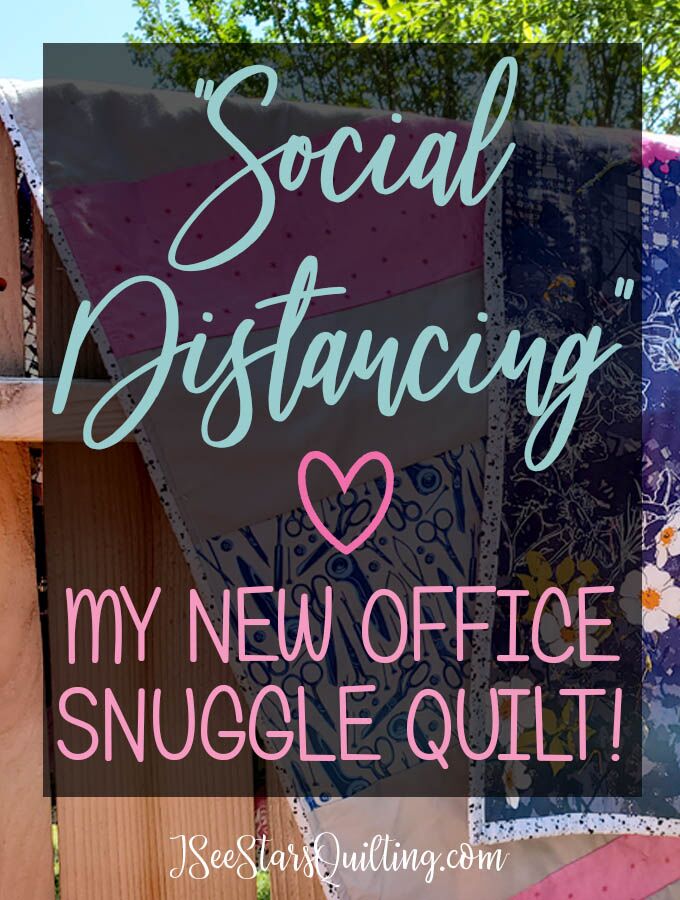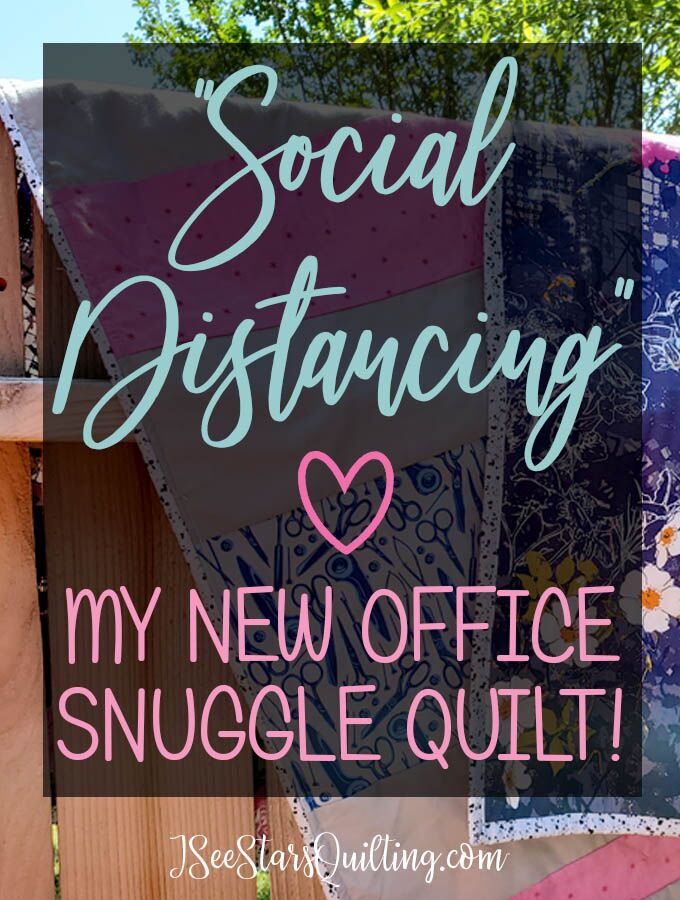 The goal was again to keep it simple.
When I make a quilt for a friend of family member… I will absolutely almost always make it way more complicated than it needs to be.
It's in my nature… it is what I do?
I choose a pattern that make you want to pull your hair out. It's complicated and usually involves me learning a brand new crazy skill as well… because I'm a curious creative and a glutton for doing things the hard way!
And because I love my family and friends fiercely… I'll fight through it and learn the skills needed and fix my errors as I go.
Saying it out loud makes me sounds completely insane… I get that now. Perhaps my next few quilts will be relatively easy ones before I pick another hard one.
(FYI – this is also why I share so many of my tips and tricks that I've learned over the years with you… because I often do it the hard way the first time! It is much easier if someone can share the easy way first and allow you to jump over that learning curve with ease!)
This social distancing quilt was going to be mine and for my own personal use in my freezer of an office.
When I make quilts for myself and my personal use, I like to focus on the fabrics.
I absolutely fell in love with this Katarina Rochella Print from Art Gallery Fabrics… I mean… it is pure perfection and makes me so excited just staring at it! (I actually wrote an entire post on Katarina because I love her fabric designs! You can read that here.)
The name of this fabric is Framework Violet. It is part of her fabric line entitled Grid. I believe it is a 2019 release.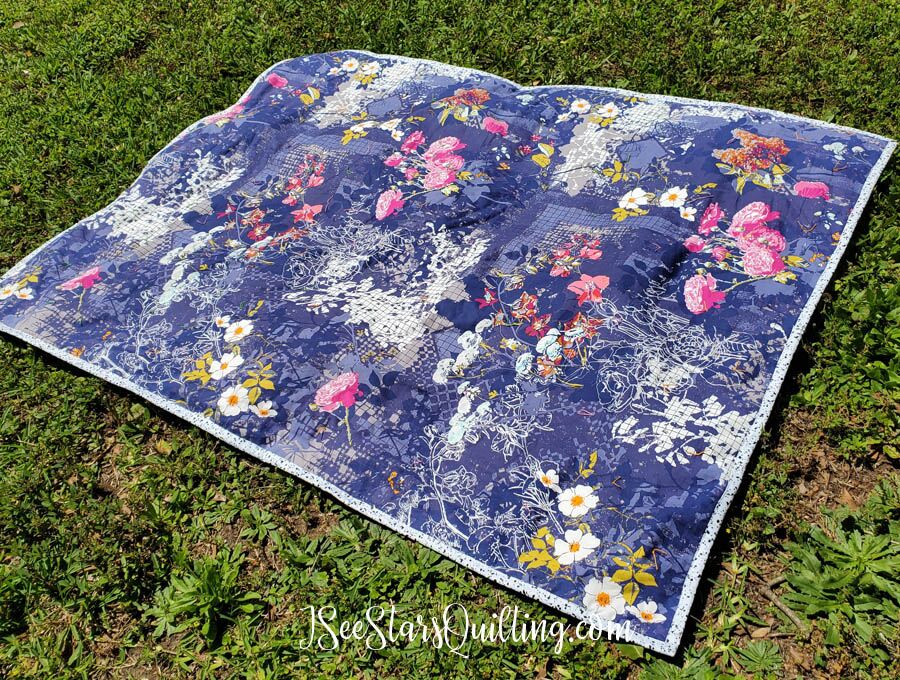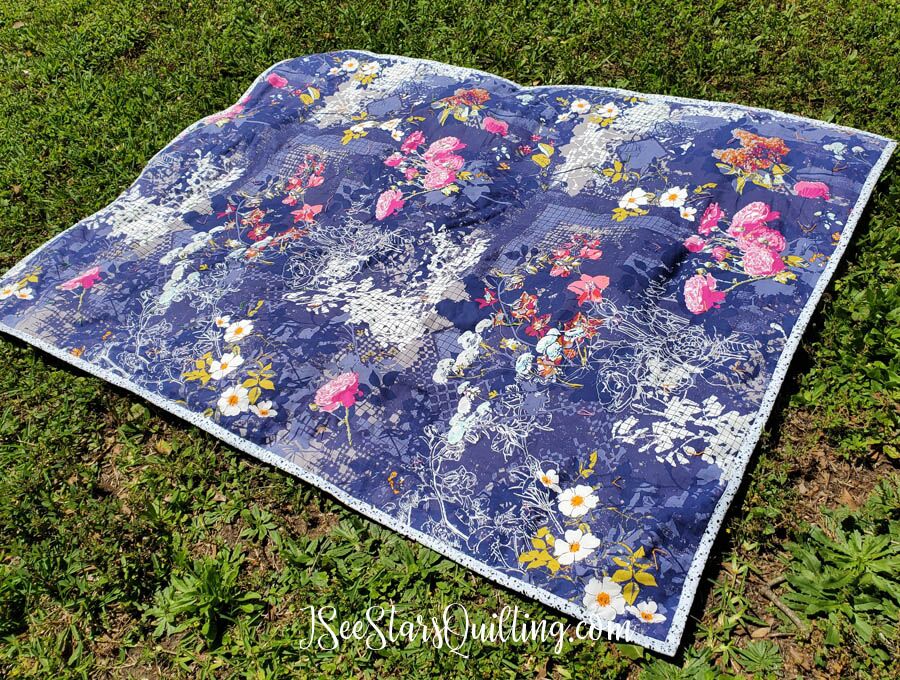 The fabric has a floral yet grunge look to it and I couldn't bear to cut it up and piece it together again. The fabric was busy enough by itself as well.
I left one side the quilt the Katarina Rochella Fabric and decided to piece the other side of the quilt with some other fun finds from the quilt shop!

Check out this mix of fun fabric that I picked up from Tula Pink (the blue fabric) and Ruby Star Society (the pink fabric) that I used on the other side!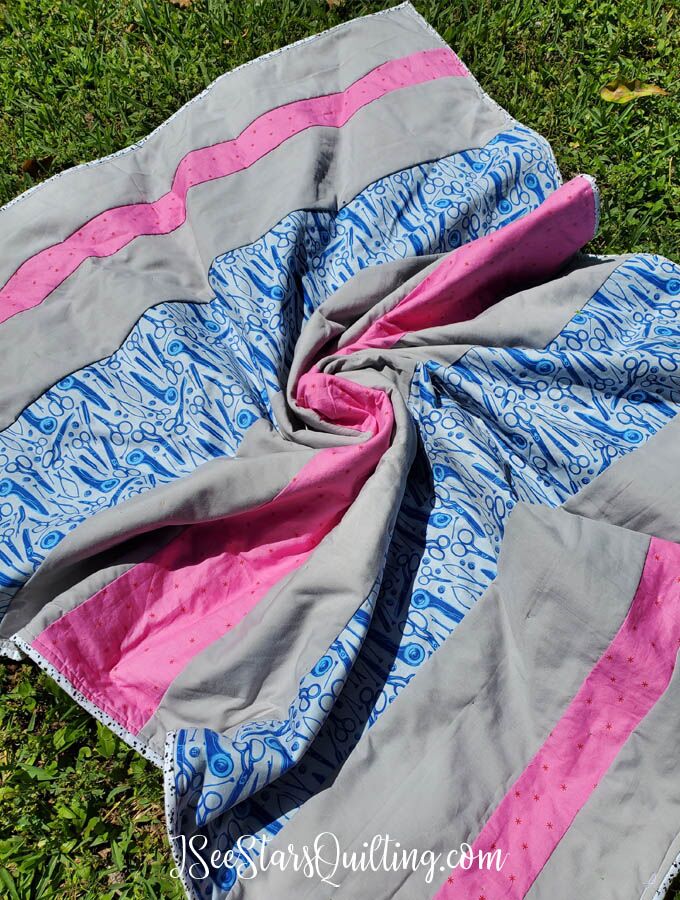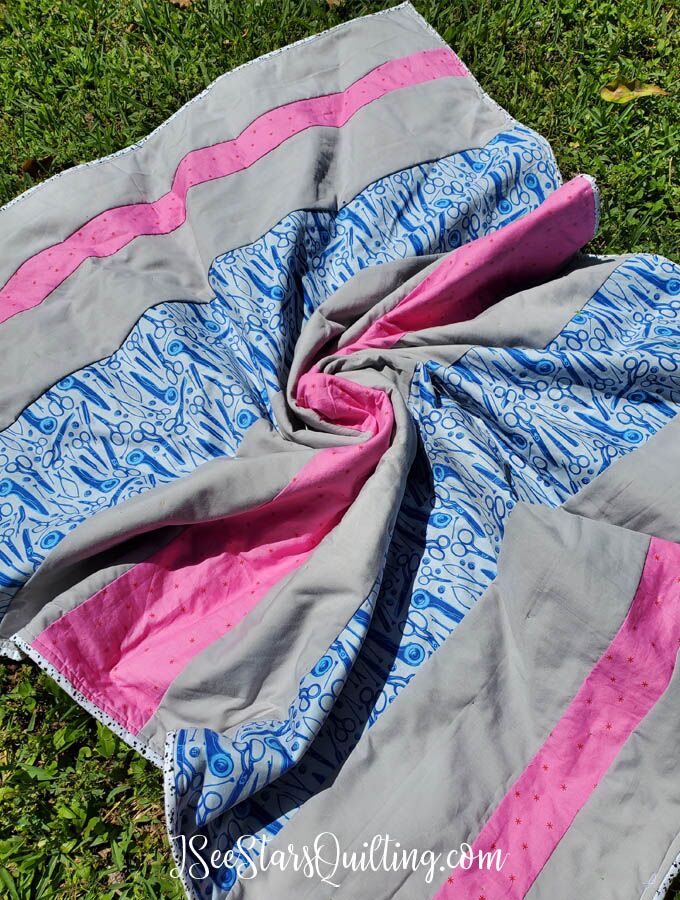 And because of the craziness of the times we are living in right now with the isolation and feeling completely out of sorts… I went with a very unconventional choice for the binding.
I had this dalmatian spotted fabric for a while and felt like it was the right random choice for my Social Distancing quilt 🙂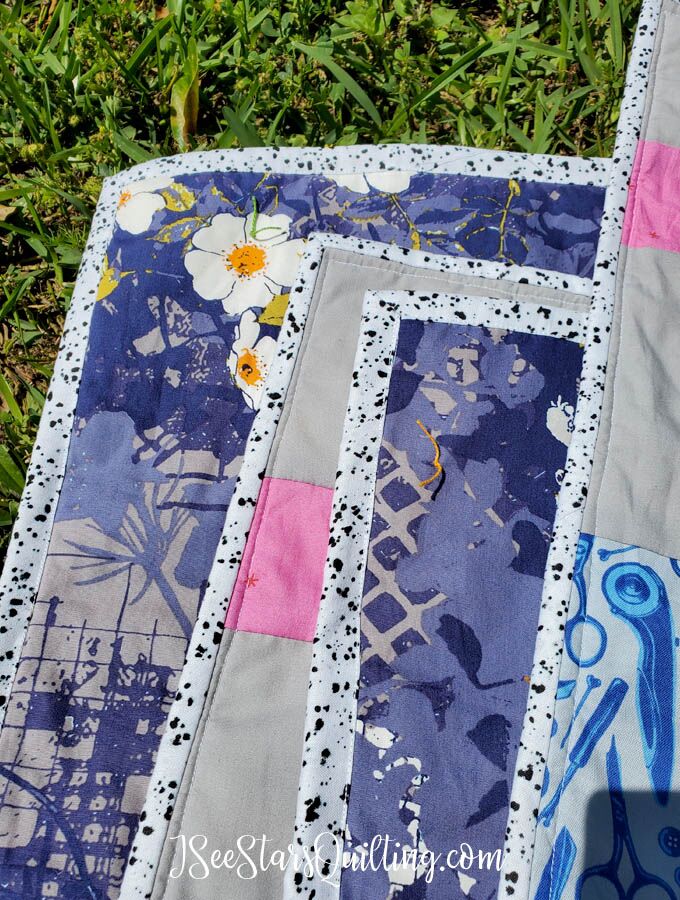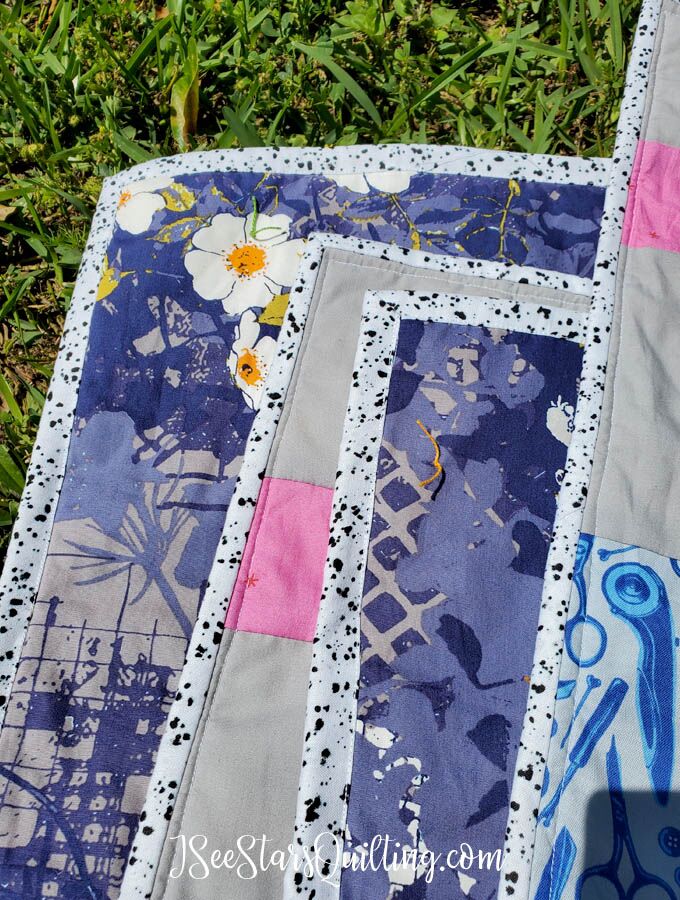 Does it match the rest of the quilt? No, not really. Is it what I would have chosen had I had the ability to run back to the quilt shop real quick and pick a nice pink or green? Again, no.
While the binding wasn't my first choice, it still turned out lovely. It's really grown on me the more and more I spend time with the quilt.
I feel that it reflects the fact that we've had to make a lot of choices recently that we otherwise would not have had to make… be it weird dinner combinations before having to go to the store or figuring out how to celebrate birthdays and holidays while away from family…
You know what? The times we're in are a little crazy right now… but it is all going to be just fine as long as we take care of each other.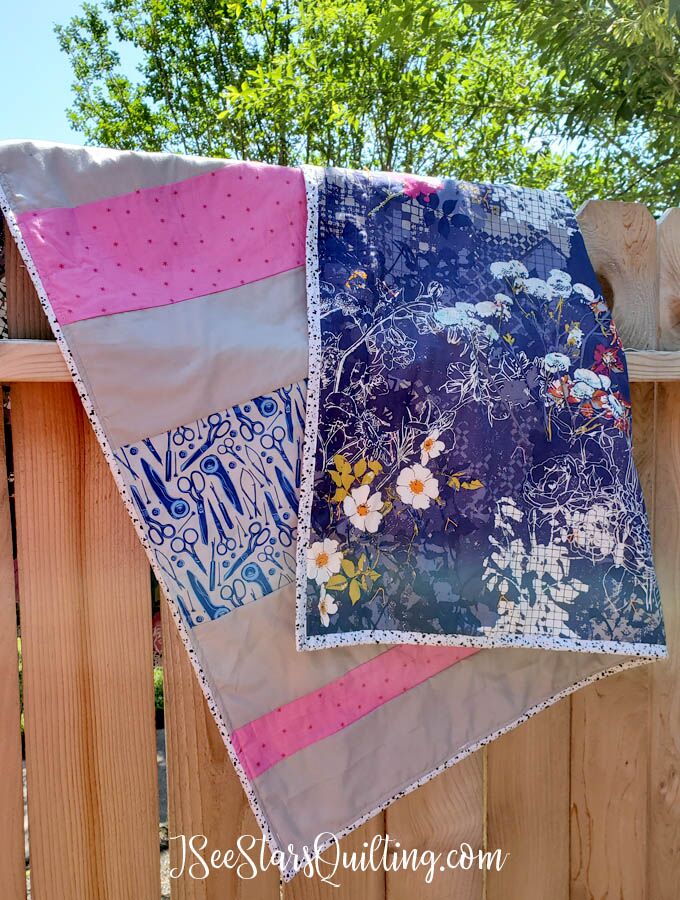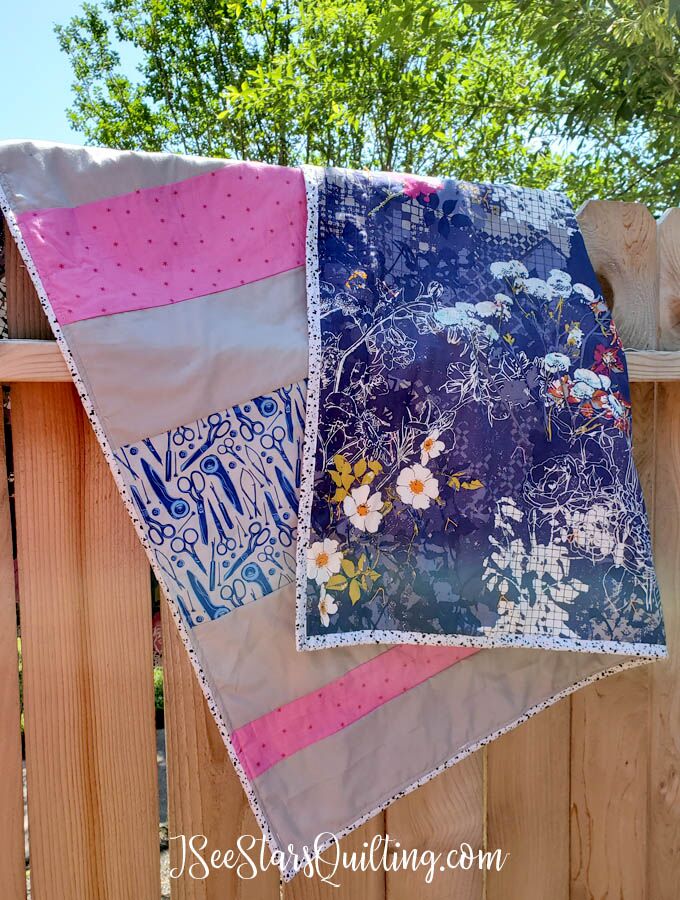 This quilt is the perfect addition to my sewing room. It is perfect to wrap up in when I feel chilly because I will always prefer to be barefoot in the house!
The last little bit that I wanted to show you was how I decided to quilt my Social Distancing Quilt!
Being that we've been spending a lot of time together as a family… I mean a lot of movies on the couch, board games, card games and snuggles watching classic old cartoons etc… I decided to hand-tie this quilt while I was sitting on the couch with my family!
It seems fitting, right? I'll be sharing a tutorial very soon on how you can hand tie a quilt or even just add a little more of a hand-finished touch to your machine quilted quilts.
Check out the little knots on the quilt 🙂 Aren't they cute?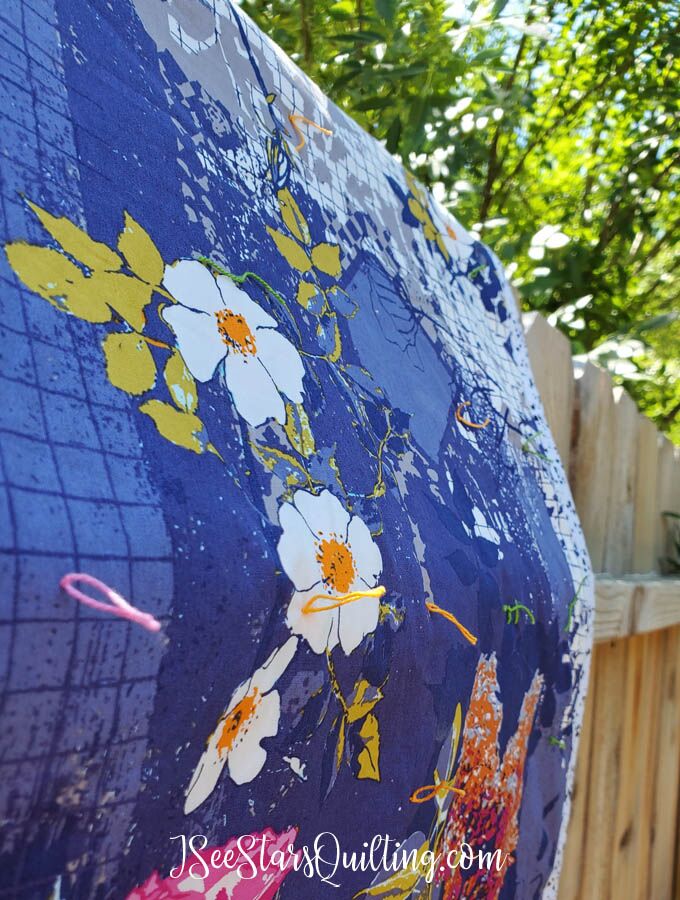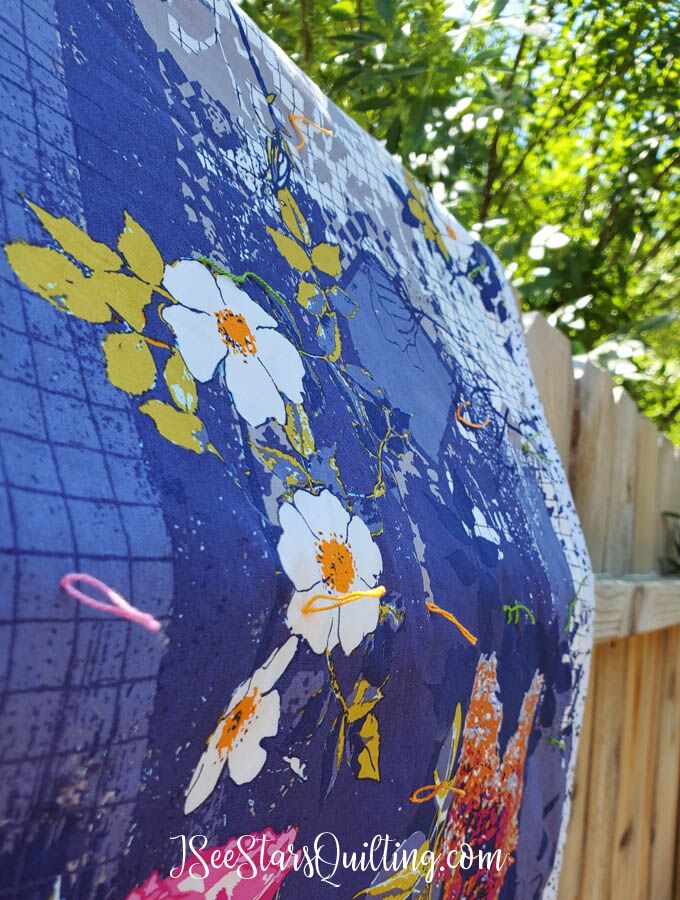 I know I've met several other quilters that have their own version of "social distancing" and "Isolation" projects going on! Let me know what you've been working on and what you think in the comments below!
Stay safe & healthy,