Are you ready to have the ultimate sewing space?
I shared pictures and all the details on my office/sewing space and it got me thinking about what exactly was essential for it to function well.
Like, if I were to help someone else set up their perfect sewing space, what would you HAVE to have?
Today I've got a few tips for you on how to set up your own ultimate sewing space —plus a handy checklist for ensuring you don't miss anything!
Tips For Setting Up The Ultimate Sewing Space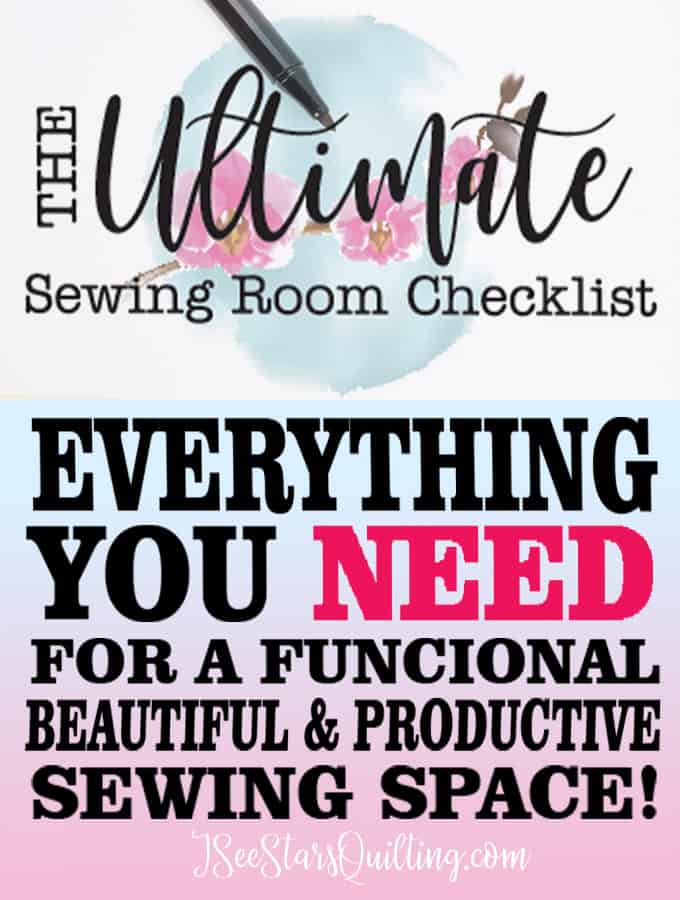 1) Assess what supplies you already have
Chances are that you already might have several things around your home that would be useful to use for your sewing space. There is no need to go out and buy a ton of storage or big furniture until you actually know what it is you'll be storing!
Take some time going through your home and bring out all of the sewing supplies and gadgets and gizmos-a-plenty. all the whos-its and whats-its galore. Pull them all into one place and categorize like things together in piles.
Once you know what you have, you'll be able to better categorize it and take note of anything you need, but don't have or have but don't need.
2) Consider what you actually NEED (and don't need!)
After you've taken mental note of what you already have, I want you to pause and think about what you *need*. Yes… we can all flirt with the boundaries of being a full on hoarder. You don't have to go fully minimal with your supplies, but you don't want to have so much that you can't find the things that you do need either.
If you have more than one of something, consider parting with it if you're looking to de-stash.
You might be tempted to go out and get storage happy with all the cute bins and baskets and drawers, oh my! — Look out Target… we have a woman who wants to organize! I swear they can spot you from a mile away and your pocketbook might even start to shake with fear.
Even if you don't already any have organizers or baskets, you might realize that you don't need as much as you think you do to be really effective.
3) Assess your space
You might be one of the lucky girls with a whole spare bedroom for your sewing space or you might just have a small temporary table that you set up in the dining room from time to time.
Whatever you have, keeping your supplies organized and easily accessible is going to give you the efficiency to spend far more time creating and far less time looking for things… or even having to go to the store because you know you have it, but you can't find what you need!
This post also has some really good ideas on improving your current sewing space.
4) Organize Starting With Priority Items
Once you have all of your sewing supplies, you'll want to actually organize everything to get your ultimate sewing space set up!
Hear these words… do not just put things wherever there's a free spot or a free shelf. No! Resist, I tell you! I want you to be strategic about setting up your space.
Organize your sewing space based on your personal needs and priorities.
For example, we know that the seam ripper is going to get used… a lot. Don't hide it at the back of a drawer that's difficult to get at. Instead, make it easy to access! You don't want to have to quit your creative flow just because you can't find a basic sewing tool!
Consider what supplies you are constantly reaching for and need to easily access. Then do your best to keep them within arm's reach. This will keep you more on-task when you're working.
5) Create good habits – And Stick To Them
How often do you clean and tidy your creative or sewing space?
…Come on now, be truthful with yourself! You don't have to tell me.
When was the last time you cleaned your sewing machine? (hint, you can read this post if you want to know how) or dusted all those nooks and cranies around your workspace? What about that pile of 'I don't even remember what I was doing when I set that aside'?
It's HARD to remember to keep your sewing space neat and tidy, but it will do wonders for your productivity levels!
Creativity is messy, yall. It really is… but There is a difference in DIRTY and just slightly cluttered!
Make sure it is a space that you actually WANT to work in every day!
Make your sewing room a beautiful haven that you LOVE to be in! After you finish sewing, take 60 seconds to tidy up and organize. Set yourself up for success the next time you come to sew.
6) Avoid having absolutely everything out in the open
Avoid distraction like your sanity depends on it.
Maybe you have superior laser focusing abilities… I, do not possess those skills. I am more like a squirrel in a nut factory with ADD. Basically, try your best to hide anything in your sewing space that you aren't working on or related to the project that you are working on. Keep your workspace clear so your brain doesn't have a choice!
You might be wondering, "but what about my trinkets? All my lovely fabrics? Or pictures of my grandkids, or plants? They don't have anything to do with quilting/sewing. Do I have to hide them from view in my office?" No! Things like that can stay—just LIMIT how many you have on display if you can. Limit those little extras so that your sewing space remains primarily a space for sewing and productive creativity. You can still allow some of your personal interests/joys in life to shine through.
When you do this, you'll find that you are able to stay so much more focused on your projects at hand, and you'll be less distracted—which means you'll produce higher-quality work. Win-win!
7) Storage Solutions

Don't be afraid to take a good hard look at your recycled boxes when it comes to organizing. Even if you look at it as a temporary fix.
Perhaps the budget doesn't allow for a full makeover right now. You can "test out" different sizes and ideas by anticipating what you might need and give it a go before making any purchases.
You can read this post for more ideas on cheap storage solutions for your sewing room
Or you can read this post for ideas on how to store you scrap fabric.
Every person's habits vary and what works for one sewist might not be the most efficient for another — you need to figure out what kind of organizational systems and ultimate sewing room set-up is right for you!