Hello Sunshines! I've been tossing around ideas and sketches for a new quilt pattern lately and I finally just decided to quit drawing and start sewing! Today I'm going to share my Lemon Quilt with you! Its a super easy quilt pattern!
I found this lemon fabric a while back on clearance and I didn't know what I was going to sew with it… but I knew it was made to be mine!
For more tips on finding good deals on fabric, check out this post: FABRIC SHOPPING – THE SMART WAY TO DO IT IN 6 STEPS
Lemon drops are my favorite candy. I love a big bowl on yellow lemons on my kitchen counter and I like lemon in my sweet tea too. They just speak summer to me!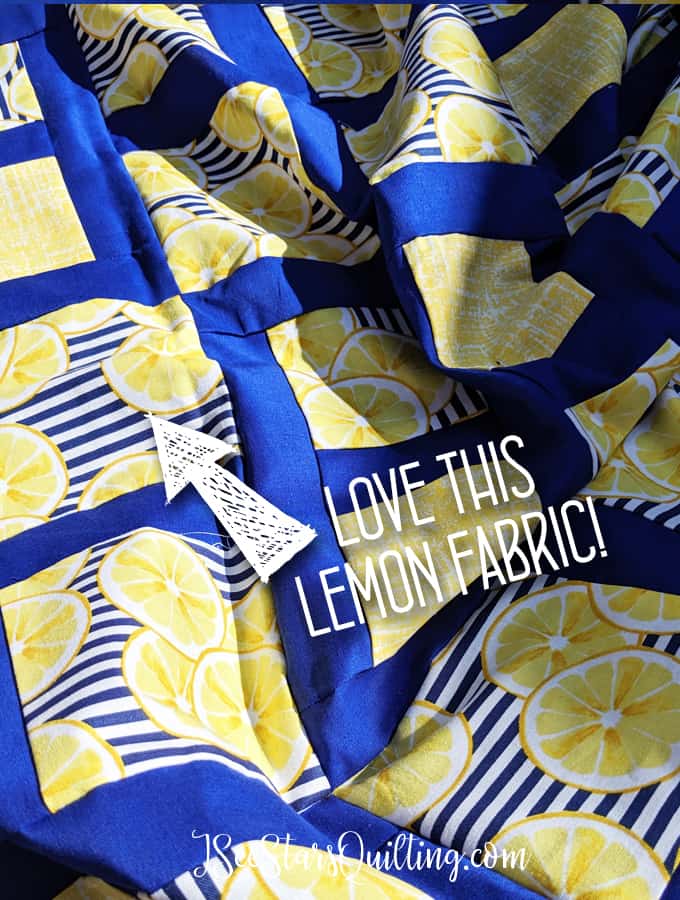 I've also been hinting at releasing a new pattern this summer and because things have been non-stop busy, here it is August already. oopsies.
What I wanted to create in an easy quilt pattern:
I had some specifics for this pattern that I really wanted to include:
I wanted to create a pattern that was easy. Like wash, rinse, repeat easy.
I wanted it to be a quick sew. Like quilt top in an afternoon, quick. Sometimes we don't want to have to 'learn a whole new language and culture' just to sew a quilt top.
AND I wanted it to be as few cuts and sizes as possible. Sometimes simple really is the best way.
A lot of my readers are new to quilting and the last thing that you want is a big confusing mess to discourage your shiny new passion!
I really think I got all that I was wanting (and then some) with this one!
I LOVE how fun it turned out! And guess what?! I made a small throw sized (aka baby size) quilt – from the first cut to the last stitch it only took me ONE afternoon. Amazing, right?
I need to add that this was an afternoon in which my kids still came by to talk to me every 10 seconds and ask for snacks or what I was making for dinner, if I could read them a story or draw a dinosaur (I'm pretty good at it apparently) etc etc. It was NOT solid sewing or "me time".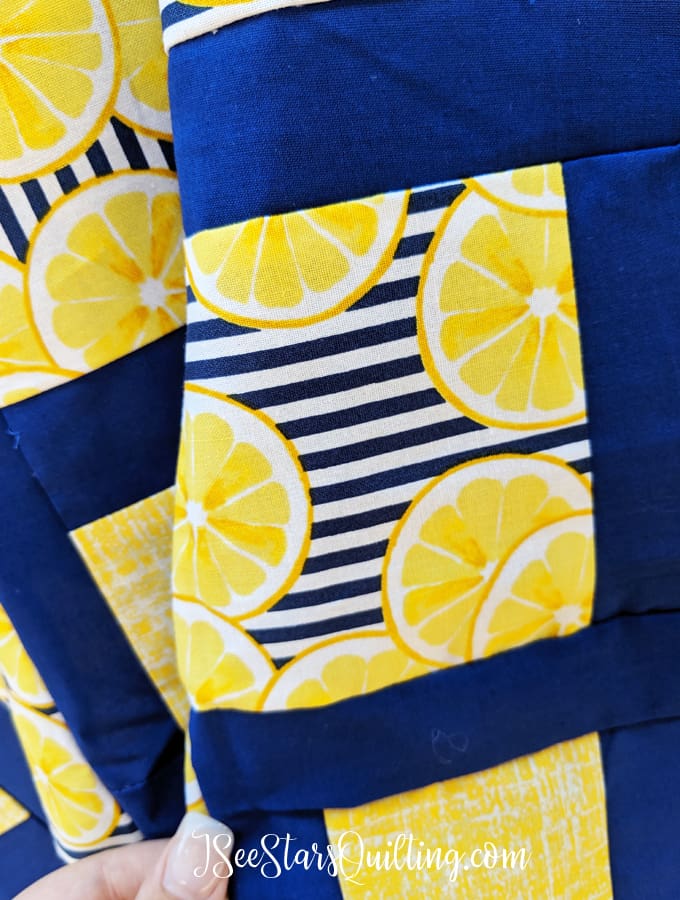 Ta-da… This is my newest quilt pattern, Through the Window! I included size alterations for throw size, twin, queen and King too.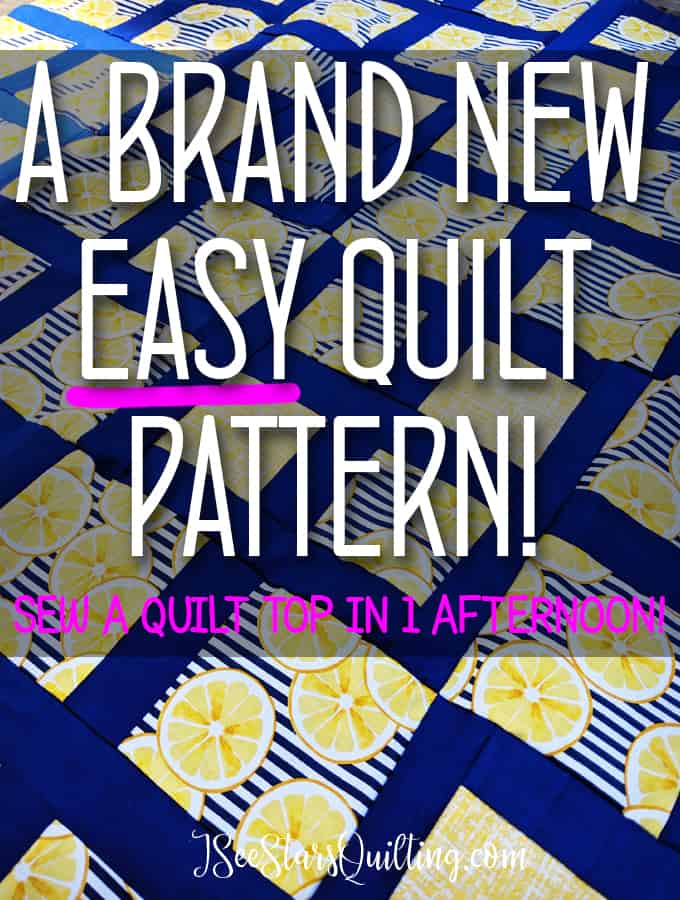 You can find it in my shop here.
I think you're really going to love how easy this quilt pattern is and also how versatile it is.
Scrappy quilt friendly?! Yes.
Charm Pack square friendly?! yep yep!
Here are a few more eye-candy pictures of my new favorite picnic quilt!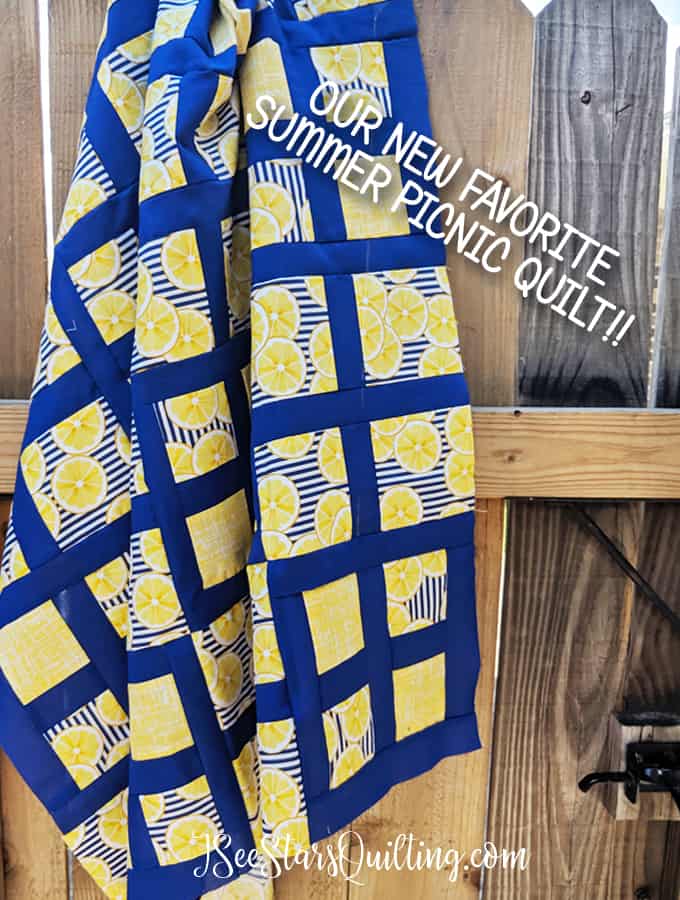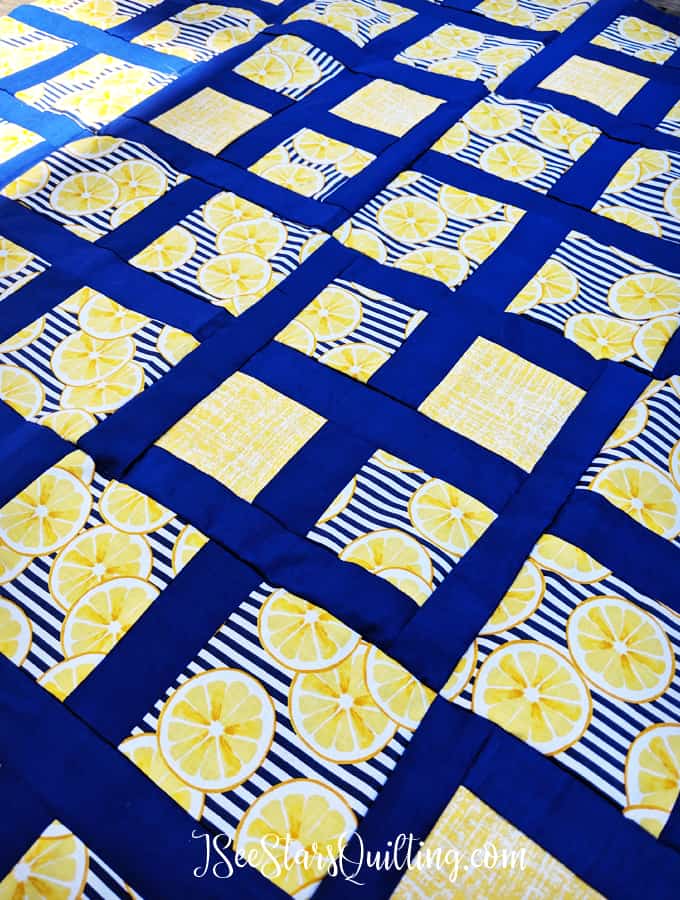 For more sewing patterns by ISeeStarsQuilting, check out my shop!
So that is what I've been working on lately 🙂 What do you think?
I always find it so fascinating what people look for in an easy quilt pattern. Tell me in the comments what you look for!
Is it a quick and easy sew? a challenging pattern to learn something new? Something that isn't going to make you go cross-eyed while working?!? Tell me please so I can create more patterns tailored to your desires!