I thought I would give you a peek into my own to-do list for the rest of 2019… There are A LOT of Quilts I want to sew this fall. A LOT. Granted, this is my GOAL… what will actually happen is another matter all together! Cross your fingers with me, Quilters!
Note: We've had a lot of changes happen this month at our house (including possibly moving… Say what?! I know!! I wasn't expecting that plot twist in our family story either but… you just have to go where your path leads you and really pray for the best possible outcome, right? Y'all, I'm not even going to be able to describe to you how ecstatic I am about the possibility of having a sewing studio with a door!) See my current Sewing studio tour here.
Anyways, All craziness aside… nothing is finalized and it won't be for a while. So you'll just have to stay in suspense and wait to see what happens… just like I am! But don't hold it against me if I can't complete my to-list!
Ok, no more chit-chat… take a peek at my to-do list for the rest of the year…
The Quilts I want to sew this Fall!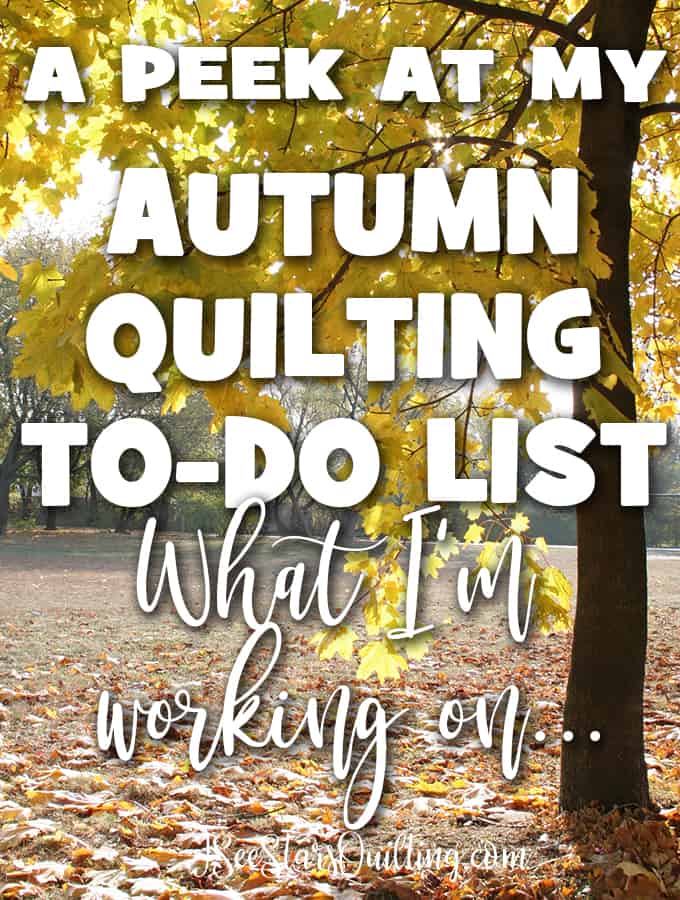 A Scrappy Pumpkin Quilt
I purchased this pattern from Cluck Cluck Sew LAST fall because … omg. It is just so adorable. and I just LOVE the scrappy pumpkins. You too can buy the Pattern here!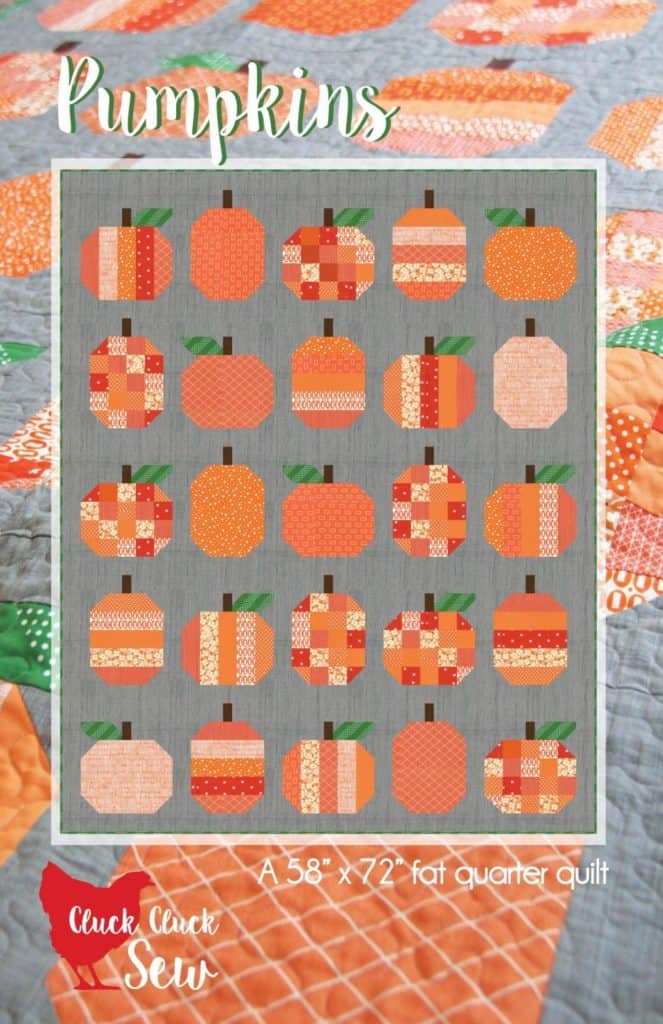 I had to put it aside because I didn't have enough variety in my scrappy orange fabrics to really make the scrappy pumpkin look – which is what drew me into this pattern in the first place. I've been hoarding bits of orange trash fabric from other quilter friends with this quilt in mind. Gotta love a good scrappy quilt!
I've also seen the pumpkin quilt done with white and cream-colored scrappy fabrics! That quilt was stunning… So classy. I'm hoping to get to finally create this beautiful quilt this year!
What do you think? Should I stick with the classic orange? Or should I experiment and branch out with a different color scrappy look?
A Halloween Quilt
I started this Halloween quilt last weekend… You wouldn't believe how fast this one came together! And so easy just using some scrappy bits a few dear quilter friends gifted to me.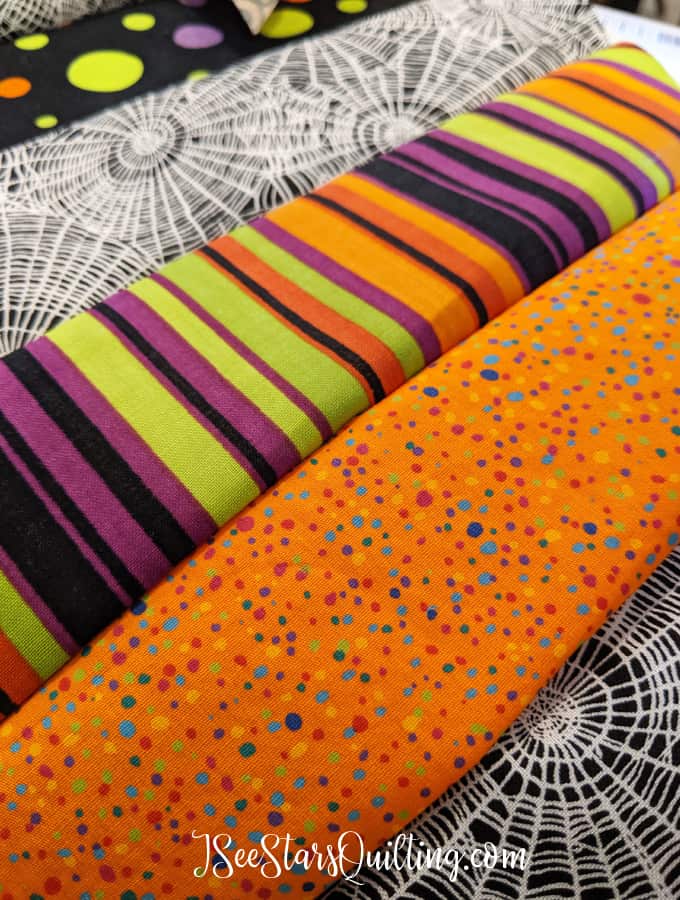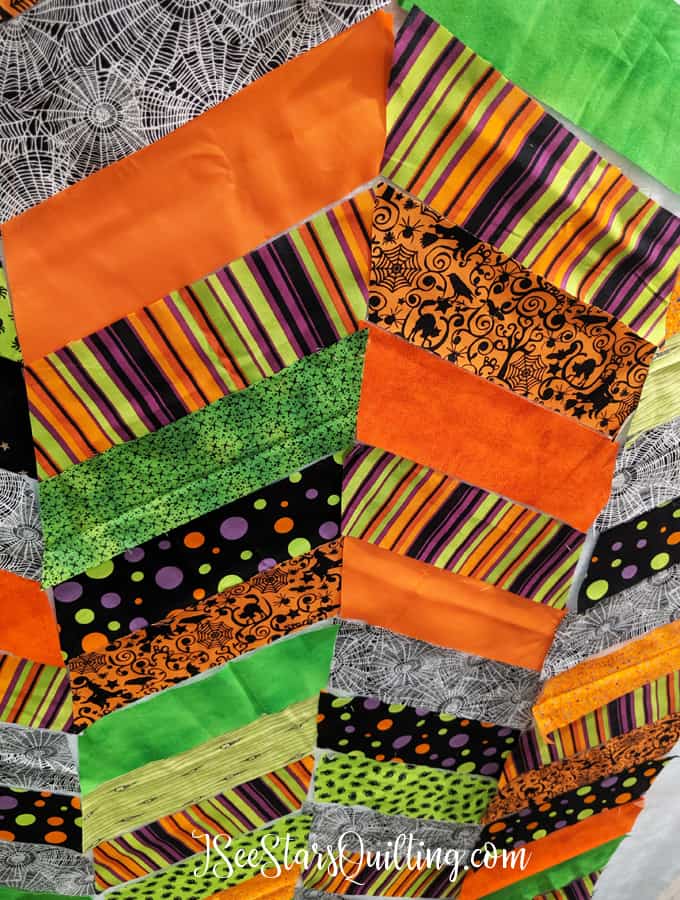 I am planning on adding in some extra fun Halloween bits. Don't worry, I'm sure I'll be doing a tutorial on this one in a little while 🙂
I can't give away too many details on this one because it is going to be a gift for my mom. She likes to hang seasonal quilts on her wall in her dining room and SOMEONE has fallen very short of making sure she has a quilt for each and every season! (If only THAT girl could get her act together, right?!)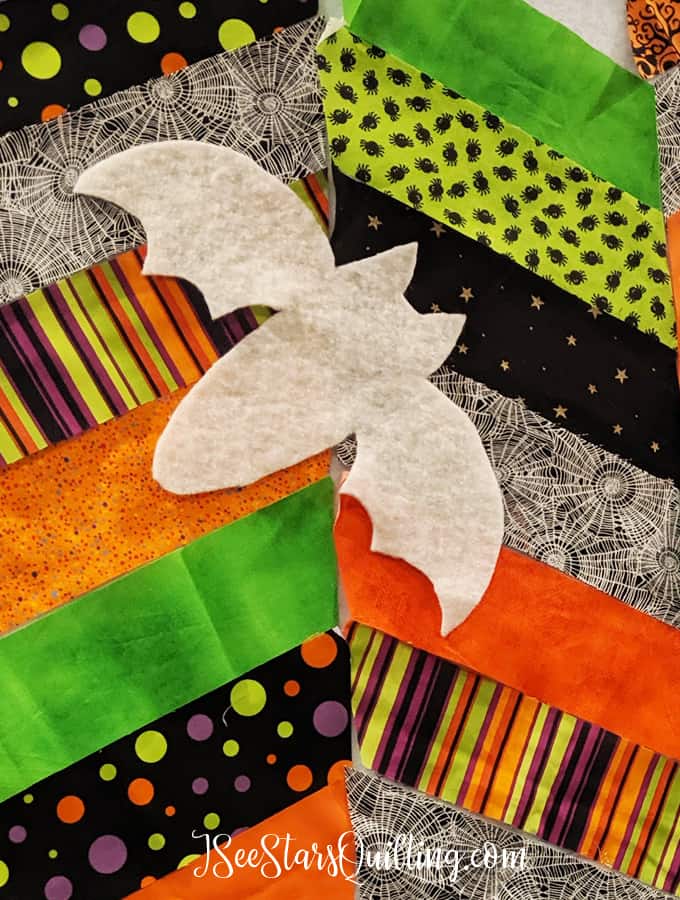 An Advent Calendar Quilt
I've been wanting to make one of these for years now. BUT I'm completely indecisive on exactly what I want. Cutesy Christmas? Serious Christmas? Bright modern Christmas? Cool and subdued wintery blues?
I can't decide!
I've thrown my hands up and just purchased a few to get us through the holidays a few years but never found one I really liked even still…
I want a homemade one. And probably not a simple 'done in an hour' kind of one either, ya know? I want to make an epic beautiful "wow, mom is so cool" kind of advent calendar… Do those even exist??
Here are a few that I really really like – Can you tell how indecisive I am?
Hit me up in the comments if you have any suggestions!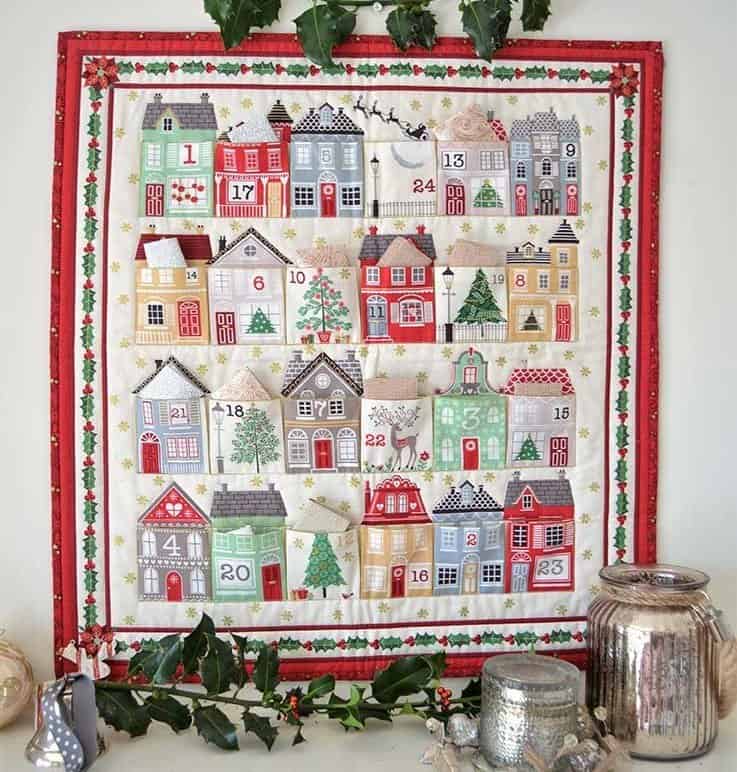 Not sure who to credit this to? I'm sorry! I've searched online to find the quilter… isn't it just the loveliest??
I love these but I can't find the Dashwood Panels in the USA?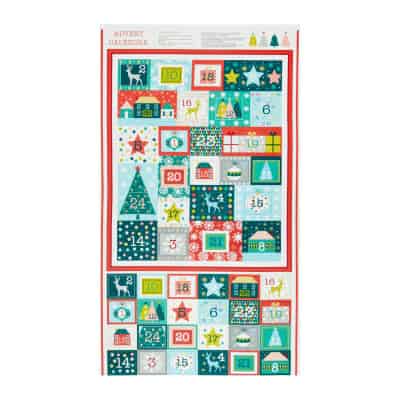 I found this panel on Fabric.com It might just be the one I buy and make this year? Who knows!
Another Halloween Quilt Maybe?
Heres the thing… I am not really a spooky type of person. I don't care for the horror or the gore…
I am also not holding myself responsible for what my reaction will be if you jump out from behind a corner and scare me. (i.e. I might have punched someone in the face a time or two on instinct. – Sorry. Not sorry.)
That being said, I don't get all excited about Halloween… except for when it comes to crafting cutesy things! Us quilters/crafters are always up for a good reason to make something! 🙂 And I can't help myself!
This is another pattern by CluckCluckSew (I have a quilter crush, ok? I love her stuff)
(You can see another quilt pattern I made of hers in this post. And This one too.)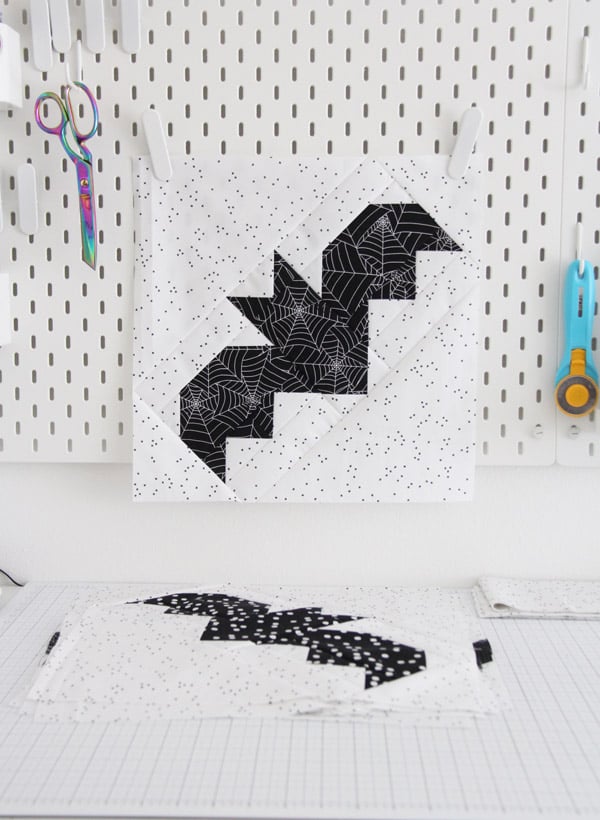 So while the first Halloween quilt is for my mom… I can't resist a good black and white quilt and those bats are so stinking cute!
I might just end up making my own Halloween quilt!
Gifts Gifts & more Gifts!
You know me better than to think that I only have a few quilts on my to-do list, right!?
My to-do list also includes several little gift projects!
I'll be making these one hour zipper bag totes and filling them with little goodies for the teens and tweens that we know (and some cosmetic happy friends too!)
You can see the FREE tutorial in this post!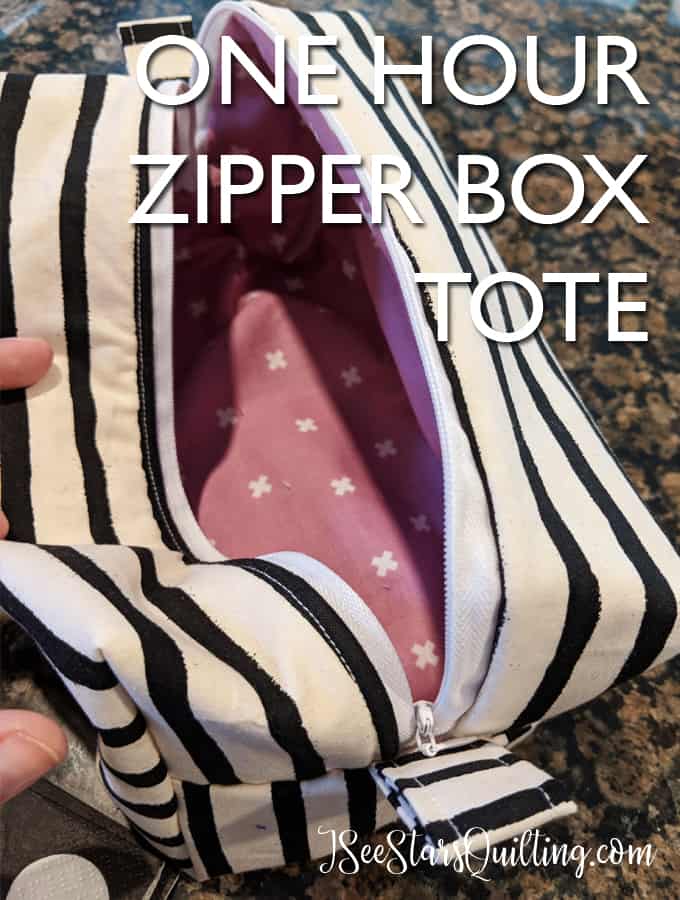 I'm still making these adorable Fabric bookmarks with the little bits of scrap fabric I came across because there are endless possibilities with these.
Some of my sweet blog followers are even making these for their classes in school and church! Even girl scout groups and quilting bees are making fabric bookmarks by the cartload to donate to local libraries!
We love to read in our house (Always more than one book at a time) and these are always a useful tool to keep in a basket on the bookshelf for easy reach!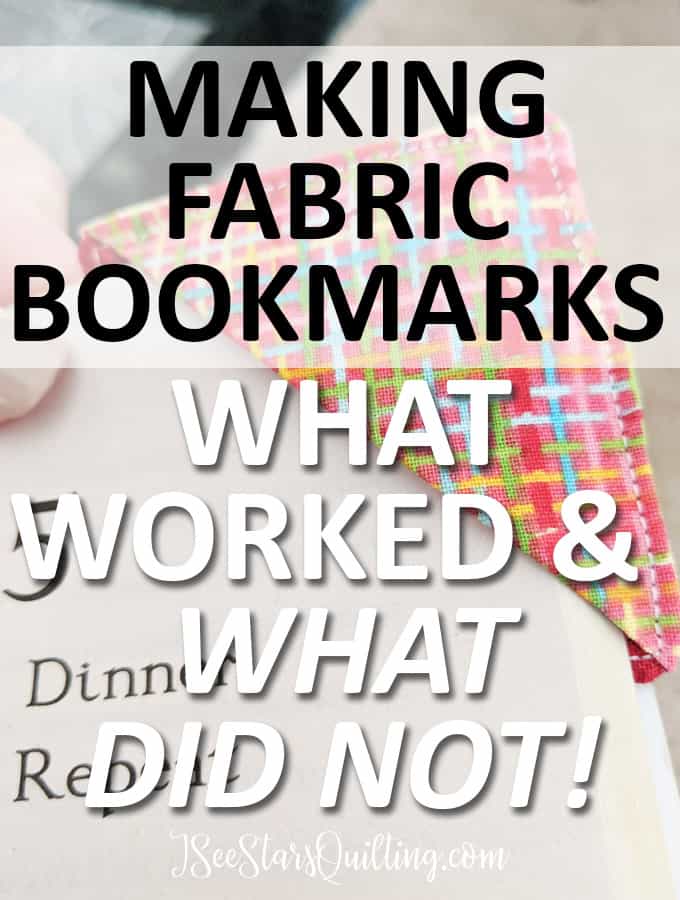 WIP & UFO Challenge Projects
If you missed it, you can read the details about my personal challenge for the year in this post.
I am also working on completing one of my WIP projects from my "pile" each month and FINISHING the unfinished quilts I have laying around. (You know you have a pile somewhere in your sewing room too… I know you do)
There is NO shortage of things to do…
As I'm writing this I'm starting to sweat a little… there is no shortage of things to do, honestly. There are A LOT of quilts I want to sew this fall!
If you're starting to feel as stressed about my to-do list as I am… or you're sweating over your own to-do list, make sure you download my Quilt Project Planner to at least help you get all your ideas on paper!
You can't pour from an empty cup!
I'm preaching this to myself as much as I am preaching this to you, my dear quilting friend… make sure you take care of yourself and read this post when you have a minute. It is important!
Happy Sewing!