I love springtime… I love springtime quilts! Today I have 14 FREE Spring Themed Quilt Patterns to share with you. Oh boy!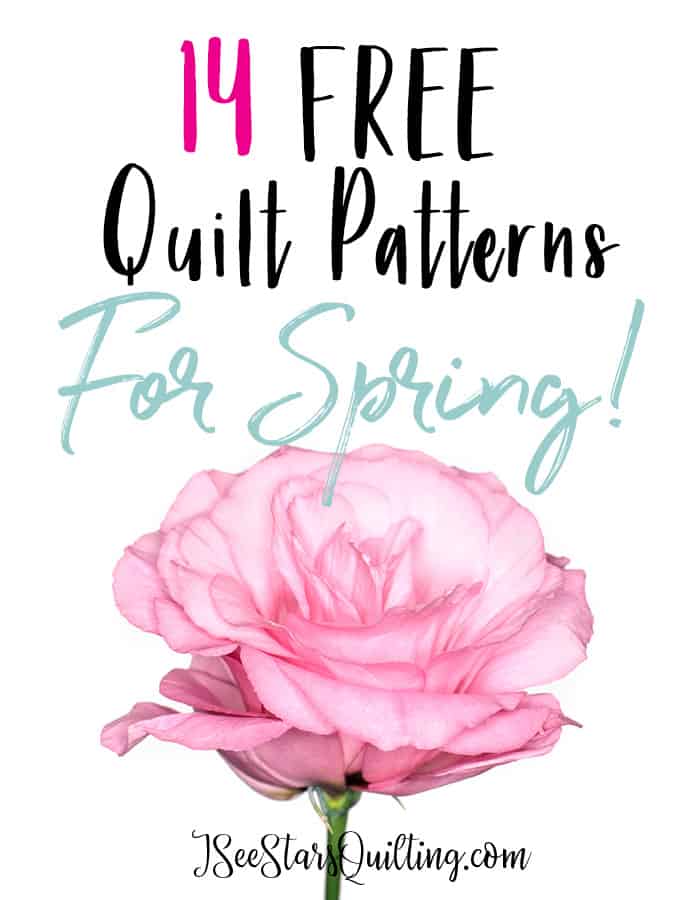 (Just a note, the links and patterns below are not all patterns that I own or have designed. If you have any questions about the patterns, please contact the designers)
I live in Texas, so it's not like we deal with the snow and the well below freezing temperatures of the winter months. We mostly just can't decide if it's worth bringing a jacket in the mornings if it is going to be warm by the afternoon again… #texasproblems
BUT – I do love it when the flowers start blooming out and the earth starts to get back to its beautiful colorful and happy self again!
What about you? Are you ready to sew some happy flowers and bright colors and joyful quilts again in preparation for the upcoming season?
14 FREE Spring Themed Quilt Patterns
1) A Simple Railfence Quilt
I love how quickly this pattern comes together! If you're needing an easy pattern between hard patterns or you just want a fun fast sew that is going to turn out beautiful no matter what you use, look no further than this quilt pattern!
Another sweet quilt blogger, Suzy Quilts has a blog post with everything you need to know about rail fence quilts as well as a pattern for you to follow!
You can check out her blog post here.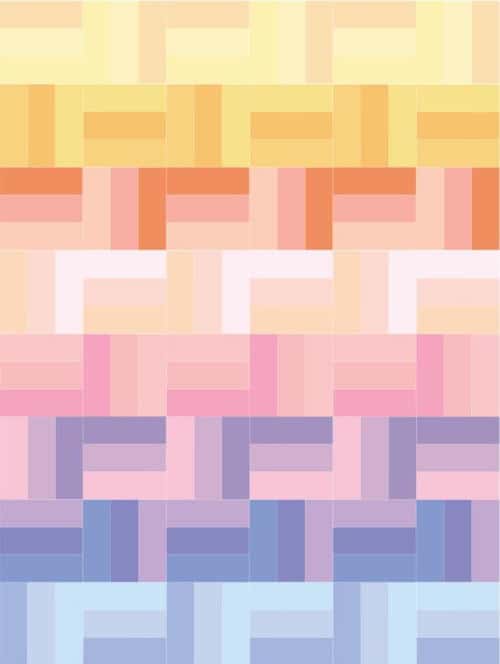 Ok, One more Suzy Quilts Pattern because I heart her modern style and no-nonsense style. This one plays with applique and really fun to play with fabrics.
The pattern combinations and ways to feature fabric or themes are endless!
You can get the Hidden Garden Quilt Pattern pattern here.
3) Poppies Quilt Pattern
I fell in love with the modern flower vibe of this quilt from the first second I saw it! How beautiful and feminine are those poppies! And can you imagine with a really swirly/vine-like quilting pattern on it?
It has me feeling all the warm spring sunshine rays!
You can get the pattern and the tutorial here.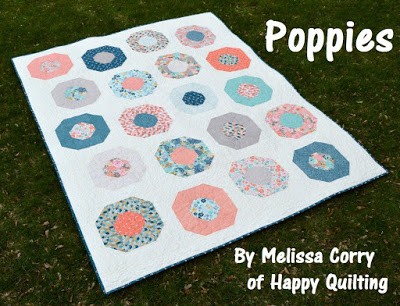 4) A Sweet Baby Quilt
I love this pattern! It's such an easy and fun one that is appropriate for all levels of quilters. It sews up bast using HST (half square triangles) and large blocks.
You can get the FREE pattern here.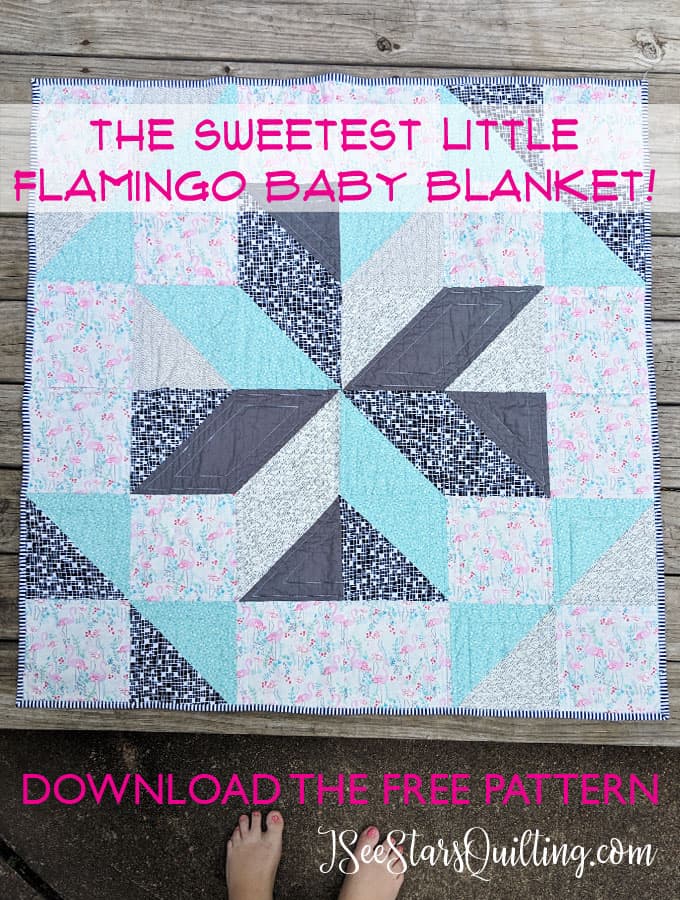 5) Gigi Blooms Table Runner
Already a table runner on the list?! Stick with me and imagine the possibilities of what a beautiful quilt full this would make… or a throw! I LOVE how the example quilt really showcases the bright happy spring fabric on a simple grey background.
Check out the fabric requirements and the instructions here.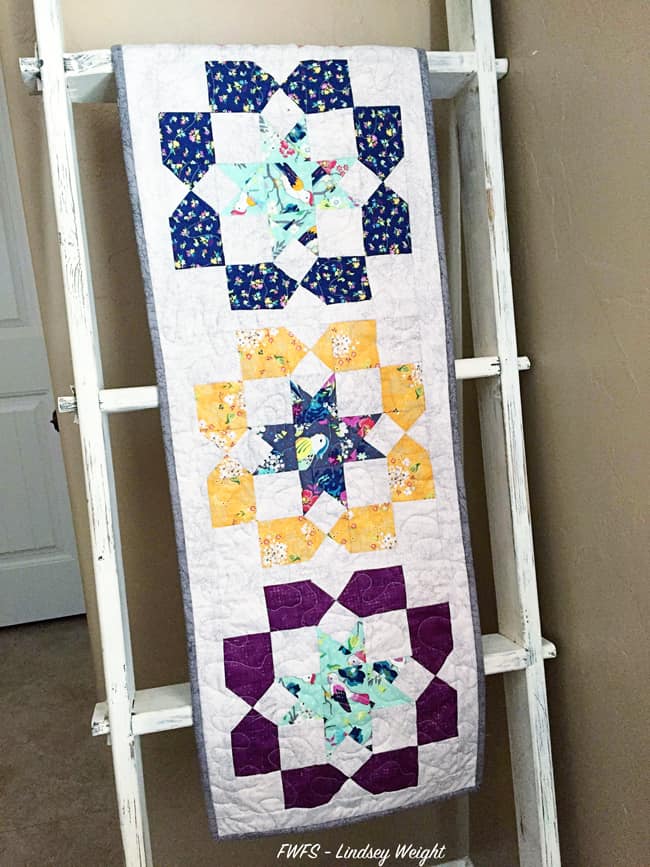 6) Lickety Split Quilt Pattern
You know how much I love HST (half square triangle) quilts! I am always amazed at the patterns you can create and the complex designs that can be created using such a simple technique that even the novice of quilter can grasp quickly.
This quilt takes it up a notch and makes a very modern design easy! – You could even use this as a base for a fun scrappy quilt 🙂
Get the pattern for this modern chevron quilt here.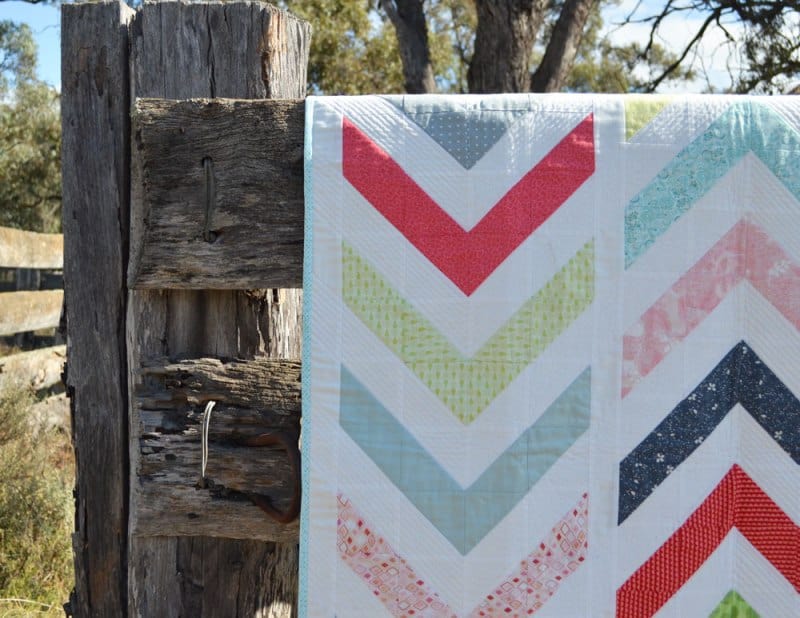 7) Tulip Quilt
I adore this quilt and everything about it! If I had anything other than the blackest of black gardening thumbs, I would like to grow tulips all the time.
You can download the FREE pattern here.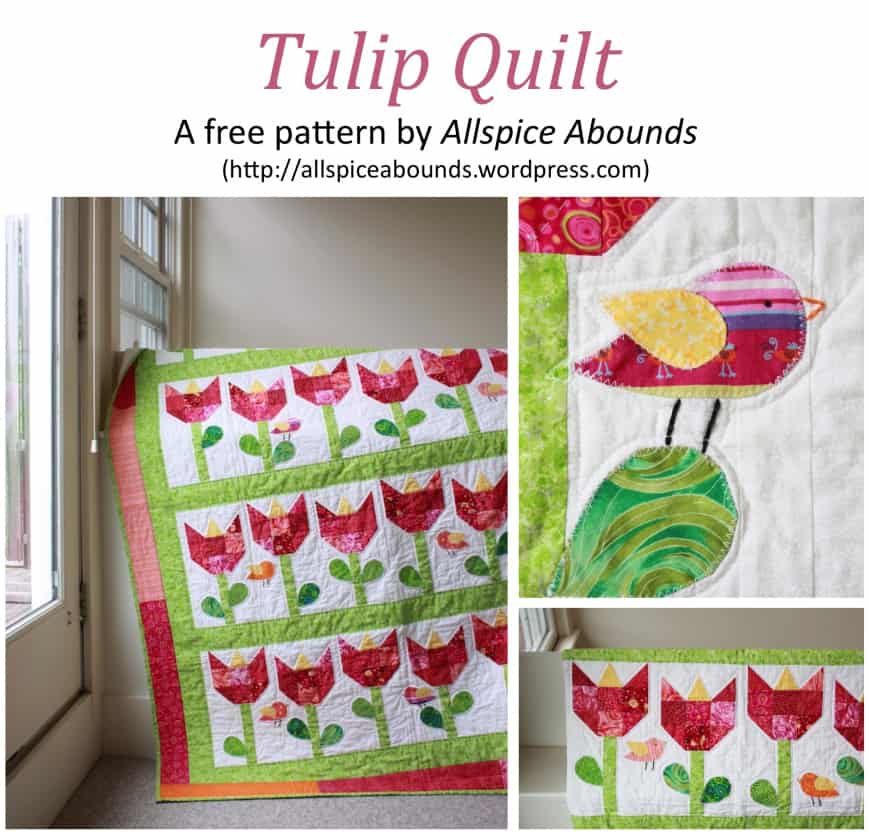 8) Umbrellas and Rain Quilt
I love a good thunder or rainstorm… especially if I can love it from inside on a cozy chair wrapped up in this quilt and a good book!
This pattern works with fusible applique. If you've been wanting one to play with a new technique, give it this happy little quilt pattern a try!
You can find the pattern here.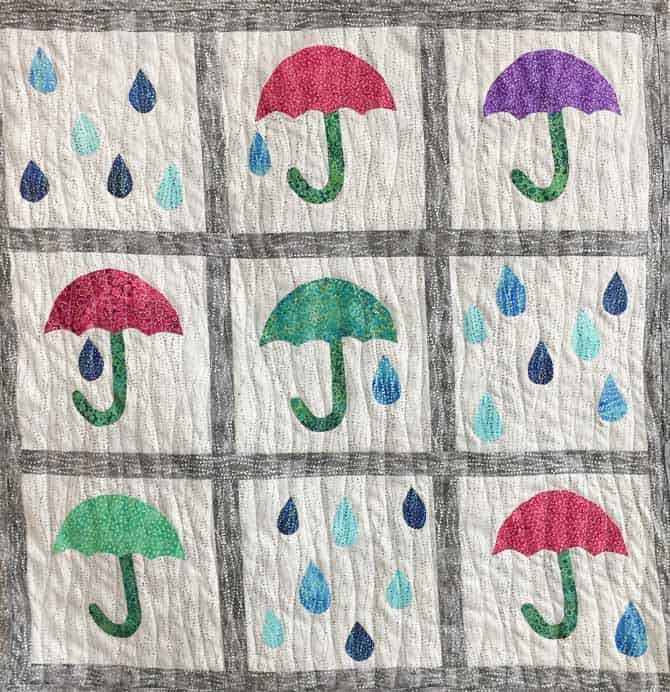 9) Posies Yo-yo Quilt Pattern
More flowers on quilts, I say!
Using yo-yos on quilts feels very nostalgic to me… it just isn't in a lot of modern quilt patterns anymore. I love the way these add texture and dimensionality to the happy colorful quilt background.
Can you imagine this with polka dots and happy fun bright colors?! It would be amazing… and I think I will have to make a fun Posie quilt myself soon.
Get the Posies Yo-yo Quilt Pattern here.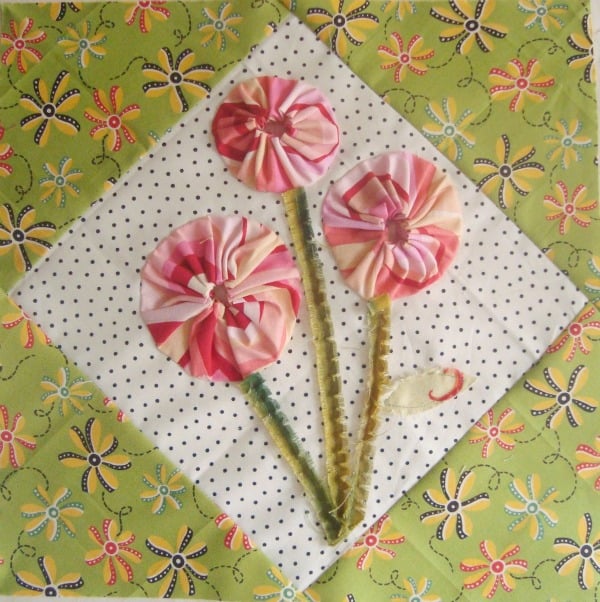 10) The Easy Triangle Pattern
Triangle quilts are something that I find a lot of newer quilters tend to shy away from. Why? No one knows. Not even me! I avoided triangles like it was a full-time job when I first started out quilting.
I still don't get excited about y-seams, but I can handle it! Guess what? This quilt pattern has absolutely NO y-seams. It is super easy to sew. I promise you'll enjoy it!
You can get your FREE Easy triangle Pattern here.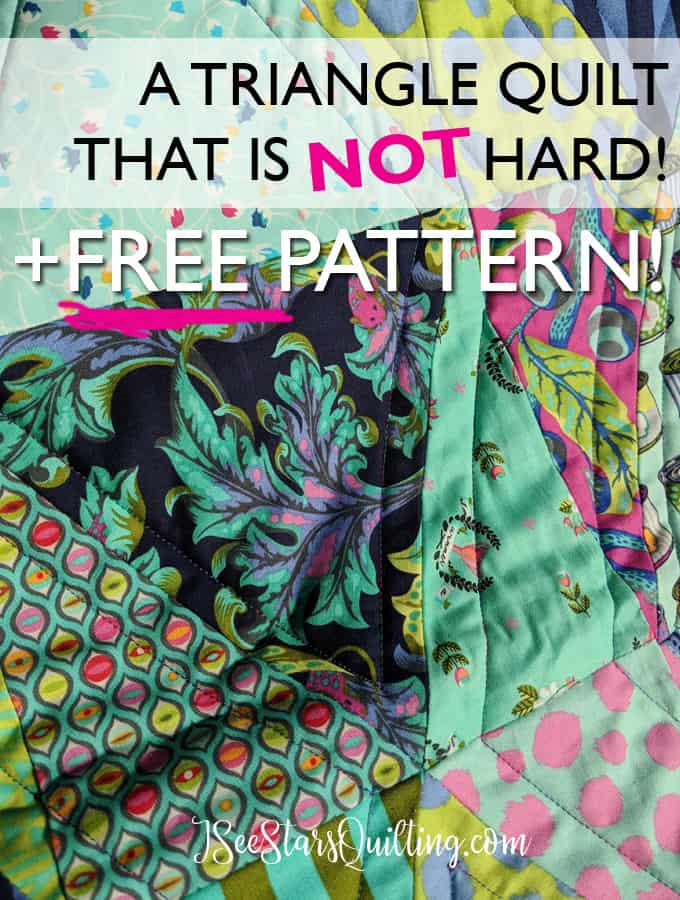 11) Bunny & Brick Quilt Pattern
This quilt is an easy fat quarter stash buster! I love how the mix of a simple brick pattern mixes with applique bunnies makes this quilt a beautiful completed piece.
Check out the instructions here.
13) Easter Egg Mini Quilt Pattern
A fun Doll quilt perhaps? or maybe a wall hanging… or just a little inspiration to run with so you can make an even bigger version? 🙂
Check out the pattern and more cute pics here.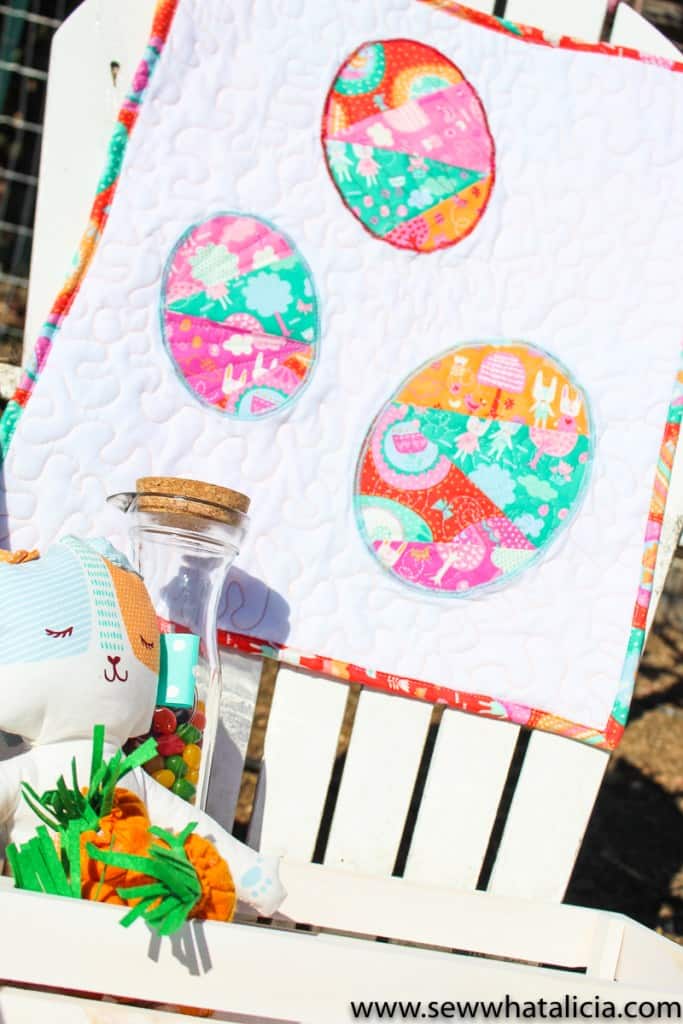 14) Carrot Patch Quilt Pattern
This one is too cute. I would love to use my scrappy pieces to make this quilt!
Maybe even a little lucky applique bunny somewhere on here? 🙂
Get the Pattern from Wyndham Fabrics here.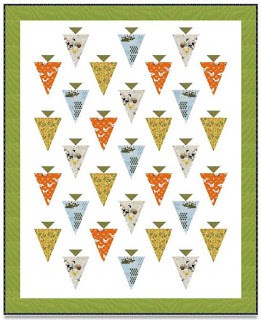 Not FREE Quilt Patterns that are still worth taking a look at!
While there is so much free stuff on the internet nowadays, we can't expect everything good to be free.
While we're on the subject of FREE Spring Themed Quilt Patterns, I thought it would be wise to take a look at some of my other favorite patterns that aren't free, but still won't break the bank, ok? 🙂
Have you sewn any of these patterns? Do you usually sew something for spring in general or do you sew specific holidays like St. Patricks Day and Easter?