One of the easiest ways to finish up a quilt – and has a classic "handmade with love" look is to hand-tie your quilt. It's an old art that sometimes loses its spotlight to the fancy free-motion quilting designs, but hand-tying shouldn't be overlooked or underestimated! Let's take a look at the best way to hand-tie a quilt and answer all of your questions!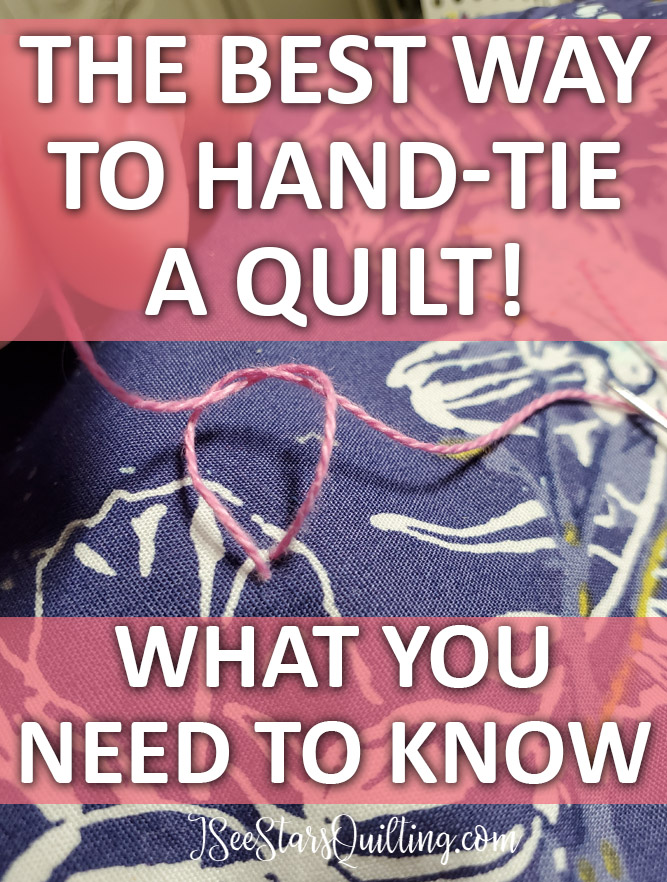 What is hand-tying?
Hand-tying is the process of hand-tying one stitch through all three layers of your quilt sandwich (the backing, batting and quilt top) and knotting the thread on the quilt top surface or even on the back of the quilt. This is done by hand without the use of a sewing machine.
The purpose of the knot is to keep your quilt layers together without having to machine quilt your piece.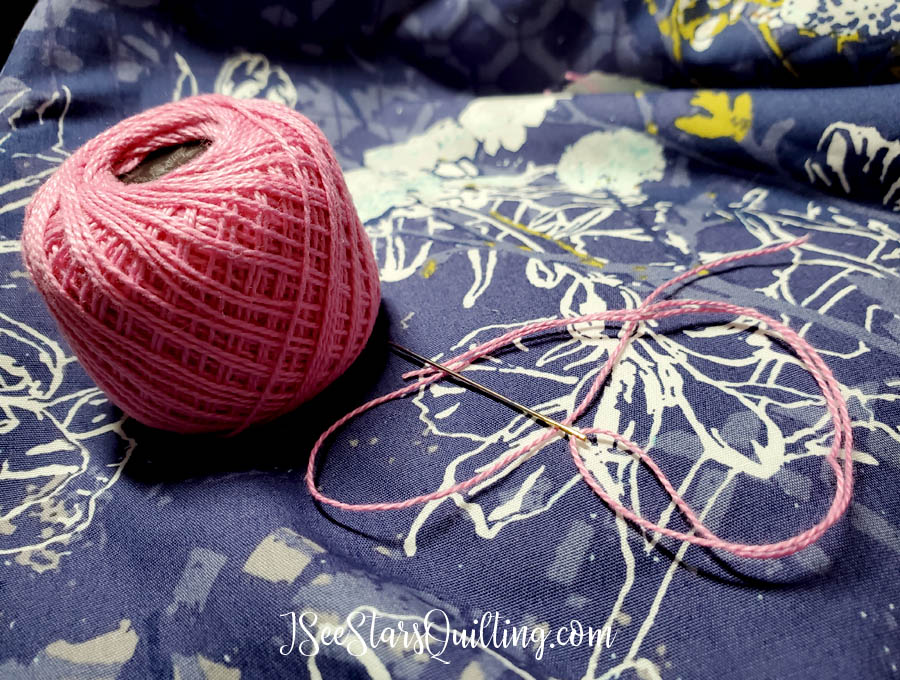 Why would you choose to hand-tie a quilt?
There are many reasons people choose to hand-tie a quilt.
This finishing technique is really great for beginner quilters – or seasoned quilters who have way too many quilt tops to quilt!
It might be because machine quilting isn't one of your favorite parts of the quilting process and you want to avoid it if possible? It might be because hand-tying gives your quilt more of a handmade/artisan look?
Historically, hand-tying was an easier task than hand quilting in some cases and still accomplished the same goal. If you didn't have access to a fancy sewing machine, you could hand-tie your quilt to finish it.
In modern quilting, hand-tying is more of an aesthetic choice. Tying a quilt by hand gives it a different finish to machine quilting.
You can give it a modern and artistic twist by choosing to focus on fun, colorful, or interesting textures in addition to the fabrics you choose.
How do you hand-tie a quilt?
I have a whole tutorial and video on this!
I love the look of a beautiful hand-tied quilt! Check out the post that I wrote that goes into a little more detail about how to tie a quilt.
Does it matter which batting I use?
Not really, no. The batting does not affect the hand-tying process.
However, your batting choice can change the overall look of your quilt. A thicker batting will lead to a thicker quilt and create more of a "hill and valley look" in the areas where you hand-tie your quilt. A thinner or more compact batting will have less of a difference in texture between the tied areas and open sections.
More thoughts on quilt batting
What should you use to hand-tie a quilt?
Simple supplies to tie a quilt
Embroidery needle
Cute embroidery scissors (or just regular ones, but it

is

more fun to be cute!)
Needle threader (optional but extremely helpful)
Cotton Thread
A note about cotton thread: I prefer to use Pearl Cotton Thread No. 8. It is what I like to hand quilt with. You can use something thicker… as thick as you want. You can even use yarn to tie your quilt!
Why use cotton? – A good question! I'm assuming your quilt is made mostly with cotton fabric. Because different materials wash differently within your washing machine (some stretch and shrink differently) it is a good practice to try to keep the number of different materials to a minimum. It will help with the lifeline of your quilt over time.
I have also used embroidery thread/floss to tie quilts because of the availability of the color I was looking for!
Can I add buttons?
Absolutely! Buttons are a really fun way to add texture and a funky personality to your modern quilt. Bonus: It can also hide the knot of your hand-tying if you are strategic about it!
Note: It is never safe to add anything that could potentially be a choking hazard to a quilt for a child. No matter how well you sew on buttons, the best practice is to steer clear if the intended use is for a young child.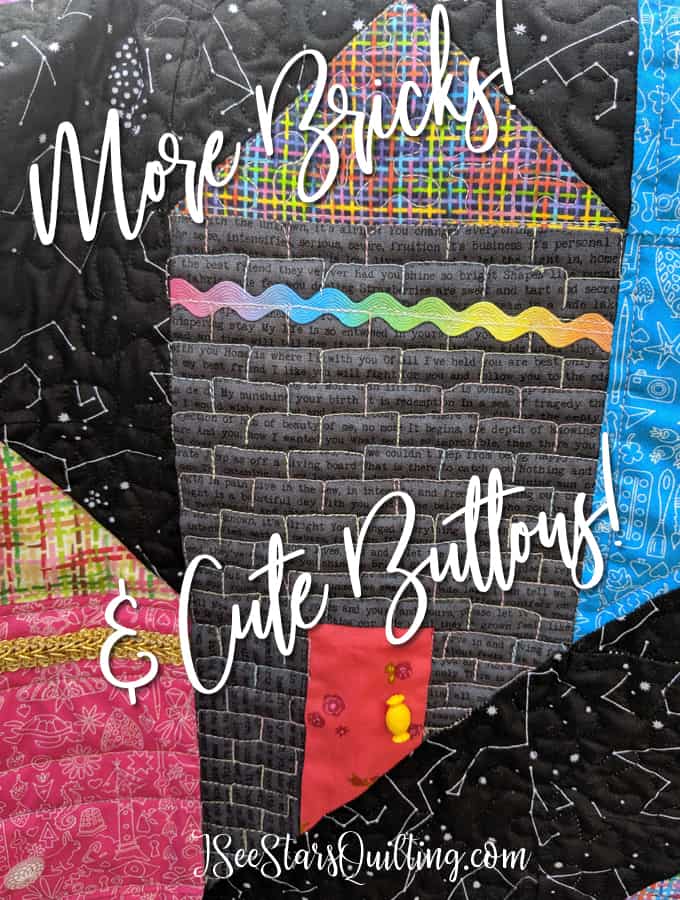 Should you tie your quilt before adding the binding?
Binding a quilt is always the final step to finishing a quilt. Before you bind your quilt you need to ensure that your layers are secure and will note be moving, shifting or getting some weird bubble that is forever going to be an annoying flaw to you…
Secure your layers first either with quilting, hand-tying or a combination of both if you prefer. Then, you can add the binding.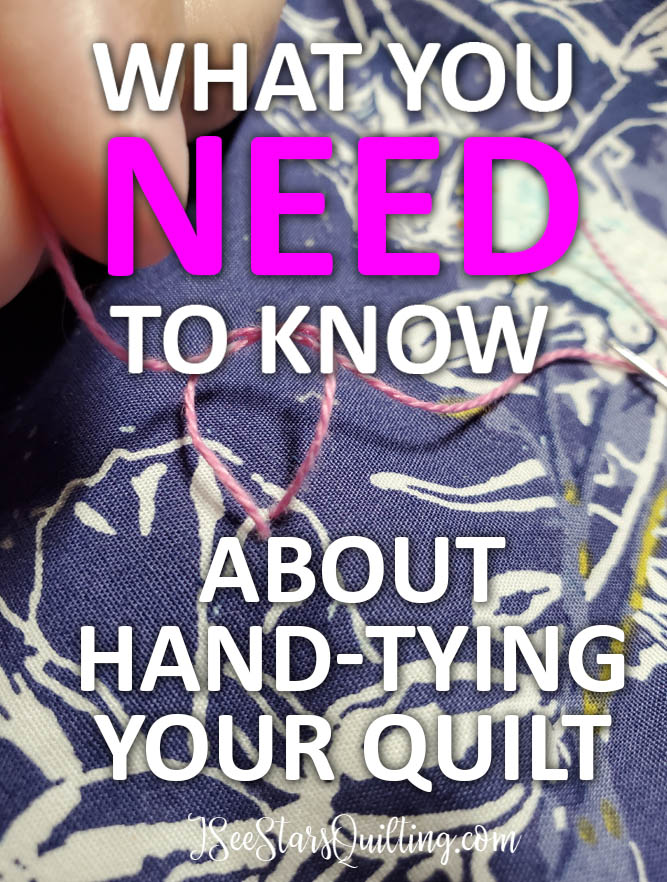 How far apart do my ties need to be?
Where you choose to tie your knots really is a personal preference.
The distance you should leave between your knots depends on the type of batting that you've chosen. This distance is usually indicated on your batting's label.
Check the packaging and pay close attention to that during purchase.
I like to use Warm and Natural batting. It has a guide of 8-10 inches being the minimum distance… It is a nice and generous amount, but I usually stitch closer.
If you've lost the packaging and don't know the brand or can't find the information, I would stick to working within 4 to 5 inches between your stitches as your minimum. You can always work closer!
Should I use a quilt frame?
Embroidery hoops or larger quilt frames are a helpful tool for layering your fabrics while hand-tying.
You don't HAVE to use them, but it doesn't hurt.
I like to secure my quilt layers with safety pins before I tie my quilt. That way I know the layers will not be shifting and I can still work in small sections at a time.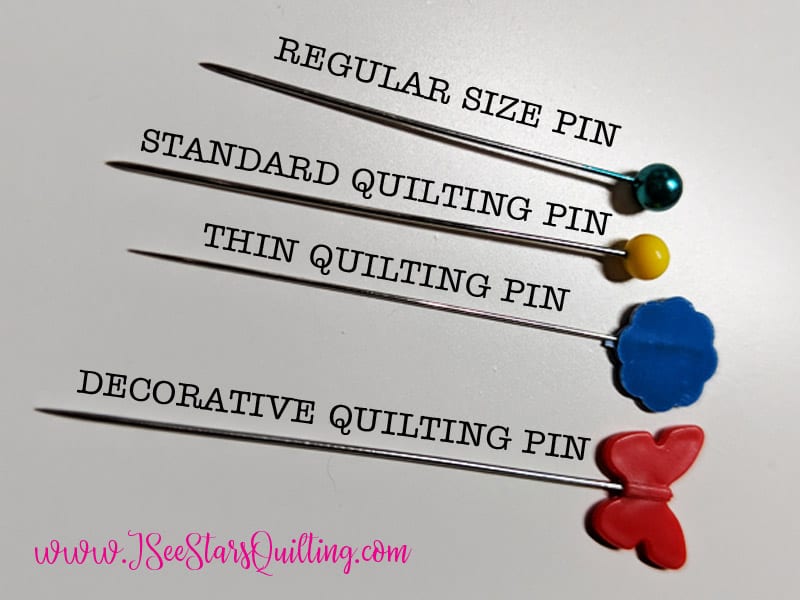 Does this add or take away from the value of my quilt?
There is a lot that goes into deciding the final value of your quilt. The cost of fabric and your time involved is just the beginning!
As far as the finishing quilting touches – I would be more concerned with the overall look of the quilt and what the design is calling for. You are the artist, you tend to have a gut feeling about what your quilt needs.
If you're looking for a quick fix for a really fun quilt, hand-tying is a great choice!
If your quilt pattern is very detailed and you've put TONS of hours of sewing into it and worked on your piecing skills and you're thinking it is quite possibly the greatest thing you have ever made… Maybe you're feeling like it deserves a more sophisticated quilting treatment?
I urge you to go with your gut when it comes to your quilt design choices!
The overall value of your quilt is going to be determined by these choices altogether. No one choice, in particular, is going to be the deciding factor.
---
Whew, I hope that helped you in your quest for knowledge on the best way to hand-tie a quilt!
If you have any more questions, feel free to reach out to me or comment below. I'm happy to help!