If you have ever been at an absolute loss as to what to get someone for a gift, join the club… CrateJoy is about to solve all your problems in the most fun and fascinating way!
Thanks to the internet and having just about anything you could possibly want to be delivered to your house in as little as 2 days… and 2020 has made traipsing out for a day of shopping nearly impossible… It is time to get crafty with new ideas and ways to still celebrate the people that mean the most to you in your life!
Today, we're talking about subscription boxes and I want to answer the most common questions so you can decide if it is a right fit for yourself or someone you love…
What are subscription boxes?
If you haven't heard of subscription boxes before, it is like a mystery box that gets delivered to your door every month.
You can use it as a way to treat yourself, or buy them as a perfectly curated gift for someone else.
The pricing for each month is the same but what is inside each box changes month-to-month. You'll get a new surprise delivered each month!
While the contents change, you usually pick a larger "theme" for your subscription service… For example, a 'Awesome socks' subscription box that comes with obviously the coolest pair of socks every month! (It started out as gag gifts, but now my husband and my dad both have so many pairs of cool socks… and you know what? they LOVE them!)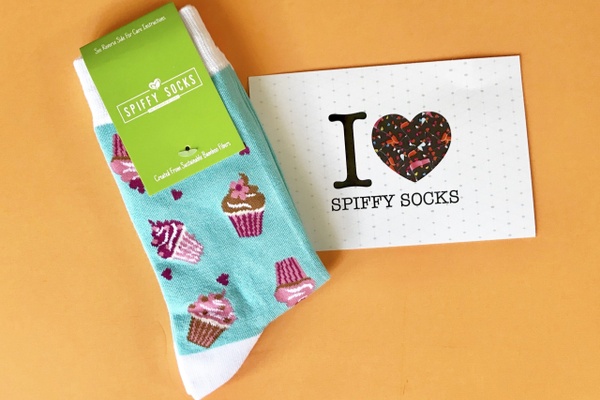 What is CrateJoy?
CrateJoy is a website that is like an internet hub of ALLLLLLLLL kinds of subscription boxes. It is a can't-go-wrong platform of information that you can use to source out the best subscription box for your needs.
Here is how it works:
Choose a category for the subscription box that you might be interested in to narrow down your search. (You can choose anything from beauty to crafts, art, novelty, etc… even search just for men, women & kids boxes!)
Look through the listings that come up until you find one that you think is a good fit.
Check out the pricing information, look at further details, and check the reviews from past/current customers
Make your decision and sign up for the subscription by paying your first month's payment.
That's it! When it is time for the delivery date, you'll receive your first box of goodies!
Note that depending on when you sign up, you may have to wait a few weeks for your box as these boxes ship out in bulk at the same time each month.
You'll continue to get a new box of themed goodies every month until you end your subscription!
It's really easy, cool, and a lot of fun!
What kinds of themes are there to pick from?
Um, only absolutely everything under the sun!
Men, women, children, teen, crafty, food related, hobby related, books, beauty, fitness, wellness, even pets!
We have personally tried the monthly salsa club (my husband's favorite gift from my mom ever) and I've given several boxes as gifts too.
Let's look at quilting/fabric themed boxes…
Oh yes, there are so many on CrateJoy!… but let's take a look at my top 3 favorites just to give you an idea of the fun that awaits you!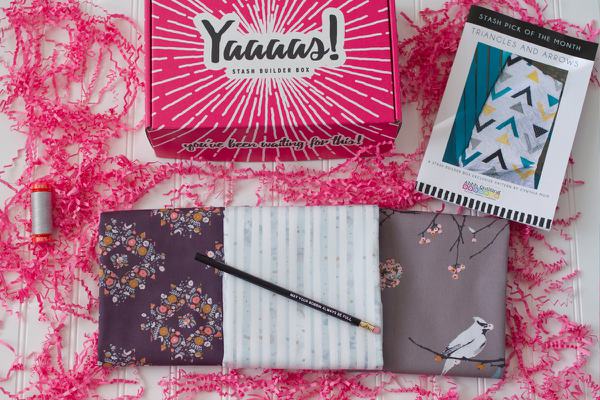 "A Monthly Quilting Subscription Box With a Cause -Cotton Cuts is a monthly quilting box that takes 20% of proceeds to make quilts for kids in need. Your purchase helps make a difference for kids in need. Every month, get THREE 1-yard cuts from a new modern fabric collection, a spool of Aurifil thread, our signature pencil and a bonus box-exclusive quilt pattern that is unique each month!"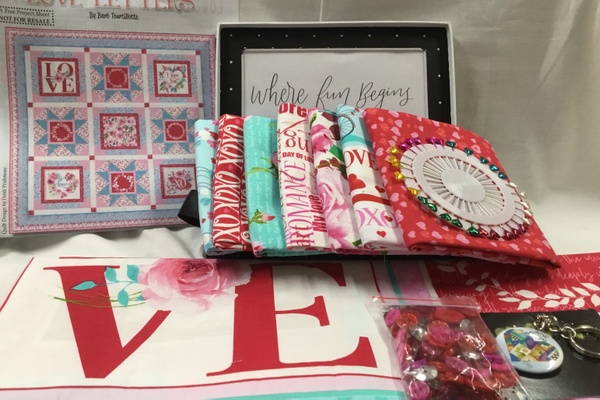 "This subscription box is for fabric lovers. Fabrics are a work of art. Some are stunning and some are just useful. Fabrics come from professional designers who use colors, designs with fabric to make the most interesting and beautiful projects. You won't be unhappy with our choice. 100 % Guaranteed. On occasion there are extra gift.
We are committed to bring you the best and keep customers loving their boxes.
Careful choosing, thinking and planning about what we send.
Our boxes will be of more value than what you pay. We love to add extras.
This will be a quilters haven. Are you ready?"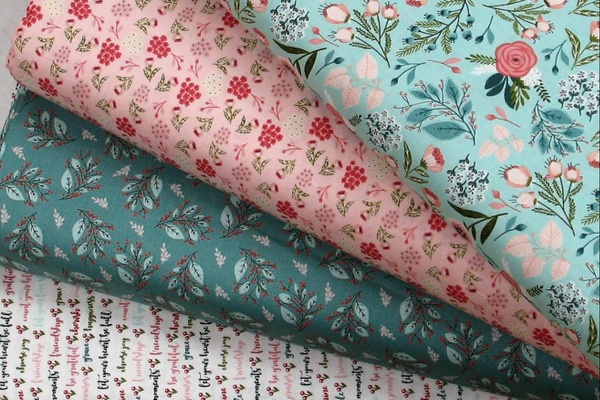 "Whether you're a confident beginner or a seasoned quilter, Patchwork Parcel will satisfy your craving for gorgeous traditionally-inspired quilt fabrics. The Fabric Bundles contain 4 coordinating fabrics + free goodies. Subscriptions start at $24.95/month with a discount for 3-month plans and can be canceled at any time.
Top-quality quilt shop fabric
Fabric Bundles contain 4 fabrics in either a half-yard or full-yard cuts package plus a free notion or two.
Traditionally-inspired cotton fabrics from recent collections"
OK just kidding… I have one more favorite that I really want to share with you because it is

amazing

. The quilts that I have seen come in this kit are absolutely… LEGIT!
Legit-Kits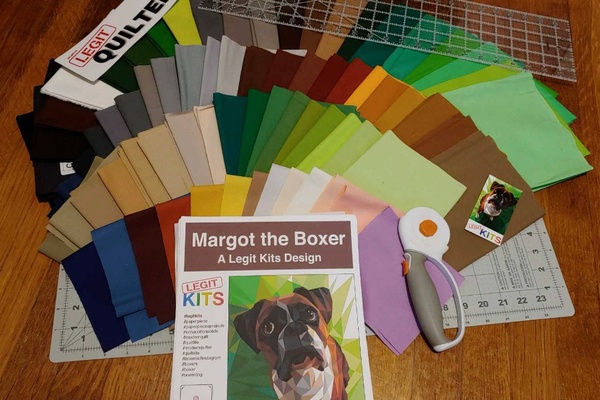 "Your sewing machine + Legit Kits = ArtEach month you will receive printed materials, detailed foundation pattern sheets for 5-6 quilt blocks, and all the Robert Kaufmann Kona solid fabric to complete this quilt top over the course of a year (64 blocks total). Each large quilt top finishes at 60 inches wide by 80 inches long and is made of 70-100 different shades of solid fabric.
Fully printed paper piece pattern on foundation paper.
Every fabric you will need, clearly labeled.
Detailed assembly guide, cutting guide, and instruction sheets."
What do I like about subscription boxes?
I don't do it very often, but… If I am getting one for myself, I love that the theme is something I am interested in but the contents are a specially curated mix of items that I know I'll just love.
If I am buying one for someone else, then I still love it because I pick something that is within their realm of interests and CrateJoy does the rest! It is easy and stress free! It so turns into a surprise for both of you!
What if I don't like surprises?
If you can't tell… I DO like surprises! – But if you would rather know what is in your box each month there are supscription companies that give you hints and will even show the contents of each box monthly so you can decide if you're in or not.
You can also shop for past subscription boxes that there may have been extra product created. – this is a little harder to find and may take some internet sleuthing to find, but it is possible!
Do you have to sign up for a full year?
This is a really popular question. Especially if you're looking at getting someone a gift!
Within CrateJoy, there is the option to "Give as a Gift" and THEN you can select exactly how much you want to commit to. You can do 1 month, 3 months even 6 months… each box may have different suggested time frames, but the idea behind it is you sign up for ONLY what you want.
If you do choose to sign up for multiple months, you don't have to pay for it all at once either. Usually, you will be charged the agreed amount each month before your product ships.
What can I expect in my box?
This definitely depends on the box theme that you choose! In every single box that I have received, there is the value that I paid for it… and then there is the actual retail value of the box (which is often much higher than the first number).
Subscription box companies have the ability to buy in bulk and get a much deeper discount on items than buying just one at a time or in smaller quantities. A cool bonus for you and me, right?
So you'll get a box of items related to your theme that add up to a greater value than what you paid for the box!
Below are a few videos of some quilting boxes that I have reviewed on my YouTube channel and you can watch the unboxing! Note: I'm such a nerd for surprises… and would never rehearse an unboxing video so what you see is what you get haha
Creative Notions Subscription Box
Quilty Box Subscription Box – Tula Pink Edition
My honest opinion (and you know I will always be honest with you!) is that I really do love subscription boxes.
CrateJoy has the motherload of subscription boxes to choose from! It just makes it easier to find the right one and know that you've made the right choice too.
If you have any particularly favorite subscription box recommendations, let me know down in the comments down below. I would LOVE to hear about them!