Yay for you! The decision to buy the right quilting tools is a big step towards being a really great quilter! But "which quilting rulers should I buy?" is often the very first questions most people ask.
*If you are more advanced in quilting, I have suggestions for FMQ (free motion quilting) and longarm quilting rulers towards the bottom of this post!*
I mean honestly, when you're staring at a hundred different shapes and sizes… circles and squares, normal looking rulers and ones that look like they're straight out of some sci-fi fiction glowing universe… yeah, it can totally get overwhelming. I get you…
I'm going to go through the reasons you should own at least a few (hint: you don't need ALL of them!), exactly which ones you absolutely should own and what to expect cost wise because…
Quilting tools can add up real fast if you're easily swayed into buying everything that is pretty and promises to make you the greatest quilter alive. So let's not forget that aspect! Unless you're a billionaire chances are most likely that budgeting is something that you keep in check.
(if you are a billionaire can we be friends? I make really great cookies and I'm totally a hilarious wing woman.)
So let's go through it, shall we?
Why do I need Quilting Rulers/Guides?
With the right tools, you'll find that your work is easier and your skills and accuracy will soar skyward! – I am not even joking.
If you've quilted for even a little bit, you'll know that accuracy is important… no, wait. It is the golden key to quilting, because if you're off even a little bit… The puzzle pieces don't line up. Things can get all askew…. Then you are spending time with the darn seam ripper again and… and…. aaaannnddd…. ARGH!
*Don't even get me started….*
Quilting Rulers are clear. You can see through them to get precision that is un-matchable to whatever straight edge you can find in your house that you've been telling yourself will 'work for now'.
Fussy cutting is a breeze when you can see straight through your ruler… oh yes, it is magical! 😉
The measurements and guides are marked clearly and are easy to follow. – My personal favorites are the neon tools, from The Gadget Girls (http://www.thegadgetgirls.com). Not only are they bright and fun colors, but the markings are actually etched into the tools so the guides actually glow nice and bright no matter what fabric you have behind it!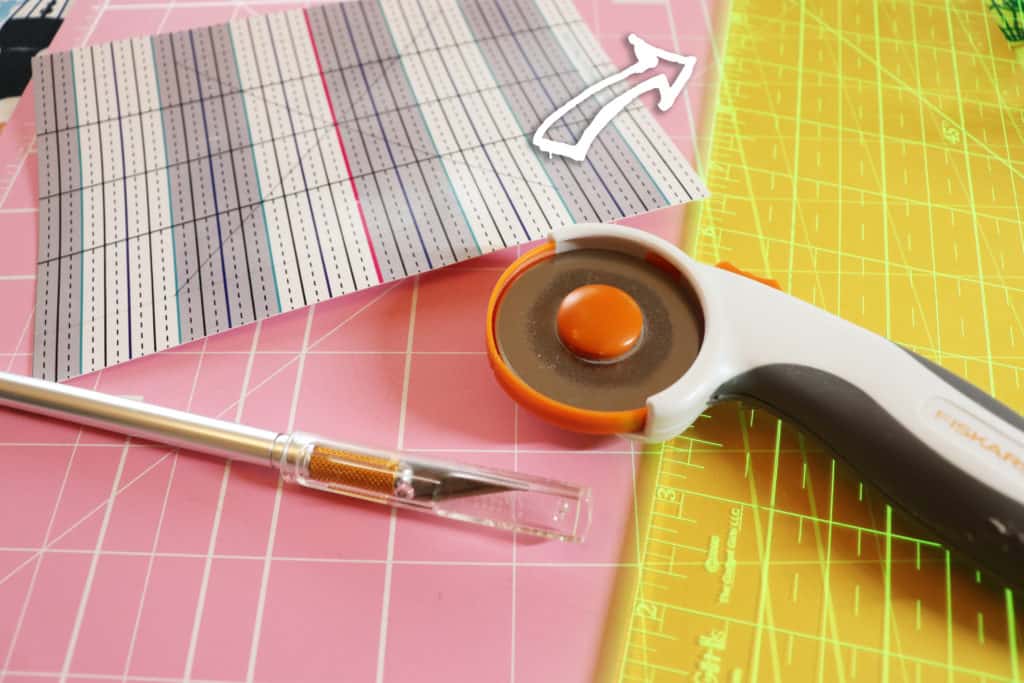 I don't have scientific reasoning for this but when you have the right tools… you just work better, smarter and more efficient. Your brain energy isn't spent trying to figure out how you can DIY this or that or get by without… you have the focus to put into your quilting!
I held off for the longest time on purchasing quilting rulers. Being a young mom – (baby formula will eat your budget alive!) I felt guilty spending even more money on myself because I was already conservatively buying fabric when I could. I just couldn't justify it… until… another quilter friend said:
How are you going to cook if you don't have a stove? You could go build a fire in the backyard and get by, yes, but wouldn't the investment on proper cookware be worth more than getting by and dealing with the current limits and frustration?
Of course, you don't need a stove to quilt, (and we're well equipped in our kitchen thanks to the foodnetwork making my husband and I feel like we could totally kill it on Iron Chef) but I heard her loud and clear.
I was wasting time using things around the house to cut my straight edges – and if you know me, then you know that Christen does NOT like to waste time. At all. I like to be a productive machine and live my life to the fullest volume possible! Any wasted time away from my family is unacceptable.
I was blinded by the thought of not wanting to spend a little money on myself and my passion: quilting.
Do you hear me on this?
**PS – I'm going to link these to the rulers on the Gadget girls website because I really feel like of all the rulers that I have owned, they are the best quality and my personal favorite 🙂
Ok, so… Bare Minimum – What do I need?
Let me make this next part clear…. you don't have to go out and buy everything in the world or spend a fortune right this very second. And I'm not just saying that to make you feel good. I mean it. Don't think you have to spend a ton of money to be good at quilting! You can do a whole lot with just a little!
If you want to start your collection of rulers and you are ready to make that jump, here is what I suggest. Pick and choose a la carte what fits your needs:
6″x12″ Ruler – This ruler is probably my best friend in the sewing room (but don't tell the others that, ok?) It is an easy size to square up your littles and make those quick cuts. All the guidelines are invaluble!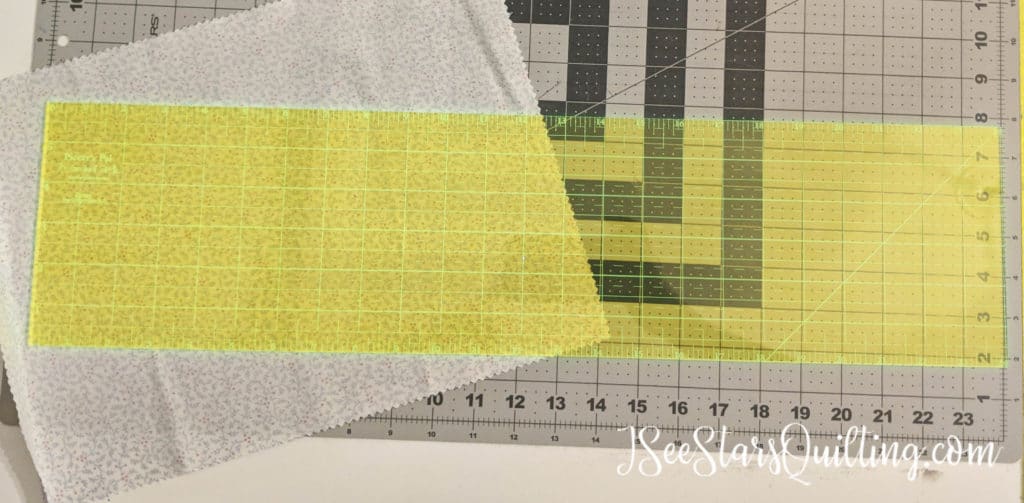 6″x24″ Ruler – I know what you're thinking… "Isn't that almost like the 6″x12″?" and yes, you're right EXCEPT that your fabric is 40″ wide and folded in half, I can use this big daddy ruler to make one single clean cut all the way across my fabric… I am like a genie. It is AMAZING. I have never once regretted purchasing this ruler. I also use it to help square up my quilt. – It gets used on every single quilt i make.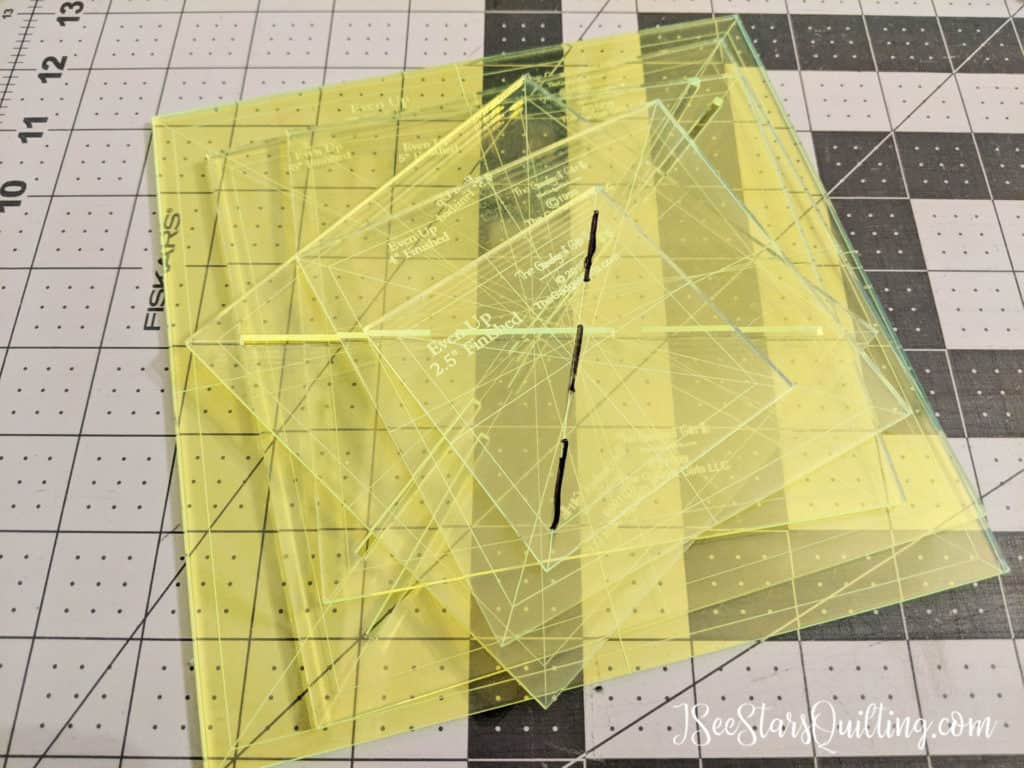 Even-ups or Square Rulers – These beauties are pretty much the crown jewels of my quilting blocks. They come in a variety of sizes and shapes. As you can see, they already have the seam allowance accounted for and they make squaring up 458 (yep…I did that…) 2″ blocks and HST a breeze.
I would suggest at minimum buying the even measurements – 2″, 4″, 6″, and 10″ or 12″ – You can buy every size in between and even larger for t-shirt quilts that you want to make as easy as possible.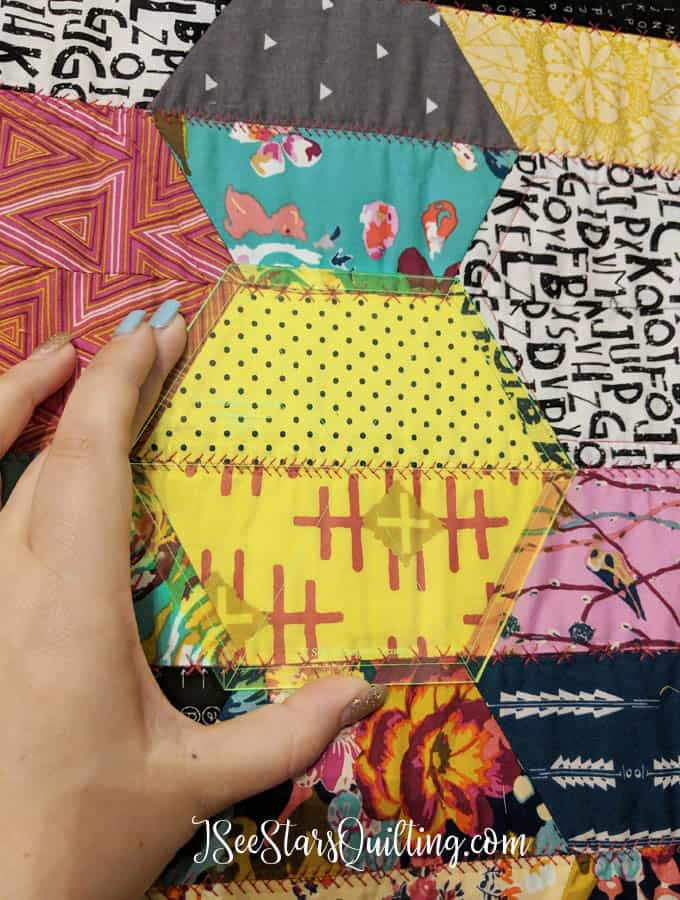 Pssst: they also come in triangles and hexagons AND half-hexies! (you have to scroll through the diff pages on the website to see them all) – *Swoon* OMG! I know, girl. Perfect triangles with like no effort… surely we must be dreaming, but no. It is totally real and it is totally wonderful.
How much should I look to spend?
This is always a question people ask and this is always where I have a hard time answering.
Usually, rulers are anywhere from $12-$30ish each. Some are more, it just depends on the purpose and the size of the ruler.
Honestly, buy what you can out of the list I mentioned above. If you can't buy them all, don't sweat it. There are so many different ones out there but you will be doing great with just the essentials!
Start with the 6″x12″ and really work that ruler! If you use it for a little bit, you may get a better idea of what you should buy next based on what your most used size pieces are.

Is a holiday coming up? Your Birthday? Christmas? …um… Arbor day, perhaps? Ask someone you love for what you need (nicely)! I don't want to hurt any feelings but none of us NEED another pretty candle, do we?
I really hope you found this guide to rulers useful. If you are hungry for more, I will be making a video on rulers really soon. I'll be including the ways I use my rulers plus some tips to store them and keep them essential in your sewing room!
You can check out my YouTube channel here.
A Word to my FMQ and Longarm Quilters…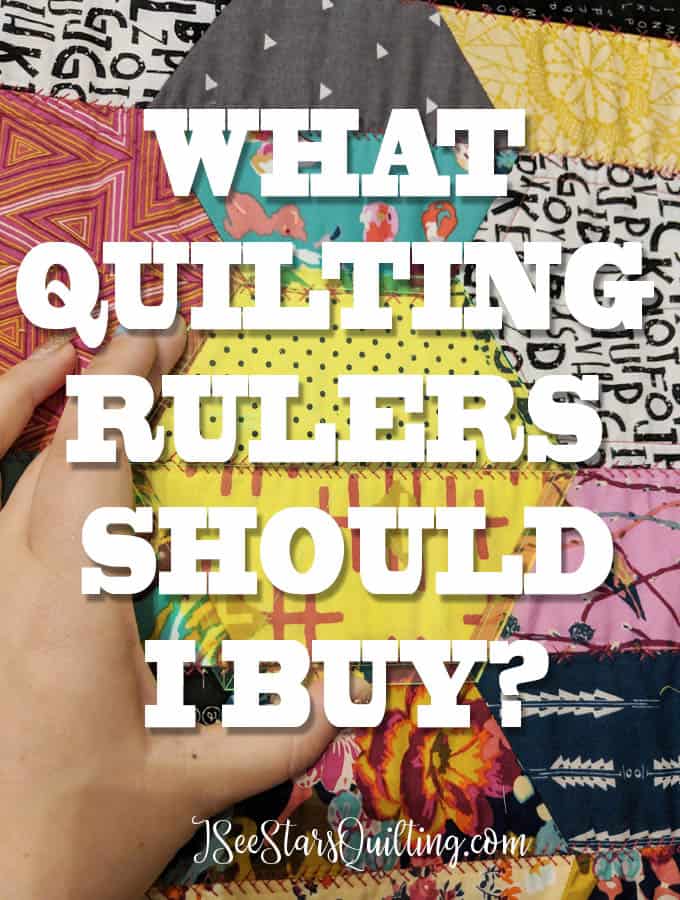 YOU! My lovely beautiful creative quilters, you…. You are amazing and I am truly inspired by the beauty that you create… are you looking to up your quiling ruler collection a little bit too?
FMQ does not have to be impulsive or make it up as you go – You can make it a little more structured with quilting rulers that you trace around either with your needle or a fabric marker.
You'll get drool worthy perfect quilting patterns that you can then quilt on your machine! The classic baptist fan pattern? A cinch when you have this right here.
Check out the remarkables section on the Gadget Girl's website for every shape you could possibly imagine!
With these tools, your quilting is going to be so lit… which means really really awesome.
Let me know what you think!