Hi, I'm Christen and I'm an absolute fabric hoarder.. you know what? I love it. Once I started collecting beautiful fabrics, I couldn't bring myself to let go of the small scraps… It wasn't long before I was faced with a bit of a problem. Scrap Fabric Storage… so many options… and I needed it asap. What is a quilter to do?
"Save the fabric scraps!" I say! "You never know when a pattern could come along that you could use it again!"
What do you do with all your fabric scraps?
Where do you keep them while you're waiting for the perfect heroic moment to pull them out and give them purpose again?
You'll find no less than 1,000 different storage ideas on Pinterest (follow me here).
I'm a mom with little kids. I can't spend a fortune on walls of glorious pristine custom white shelving. Cheap and effective are my favorite kind of projects.
I must have tried out hundreds of ideas before deciding that sometimes simplicity really is the best way to go.
Simple, effective and no fuss.
Do I have your attention now?
Below you can see the system that I used to use, what I currently use and a few of my favorites from my "if I had a trillion dollars" dream ideas… just to spark some inspiration!
This post contains affiliate links You can read more here.
Fabric Scrap Storage – The Beginner Stage
For a long time, my scrap fabric storage was one of these babies… I told you. Simple, Cheap (less than $10)… yet very effective. You may even have one in your garage that you could toss old Christmas lights out of and re-purpose.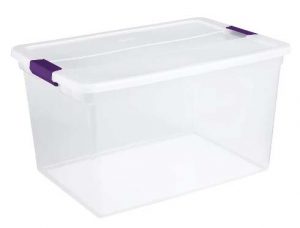 Pros: In the beginning it was perfect. I found it really nice to be able to toss scrap pieces of fabric from different projects into one collective place separate from my whole pieces/yardage fabrics.
It has a lid – This is awesome to stack on top of or slide under a table. Keep the mess contained.
Clear sides made it easier to see while digging around.
Cons: After 2 years (and a lot of quilts) I outgrew the bin. oops.
There was no organization to the big giant bin and I can't count how many times I dumped it out to look through my collection. It was sometimes difficult to find that ONE scrap once it got a little fuller. This is a minimal complaint, but worth mentioning.
Thoughts: Overall, this solution was exactly what I needed at the time and it worked perfectly. I was able to use up a lot of my scraps. Unfortunately, with all the sewing and quilting I've been doing in the last few years, I have made more scraps than I am able to use up. Thus bringing me to the next level of storage…
Fabric Scrap Storage – The Intermediate Stage
You know those lightbulb moments where you know you're in the right place at the right time? I had one of those moments.
I was shopping at Target and I came across this set. I'll give you a link to it on Amazon because it is actually $7 cheaper there AND has free shipping. (woohoo!)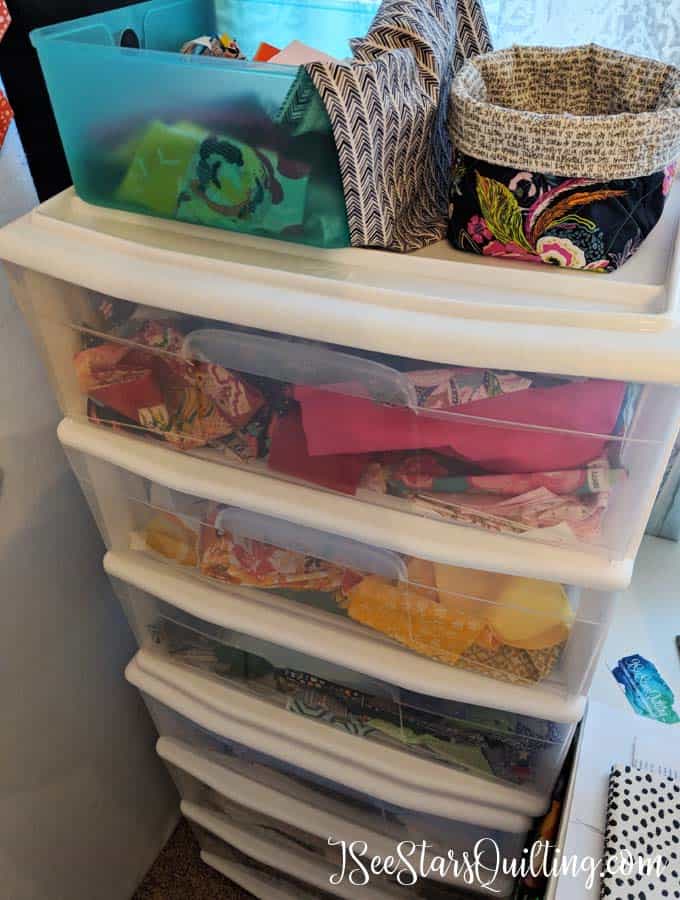 Pros: I bought 2 (as you can see) because they stack. I wouldn't recommend more than 2 high because I'm 5'9″ and I don't see how you would be able to utilize the top drawers if you can't even reach them. The 2 I have puts the top drawer just above chest height for me. East to see and grab what you need.
Boom… instantly increase your capacity. 6 drawers for perfect fabric organization.
Organization! I did mine by color because I love rainbows 🙂
Clear fronts make it easier to see what you are searching for. Easier to find the piece you're looking for if you're searching by color or whatever your organization method of choice is.
They come with casters to make it easier to roll around if you desire that. I only put the casters on the lower set.
Cons: It does require a bit more of a permanent space in your home. It isn't as easy to just tuck under a bed or toss in the bottom of a closet somewhere.
Thoughts: I have literally found no other drawbacks in the 6 months that I've been using this system. Rainbows make me happy.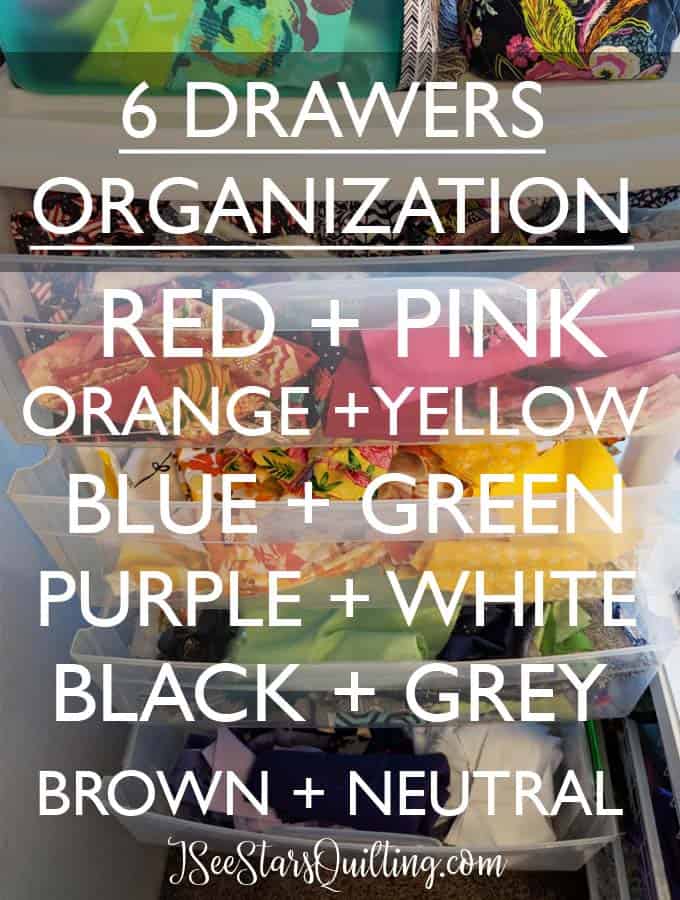 Other ideas I aspire to create in my trillion dollars + free time dreams
You know what I'm talking about…. if a, b and c happened and the stars aligned… If the kids could give me 3 hours alone to create whatever I wanted to without interruption… I could rule the world… blah blah blah.
The ideas featured below are by other quilters that I follow and admire.
I love the way they marry the pretty aesthetic aspect and useful organization in a fantastic scrap fabric storage utopia! Check them out.
These fabric bins from Trillium Designs are perfection! And made from scrap fabric too! That's like a double win, in my book! (and a cute blog too)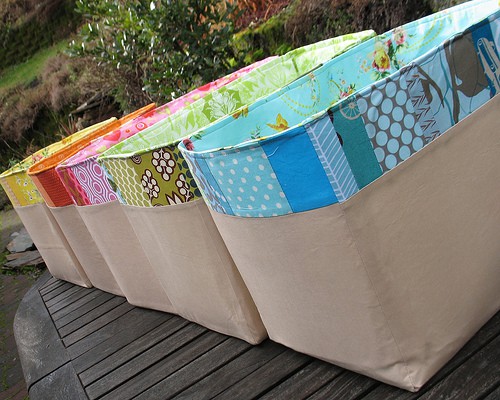 These filing cabinets from Prodigal Pieces are a refurbisher's dream. Nothing says organization more than a filing cabinet, right? But these are filled with fabric, carefully folded so you can see EVERYTHING. Amazing!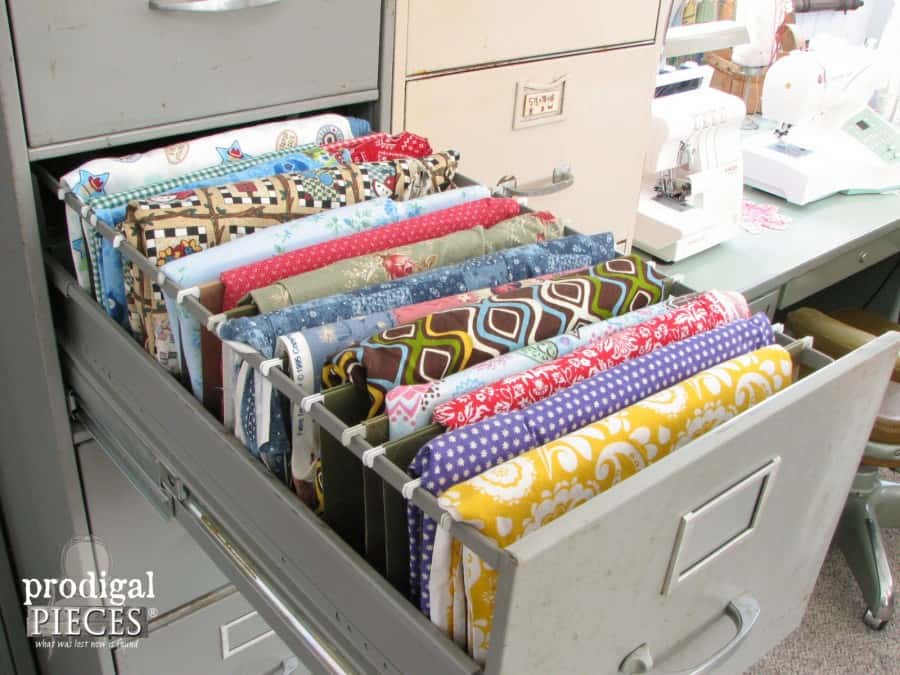 This next storage idea is how I store my larger pieces and yard fabric. But TheGirlInspired uses it to store her scrap fabric in plain sight, on display in all its loveliness.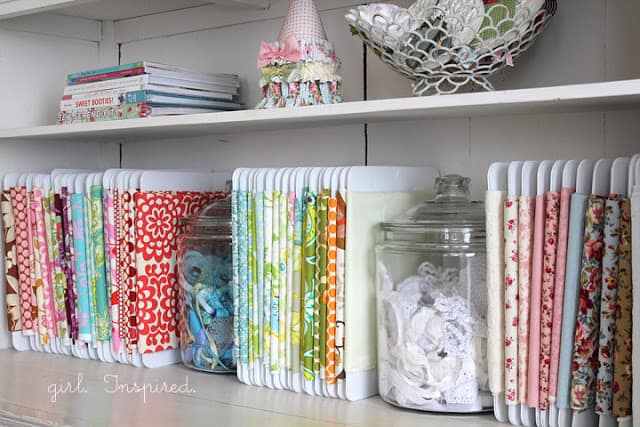 You can buy 'comic book boards' from Amazon.  They are basically designed for people who collect comics and want to preserve them and keep them for collectors, I think.  It's a thin but stiff cardboard board, glossy and the ideal size for folding and storing fabric!
OK, last bit of eye candy for today… If you're a super DIY kind of person, this is beautiful. SewAtHomeMummy includes a step by step tutorial on how she created this hanging wall storage solution.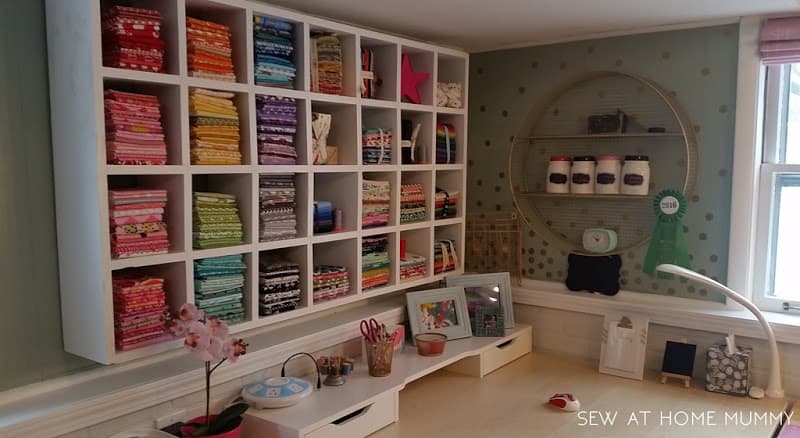 Do you have a favorite way to store fabric? Let me know in the comments below so we can all share in the brilliant sewists and quilters out there! Happy Quilting!