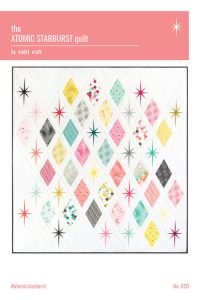 Hey there happy quilters! As promised, here is a full review of the Atomic Starburst Quilt Pattern from Violet Craft. Plus I went ahead and shot a video to share some tips with you on the paper piecing process.
You can purchase the pattern from Violet Craft's website and download it immediately, or I've seen this pattern in person at several quilt shops as well. (Side note: if you aren't familiar with Violet Craft, take a few minutes to pop on over to her website. She is an absolute gem and a genie with fabric!)
I just wrapped up my Sewing Room Challenge! (to catch up, you can read part one and part two) And I had some questions from people who were tentative to dive into this pattern. I get it. All those pointy stars… I lurked and gazed at this pattern from afar for several months before I purchased it. And then, I had it in my stash (with all the fabric I had chosen!) for another month before I did any cutting or sewing. Wimpy baby steps, right?
I'm not the best at paper piecing. It doesn't come naturally to me. I don't know why. But after working on this quilt top, I have decided that I want to work some more with it in the future because I love the results that it yields! Just look at these stars! They turned out so lovely, and the quilt just sparkles.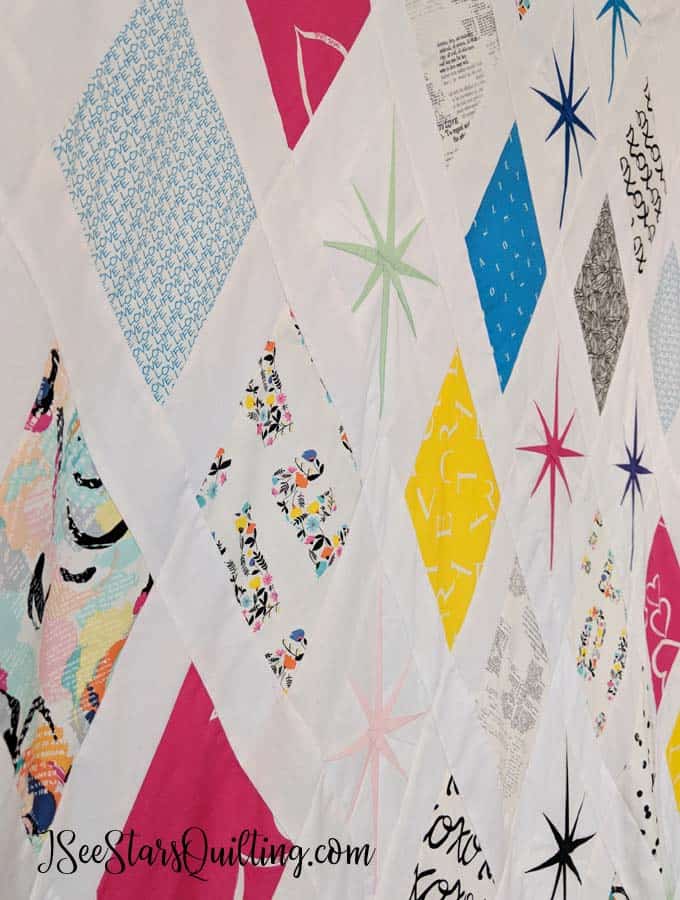 The Description:
"This quilt is speckled with mid-century-inspired paper pieced stars laid out in a modern diamond pattern. The simple, light background makes the colorful Palm Canyon fabrics and coordinates pop. A generous lap size at 62 x 66."
This quilt is made by combining foundation paper pieced Starburst blocks with traditional piecing. The result is a vibrant, happy mix of stars and solid blocks.
Paper Piecing Advice:
I put together a video that goes over some of the tips and tricks that I used while paper piecing the Atomic starbursts. I hope you find it helpful 🙂 Keep reading below!
Links to the tools I used, just FYI: Rotary Cutter, Add a Quarter Ruler, Cutting Mat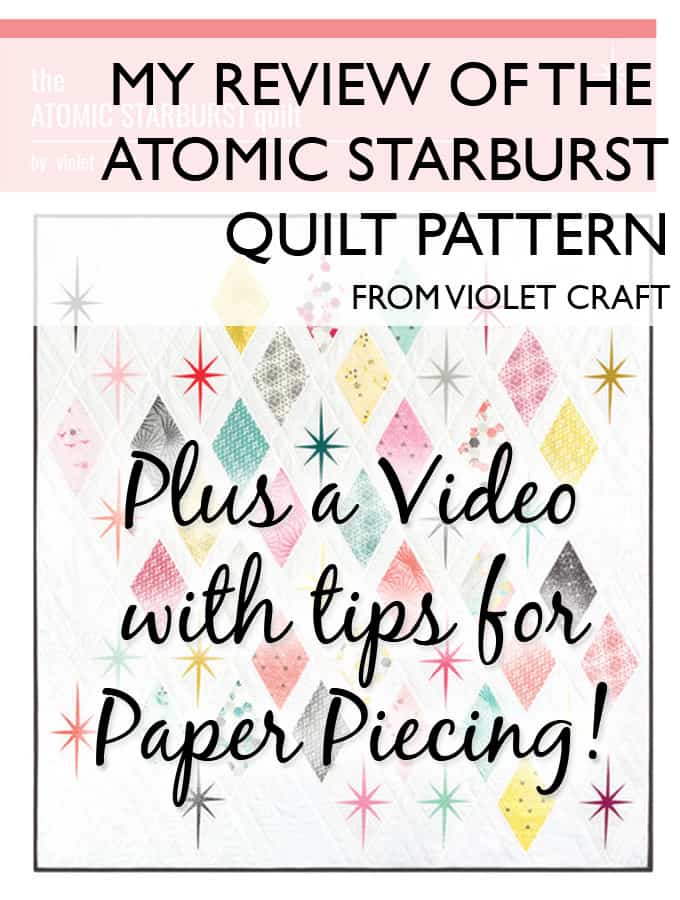 The Review:
This Atomic Starburst quilt pattern has 5 stars on Amazon. And 5 Stars on several Etsy shops as well. Actually, I couldn't find a single review site that has any less than five stars.
This pattern has been very well received by the quilting community, and people have been giving it glowing reviews from day one. (I told you I stalked this pattern for a while before I purchased it!)

I give it a full five stars (now that the quilt is finished. Keep reading for more explanation). I'm entirely in love with the result and I can't wait until I quilt the whole thing.
The Process:
I love the atomic starbursts. They are my favorite part of the pattern. There are 20 total in the pattern, and they are stunning scattered throughout the quilt.
I'll let you in on a little secret. It wasn't all sunshine and roses the whole piecing process… In my personal experience, it seemed like some on again off again teenage romance between me and the atomic starbursts.
There are 20 stars in the pattern, so that equals 40 halves to the stars. (you paper piece each half and then sew together to complete each star) For a while, I thought I had been caught in some time loop alternate universe where it didn't feel like I was making much progress at all. I was trying my best to sew in tiny chunks of time to make progress any way I could. It still felt slow and I was slowly getting more and more frustrated.
One Saturday morning I let the kids play and watch a few movies (hey, it doesn't happen too often, but they were happy, I was happy). I sewed and sewed and sewed and I finally turned a corner. After that day, I tried to work in larger chunks of time for at least 30 minutes.
I think once you turn that corner, and have just over half of your starbursts created, THAT is when the 5-Star review mode kicks in.
I don't want to be all doom and gloom, but I do want to give a frank depiction of the process.
Don't let the work discourage you. It was totally worth it.
The rest of the quilt was an absolute joy to continue making, and I couldn't be more pleased with the way it turned out!
The Finished Product:
I wish I could put down the beautiful photo shoot with my quilt right here, but the truth is… It is going to be a little bit before I call this one finished. 🙁 I have a friend who has a lovely long arm machine and has agreed to teach me to sew on it. So I am saving this quilt top for the long arm machine. As soon as it gets done, I'll post a few update pics.
Instagram sees most everything first and you know I'll be posting pictures of the whole process and the in-between shots. Follow me on Instagram here. You can also tag me @iseestarsquilting
Also, It is worth mentioning that as slow as this quilt top felt at the start, by the end of the piercing, I was already planning another quilt with the same pattern! I've seen a few pictures where someone used a dark/navy background, and it was stunning! – I won't be working on it just yet… but someday, I would love to make another Atomic Starburst Quilt.
Are you going to try out the Atomic Starburst Quilt?
What do you say? Have I convinced you how awesome this pattern is? Did I scare you with the amount of work involved? Have you already started this pattern? Let me know in the comments. I would love to see your versions of the atomic starburst quilt out there!
Happy sewing!