Today is the first in a new series here at ISeeStarsQuilting. Q&A with Quilting Stars is a look into the creative minds of the fabric manipulators and visionaries that put in the work and late nights. These beautiful people are Quilting Stars. You can check out my Fave Fabric Friday posts here for more interviews and fabric stars.
It is my pleasure today to introduce you to Sarah @CoopCrafts!
The quilting community is such a wonderful group of people. It doesn't matter how advanced you are or if you're picking up your sewing skills, there isn't a quilter that I have met that isn't happy to share their knowledge or advice with you. You just have to willing to listen…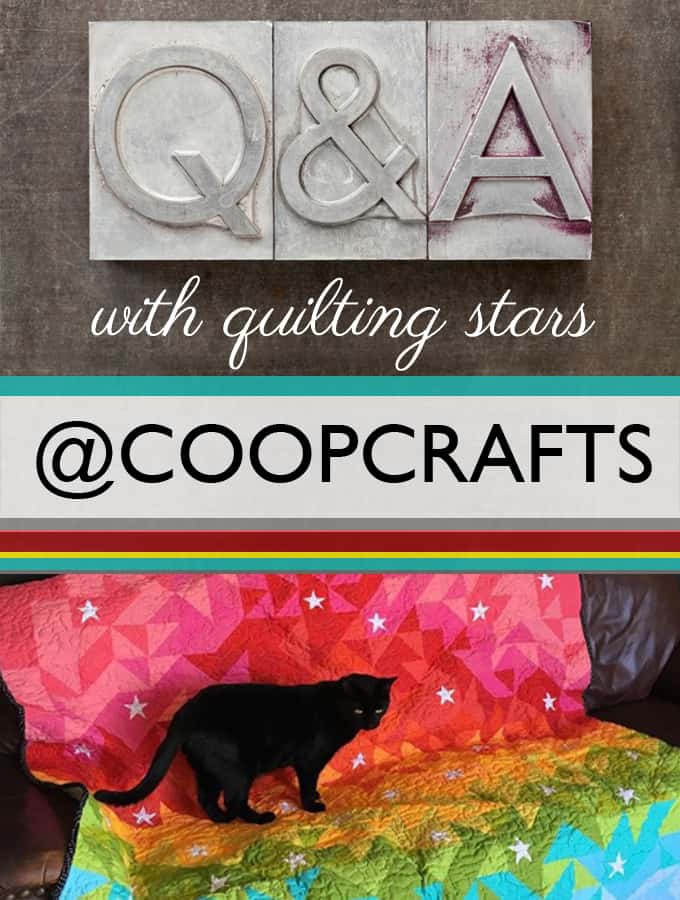 Q&A with Quilting Stars: Sarah @CoopCrafts
Sarah is the brilliant mind behind the beautiful creations at CoopCrafts. I have been following her works for a long time. The quilts and pattern designs she shares have been a consistent inspiration in my own quilting journey over the years.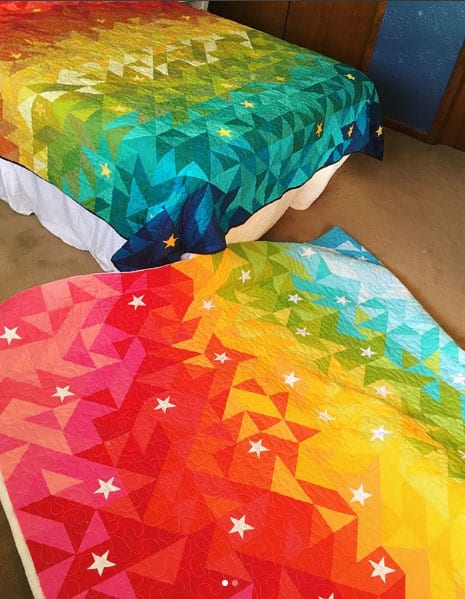 How long have you been sewing? Do you remember what originally made you want to start?
Hi, Christen!  I've been sewing by hand since I was tiny, maybe in Kindergarten or first grade.  My Mom is really crafty and wanted me to learn, too.  But when I was about 39 years old, my boss gave us each an Amazon gift card and told us all to get something "just for us."  I had been thinking of a sewing machine and that was the prompt I needed.  I bought a simple model and wanted to learn how to make purses.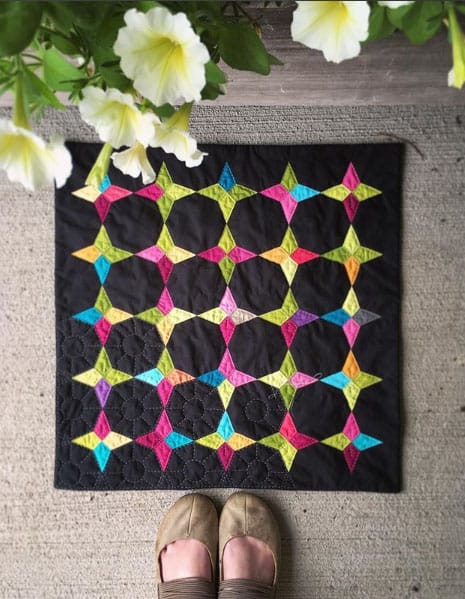 Where is your workspace? What model of sewing machine do you use?
My sewing space has moved around the house!  I started in the office/guest room, which is one of the darkest rooms in the house.  I eventually moved to the dining room for the better light, but that meant interruptions when the larger dining room table was needed.  When my daughter moved out, we gave her our living room couch and that led me to redesign that space.  I challenged myself to redecorate using mainly our local Habitat for Humanity Restore (because of price, but also because I love 70s furniture) and managed to work in a dedicated sewing space.  I use vintage Singer machines, mainly Ethel, my 1950 Singer Featherweight, and I love that she can stay out in view all the time now.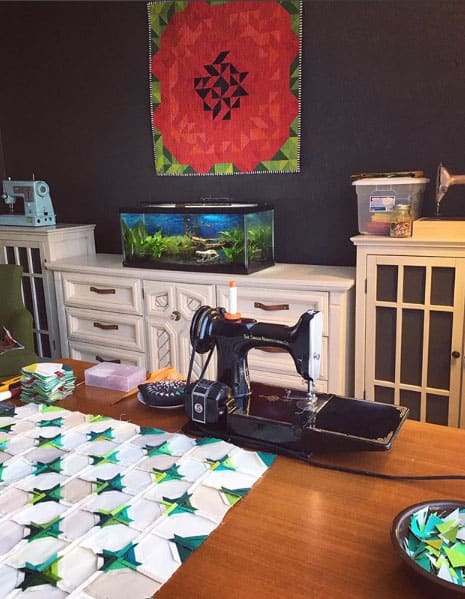 Is there a tool you could not live without?
I love making half square triangles, and my half and quarter ruler is probably my favorite tool!  It means there's no need to trim HSTs after sewing, so there's much less work.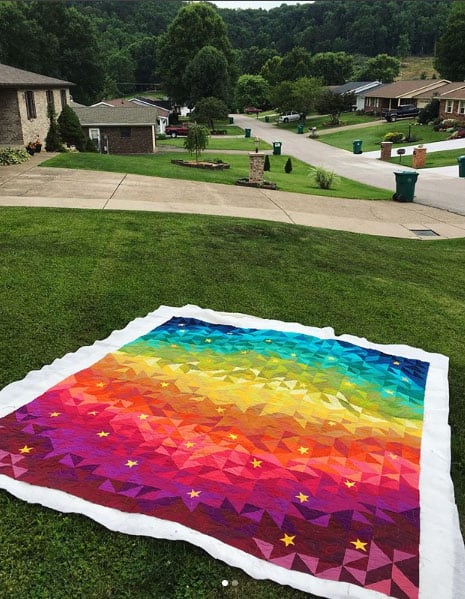 When you start a project of your own design, what drives the design? Where do you find your inspiration?
If I'm making something specifically for someone, I try to think about them, or what I'm trying to tell them or want for them.  When my friend Kim got married, she and her husband were combining families.  I made a quilt for them with HSTs (my favorite!) showing a red side and a blue side meeting and combining.  It is called "Lava Meets Sea," because lava meeting sea is two very different things, but it makes for a good solid material.  I also enjoy making healing quilts.  When my lifelong friend Erin was diagnosed with cancer, I made a quilt for her that used the plaid we'd worn in our skirt uniforms to elementary school, Eagles fabric for her football team, roses (also her name), shamrocks for her heritage … so many things that made me think of her that I realized if I'd seen that quilt already made, I would have thought of her!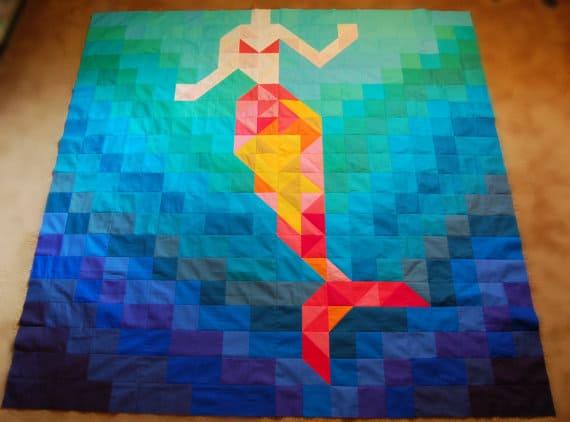 This mermaid quilt pattern is available in the @CoopCraft Etsy Shop
You've created several quilts that require a little bit of work over a long period of time (i.e. your temperature quilt). How do you keep your motivation?
That one is hard, especially for me now.  In the last few months I've actually started on a medication that reduces anxiety, and apparently, a lot of my energy (sewing included) was anxiety driven!  I've slowed down my sewing and am trying to work more on projects that can be finished with less steps.  Adjusting course is always a part of the changes in life, right?  But with the temperature quilt, I've realized I can keep track of the numbers daily with no problem, I just write them down when I feed the fish in the morning so it's tied to another habit I already had.  Sewing each month can be done in a couple mornings at the end of the month, so it's really not that difficult.  And I love the way it's turning out!  (But with this recent heat wave, I do miss those cooler blues!)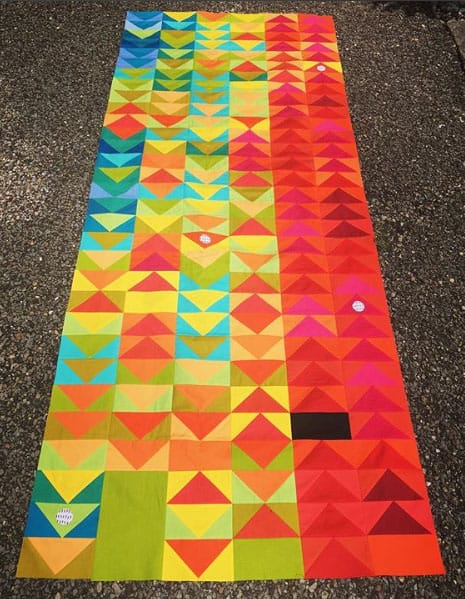 How do you keep yourself refreshed and at your best to create?
I'm a morning person, so it's best if I give myself time to sew then.  I've built a routine that allows time for creativity.  I mean, you can be mulling over ideas at any time — while unloading the dishwasher or driving to the grocery store — but if you don't give yourself that built in time when you're "allowed" to work on it, it's just too easy to let everyday chores and pressures to eat away all the time.  I used to sew at 5:00 in the morning.  Now I can usually work in a little time after daylight, which is nice.  Just set aside time for it and it's more likely to get done.
Is there a particular quilter that you follow and draw inspiration from?
SO MANY!  But I'll just name one here because I think we could all learn a lot from what she does and how she does it: @saphre1964, Nicole, is an inspiration to me because of the message in her work.  Her colors are happy and she paints scenes of a world I think we all recognize, but it just looks a little better her way.  Just check out her work, scroll back through, and feel happy and inspired.  It's kindness and sunny days stitched into fabric.
And finally, What is the best piece of advice anyone has ever given you?
"Keep being bad at it until you're good at it."  Nobody starts off with skills.  Skills are built over time.  A great thing about sewing is that beginner stuff has a charm to it, even if it's wonky it's handmade and wonderful.  If you're new to sewing, or just new to a particular part of sewing like me with garment sewing, keep going and you'll be good at it.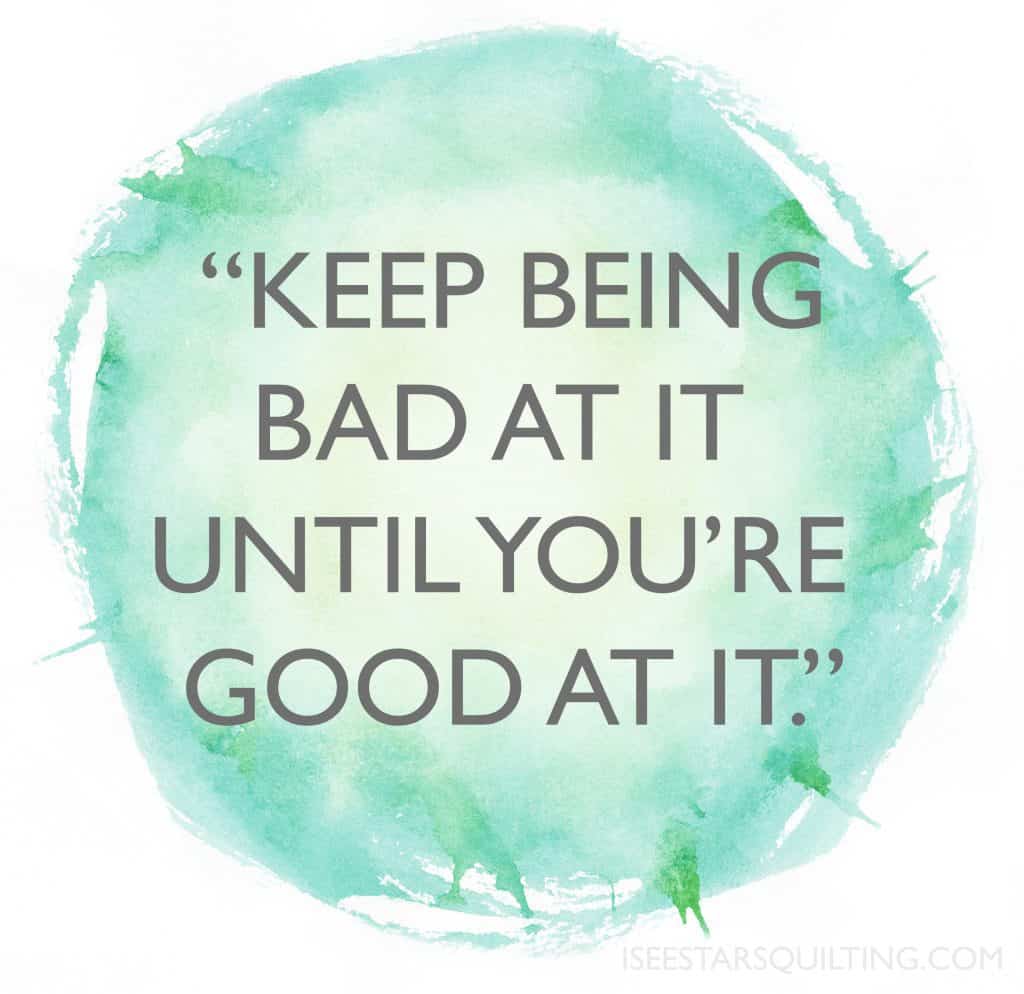 ---
I want to thank Sarah for taking the time to share with us her views on quilting and her inspirations. I love seeing how your designs have progressed over time and I look forward to seeing what you create in the future!
If you want to check out more from Sara @CoopCrafts… you'll find her in these places
Instagram: @CoopCrafts
Etsy Shop: CoopCrafts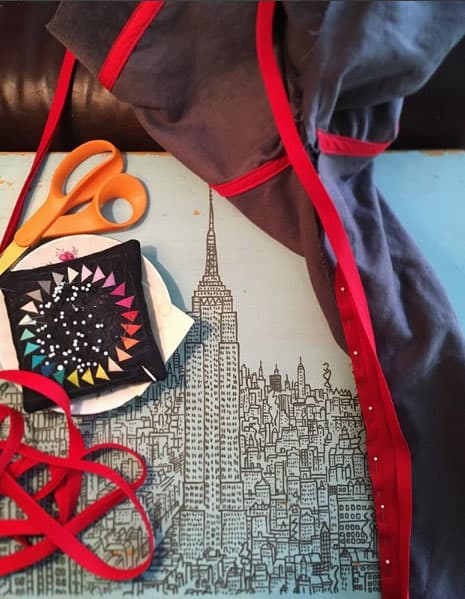 Who is your inspiration in the quilting world? Do you have a favorite to admire? Comment and let me know. I love to find new inspiration!
Stay Tuned… I'll be adding more interviews to the Q&A with Quilting Stars series… you can follow along by visiting this page.