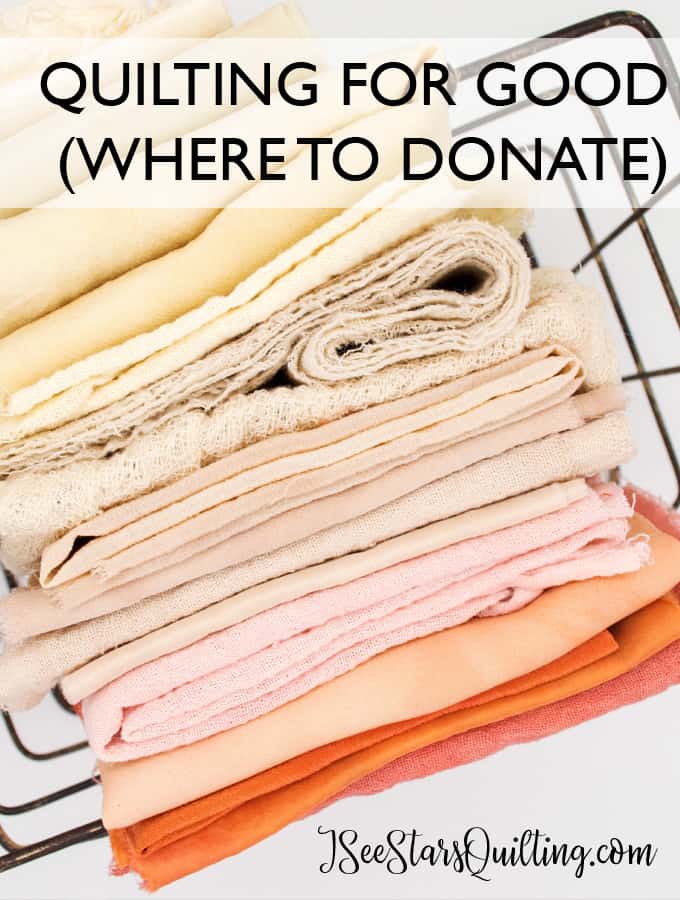 The quilter's community is such a beautiful group of people. So many of us are generous creators who not only love the joy of making crafts and quilts but also have a heart that is happy to serve others.
If you've been thinking about donating a quilt or looking for a way that you can give back, look no further. I've done some research (to satisfy my own curiosity) and I thought you would find it helpful too. These charitable organizations that are happy to place your handmade quilts into the hands of people who could use a quilt made with love.
Why donate a quilt?
Cuddling up under a soft handmade quilt is one of life's greatest pleasures. Even if everything around you is insanity, life feels more peaceful when you're under a quilt. I know we all love quilts here, but wouldn't you agree?
When I am stressing (a lot) and just trying to keep my head above water in all of the crazy busy schedules etc… I try to remember the glass half full philosophy. There are people who would love to stress about the things I stress about because their own stresses are much much more.
Maybe you've caught the sewing bug and you just can't stop? I mean, there's only so many times you can gift your family and friend's a hand sewn item for the holidays. You don't want to be that predictable aunt who always gives underwear.
When all the couches and beds in your own home have a happy quilt and there isn't a baby shower on the calendar in sight… should you stop sewing? Absolutely not! Keep sharing that love! Looking for strangers in need of a beautiful, cozy quilt.
Where can I donate?
If you can donate hyper-local: Start where you are.
Check into a church organization to see if there are any families that have kids in and out of the hospital or an elderly person that might live alone. Perhaps a family that is struggling finacially could use a gift to be reminded that people really do care and they matter.
A school will not be able to share any names or family situations, but they are happy to collect donations if they hold a silent auction or a fundraiser. The quilt I made for my kid's school was a big hit at the silent auction this past year.
Your local quilt guilds might already be in contact with local organizations and can help you distribute your quilt.
A quick call to a local hospital, senior center, homeless shelter or animal shelter is a really good start. A lot of these organizations welcome the comfort of a good quilt!
If you want to donate to a larger charity:
FOR KIDS
Project Linus– I love this charity. Project Linus is one of the most well-known charity groups for quilters. They accept blankets (not just quilts!) and distribute them to kids in need. You can donate $$ online, but if you want to donate finished blankets and quilts, you can contact your nearest Project Linus Chapter HERE. The group has donated more than 6 million quilts since 1995!
Quilts from Caring Hands, based in Oregon, accepts completed quilts for kids as well as fabric, blocks, completed quilt tops. The group seeks to serve at-risk youth and prefers twin-size (60″ x 80″) and crib-size (40″ x 50″) quilts.
Snuggled in Hope Quilts – This is a group that provides quilts to Flying Horse Farms Camp for kids with serious illness and they provide a quilt to each member of the camp each summer… over 400 quilts each summer. Donate finished quilts (ideal size 55×65"), complete quilt tops, fabric, other supplies. Find their Wish List HERE.
Quilts for Kids seeks to donate 30,000 quilts annually to comfort children who have been abused, children with life-threatening illnesses and children living in poverty. The group accepts new fabric, completed quilts and financial support for completing quilts. Send in a complete quilt (ideal size: Approximately 38″- 40″ x 45″- 46″) or request a kit to donate your time (you supply love, time, binding, batting, and thread).
Wrap Them in Love // Accept donated quilts, fabric, batting, or other quilting supplies, so if you don't have time to make a quilt, but want to share your stash, this is a good one for you. Find the details on how you can help HERE.
Quilts Beyond Borders was established in 2007 to reach out to under-served children, mainly orphans, across the world. The group has delivered more than 1,000 handmade quilts to Ethiopia and has also provided quilts to people in need in Japan, Haiti, Costa Rica, Honduras, Guatemala, Cameroon, Burundi, Uganda, Russia, Thailand and Mexico.
FOR VETERANS
Quilts of Valor, which formed in 2003, accepts quilt tops and works with volunteer longarm quilters interested in serving their cause. If you want to support servicemen and servicewomen returning home from active duty, consider making a quilt in patriotic colors. Guidelines can be found on their website here.
Quilted in Honor hosts quilt challenges and collects donations of finished quilts at any of their 24 Operation Homefront field offices across the U.S. The group gives quilts away to military families in need and wounded warriors. (Quilts made for the Quilted In Honor program can also be donated to Quilts of Valor, as long as they meet the size and labeling requirements.
---
There are a lot of options out there for donating quilts and spreading lots of warm love. If I missed any big ones, please let me know in the comments. The list of smaller charitable groups is absolutely endless but by no means less worthy.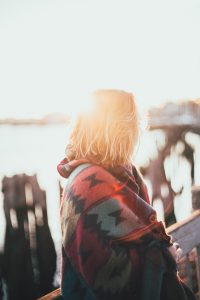 What if I'm new to quilting?
Even if you are less than confident with your quilting skills, keep creating and sewing anyways. Share your creations and gain quilting skills/practice along the way.
I lean towards being so critical of my own work. I see flaws everywhere and places that are less than perfect… areas where I wish I had done things differently… places where lessons were certainly learned. And I've been sewing for a while now. But you know what most of the rest of the world sees? …a quilt. And a less than perfect quilt is still beautiful!
Doing good and spreading love in this world is the end goal. The world needs more kindness… and more quilts too, don't you think?  🙂 Who are your favorite recipients for your quilts?