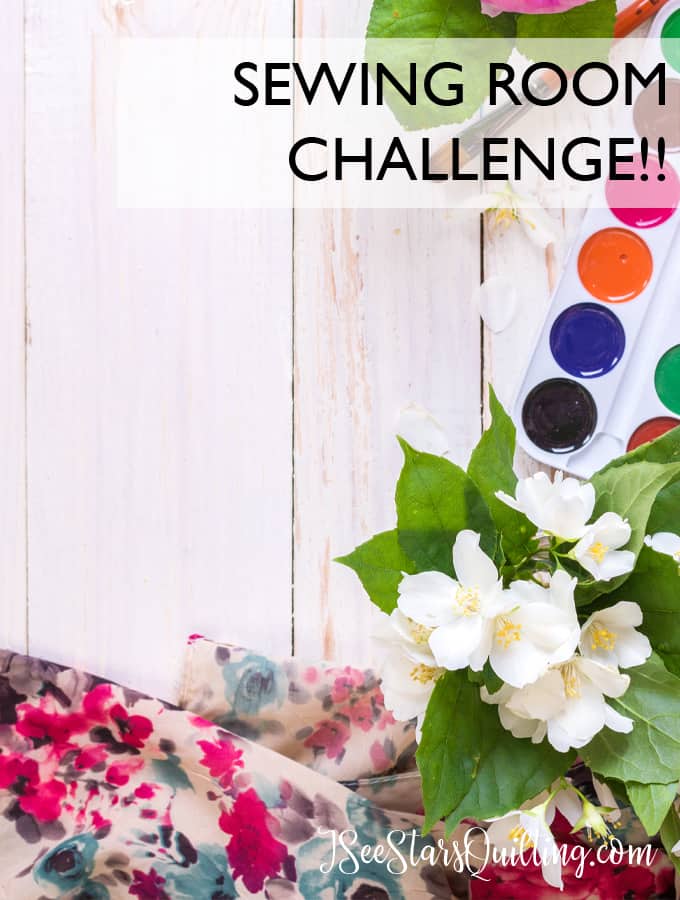 Ok, So I'm going to put this out there. I'm absolutely drowning in unfinished quilts. You obviously don't HAVE to join me… but this is where I am right now and I NEED a sewing room challenge! Do you want details? Keep reading, I would love to have someone else join me on this!
I'm a bit of a hyper squirrel when it comes to quilting. (that's actually a really good description if I do say so myself) I love quilts. I love love love quilts. And I love fabric. And I love quilt design too.
When I find new fabric, I immediately plan a whole quilt around it and I want to buy all the coordinating fabric and my heart takes over and doesn't listen to my brain screaming that I have like 5 (ok, 8) other quilts at home that are not finished yet… For example, I had to buy a little more of the kona solid white fabric for my #atomicstarquilt on fabric.com and I don't know… this panda fabric just begged to be bought and now I am apparently making a panda quilt (eventually).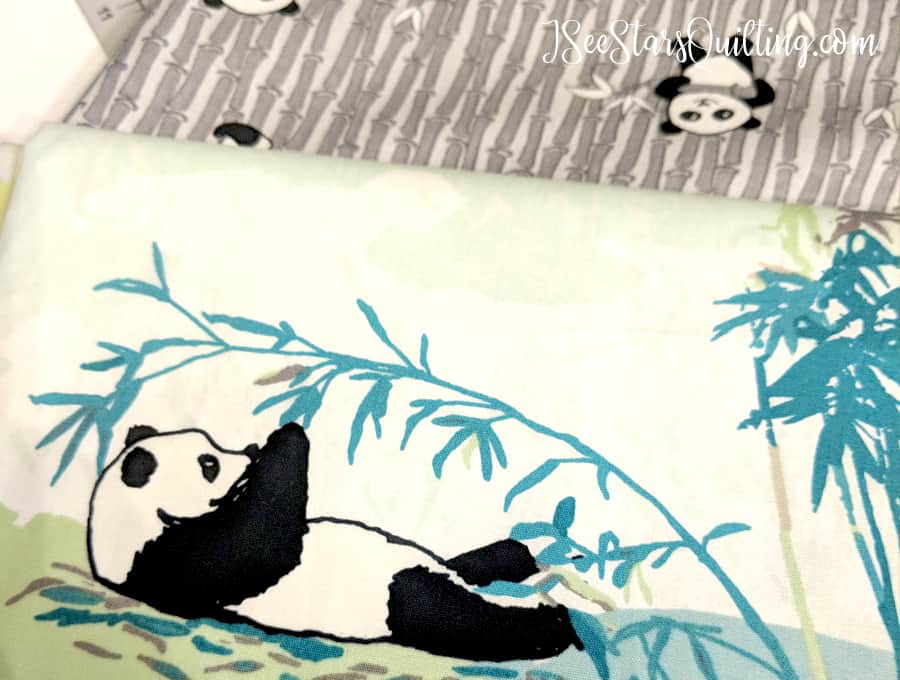 Note: The top fabric is by Riley Blake Designs and the bottom Fabric is by Katarina Roccella. You can read the Fave Fabric Friday Post that I wrote about Katarina Roccella.
I know other quilters who have way more unfinished projects than I have at this moment. Have you seen the hashtag #WIP? It's "work in progress"… so I know if there's a hashtag for it, it must be a thing other people struggle with too. I just feel that I have reached a point, personally, where I can't just laugh it off anymore. It's becoming a real problem.
When I was first starting out, my patterns were simple and didn't require a ton of time to finish. Now, I've upped my skills to patterns that scare me just a little because I constantly want to grow as a quilter.
If your dreams don't scare you just a little bit… you aren't dreaming big enough! – words to live by.
Some of the projects I've got in my sewing room right now… They totally are a product of me really living that 'dream big' philosophy… and woah, are they're taking a lot longer than I originally planned.  The hyper squirrel takes over and I blink and then there are more projects around!
What do I want to do?
I'm going to do a total project count of finishable projects in my sewing room at this very moment.*
Then, I'm going to cut off my project list.
No more new quilts until I've finished these.
None.
I have to get my mean mommy – no dessert – attitude on.
This is a promise to myself, with you as my witness.
Quilts are beautiful and useful, but only if you finish them!
*Not that this changes things but I'd like to be honest: I say "finishable" because I have a few English Paper Piecing projects that are ongoing and are going to be ginormous in size and workload. That was my intention when I started English Paper Piecing – something I can take with me and continue for a long long time.
Ok…… drumroll…
Right now, I have 3 quilt tops that are started. I have 4 others that are just stacks of fabric that are planned quilts, but not yet cut.
If you've been reading with me for a while, you know I'm not just floating around sipping on tea and quilting all day long. I'm a super busy mom and at times a hot mess of stress. (aren't we all? …right? Someone please comment and give me a high five?)
I have 2 kids. I'm a wife, a cook, a maid, chauffeur boo-boo kisser and apparently, I am against sleep of any form too.
I have enough things on my to-do list without adding any more projects.
It's time to finish some and cross off those to-do lists!
How I'm going to do it?
Heres my plan… Things with work are incredibly busy right now for me. It's just insane... (FYI, when I am not quilting, or thinking about quilting, or being a mom… I'm a freelance graphic artist with a long list of job titles that somehow equivalate to something of a miracle worker/people pleaser at the same time) so finding more hours in the day to quilt is just not even on the radar.
For the month of May & June, I'm going to work on finishing the 3 projects that I have in progress. Finish… yikes. And completely refrain from touching the other 4 that I have a rough plan for but have yet to touch.
2 months to finish my goal seems a bit long, but these are big projects. Ideally, I would like to finish all the quilt tops in 6 weeks and spend the last 2 weeks quilting.
Silly me decided that one of my quilts HAS to be hand stitched and now I can't back out of that deal. It is going to be amazing.
I have to say just putting this out there has a weight lifted off my shoulders. I have a deadline and a plan.
Let's Do This!
UPDATE: It's complete! I created a detailed post (with lots of pictures!) alllllll about the Sewing Room Challenge process and see the results.
---
Enough about me… what about you? Do you have unfinished quilts that could use a deadline to get your booty into gear? Even if it is just 1 project hanging over your head, let's do this together!
Tell me about your projects in the comments and if you care to join me in this challenge.