Hello quilters! Today is a great day ? I finally finished a quilt that has been in the back of my mind for ages… seriously. I wanted to make this hexagon quilt a long time ago but the timing just wasn't right. I just had to wait for the right opportunity to come along!
Do you have quilts like that? Quilts that you want to make, but don't yet have the right recipient? Or patterns that you're saving for a rainy day?
I can tell you it is so refreshing and invigorating when you finally can check it off of your list as done!
And even better when the finished quilt idea comes out better than you could have hoped for!
This is the finished quilt. – Baby Mountains. ❤❤❤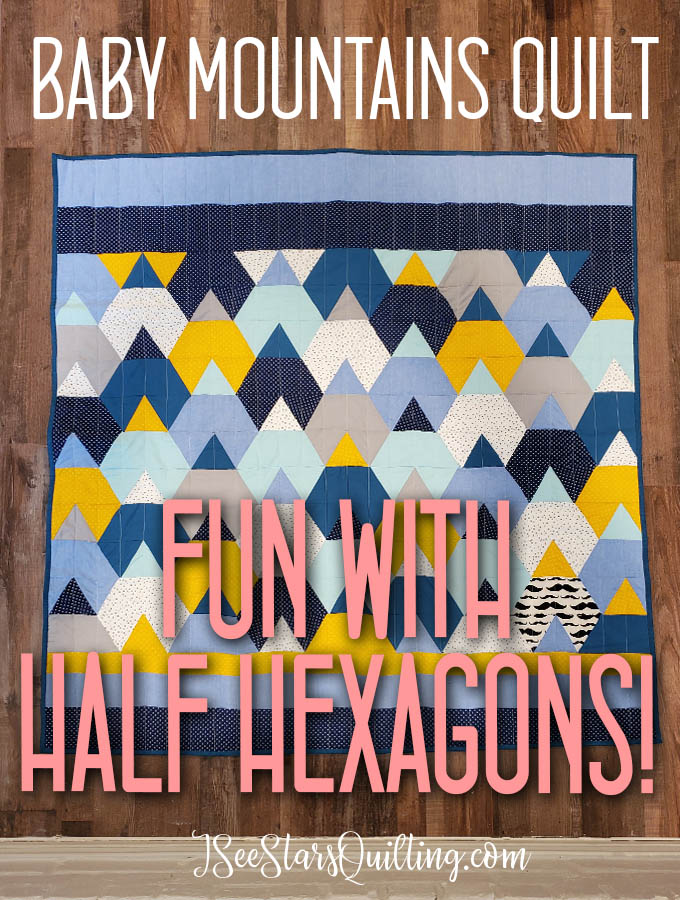 I made this quilt for a friend of the family that just recently had their second child.
Hexagon quilts have drawn me in lately with their versatility. I wanted to make a hexagon quilt using the templates I had on hand and I kind of made it up the pattern and layout as I went. – I didn't use anything but a vague idea I had in my head for an earth-y/nature-y vibe with a soft baby twist.
Pretty sure I nailed it. ? What do you think?
I made a quilt for their first child too. It turned out super cute as well… Something about the size of baby quilts makes me want to call every single one of them "super cute"… just saying 'cute' doesn't feel like it is enough, I guess?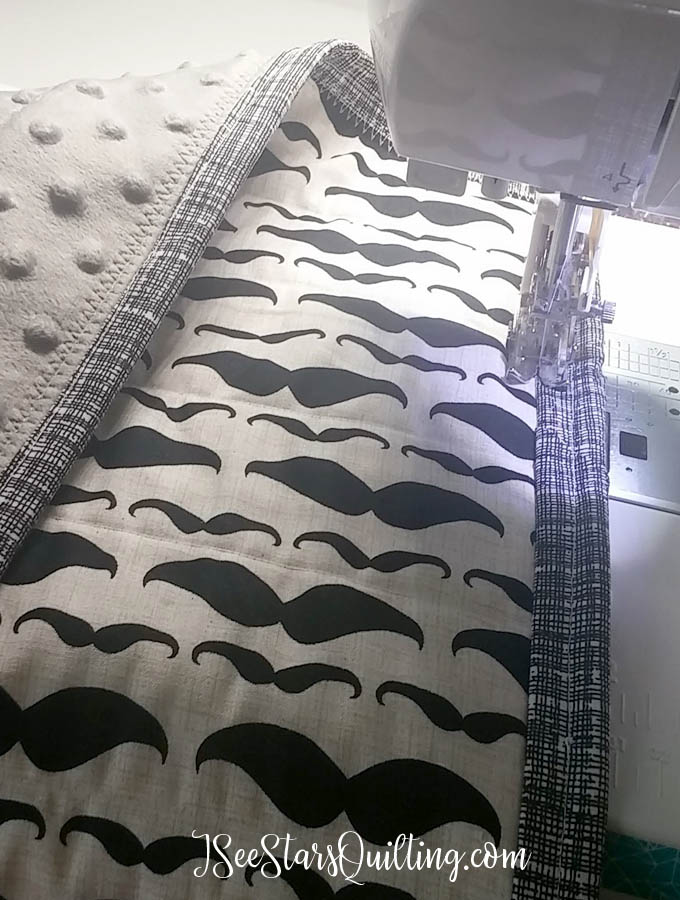 Unfortunately, I was a terrible quilt photographer back then and this is THE ONLY picture I have of the whole quilt?! Say what?! I don't know. I'm sorry. That is why I will always encourage you to take pictures of each and every one of your quilts… even if you think they're terrible and don't deserve to be photographed. You'll want to look back on it one day!
As you can see, the back of the first quilt had this adorable mustache fabric on it! There are certain fabrics that I'll never get over… I swear it still makes me want to squeal with delight at how awesome it is. I LOVE this mustache fabric!
When I was searching through the fabrics that I have in my stash (because… quarantine, right?) for fabrics to pull together for the Baby Mountain quilt, I ran across a little leftover mustache fabric and just KNEW I had to use it too.
…because sibling quilts! ??
I used the mustache fabric on just one of the mountains. It works as kind of a focal point for the quilt as well.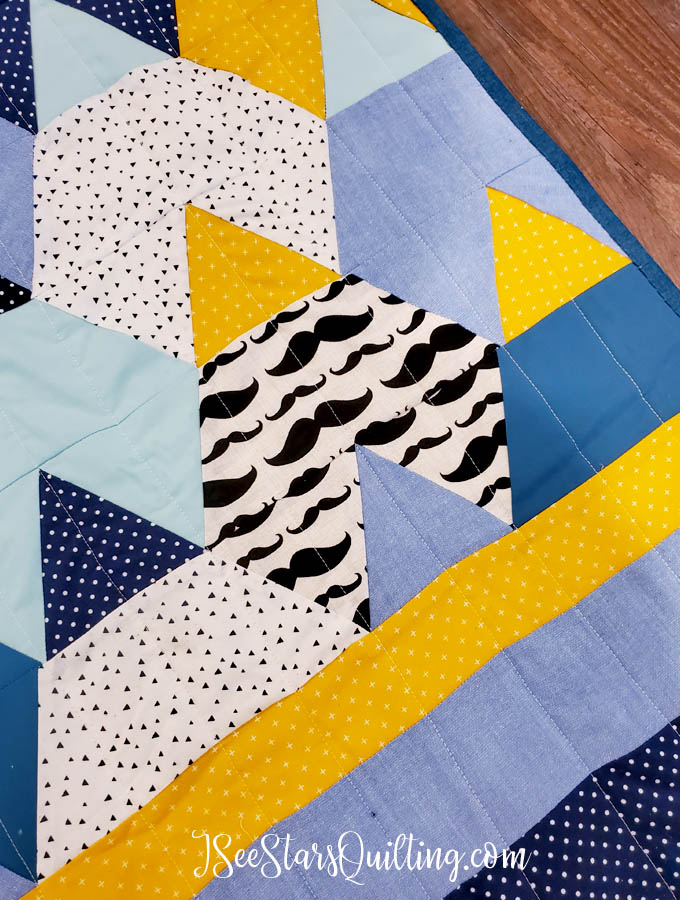 As I was piecing the quilt together and working on the mustache mountain, I imagined the new big sister getting excited about seeing a mountain matching her quilt. It is pretty special, I think. 🙂
Of course, I might be the only one excited over that cute little matching mountain, but that is ok. 🙂 Sometimes you just have to imagine the world a better place all by yourself!
Here are a few more pictures of the Baby Mountain Quilt…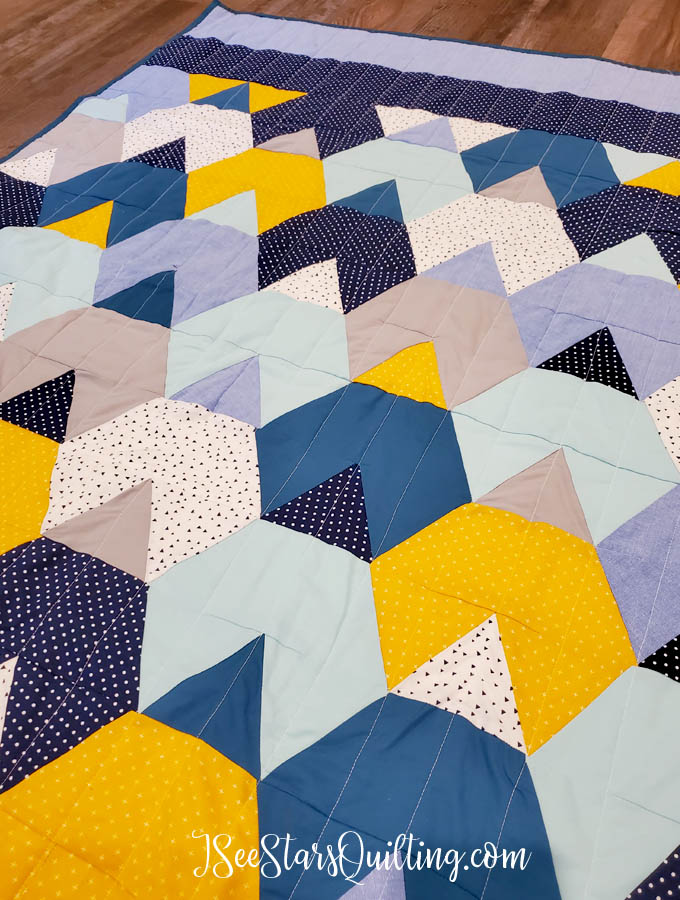 This was the first quilt that I got to use my new labels on! I love how cute they came out. (ignore the ugly yellow lighting… it has been raining for 3 days and I can't go outside to get good sunlight photos…)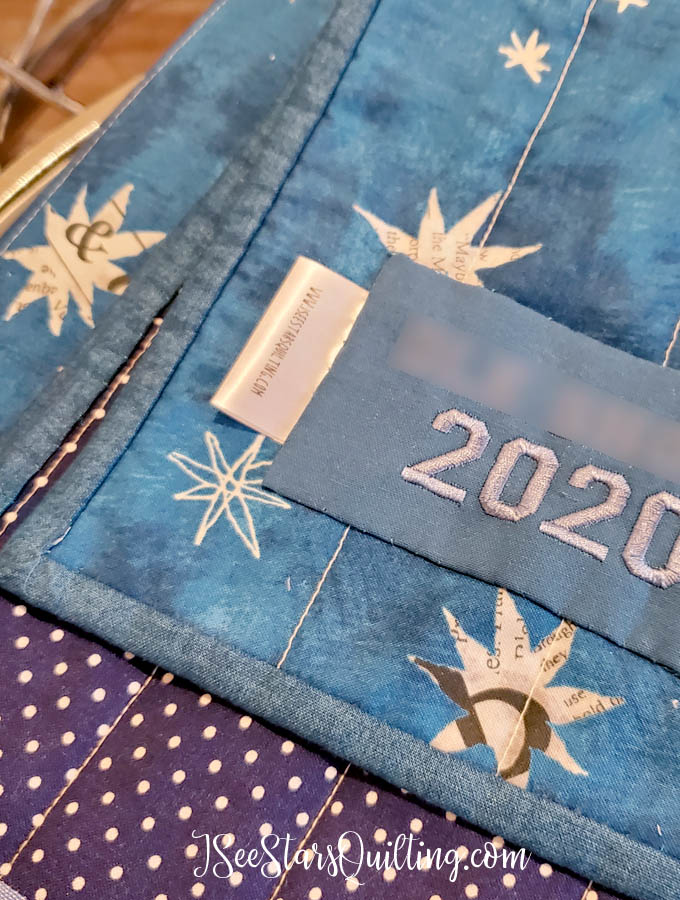 The backing fabric is one of my favorites by Carrie Bloomston's Wonder line of fabrics. Absolutely in LOVE with this fabric and being in a quarantine state it was hard to part with even a little bit of this fabric haha…(I might have hoarding problems.)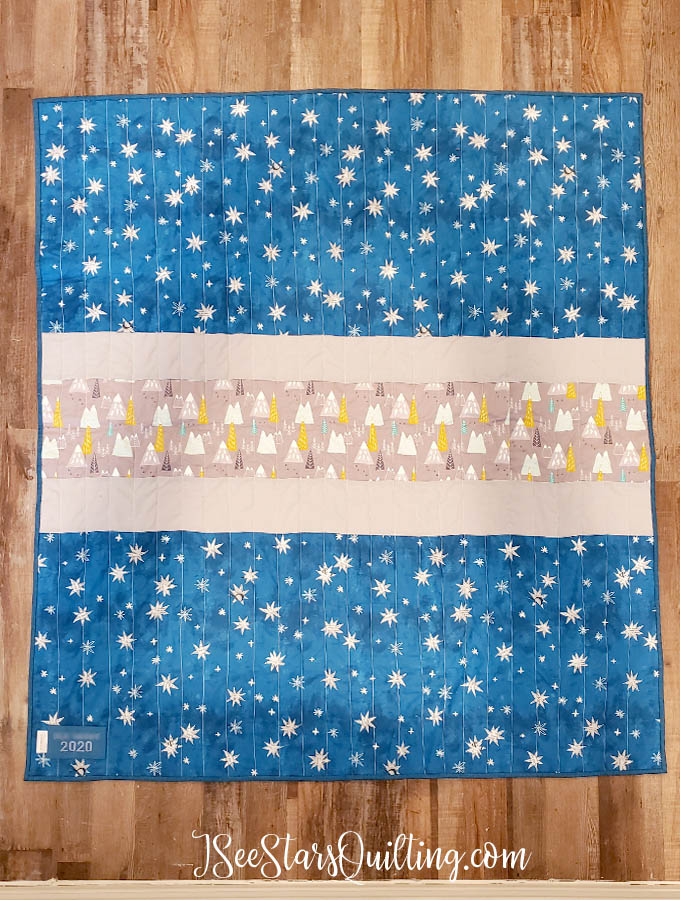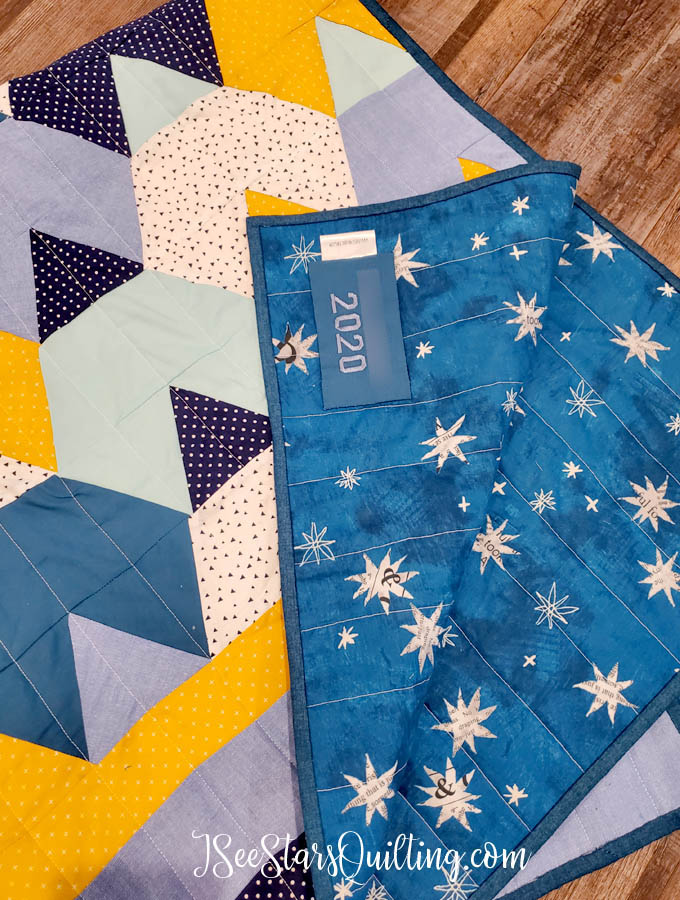 There is so much going on with the fabric and colors in this quilt… your eyes are drawn all over the quilt from mountain to mountain. I feel like the soft color palette helps to calm things down a bit, but I didn't want to complicate things further with the quilting so I decided to keep it really simple. This quilt called for some straight line quilting.
I also decided to hand stitch the binding on this quilt to give it a special finished look. (also, *bonus* I was able to sit and watch a movie on the couch with my kids while I worked)
Here is a close up look of just how simple the construction of this hexagon quilt is. I used my half hexagon template and a triangle template. That is it! It is simple to mix and match your fabrics however you like to create the shapes that you want!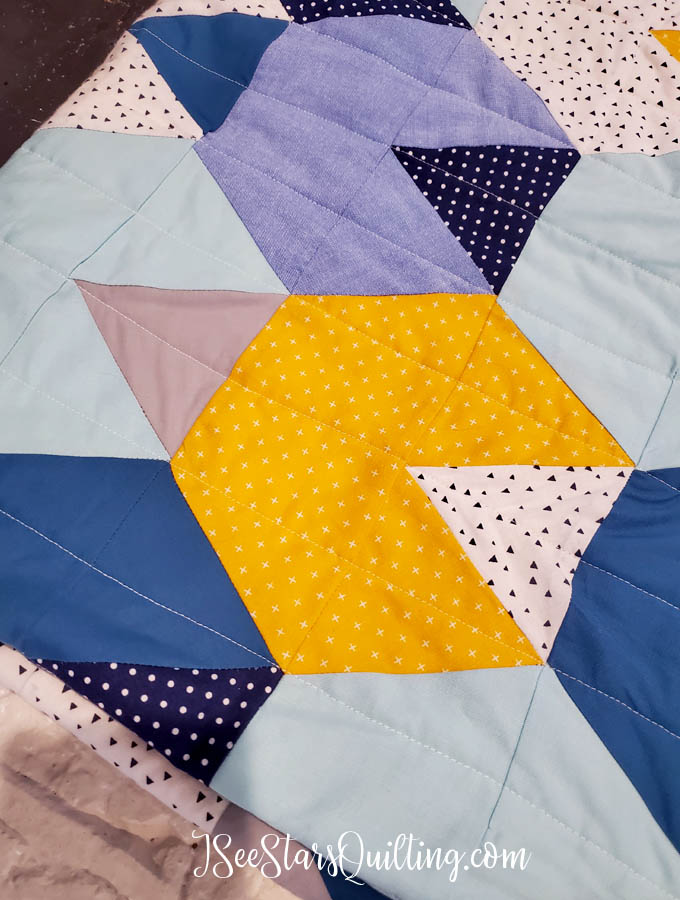 The Other Sibling Quilt
I might have gotten really happy cutting out half hexies… or possibly distracted? I'm really not sure. After I got the quilt pieces arranged on my design wall I realized I had way too many cut pieces left over. oops.
I could either make this baby quilt into a throw quilt, let go of the extra pieces or I could save them and use them on another project.
I decided that since baby brother has a matching piece to big sister's quilt… perhaps big sister would like a matching quilt to baby brothers! Also, She might be getting to the age where she wants to copy mommy or have little baby dolls of her own, so I decided to make a mini quilt using the leftover pieces. It is a 32″ x 32″ mini quilt.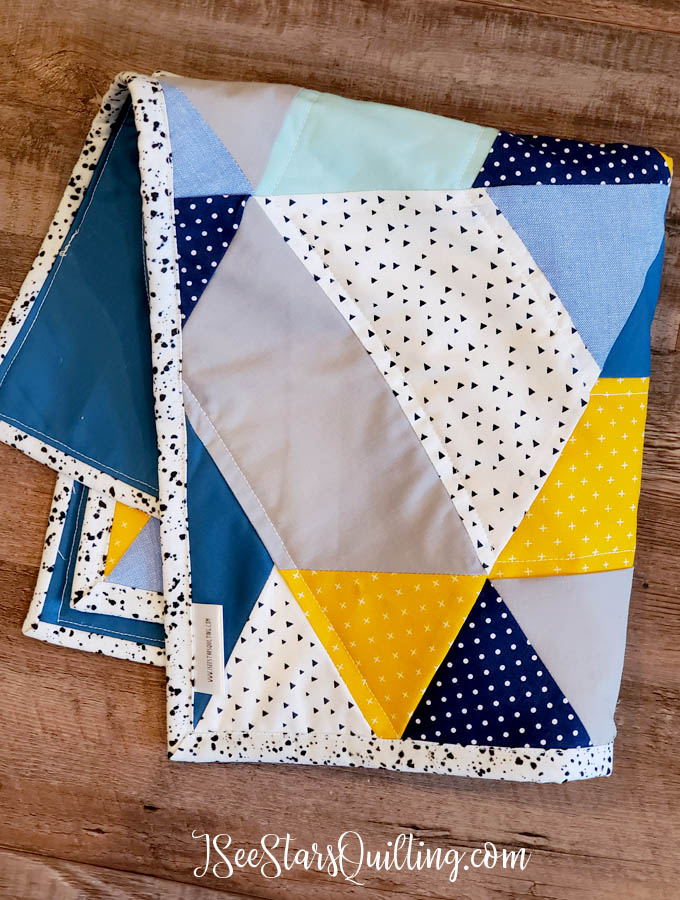 I arranged the pieces a little differently because playing with hexies is a lot of fun ? I hope she likes her little quilt gift.
Also, I had leftover binding from my Social Distancing Quilt Project, so I re-purposed it on this her mini quilt.
I'm really excited to make this quilt off to its new home to hopefully have many many snuggles and naps in the future.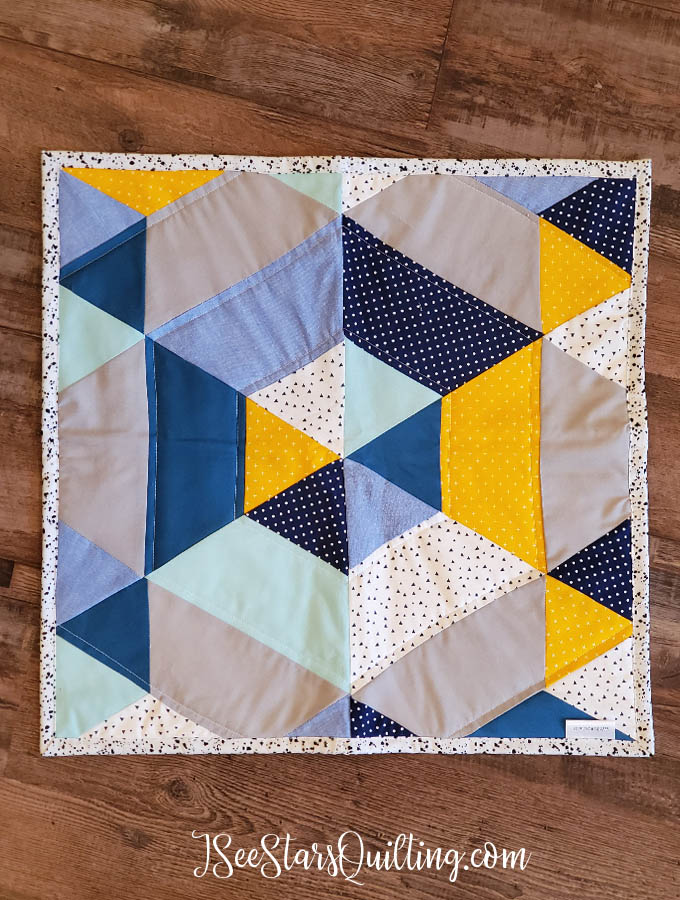 Here are a few more blog links about using templates and rulers that you might find useful:
The quilting rulers that are my absolute favorite are from Gadget Girls. Their quality is absolutely superior to what else I have found in the chain stores while shopping. Check out their website here.
Let me know what you think in the comments ? Feel free to ask any questions… I'm off to go work on another baby quilt that has been in the works for a while! More pictures to come in a few weeks!
Happy Sewing!