This has been such a fun project that I've played with the last few weeks, I just had to share it with you! Check out these beautiful fabric Christmas ornament balls that I made!
Let me say first of all that this was an EASY project. It looks complicated, but really… it was very simple. It takes a little patience in the beginning (doesn't everything crafty?) but after I grasped the basics, I was experimenting with different fabric and layouts and really really enjoying myself while making fun Christmas decorations!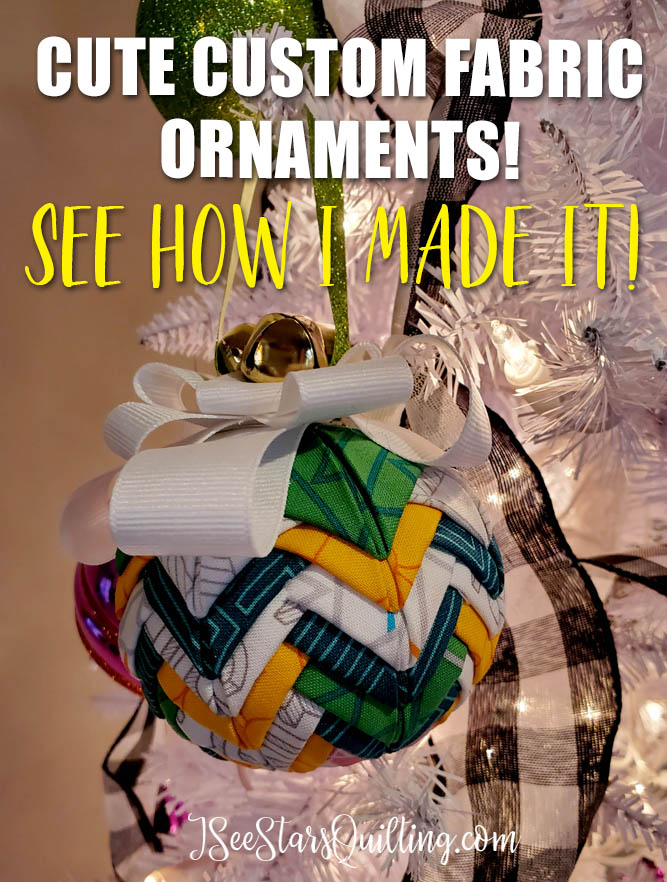 Make sure you check out some other Holiday Craft Projects & Tutorials down below!
Video Tutorial – Step by Step
Just so you know there are tons of pictures to show you all the pretty fabric Christmas ornaments that I made, but I also made a video tutorial to show you the exact steps to make your own, check it out below.
Also, please feel free to PIN any of the images in this post to your Pinterest profile so you can easily find the tutorial again and share it with your crafty friends.
This would also make a really fun crafty holiday party activity (pending it not being a season in the middle of a pandemic, of course…)
What you'll need for your Fabric Christmas Ornaments
The beautiful thing about this project is that you likely have MOST of what you'll need around your house/crafting supplies right now. You may have to take a quick trip to the store… or do what I did and just add a few things to your Amazon cart and enjoy FREE 2-Day Delivery.
Note: Styrofoam balls come in a variety of sizes… I used the 3″ size in my video and on my tree. You are welcome to experiment with other shapes and sizes, just know that it may change your fabric needs and how your finished product turns out.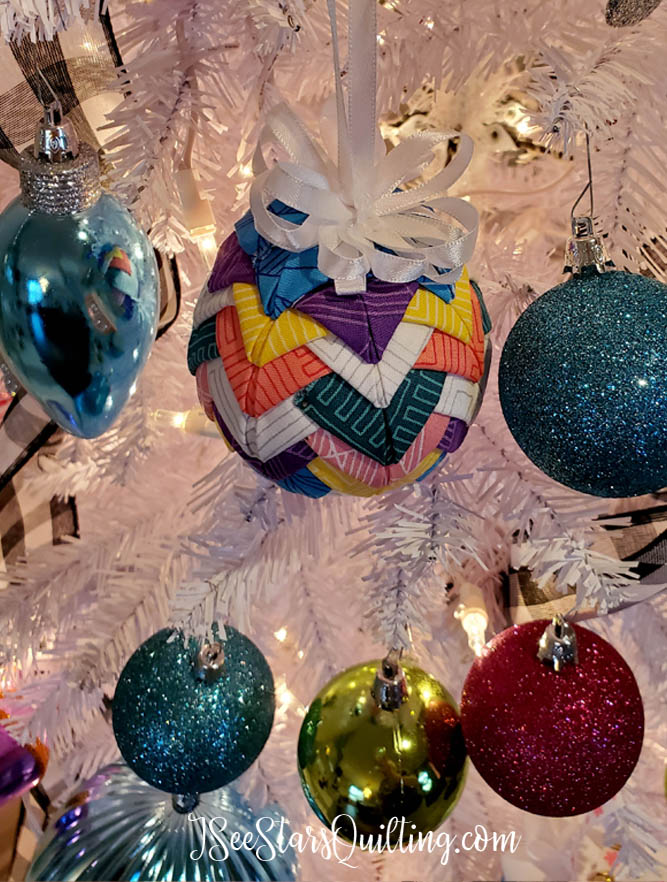 The Fabric I Used:
You'll see in the picture below that our Christmas Tree is not decorated with the classic Christmas colors… I like incorporating bright modern colors in the decor because the rest of my house is fairly neutral. So Christmas time is rather happy and festive over here! (it is also my favorite time of the year!)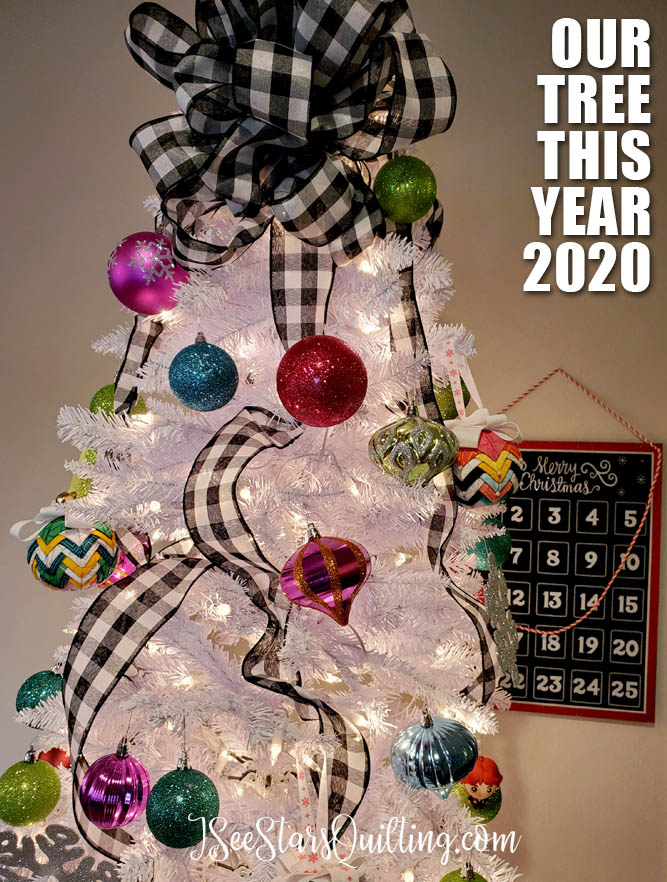 So when I decided to make some fabric Christmas ornaments for our tree… (because… I *LOVE* Fabric… and I LOVE Christmas, so… OF COURSE, I have to, right?) My mission was to find the perfect fabric to match this bright and happy theme of course.
I decided to use a jelly roll of fabric in order to get a good mix of fabrics that will all effortlessly coordinate together but still give me a variety of choices to pull from.
The winning fabric was a fabric line from Wyndham Fabrics called "Good Vibes Only". – Fitting, right? 😉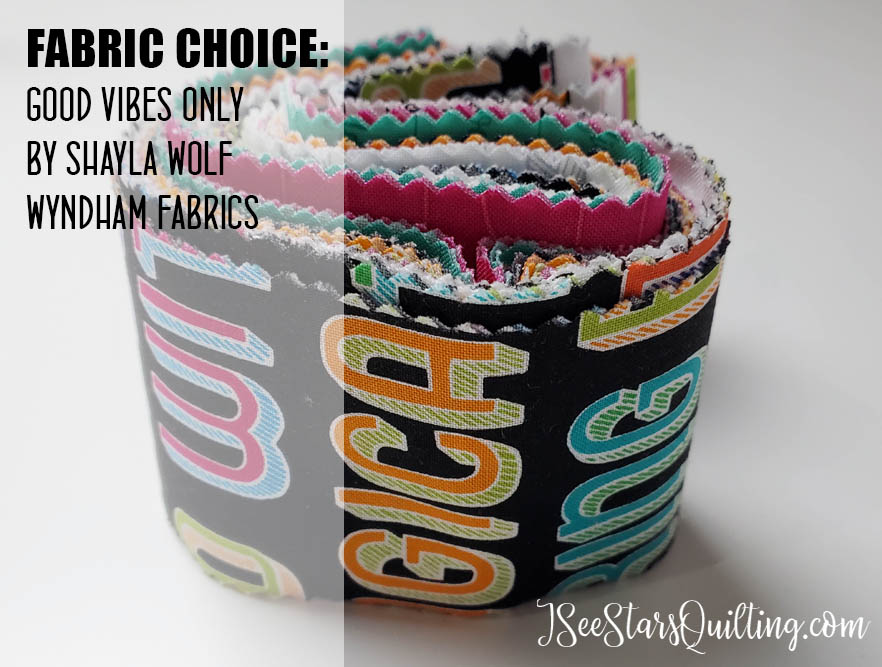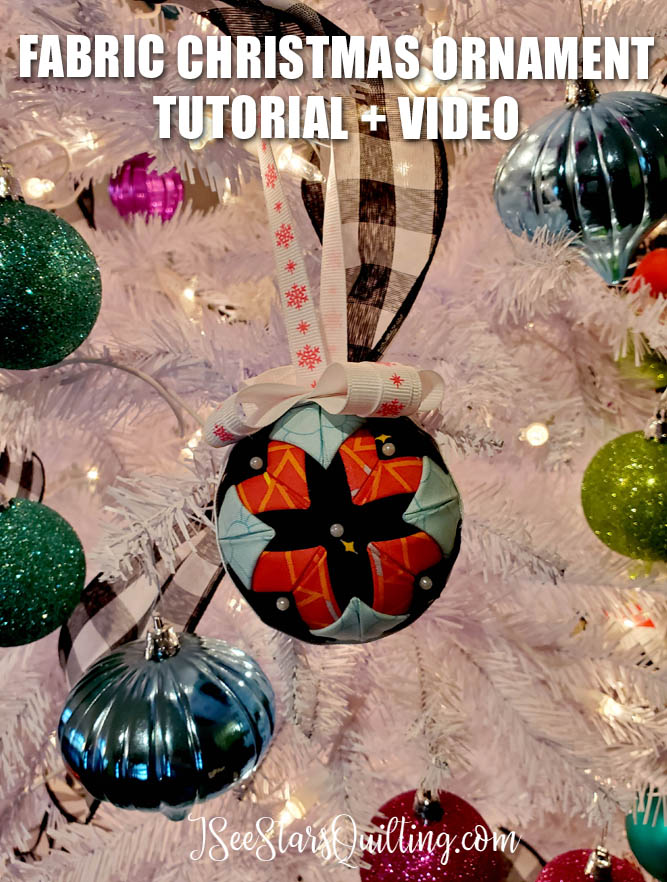 Use Scrap Fabric!
You can also design your own Fabric Christmas Ornaments using scrap fabrics you already have on hand!
Just make sure your cut pieces are 2.5″ x 2.5″
If you're on the edge about starting this project, I encourage you to try it out. Trust me, you're going to love it.
Watch the video above or check it out on my YouTube Channel for the step by step instructions.
And if you needed any more reasons to get crafty, here are a few more photos of the cute ornaments on my tree!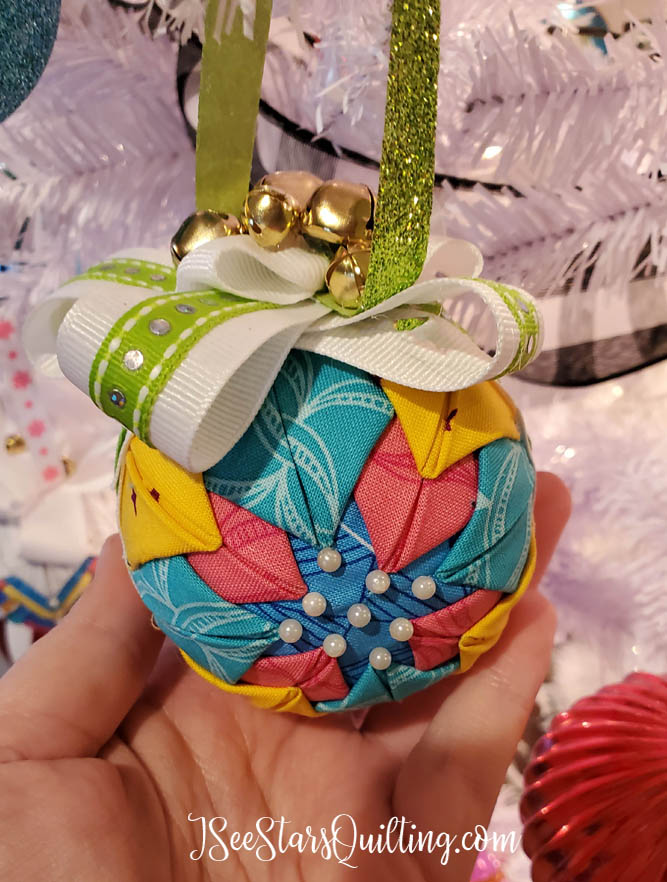 I chose to embellish the ornament with some decorative pearl head straight pins for a little extra fun… isn't it cute?!?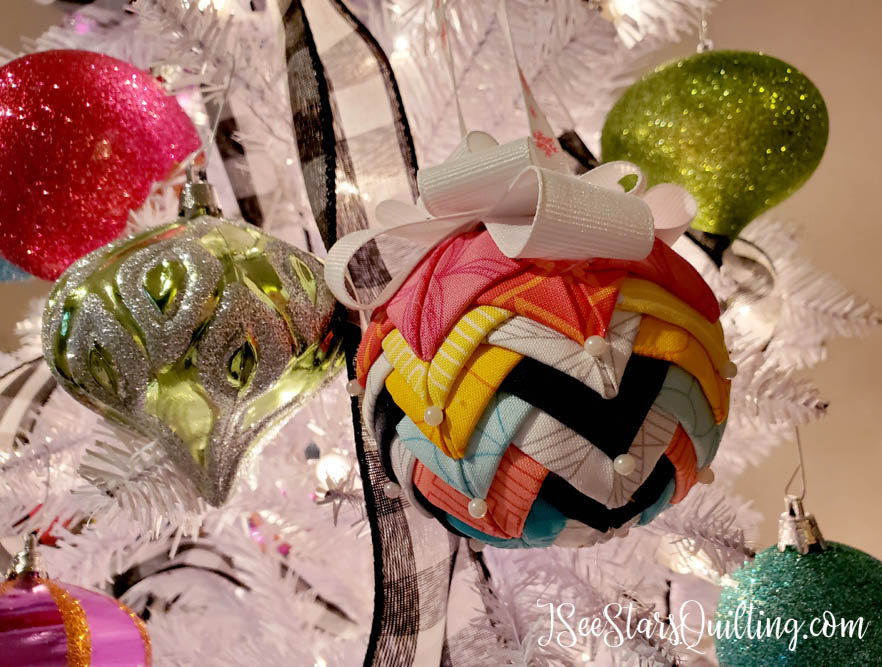 My favorite part about this Fabric Christmas Ornament?
I made a little project box that I used to store all of my pieces of fabric, pins, balls… everything that I used while in the midst of this project and took it with me all over the house to work on. I even brought it over to my mom's house when we spent the day with them. (this is not unusual for me to tote my projects with me big and small)
This project was light, easy to transport. It was also easy to pick up and work on whenever I had a few spare minutes. No searching for where I left off or thinking long and hard about what my next steps were…
It was simple to work on in front of the TV while my kids were watching a movie or in the evenings while I was waiting on dinner to cook.
Just FYI, I'm not encouraging you to take this with you and ignore your family while you're in the same room as them…. I'm just saying if you're going to be crafty, you can be in the same room as them instead of being tied to your sewing machine or crafting equipment in another room. 😂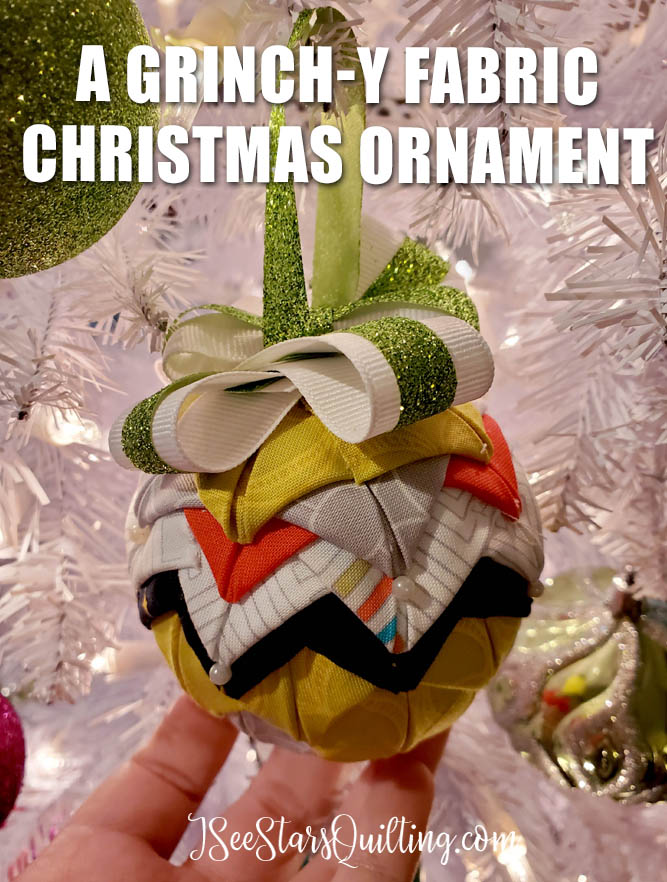 If you're wondering how durable these Fabric Christmas Ornaments are and if they'll stay together long term… I have zero worries about them lasting as part of our holiday décor for years and years to come. They are pretty solid. The weight of the fabric adds a real solid mass to it as well.
Please note that if you have little children around the house, you might want to hang them a little higher up on the tree… just to avoid any little hands disassembling your pinned fabric.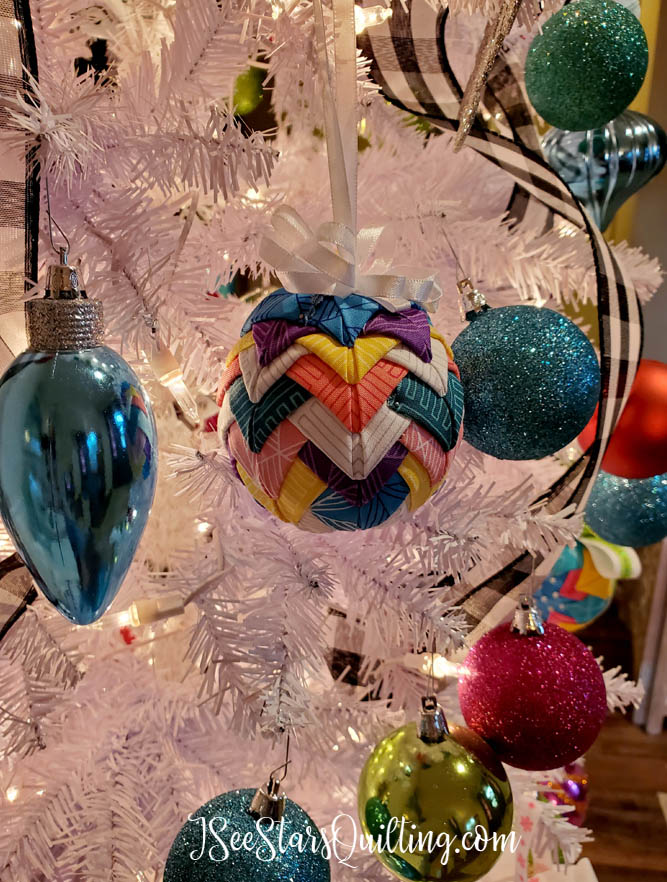 I didn't think ahead about the ornaments being the same shape as our puppies favorite toys in the world – tennis balls… or anything that even resembles a sphere.
So, if you were wondering… that is why you can only see a portion of my Christmas tree in the photo above… because it does not have any ornaments on the lower section. 😂🎄😲 It did when we first decorated, but they have slowly migrated higher and higher as the dogs test their limits and just how far they are willing to go to get the shiny temptation balls. lol
What do you think? Is this something that you would like to try making in the future? Let me know in the comments and if you have any other questions!
I hope you have a festive and wonderful holiday season! Happy Sewing!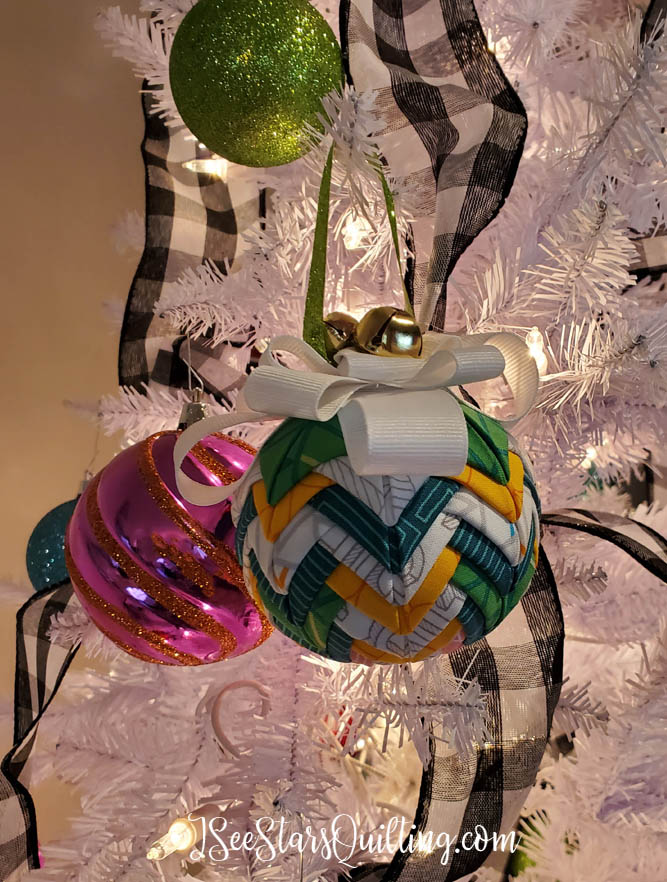 More Holiday Craft Projects!
You may enjoy some of these other tutorials from ISeeStarsQuilting.com