Quilting is one of my favorite creative hobbies and my favorite way to express love to my family and friends. When you're first starting out, it can feel overwhelming. In this blog post, I will teach you everything you need to know about sewing your first project. From start to finish, I've got you covered! Follow these tips and tricks to make your first quilt!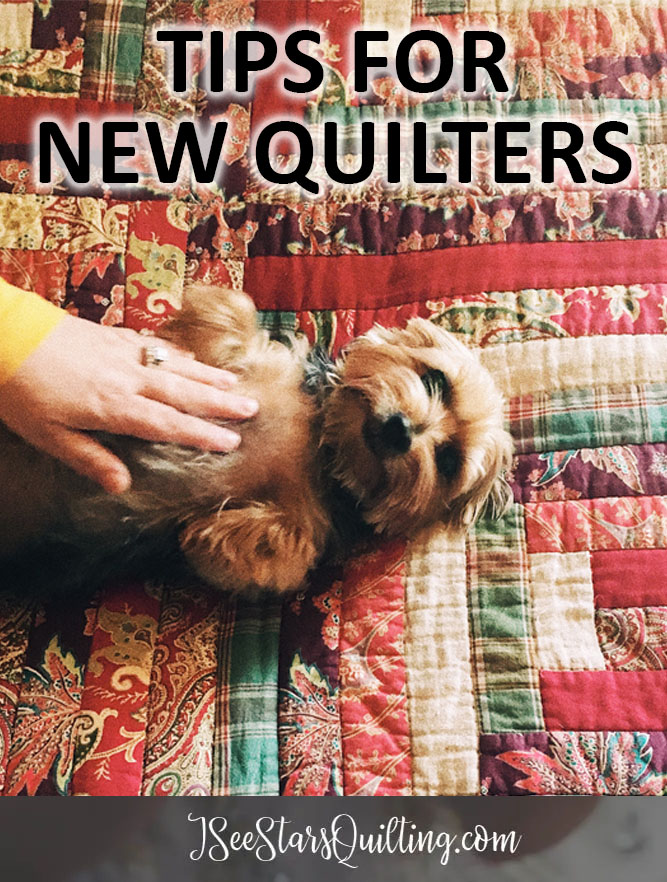 Tips for New Quilters:
The first thing you're going to want to do when you decide to make your first quilt (or even second or third – Quilting take practice!) is to choose a pattern that is simple.
I have several free pattern downloads available for you on my website. Check out some of these patterns down below for easy beginner patterns:
Choosing Your Pattern:
The perfect pattern is going to be one that feels a little bit scary and overwhelming but not utterly impossible to work on.
If you pick a pattern that is TOO complex for your skill level, you can guess what is going to happen, right? You'll be in over your head and you'll just spend time being frustrated… possibly wasting money on fabric too.
It's not worth it!
Choose a pattern that is going to give you the confidence boost you need and get started on your quilt! The sooner you start, the better. You will be so proud of yourself when you finish AND if this project goes well, then other bigger projects are sure to follow soon… 🙂
The second step to getting started on your first quilt project is to pick out the right fabric! This can feel like a daunting task, but don't worry – there are plenty of resources to help you out!
Each quilt pattern should give you the exact fabric requirements you will need in the instructions. These are the measurements that you take with you to the fabric store!
If shopping for fabrics is rather new for you – try to find a pattern that uses "precut fabrics" or a selection of fabrics that are already designed to go together.
I love the fabric bundles that my friends over at pineapple fabrics have going on! I usually already have an idea in mind for my quilts, but sometimes it is really nice to just skip the phase of deciding which fabrics I like the best and just start sewing!
Click here to shop the Pineapple Fabrics Website.
Cutting Your Fabrics
Once you've chosen your fabric, it's time to start cutting. The most important thing when cutting is to make sure all of your pieces are the same size. You can do this by using a quilters ruler and a rotary cutter.
Precise measurements will ensure an even and precise quilt top. Trust me… all the little details matter when it comes to the finished quilt! Take your time to get this step right!
These are the tools I recommend and use for cutting my fabrics.
Rotary cutters/blades work really well with quilting rulers! A good pair of scissors – There's nothing worse than trying to sew a bunch of pieces together and then realizing you don't have sharp enough fabric scissors… trust me, sewers worst nightmare! Here are my other recommendations for quilting tools.
Piecing Your Fabric
The next thing you'll need to prepare your first quilt is to piece the fabric together!
This is what gives your quilt top its design and shape.
There are a few different ways to sew your fabrics together. You can opt to hand sew or machine stitch your fabric together. Most of my tutorials and videos are machine piecing. I find this works the fastest and most accurate for me.
So there you have it! The steps to sew your first quilt project. I hope this was helpful and gave you the confidence boost you need to get started.
Looking for more help?
My most important advice when sewing your first quilt project is to TAKE YOUR TIME. There is no rush, this isn't a race! Enjoy the process and be proud of every step you take. You're well on your way to becoming a quilter!
Also, do not give up. Find a friend who sews that you cal call on if you run into any issues. It makes all the difference in the world to have someone to call when you run into trouble! If you don't know anyone else who quilts – use the contact me form on my website. I'm happy to help!
Happy Sewing!
-Christen
You can find more free quilt patterns on these blog posts: